Doctor Zhivago is a 1965 British–Italian romantic drama set in Russia in the years leading up to World War I and the time during World War I and the Russian Civil War. The movie was based on the novel by Boris Pasternak, which was banned in the Soviet Union due to its independent-minded stance on the October Revolution. Because the novel could not be published in the Soviet Union, it was instead smuggled to Milan and published there in 1957. The following year, Pasternak was awarded the Nobel Prize for Literature, embarrassing the Communist Party of the Soviet Union.
The story starts in a frame narrative in the late 1940s or early 1950s, with KGB Lieutenant General Yevgraf Andreyevich Zhivago talking to a woman, Tanya Komarova, whom he believes may be his niece. He tells her the story of Doctor Yuriy Andreyevich Zhivago, his half-brother, her likely father.
The main characters are Yuri Zhivago, a medical student and poet, and Larissa "Lara" Antipova, who starts out as a 17-year-old and eventually becomes a nurse. Lara is having an affair with a well-connected friend of her mother's, Viktor Ipolitovich Komarovsky. When he finds out about her intention to marry Pasha—Pavel Pavlovich "Pasha" Antipov, an idealistic reformer who turns toward left-leaning extremism—Viktor rapes her. Lara later uses Pasha's gun to shoot Komarovskiy at a Christmas Eve party and leaves with Pasha while Zhivago treats the wounded Komarovskiy. Pasha and Lara marry and have a daughter named Katya.
Once World War I begins, Yevgraf Zhivago is sent by the Bolsheviks to subvert the Imperial Russian Army. Pasha goes missing in action, and Lara enlists as a nurse to search for him. Yuriy is drafted as a battlefield doctor, and ends up running a field hospital with Lara for six months during the 1917 February Revolution. They fall in love, but Yuriy remains true to Tonya, his wife.
After the end of the war, Yuriy returns home to his family. Yevgraf informs him that the Soviet censors condemned his poems and arranges for documentation so Yuri and his family can escape Moscow to an estate in the Ural Mountains. They travel on a cattle train through contested territory secured by Bolshevik commander Strelnikov.
When the train is stopped early one morning, Yuri wanders off and finds Strelnikov's hidden armored train. Summoned for interrogation, Yuri recognizes Strelnikov as Pasha. Yuri learns that Lara, now Pasha's estranged wife, is living in a small town occupied by anti-Communist White Army forces. Strelnikov allows Yuri to return to his family.
After starting a peaceful life, Yuriy eventually finds Lara in the nearby town and begins an affair with her. Yuriy breaks it off when Tonya becomes pregnant, but Yuri is then abducted and conscripted by Communist partisans. Two years later, he deserts and makes his way back to Lara. He finds that his family is now living in Paris after being deported, and he renews his relationship with Lara.
One night, Komarovskiy visits and tells them they're being watched due to Lara's connection to Strelnikov and Yuri's desertion and his counterrevolutionary poetry. Komarovskiy offers to help them to leave Russia, but they instead take up residence in an abandoned estate. Yuri begins writing a series of "Lara" poems, which will later both incur government displeasure and make him famous. Komarovskiy returns and tells them that Strelnikov is dead and Lara is now at risk of execution herself. She and Katya go with Komarovskiy, while Yuri remains behind.
Years later, Yevgraf finds a destitute Yuriy in Moscow during the Stalinist area and gives him a job. While riding a tram, Yuriy spots a woman he believes to be Lara walking nearby, and he gets off at the next stop. He runs after her, but he suffers a fatal heart attack. The woman walks away, oblivious to his presence. Yuriy's funeral is well attended, even though his poetry was officially unobtainable.
Lara approaches Yevgraf and reveals that she bore Yuriy's daughter. However, the child went missing during the collapse of the White Army's government in Mongolia, and their attempts to find her are unsuccessful. During the 1930s Great Purge, Lara disappears. The story returns to the narrative frame, which implies that Tanya is likely Lara and Yuriy's daughter.
Doctor Zhivago is the eighth-highest grossing film of all time, adjusted for inflation. However, it was initially criticized for its length (more than three hours) and for trivializing history, with its focus on romance rather than on the revolution. Over time, however, its reputation improved, and it went on to win five Oscars and five Golden Globe awards.
Director: David Lean
Stars: Omar Sharif, Julie Christie
Production companies: Metro-Goldwyn-Mayer, Carlo Ponti Production, Sostar S. A.
Box office take: $111.7 million (United States and Canada)
Official trailer: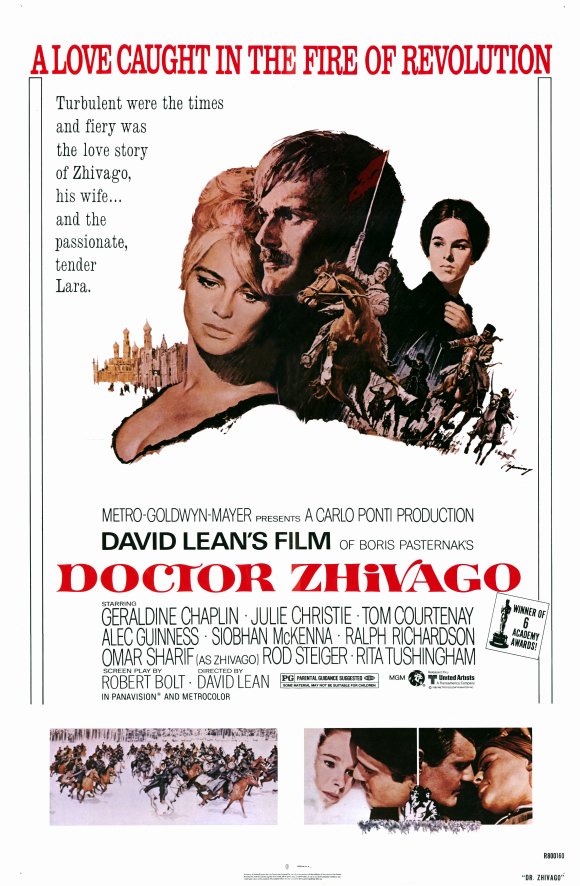 This entry was written by Helen Herring, a finalist for a Home and Abroad Scholarship through SRAS.