Having a special diet abroad can be tough. Tougher yet are finding restaurants and cafes worth your time and money.
The following are some of the best locations to visit as found by students on SRAS Study Abroad Programs in St. Petersburg.
Griboyedov channel embankment, 15, (multiple locations)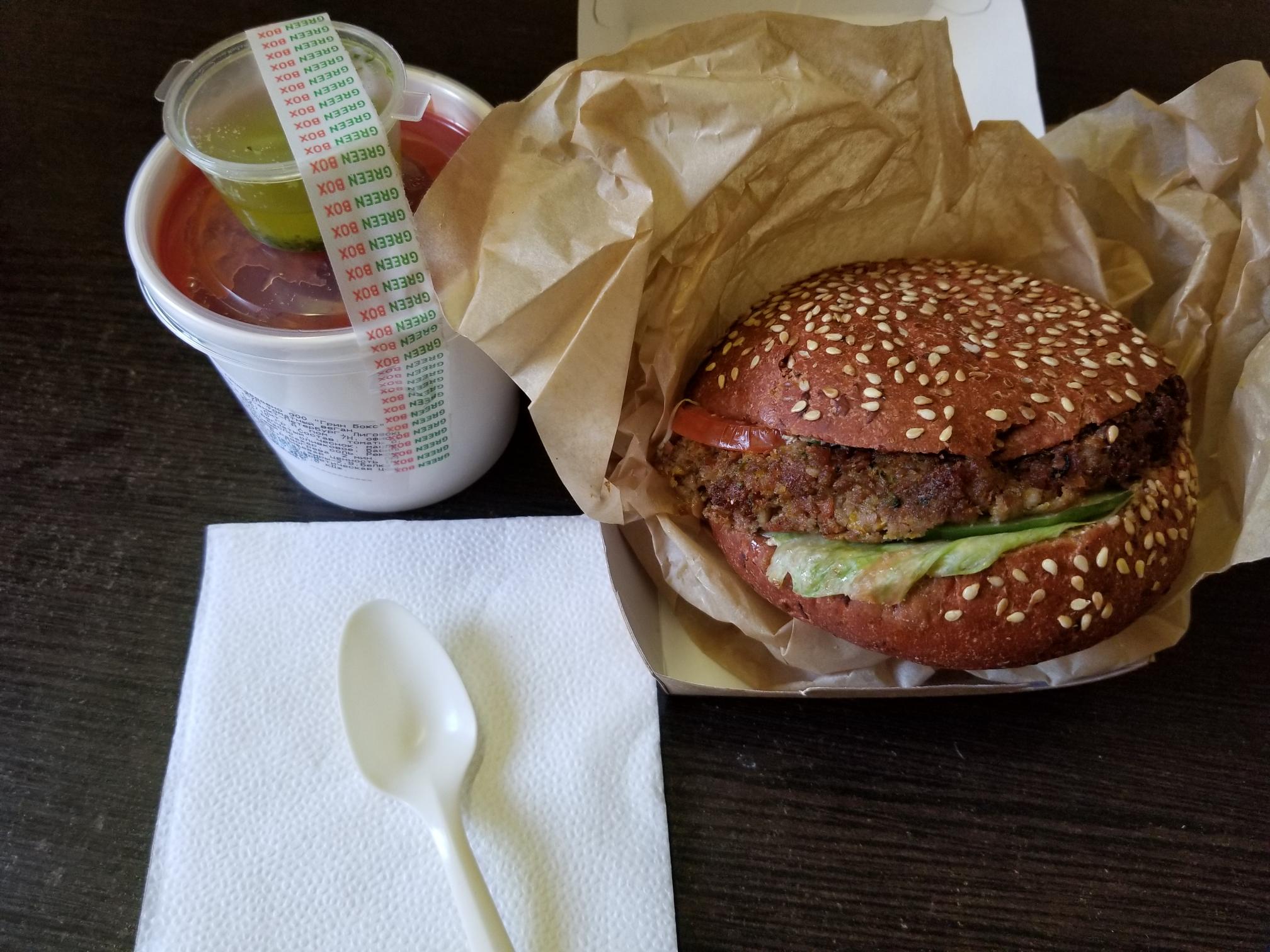 If you are looking for a quick grab-and-go type of meal, Greenbox is a great place to stop. You can choose from a wide selection of premade salads, sandwiches, wraps, juices, fruit cups, and more. I often get the soup and a sandwich (usually tomato soup and a veggie burger) combo, which is priced at 289 rubles (~$5). No matter where you travel in the city, Greenbox will have a location nearby! Take some time to go through their website, where they describe in detail why their food is a healthy choice. For me, the biggest pluses are the fact that they do not use trans fats and do not cook from frozen foods. Whether you want a quick snack or to put together your own custom meal, check out Greenbox!
Ulitsa Pestelya, 7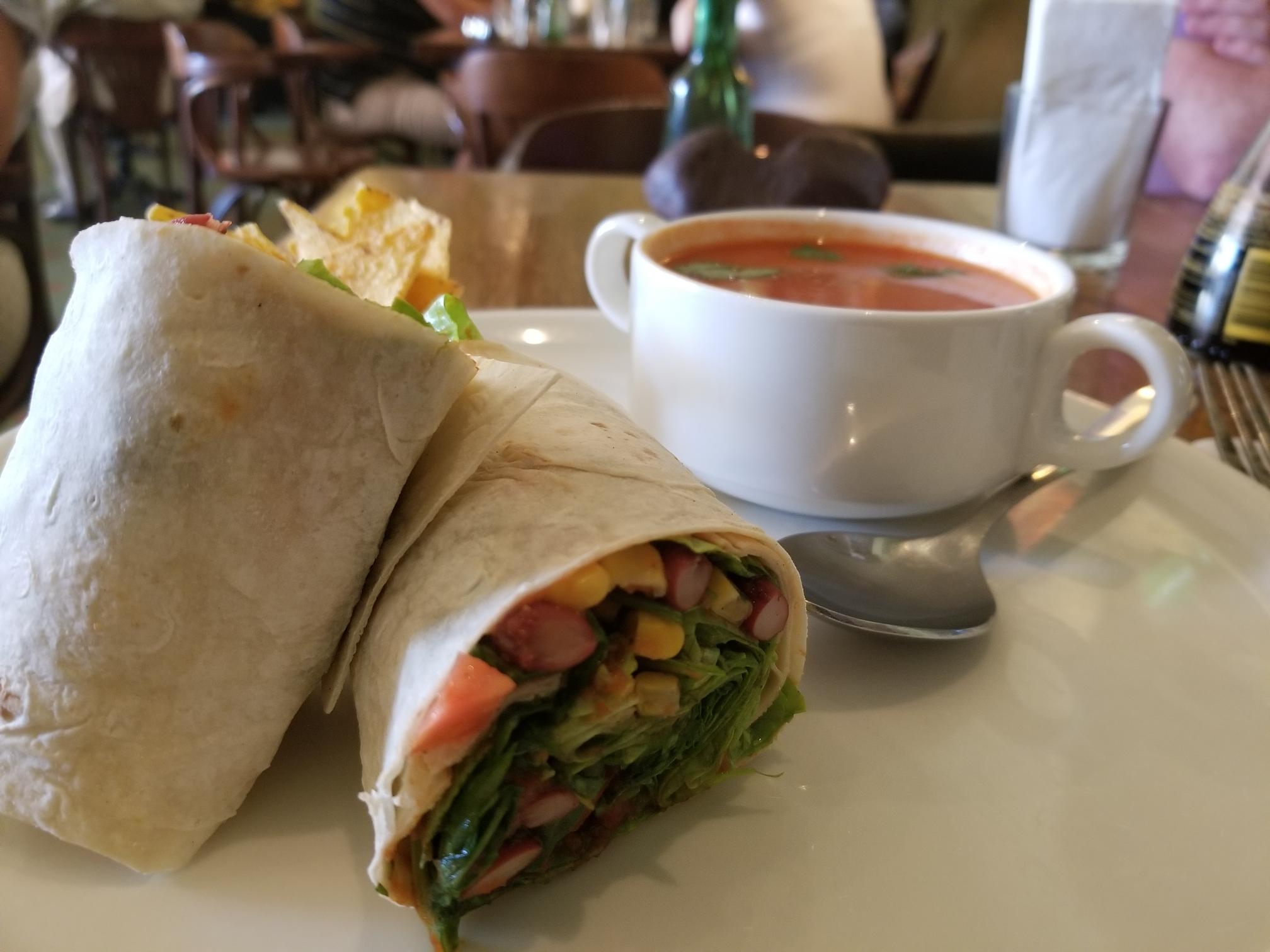 One of my favorite places to eat in St. Petersburg is Botanika. Located just a short walk from the summer gardens, this place offers high quality meals at a reasonable price. The 70's aesthetic of the interior and staff wardrobes give the place a chilled-out vibe while the food is prepared and presented like you'd expect in a five-star restaurant. The menu clearly marks vegan items and also offers plenty of vegetarian items. I really like how they have different sections on the menu, like "Mother Russia" and "Mata India," giving a wide variety to choose from every time you come. My favorite item so far has been the Don Pedro wrap (520 rubles) and the tomato soup (280 rubles). Even though this restaurant is a bit more pricy than some of the others I list here, you will not feel bad about paying for the quality food you are served.
Griboyedov channel embankment, 49 (multiple locations),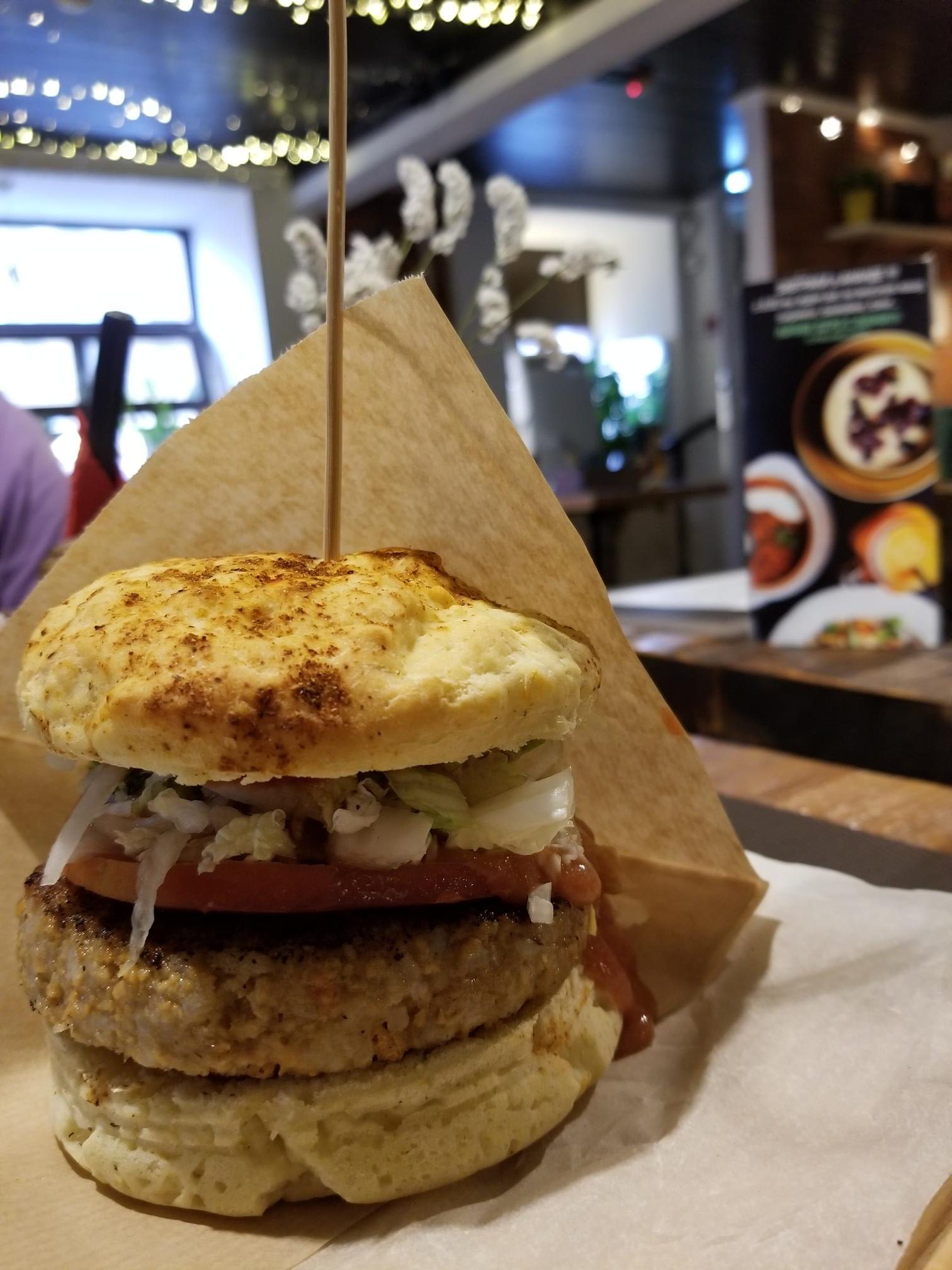 Its safe to say that a veggie burger is a staple food for many, if not most, vegans. Unfortunately, I think many places have yet to master a good non-meat burger. Jiva on the other hand, came into this world with a singular purpose – to make amazing burgers. The "Jiva Project" was founded by Hare Krishnas, so you will find books and images of monks and the deity throughout the café, as well as soft chants and songs playing in the background. Ordering is pretty simple, you either order a Jiva Burger (270 rubles) or the Super Jiva Burger (310 rubles). You choose which type of patty and your bun and you are good to go! Lettuce and tomato come standard and the cashier will ask if you want any milk products. You can find out more about them from their VK page. My favorite patty is the "Lentil Cutlet" and the bun topped with Indian spices. A meat-eating friend of mine said that it was one of the better burgers he has ever had. I feel the same way.
Grazhdanskaya Street, 13-15, Bertgold Center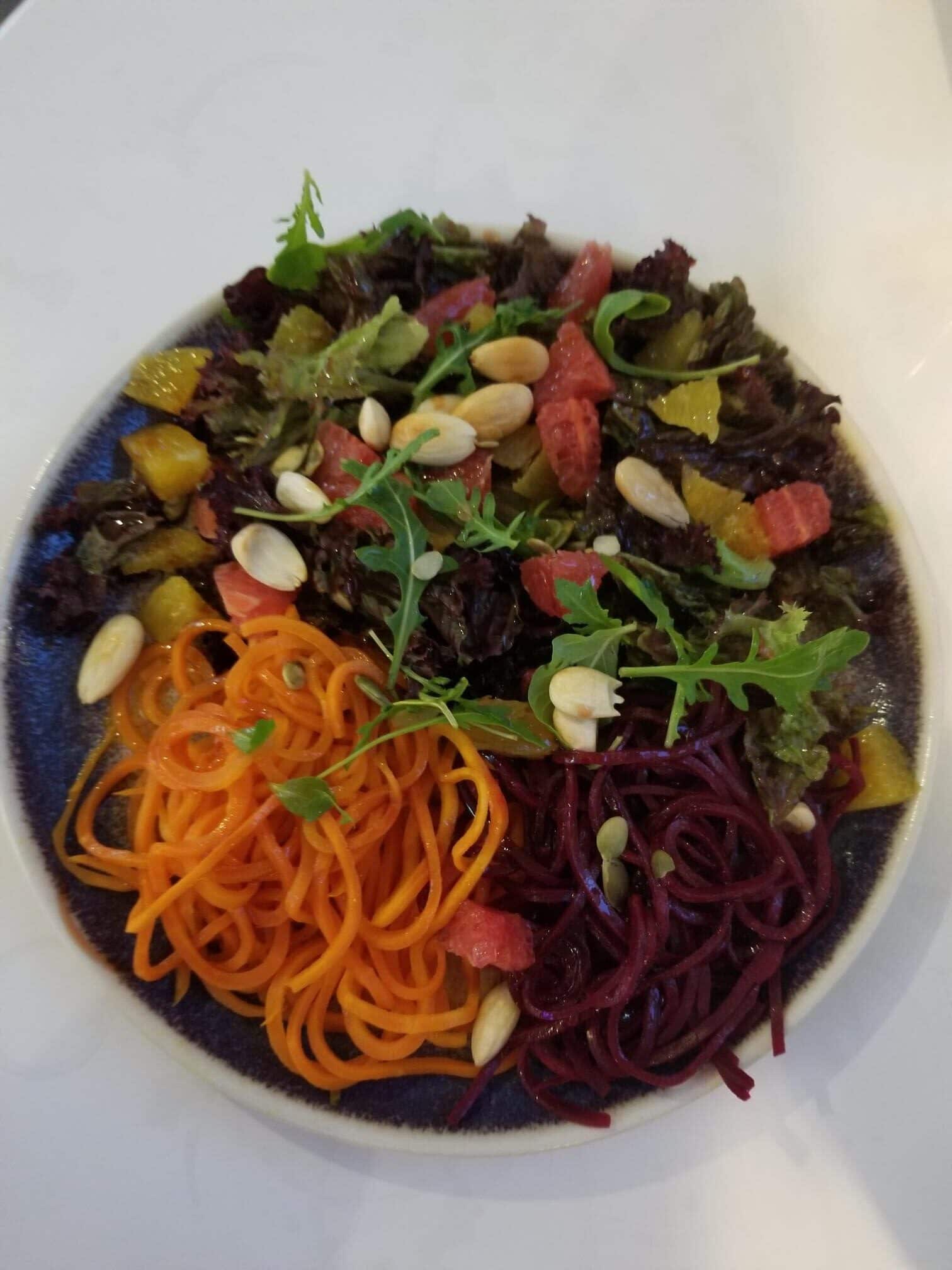 I found this place by complete accident. After stopping by Raskolnikov's house (a must see if you are a lover of Dostoyevsky), I passed by the entrance to Bertgold Center. St. Petersburg is city full of courtyards and it seems to be a hip trend now to line these courtyards with different restaurants, cafes, and stores. If you walk back around the bend of the courtyard, you will find a sign and a staircase leading to this 100% vegan café. Some of their menu is on their VK page, but I highly recommend the Moroccan Salad and especially the bruschetta – topped with pumpkin seeds, avocado, and a sweet beet sauce that nearly knocked me out of my chair. If you are not yet sick of veggie burgers, you can find a big juicy one here. This café is a must, especially from 11-3pm on weekdays where there is a menu-wide 20% discount!
Additional Vegan and Vegetarian Options

Troitsky Most is vegetarian chain that offers affordable food that is so imaginative and delicious that vegetarians and non-vegetarians alike would do well to make it a regular eating place. For a more intimate and upscale (though still affordable) dining experience, The Idiot is another excellent choice and offers a variety of traditional Russian dishes – without the meat. The Green Room Café, part of Loft Project Etazh offers inexpensive vegan and vegetarian dishes from organic and, when possible, locally-sourced produce. Vegan Pyramid is a favorite among vegan students where you can purchase a delicious 500 gram falafel for 150 rubles. Remember though, it is cash only. Rada and K offers vegan soups, salads, desserts, and some Indian-inspired dishes. Pizza Olli's offers vegan pizza. Georgian ethnic food (see above) will also offer many meatless meals. You might also check out HappyCow, a site that runs a world-wide ratings site for vegetarian restaurants.
Final Thoughts
Keep in mind that this is just a list of my personal favorites. There are several other vegan-friendly restaurants, like Ukrop. If you are trying to save money during your time here, keep in mind that a lot of ingredients that vegans are used to are not readily available. Check out Vegan Bunker, they a good selection of Russian vegan products, including meat replacements as well as vegan cake and ice cream. Don't worry! Vegan culture has taken strong root in St. Petersburg and you should find plenty of options to try!
More in St. Petersburg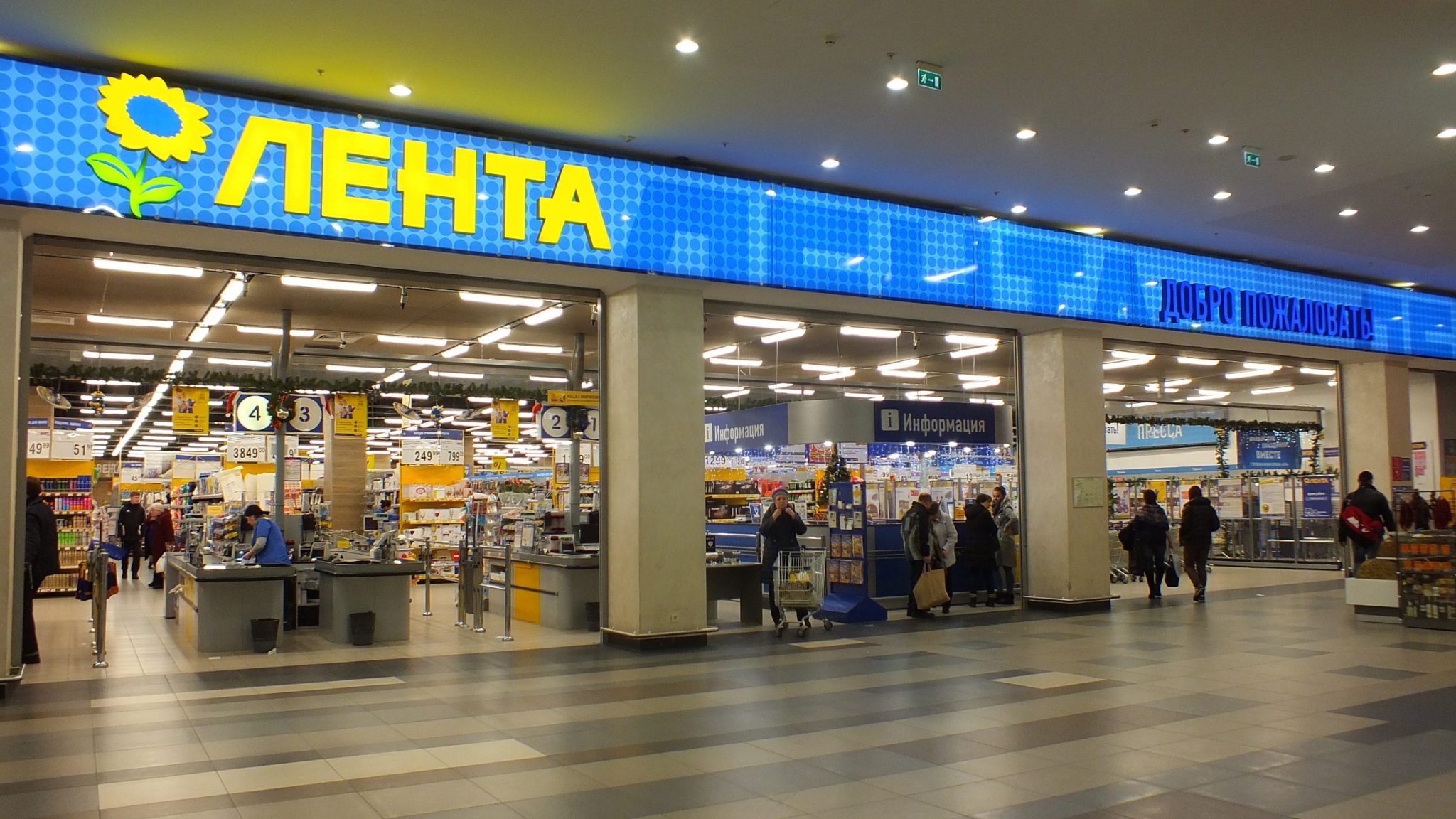 Russian supermarkets have been a great success story of the post-Soviet economy. Several large chains and holding companies have been built and, most importantly, Russian supermarkets have built up the supply chains to provide Russians with an ever-increasing diversity of produce and other groceries. The following short introductions to some of the largest chains of […]
4 comments