The following guide was created by Enot, an Russian-language online publication about local culture, business, food, shops, events, and people in Bishkek that has been popular with SRAS students studying there. It has been translated to English by SRAS Home and Abroad Scholar Sophia Rehm for the benefit of our students who do not yet speak Russian. The original Russian-language article can be found here.
Enot editors visited several second-hand stores within the city limits and selected seven of the most interesting places, based on their own opinions, and took a closer look at what they offer. It turns out that a number of places sell well-known brands. For 10 som/$0.17 you can buy a nice trinket, and for a couple thousand som (perhaps $35), you can find brand new clothes or shoes. Three local second-hand shoppers also shared their insights with Enot on the subject.
This brief overview takes into account criteria such as variety of merchandise, price range, current discounts, common brands, and general impressions of the stores. It is not intended for advertising purposes. The overview is meant to be informational, and does not challenge the reputations and customer reviews of these and other second-hand stores.
EuroMIX
Address: 203 Kievskaya St.
This seemingly small shop with second-hand goods from Europe has a basement where the men's department is located. On the top floor, you can browse women's clothing (from 50 som/$0.83 for a T-shirt to 2000 som/$33.39 for a winter jacket), and children's clothes (from 10 som/$0.17 for various small items to 700 som/$11.69 for a warm jacket). Men's clothes are sold for prices ranging from 80 som/$1.34 (T-shirts and shorts) to 2000 som/$33.39 (winter jackets). A good selection of children's clothing includes well-known brands like H&M and Zara. The retailers say that you can often find these two brands here. Men's shoes are among the notable items at EuroMIX. Shelves are lined with running shoes and sneakers (for an average of 1000 som/$16.70) by Converse, Victory, Puma, Nike and Adidas, as well as shoes by Timberland, Asics and other brands. Shoes cost from 100 som/$1.67 (children's shoes) to 3000 som/$50.09 (men's leather boots).
The store is located near Osh Bazaar, by the intersection of Kievskaya and Beyshenalieva Streets. According to the owners, shoppers can find a number of European brands on the racks here, including new clothes. EuroMIX, which opened in the area three months ago, plans to expand to a second location. Its opening is projected within the month. Merchandise is updated and new items come in every other day.
Danish Fashion
Address: Zhukeyev-Pudovkin St. / Donetskaya St.
Frunze St. / Prospect Mir
Moskovskaya St. / Mir Ave.
Moskovskaya St. / Logvinenko St.
This chain of stores, which recently changed its name, has operated in Bishkek for eight years. As with many of their "colleagues," prices at Danish Fashion begin from 10-40 som/$0.33-0.67. One thing you can't find everywhere, however, is their sample sale on summer clothes. Women's clothing is priced from 10 som/$0.17 (sweaters and T-shirts) to 6000 som/$100.17 (sheepskin coat). Men's clothes are sold in the same price range. Children's things go for a maximum of 1000 som/$16.70.
You can sometimes find something worthwhile among the shoes, which are priced from 260 to 2000 som/$4.34-33.39. The labels might be hard to read, but there are brands like Rieker, Fila, Adidas, Dr Martens, Timberland, and s.Oliver. Speaking of brands, shoppers can find clothing by Bershka, Zara, Mango, H&M, U.S. Polo, Boss, B.Young, Soya, Puma, and Nike here. You can also buy stuffed animals, gloves, bags, scarves and hats, and bed linen in this store.
In terms of their pricing, it is worth noting that menswear is somewhat more expensive than women's. The latter is offered in here (the Ortosay Bazaar location, in this case) in greater variety, though. As are children's clothing and shoes. In general, the majority of the clothes are seasonal – currently, fall and winter necessities. Merchandise is updated regularly, and there is a continual influx of warm jackets, which cost from 600 to 2000 som/$10-33.39. And again, women's items will be a little cheaper.
Local insight: My favorite overcoat for 500 som ($8.35)
I always liked people who dressed very stylishly in things you can't find at the market. It turned out that they bought them second-hand. At first, I got things at these stores for fun, just for a laugh. Then I got hooked and started buying my whole wardrobe second-hand. For instance, I love the brand ONLY, and I have a couple of their sweaters, jeans, a dress, and a raincoat. It would be hard to buy them new in Bishkek.
I've been going to second-hand stores for five years now. One example of a successful purchase is a winter coat I've been wearing since 2011, and paid 500 som/$8.35 for it second-hand. There are of course items in these stores that are missing labels, and it's not clear what brand they are, but even among those there are really cool finds. I also like the brand H&M, which I can always find second-hand. I can take three items off a thickly-packed rack and all three will be H&M – I can identify them by sight.
No matter what people say, you can actually find really good new and practically new things in these stores. Sometimes you find something so interesting that you can't believe it ended up here among all the junk. And it's always nice that no one comes up to you, asking: "What are you looking for?" "You want green jeans? Here are some red pants for you" and so on.
Yekaterina, 27 years old. Habitué of second-hand stores since 2009.
Товары из Кореи/Goods from Korea
Address: Kievskaya St. / Dzerzhinsky St.
Prospect Chuy Ave. / Kuliev St.
This small store, located near Ala-Too Square, offers clothing imported from Korea. You can also find their goods at a second location, near Osh Bazaar. Their assortment of merchandise, despite its relatively small volume, includes items of decent quality, and there's nothing downright worthless. The price of women's clothing ranges from 80 som/$1.34 (summer scarves) to 1850 som/$30.89 (light coat). You can find the latter for even cheaper – for perhaps 1450 som/$24.21. Men's clothing sells for 175 som/$2.92 (summer shirts at a discount) to 2500 som/$41.74 (sheepskin coat). Children's clothing for every season costs from 200 to 550 som/$3.34-9.18.
There is a small but decent selection of fall and winter jackets. Women's jackets cost from 350 to 900 som/$5.84-15.03 and men's from 700 to 950 som/$11.69-15.86. Other popular warm-weather items are windbreakers, raincoats, winter shirts, and vests. Hats are sold for 150 som/$2.50. Women's bags cost from 400 to 800 som/$6.68-13.36. Shoes include women's running shoes (800 som/$13.36), men's running shoes (1250 som/$20.87), combat boots (850 som/$14.19), and children's shoes (400 som/$6.68).
According to the salespeople, merchandise is partially updated every 1-3 days. There are currently 50% discounts on men's shirts and T-shirts, as well as on women's T-shirts.
Бутики на Аламединском/Alamedin Boutiques
Address: Dordoi Shopping Complex, Alamedin Bazaar, South Side
For most local people, the word "boutique" probably has a bad association with the bazaar. It is still applicable to stands at indoor markets, however. And in some cases it refers to the French meaning of the word: a small store or shop.
The second-hand dealers that moved to the Dordoi Complex in Alamedin Bazaar less than a year ago do indeed sell goods from small shops – or rather, from shipping containers. With sufficient interest and funds, fans of budget shopping can spend a considerable amount of time here, browsing the used and relatively new things in the boutiques. Boutique No. 74 particularly captured our attention: its small space contains a good selection and does not smell in the least of mothballs.
There are visibly fewer clothes here than shoes – particularly women's shoes. Men's shirts are 400 som/$6.68, and pullovers are 500 som/$8.35. Women's clothing costs from 400 to 600 som/$6.68-10.02. Shoe prices are typical for decent second-hand items: men's cost from 800 to 2500 som/$13.36-41.74; women's, from 600 to 2500 som/$10.02-41.74; and children's from 300 to 400 som/$5.01-6.68. There's a notably good selection of women's shoes in brands like Gabor, s.Oliver, Odeon, Graceland, Bagnoli and others. Men can find shoes by Rieker, Victory, Land Rover, Camel Active, Timberland, Lotto, and Asics. The boutique's merchandise comes from Switzerland, and discounts are available only on men's shoes, size 45 and above, priced 1500 som/$25.04 and above.
The Best
Address: 168 A Jibek Jolu Ave. / Almatinskaya St.
This store makes you want to add "from the West" to the end of its name, and to start up a conversation with a salesperson just because it's such a friendly place. The Best is welcoming not only to the average, everyman shopper, but also to hunters and fishermen, soldiers and construction workers. There are whole аisles dedicated to these shoppers (prices from 300 to 1500 som/$5.01-25.04, and from 300 to 2000 som/$5.01-33.39 for military clothing). This isn't uncommon for second-hand stores, but you can't find sleeping bags just anywhere. These, by the way, cost 800 to 1500 som/$13.36-25.04.
Women's clothing costs from 100 som/$1.67 (sweaters, vests) to 700 som/$11.69 (fall jackets). Men's things sell for 100 som/$1.67 (turtlenecks, T-shirts) to 2000 som/$33.39 (jackets), and children's clothes cost between 30 som/$0.50 (jumpsuits) to 700 som/$11.69 (winter shoes). You can also find belts (100-500 som/$1.67-8.35), bags (200-700 som/$3.34-11.69), hats and scarves (50-250 som/$0.83-4.17), and slippers (50-700 som/$0.83-11.69).
Bikers and soccer fans can find something in this store, too. Motorcyclists can get shoes (from 500 to 2000 som/$8.35-33.39), and soccer players can get clothes (200-450 som/$3.34-7.51) and authentic shoes (600-2000 som/$10.02-33.39). Among the clothing, you will come across brands like Esprit, Benetton, Mango, H&M, Zara, Nike, Adidas, and Puma. Shoe brands include Rieker, Tamaris, Ecco, Clarks, Converse, Dockers, and Timberland. Merchandise is imported from Denmark, Holland, and Germany, and is updated once a week.
Local insight: Heavy Danes and Slender Kyrgyz
I've always appreciated second-hand stores for the fact that you can find pretty unusual things in them. For instance, I spent a very long time looking in stores around the city for decent "military" shorts, but I only found them in a second-hand store – where they also happened to be cheap and in good condition. I've sometimes gotten really nice, brand shoes second-hand that would have otherwise been difficult to find (like Grinders, for instance), and North Face jackets.
One thing that always annoyed me was having to wait for the next "delivery." So I got to know some of the salespeople and they put aside things they thought I'd like. These days I only go to second-hand stores from time to time, since the brands I like have started to appear in stores around the city, and since the growth of internet shopping has made it easier to just order something.
Recently, I haven't been able to find clothes in my size at second-hand stores – all the clothes are designed for heavy Danes and Germans, and it's harder for slender Kyrgyz people to find something. Although I did get a nice leather belt not long ago.
Daniyar, 28 years old. Expert at striking up friendships with salespeople.
England
Address: 92 Bokonbaev St. / Sovetskaya St.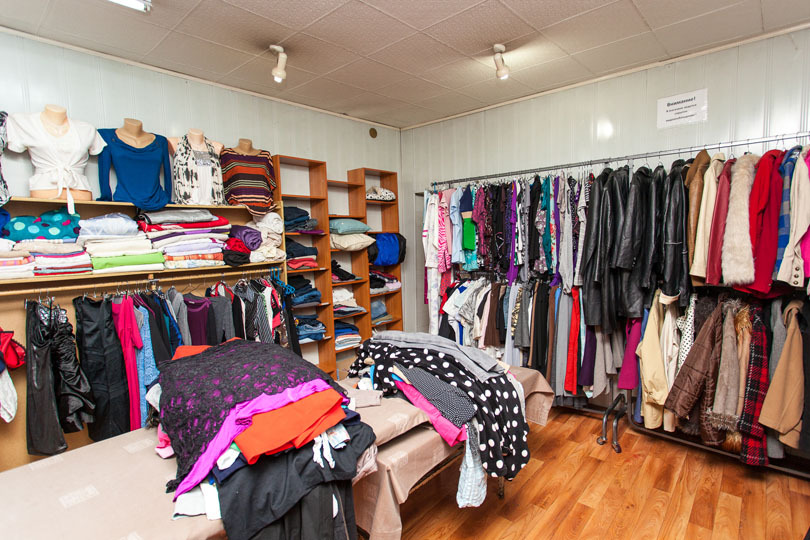 In contrast to the stores with names like "Goods from Turkey," this second-hand store opted for brevity, simply calling itself "England." Be that as it may, the chain of stores is fairly popular, sophisticated, and well-known. It has eight locations in Bishkek. We visited the small store near the intersection of Sovetskaya and Bokonbaev Streets. The minimum price there is no more than 100 som/$1.67. Women's clothes cost between 100 som/$1.67 (T-shirts, cardigans) and 2500 som/$41.74 (leather jackets). Menswear sells from 100 som/$1.67 (shirts and T-shirts) to 2500 som/$41.74 (leather jackets). We didn't see any children's clothes, but the salespeople mentioned that England has another location that exclusively sells this category of clothing, at the intersection of Moskovskaya and Turusbekov Streets.
In addition to clothing, the store sells bed linen (from 520 to 760 som/$8.68-12.69), bags (from 250 to 720 som/$4.17-12.02), and belts (from 100 to 300 som/$1.67-5.01). Shoppers can choose items by brands like Cotton, Marks & Spencer, Next, Adidas, Nike, and others. Among the women's shoes, you can easily find Clarks, Graceland, Tamaris, and Zara. Men's shoe brands include Bueno, Next, and Westland. New merchandise comes in every Thursday, and there is currently a 50% discount on shoes and on new items made in China.
Original
Address: 64 Molodaya Gvardiya St. / Chuy Ave.
91-93 Sovetskaya St. / Scherbakov St.
53 Saliev St. / Lermontov St.
208 Jibek Jolu Ave.
98 Akhunbaev St. / Abaya St.
This is a rare case of a store whose name corresponds to its merchandise. Original is a chain of multi-brand stores that sells both second-hand and new items. Following the recommendations of regulars, we visited one of their locations not far from the intersection of Chuy Ave. and Molodaya Gvardiya St. Here, in one of six stores that sell clothes and shoes from Germany, shoppers have three floors of goods to browse on. The ground floor has second-hand items; the second floor has shoes; and the third has clothing. As far as other locations around Bishkek, we'll note that this chain focuses on second-hand things, and sells items both at retail prices and by weight. Considerable portions of the stores are also dedicated to new items. Prices depend on the quality of the item.
In the particular store we visited, called MaDe, prices for women's clothing begin at 300 som/$5.01 (blouses and shirts) and get up to a maximum of around 3000 som/$50.09 (jackets and coats). Men's clothes cost from 300 som/$5.01 (T-shirts and jeans) to 4000 som/$66.78 (jackets, ski suits). Children's clothing costs from 100 som/$1.67 (T-shirts, shorts) to 1300 som/$21.70 (jackets, snowsuits). Prices for shoes range from 500 to 2000 som/$8.35-33.39
Shoppers can find brands such as s.Oliver, Esprit, Lee, Wrangler, Tom Tailor, Gabor, Caprice, Rieker, and Calamar, among others.
Local insight: The varied smells of second-hand clothes
I buy my clothes and shoes at second-hand stores –where else is there, really? My second-hand purchases are always my favorites. Second-hand stores sell unique things that are almost always one-of-a-kind in the city. You can find things that seem to tell the stories of their previous owners. I have clothing by different brands, and a lot of unmarked "knock offs." But I do find well-known brands – my boots are always Dr. Martens, for instance.
The first thing I do in a second-hand store is look at the "cuteness" of an item; then I look at its size; and then I ask myself: do I need this? Sometimes, I go to a second-hand store and buy a lot of things that don't fit me. I just buy them because they're cute, and then I give them away to my friends. I'm a benefactor, basically.
Recently, I went to a second-hand store for a jacket, and ended up buying a hoodie, jeans, and a hat. That also happens. I think a lot of people can relate to that experience. I also love the smell of second-hand clothes and the feel of old things. They smell like the fates of their past owners.
Vyacheslav, 22 years old. Connoisseur of things with living histories.