Dordoi Plaza opened in Bishkek about a year ago. It's a shopping mall cousin to Dordoi Bazaar, which is Central Asia's largest bazaar and owned by the same Kyrgyz company.
Bishkek has seen several new malls opened in the past couple of years. Dordoi Plaza is the newest of them all and is located in Bishkek's north-east corner. As a new mall, it has attracted quite a crowd.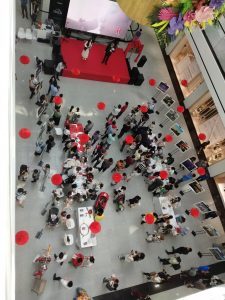 Also increasingly common in Kyrgyzstan and across Eurasia are events that showcase Chinese culture. As Chinese investment has spread, China has also invested in cultural diplomacy and often supports such events.
On Sunday, September 22, I was at Dordoi while a "Charming Beijing" event was held. This is the official tourism campaign currently being organized by Beijing's city government. The event was held in the mall's center and was visible as soon as you entered the mall.
The event was highly interactive and included several giveaways. Giving away free items is something that we see much more of in the US. It's much rarer in Central Asia and other parts of the world in general. In part, that is probably what made this event so successful. It was busy the entire time I was at the mall, which was over the course of a few hours.
For instance, after entering through Chinese-style red arches, the first table had a bunch of goodie bags with "Charming Beijing" written on them. They were going quickly. Therefore, I didn't think I would receive one.
Other tables were set up with stations where you could design and paint your own lantern, paint a Chinese character using stencils, and try on traditional Chinese outfits. While people were checking out these activities, an event host was making announcements from a stage at the front of the event. He introduced each new performer and raffled off prizes. Performances included singers singing in Russian, Kyrgyz, and Chinese.
There were also informational posters lining the event space's perimeters. These showed famous Beijing landmarks and information about them.
At some point I decided that I really wanted a picture in traditional Chinese clothing. Some of the people running the event helped me to properly put on the outfit and headpiece. One of the event staff then came to photograph me. I was instructed as to how to pose and he said the only condition was that I smile widely.
After trying this on, I spoke to another event worker who had one of the Charming Beijing bags hanging from her shoulder. I inquired as to what the bag's contents were. She was would give me a bag if I told her what I liked most about the event. I liked that it was a cultural event and I thought that trying on the traditional Chinese outfit was the best part.
She gave me the bag and I inspected its contents, which turned out to be tourism pamphlets. Interestingly, half were in Russian, and the other half in English. A Russian pamphlet covered places to visit in Beijing, including a subway map and routes to visit them. Another explained how to get a VAT tax refund after shopping in Beijing. The English pamphlets included sites inside and outside of Beijing. Another covered medical tourism for Chinese traditional medicine. The last told about religious sites and popular tourist attractions.
Although I had never considered going to Beijing as a tourist before, this event did make me much more interested in traveling to Beijing to explore its culture and historical sites. The event was an interesting use of cultural diplomacy as there are currently movements against Chinese investment into Kyrgyzstan and issues with China's "re-education" of Uighur Muslims. Kyrgyzstan also has a population of Uighur Muslim and is itself a majority-Muslim nation. Despite these geopolitical tensions, however, the local Kyrgyz in mall seemed to be enjoying the well-organized, eye-catching, and very friendly cultural event.