I come from Montana, which has the 2nd most craft breweries per capita among US states. I proudly carry this new Montana tradition as my own and I've been on the lookout to satisfy my craft beer craving while studying in Bishkek, Kyrgyzstan. Luckily, from recommendations and word of mouth, I've found several bars in the city that offer delicious beers, comfortable atmospheres, and are all located centrally in the city near Ala-Too Square. Under the guise of journalistic purposes, I've devoted several Friday and Saturday nights to determining the best craft beer bars of Bishkek. Below are three of my favorites.
96 Razzakov St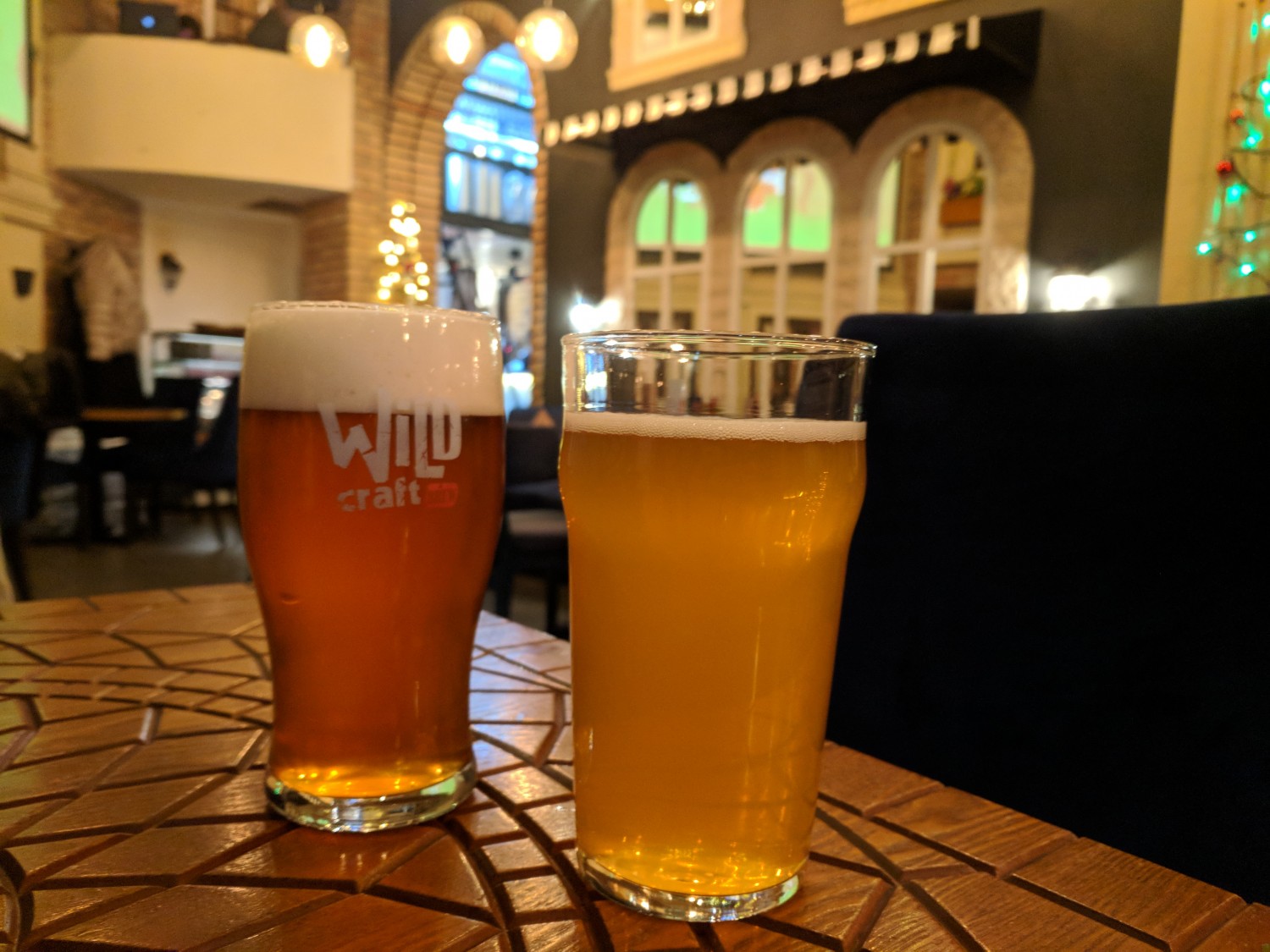 Craft Bar is a popular destination among the SRAS students after classes on Friday because it opens at 3:00 pm and has an easy-to-find location right behind the Chingiz Aitmatov Monument in Ala-Too Square. The bar offers six staple beers on tap from Wild Craft Brew, a local microbrewery: IPA, American pale ale, Irish ale, red IPA, brown smoked ale, and milk stout. Available in .5 or .3 liter glasses, these beers range in price from 110 to 200 som (1.60 to 2.90 USD). Although they have an extensive list of imported bottled beers (European and Russian), they often aren't in stock. The food here is worth a try; I can recommend the Craft Bar burger, priced at 280 som (4 USD). The atmosphere is very comfortable and has outdoor seating when the weather is nice. However, the service is slow and the waitstaff can be fairly unhelpful as they aren't as informed about the beer that's offered compared to waitstaff at the other two locations listed below.
193 Tynystanov St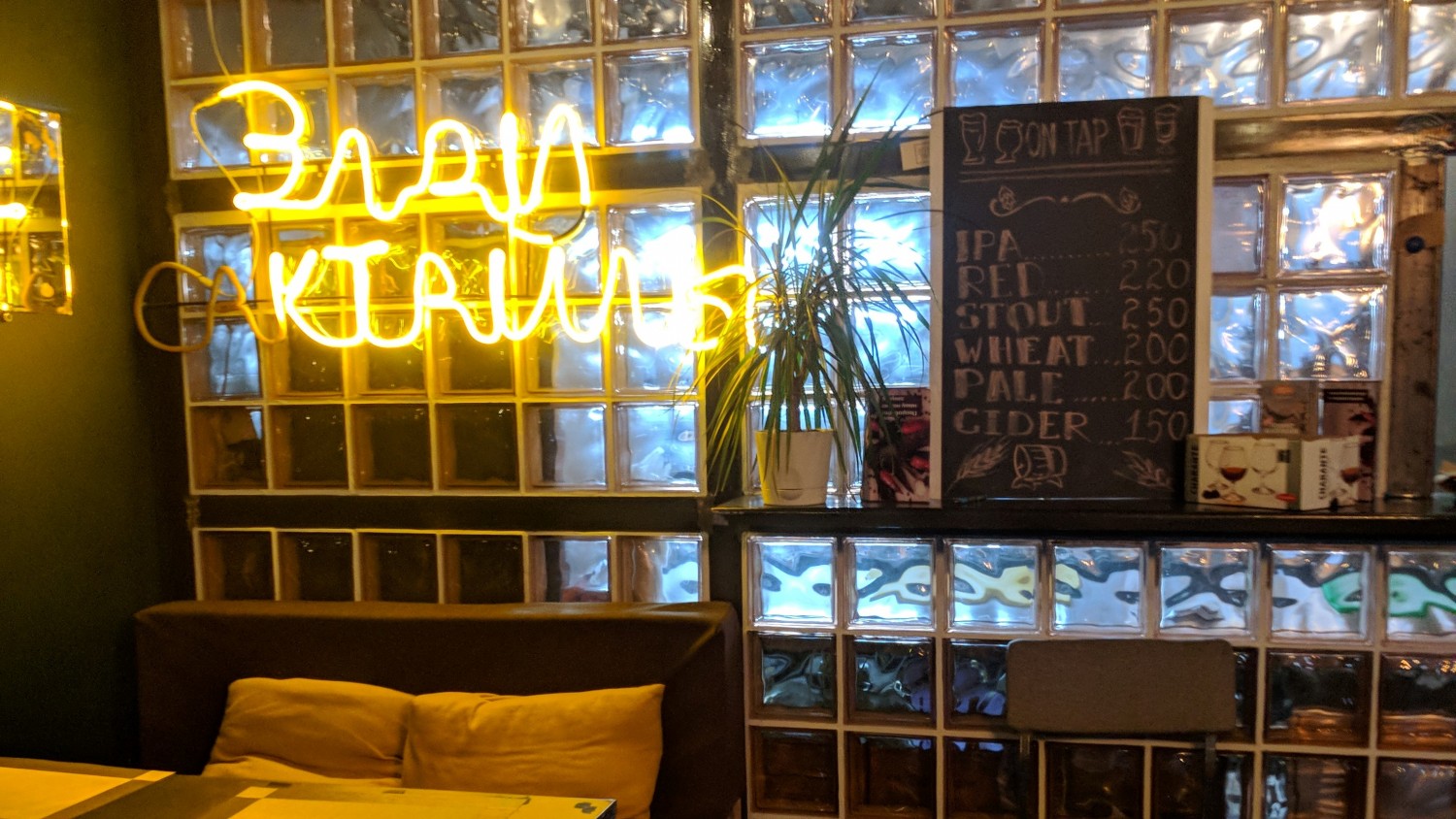 Next is the all-female owned and operated Save the Ales brewery and taproom. Founded in 2016 as a safe space for LGBTQ+ employment in Bishkek, the trendy space is great for sipping on a cold beer and snacking to your heart's desire. I brought some friends here on a Thursday night in November and found it fairly chilly and empty, but quick and friendly staff kept our drinks flowing. On tap offerings include: IPA, pale ale, red ale, stout, wheat ale, and cider ranging from 150 to 250 som in cost (2.15 to 3.60 USD). The beers' IBUs (International Bitterness Unit) and ABVs (alcohol by volume) aren't listed, but the waitstaff is knowledgeable about what's on tap and are happy to let you know about their beer offerings. We were really impressed with the food menu, as well. Burgers, brats, steaks, and salads are all offered as main courses, ranging from 350 som (5 USD) to 600 som (8.60 USD).  Between the four of us, the "beer set" snack platter was perfect: Vienna sausages, onion rings, deep-fried chechil, french fries, croquettes, cheese puffs, and chicken skewers for 800 som (11.50 USD).
Moskovskaya/Orozbekova St, Bishkek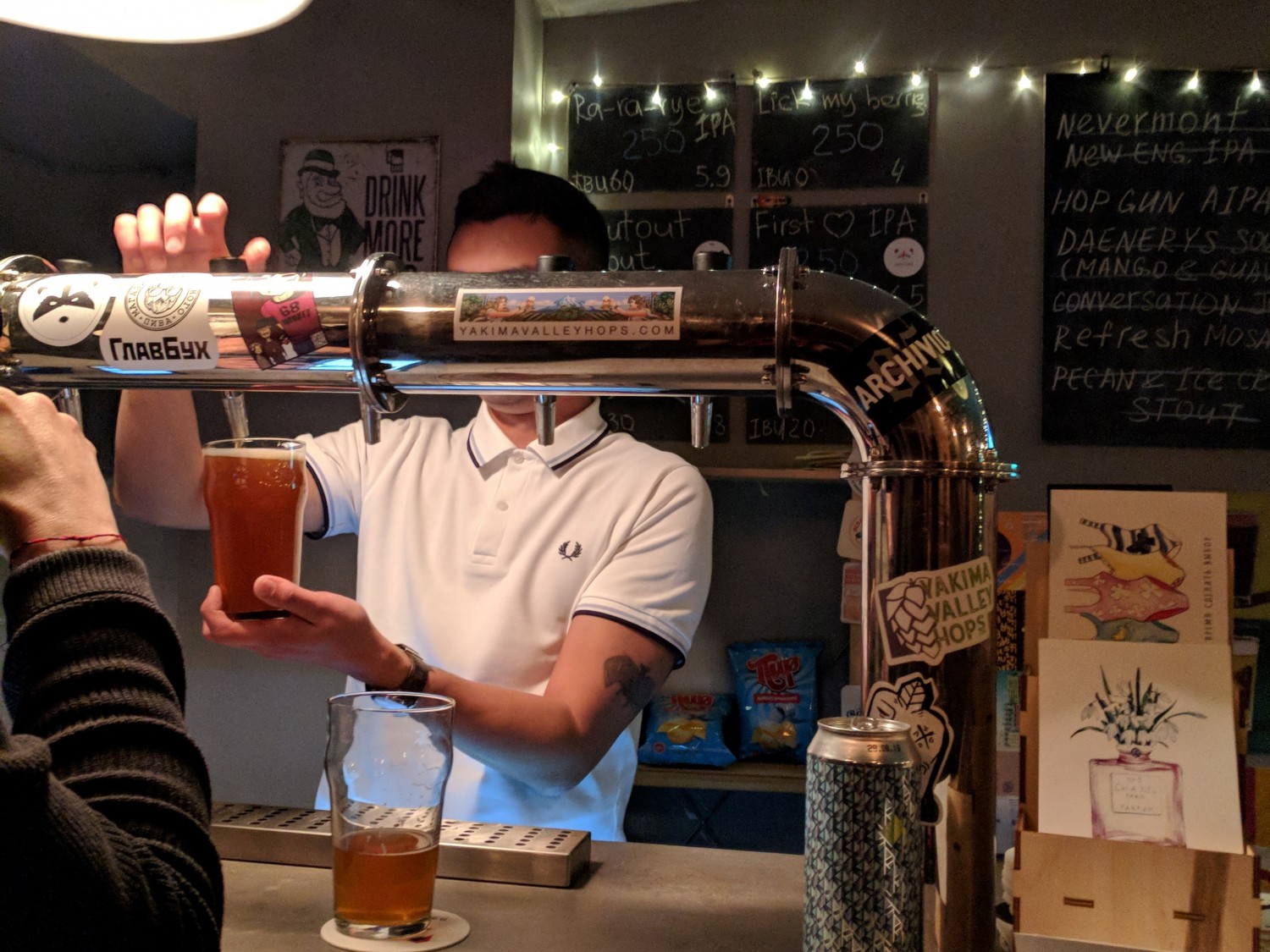 Brewster is my number one pick for brew. The perfect destination for a winter night, this cozy bar is located in the basement of its building. It is popular with expats; a soccer or rugby game is always playing on the TV and the space is small enough that it's very likely that you'll strike up a chat with fellow patrons. The bartender is super knowledgeable about the beers he's serving – ask for a recommendation! There are usually six beers on tap from Raccoon Brewery Co, a local Bishkek brewery. You can also find about ten additional bottled and canned craft beers from various breweries (Russian, usually). What I like best about Brewster is that the beers' IBUs and ABVs are listed on the menu and the bartender can help steer you towards a good choice based on your taste and preference. Plan to eat before you visit, however. Only beer snacks such as nuts and chips are offered. Prices of the beer ranges from 150 (2.15 USD) to 350 som (5 USD); draft usually costing around 150 to 250 som (2.90 USD) while the bottled and canned beers can cost 200 som (2.90 USD) to 350 som.
Bishkek's craft beer scene revolves around these three venues. Between these choices, there is no shortage of opportunity for craft beer enthusiasts to expand their tastes and enjoy brews in Bishkek.