Craft burgers began to swarm Russia around 2014 or so – and are now already plentiful, with several well-developed local chains and other one-off establishments. So, for any Americans studying abroad here, if you find that you, like us, cannot help but miss a juicy burger, here is a mini guide to some of our favorite burger places in St. Petersburg, Russia!
Sadovaya Street, 40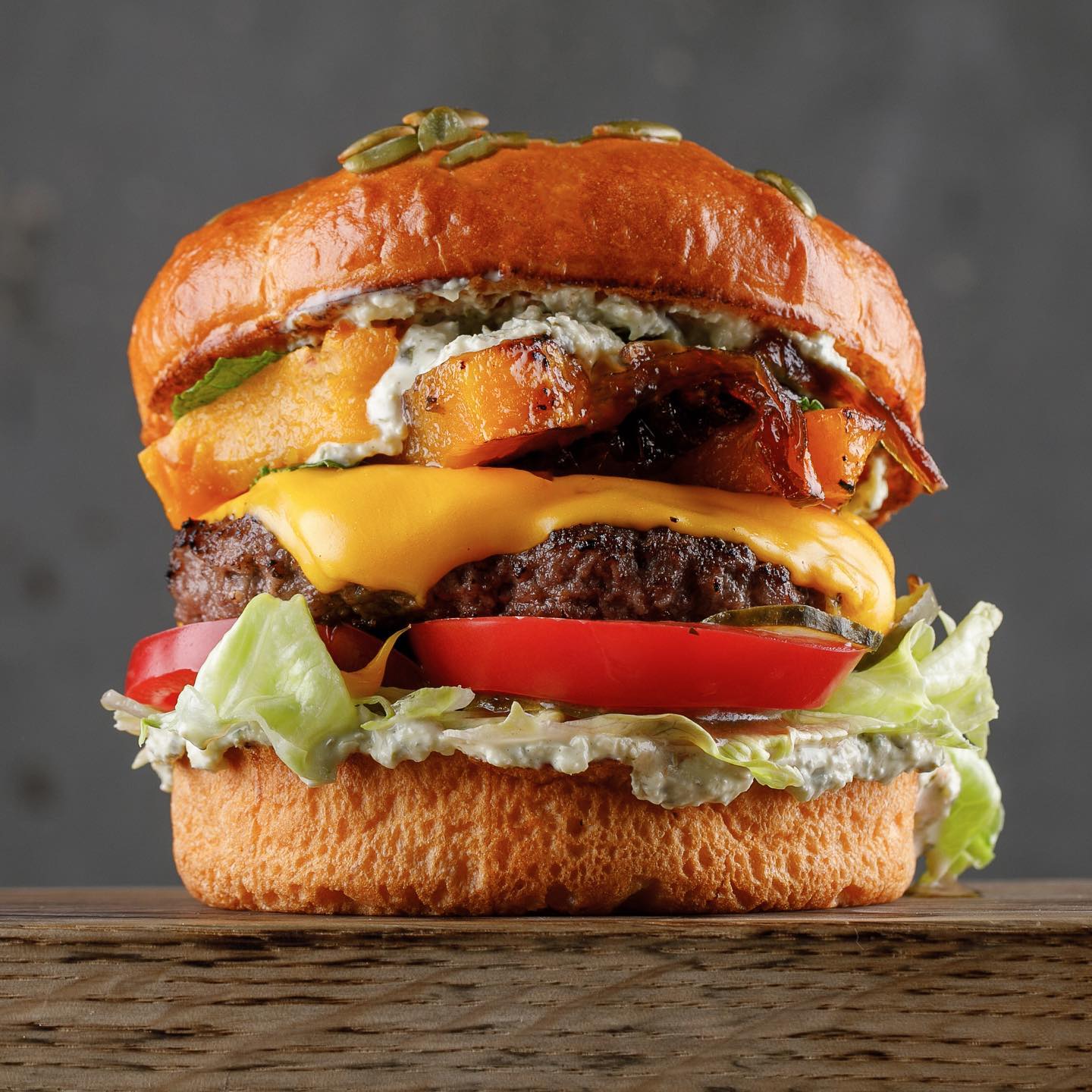 This burger restaurant is a perenial favorite with SRAS students. There are several locations with one right down the street from the university dorms. It's quite popular among both the local and international students, and it is a convenient spot to grab a Friday night dinner. The restaurant is sit-down style, with a wait staff and a talkative environment. The burgers are reasonably priced, though slightly more expensive than some take-out places. In addition to burgers, Ketch Up Burgers also serves breakfast, lunch, dinner, desserts, drinks (including craft beers), and coffee. The only downside is that you have to pay for all extras and dipping sauces, ironically including ketchup. This means that this restaurant isn't the cheapest option in town. However, it's certainly one of the best, with average-sized, delicious burgers!
Charlie Bacsik
Gorokhovaya St, 27
Less than a five minute walk away from the UNECON campus is a restaurant that at first glance is relatively unassuming, but behind the plain brick façade is Mickey and Monkey's is one of the hippest spots in St. Petersburg. It is not uncommon to see a line of people waiting to be seated extending out the door and around the street corner.
Most of the attention surrounding Mickey and Monkey's is due to their creative milkshakes. Each milkshake is over a foot tall and topped with an assortment of sweet treats like cakes, waffles, and ice cream bars, most of which can be bought seperately as well. They also offer whole cakes that can be special ordered a few days in advance for a special occasion such as a friend's birthday.
Even though the desserts are the most famous items on the menu, Mickey and Monkey's remains one of my favorite restaurants in St. Petersburg due primarily to the atmosphere and the fact that there is not a bad dish on the menu. My personal favorites on the menu are the Caesar Salad and the Classic Burger. The burger is hands down one of, if not the best burger in St. Petersburg.
Natasha Harwood
Sadovaya Street, 42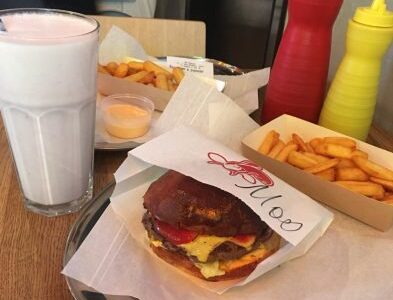 Out of all the burger joints close to campus, Moo Moo Burgers is probably the best place to go to if you're looking for a bang-for-a-buck. They serve the largest burgers I've found in St. Petersburg, and they also have one of the cheapest menus! The average cost for a burger and fries is 400 RUB (~$6). Students typically go here when they need a quick meal; I've come to compare this burger joint to fast food chains such as In-n-Out or Five Guys in the US. There has always been a large crowd there every time I've eaten there, but the service is quick and efficient. My favorite thing about this burger joint is their milkshakes. A large milkshake only costs 200 RUB (~$3), and their variety of flavors leaves options for everyone.
Charlie Bacsik
Bolshoy Prospekt. PS 35 (and Others)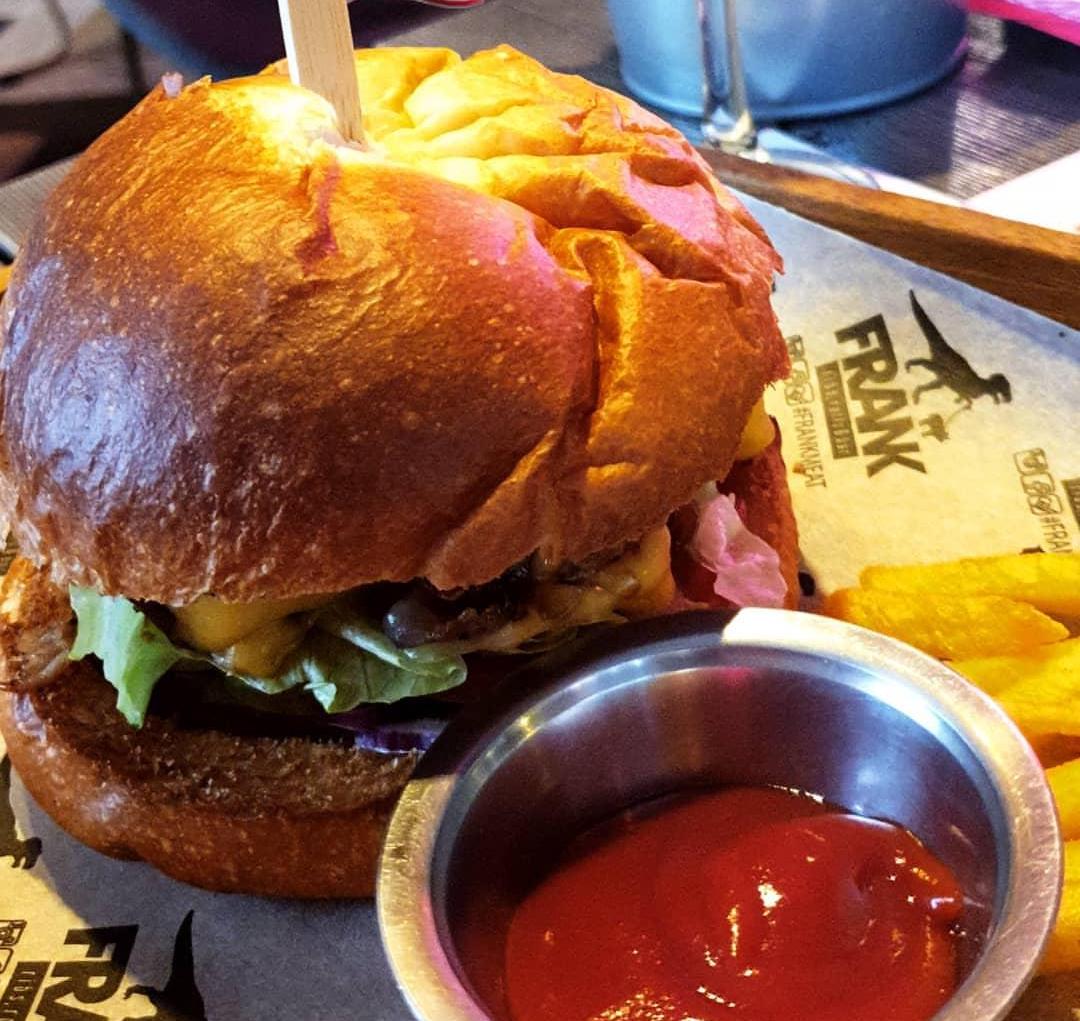 FRANK is my favorite place for a gourmet-style burger. It is also a must-go place for fans of the American series, House of Cards, since the restaurant is inspired by the main character Frank Underwood, a charismatic, successful politician who frequents a tiny grill house in suburbs of Washington. In St. Petersburg, there are three locations, with one on the popular Rubinstein Street. The interior design of FRANK is very artistic, where walls are covered in street arts, menus are newspapers, and bar menus are colorful comic books. They also play American music.
The most popular burger is the Frank-burger with rib meat, which costs 550 RUB or around $8.5. The buns are very fluffy and have a similar feel to that of a croissant. The BBQ grilled chicken is tasty and juicy, and it comes with cheese, pickles, ketchup, red onions, and cabbage.
Tanya Tanyarattinan
Sadovaya Street, 29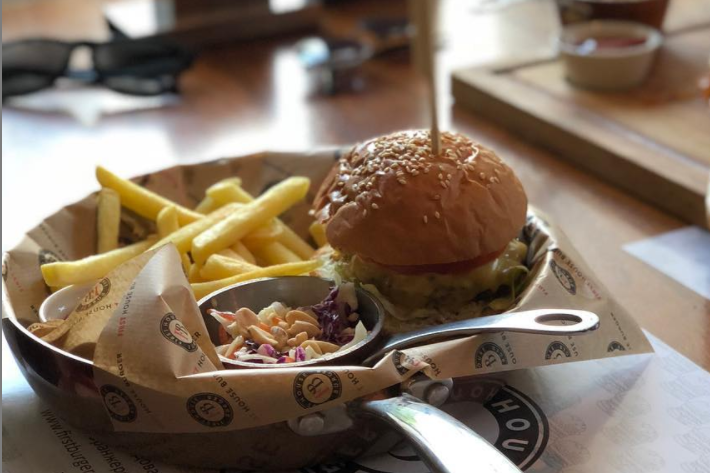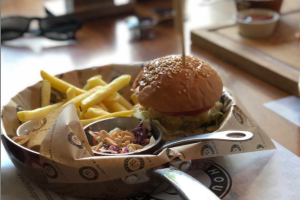 Also within a three-minute walk to campus, First House Burger is a go-to place if you're looking for a laid-back dining experience. It's a restaurant/bar with great craft beer and huge meal portions, which isn't always easy to find in St. Petersburg. This is a great place to go to with friends after a long week; it's not too crowded, and the staff is a fun bunch who love speaking with foreigners. Their menu includes far more than just burgers, as well! Whether you're in the mood for an award-worthy omelet or some traditional Russian soup, they've got it all.
Charlie Bacsik
Ligovsky Avenue 81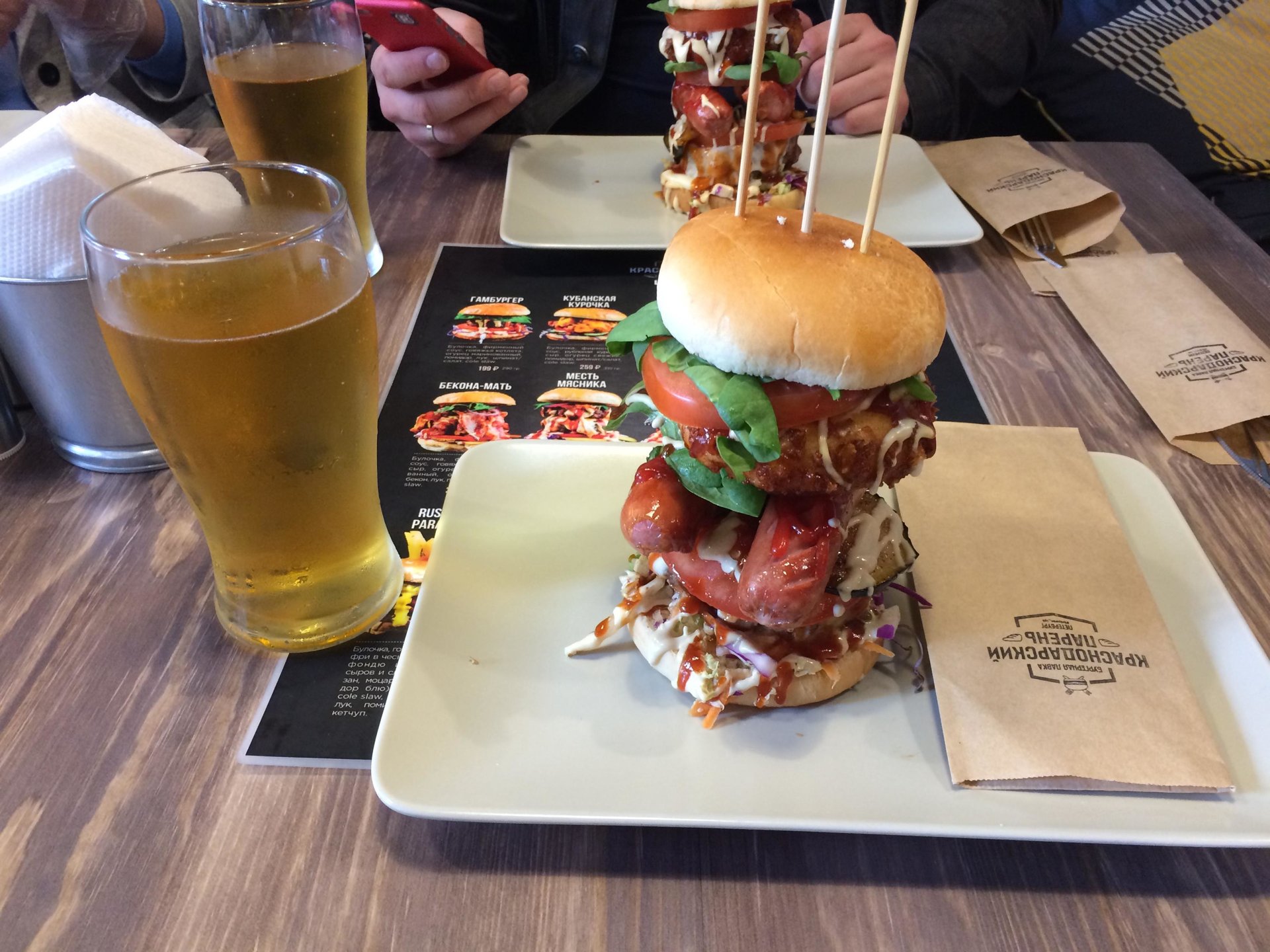 Of all the burger places, here is where I have the most fun eating. The name of the restaurant (Краснодарский Парень) translates to "The Krasnodar Guy." Krasnodar is well known as an agricultural region of Russia and is becoming better known for its meat now. The restaurant is famous for its tall, multiple-layered burgers, with its signature being the Krasnodarsky Paren' Burger. It comes on a huge bun, with a beef patty, deep-fried mozzarella, grilled sausages, spinach, tomato, coleslaw, and remoulade sauce. It is very big and filling for only 530 RUB or around $8. Besides the fun burgers, the restaurant also serves wings, club sandwiches, salads, snacks, etc. In 2017, Krasnodarsky Paren was awarded a Best Burgers prize by Sobaka Magazine.
Tanya Tanyarattinan
Griboyedov Canal 20 (and Others)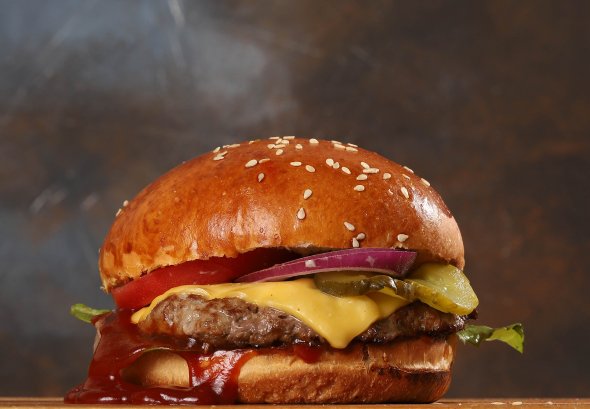 There are three locations of City Grill in St. Petersburg, all of which are nearby Nevskiy Avenue. The price is very affordable, in the range of 125-295 RUB or $2-5. The closest one to my campus is only a 5-minute walk, so it is where I like to go when I need a simple, decently priced burger. Their signature burger is the City Burger. It has marbled beef steak, cheddar cheese, pickled cucumbers, red onions, Texas BBQ sauce, tomatoes, and lettuce. It is 150 RUB or only $2. Similar to Moo Moo Burgers, City Grill is a fast-food style restaurant and also serves some drinks and desserts.
Tanya Tanyarattinan