No matter how great a change is wrought on a society by any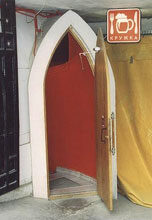 occurrence, the society will retain some of the basic characteristics it had before; infrastructure and traditions take decades if not centuries to evolve. Therefore, the introduction and development of capitalism to Russia has had to utilize Soviet-produced and influenced infrastructure and traditions. This has created a version of capitalism that often differs not only in its outward appearance, but also in its basic functioning and philosophy.
      1. Sacred and Secular

Here, corporate advertising and an icon adorn a café at Moscow State University which also displays a chandelier and moldings in classic Stalinist style. The Russian national colors of red, blue, and white help unite the sacred and the secular.

     4. Girls Waiting for Blini 

Kiosks, well known in modern Russian literature, are common. One reason is that in many cities growth and property prices have put space at a premium.

                2. Signs of the Times

Primorskaya Metro Station in St. Petersburg is a hulking beast of late-Soviet concrete and glass. It's now gaudily awash in advertising for area businesses. The square in front  is full of underwear vendors and American hip-hop.

3.  Communist Kitsch
Soviet buttons and medals, pictured left and once the
pride and joy of veterans
and pioneers alike, are
now mass-produced and
sold to foreign tourists. Likewise, below, tiny busts
of Lenin and other Communists are also now
a source of profit for
souvenir vendors.
5. Rocking Youth
The young people at this St. Petersburg boat party held professional positions which did not exist in that city

when they were born – such as in sales and programing.
They also enjoyed trail mix, a recent Western import. St. Petersburg culture is now dominated by young, middle class Russians.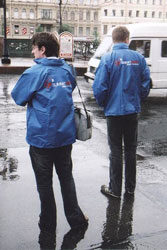 6. Relics in Reputation
Russia's reputation as a hulking dictatorship has never been completely shed. Neither has its mistrust of the West. Its G8 membership has thus been controversial both inside and outside Russia, particularly during the 2006 G8 summit, which met just outside of St. Petersburg. Two support staff are pictured left and anti-G8 graffiti, photographed just 
outside of Peterhof, is pictured below. Some argue that Russia should be a member because of its growing economy. Others insist membership should be revoked given "democratic backsliding." Russia's WTO aspirations are now similarly debated.
7. Eye on the Environment

Another problem that capitalism has created is the copious amounts of litter that can be found in Russian cities and especially in the countryside. This picture, featuring overturned dumpsters and a Thomson television box (with the eye) was taken outside a St. Petersburg apartment block.*

                     8. Empty Frames
     
These advertising frames stand empty near the Kremlin in Novgorod. The communist era and the economic collapse of the 90s left Russia without a well-developed infrastructure to support modern capitalism. This lack is still felt today and much infrastructure that does exist (these were built by the USSR) is only partially or inefficiently utilized.

  10. Product Déjà vu

Perhaps the most concerning vestige is that most heavy industry still uses Soviet-era infrastructure, as witnessed by these cars built shockingly similarly to late-model Soviet cars. In addition to diversification, the Russian economy will require substantial internal investment in coming years.

                  8. Melons
  
Under communism, fruits and vegetables were imported from the warmer southern republics. The importation continues today, though often illegally – in fact, watermelons have become a symbol of illegal immigration and minority involvement in the black market. This symbolism was utilized in a well-publicized Rodina political commercial.

           9. Spare Baggage

Soviet stores did not give bags with each purchase and rarely had products well-stocked. So, Russians developed a habit of carrying a spare bag so that if they found something in relative abundance, they could carry home a good  supply for their family or enough to share with friends. Interestingly, this tradition lives on despite the relatively wide availability of goods. An extra bag is routinely packed into purses and briefcases – just in case something large needs to be carried.

This page copyright The School of
Russian and Asian Studies and
Kendra Drischler. All photos
copyright Kendra Drischler.
*The television box might also be regarded as representing the paradox of freedom of the media in Russia: almost all Russians have access to state-controlled television, while the completely unregulated Internet press has a relatively small audience. This picture was taken in a poor neighborhood where most cannot afford the investment (usually around one to two hundred dollars) necessary to begin home Internet service. Internet cafes are also still a luxury expense for most. However, most Russian-language television programing can be had for free over the airwaves.
The author, Kendra Drischler, is seeking her Ph.D. in Comparative Literature at the University of Chicago, focusing on French, German, and Russian literatures. She studied Russian at St. Petersburg State University with SRAS in the summer of 2006. Having seen her photos, which are often delightfully original in subject matter and composition, we asked her to pick a theme and submit a few based on that theme.
She chose to focus on visual representations of how Russia has adapted to capitalism and how capitalism has adapted to Russia. All photos are courtesy Kendra Drischler. The captions were developed by SRAS and Kendra Drischler.