A wave of coffeeshops have relatively recently swept across Russia. Once dominated by dehyradted Nescafe, most Russian cities now offer modern coffee shops specializing in everything from quick, cheap coffee to go to comfortable places to sit and relax with your beverage and snack. Below are two of the oldest such institutions in Irkutsk, both of which are local icons.
Various Locations
Castro Café provides a scene familiar to anyone who has spent time as a college student and needed to find a place outside the house to study. The café exhibits all the hallmarks of a coffee-house located in a city dotted with universities and colleges, as Irkutsk certainly is. If you would assume that Castro Café is a café like any other, then you would be mostly right. Its coffee and tea is of a high quality and expensive. Its sandwiches and pastries are delicious but not filling, and its calming ambience and comfortable variety of seating arrangements provide a setting perfect for both studying and hanging out.
Castro Café does have a few things that make it stand out from the pack of coffee shops and brew houses that litter the city. Most interestingly, the layout of the building is highly conducive to those relaxed study sessions I mentioned earlier. The counter is located on the first floor, along with an area of bar stools and booths, bestowing a restaurant-style atmosphere upon the place. Taking one's food up to the second floor, however, reveals a comfortable lounge, replete with cozy furnishings, relaxing music and a calming color scheme.
The café's location is also in its favor. Only a short walk from the linguistic university, and smack-dab in the middle of downtown, Castro Café is almost always a convenient place to meet up with friends. The establishment takes advantage of this, always providing extremely swift service and attention.
Overall, Castro Café is certainly not a cultural landmark or memorable oddity, but it doesn't try to be. Castro Café does a decent job of providing a place to get together with friends, relax, and be productive: something I, as a stereotypically busy college student, can certainly appreciate.
Lucas Fagre
Karla Marksa, 37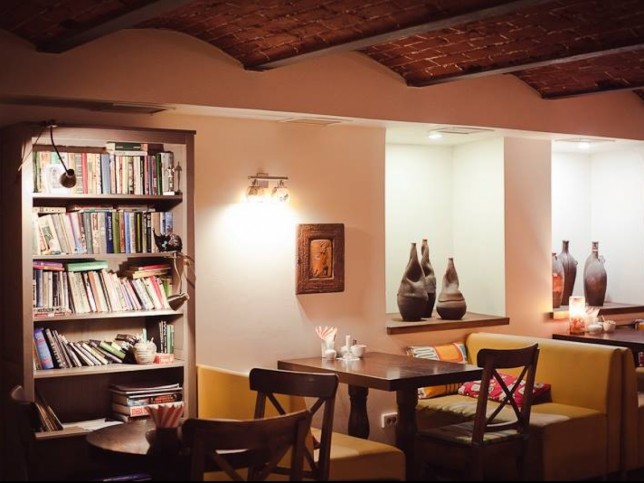 Siberia isn't a place one goes to for good coffee. However, for a city of its size, Irkutsk is actually reasonably well served in terms of coffee shops, and there are a number of places where one can go to get a good, reasonably priced cup. The coffee shop "Belaya Vorona" (White Raven) is my personal favorite, offering good quality coffee for a price similar to what one might pay in most major cities in the United States. Located on Ulitsa Karla Marksa, the main walking and shopping street in Irkutsk, Belaya Vorona is centrally located and a convenient point for meeting up with friends. The free WiFi and comfortable atmosphere also make it a good place to do work, and the clean public restrooms are always useful during downtown explorations.
Belaya Vorona is located in the basement of a flower shop, yet despite this it is relatively easy to find – You'll see large signs for it on the front of the building, just enter the flower shop and follow the stairs down. The bathrooms are actually at the top of the stairs on the right, so you can use their toilets without entering the coffee-shop and thus feel no obligation to buy anything. The actual cafe in the basement is quite cozy, with painted brick ceilings and wooden bookcases with a variety of books in Russian for patrons to read (they might even have a couple in English). In addition to books, Belaya Vorona displays a variety of works of art from local artists, mainly small paintings and sculptures. On occasion, the coffee shop hosts special exhibitions, and also hosts cultural events such as movie showings and concerts by local musicians. For a full listing of events at Belaya Vorona, check out their VKontakte or Facebook page.
Prices at Belaya Vorona are quite reasonable. Unfortunately, tea only comes in teapots, and so is actually a bit more expensive than coffee. Belaya Vorona also serves a variety of food. Their breakfast menu is quite affordable, and you can get different kinds of kasha, omelets, or bliny. A range of pastas, salads, and soups are also served.
D. Garrison Golubock