A wave of coffeeshops have relatively recently swept across Russia. Once dominated by dehyradted Nescafe, most Russian cities now offer modern coffee shops specializing in everything from quick, cheap coffee to go to comfortable places to sit and relax with your beverage and snack. Below are some notable locations in Moscow for coffee.
Introduction
Moscow's coffee scene has rapidly developed over the past two years. If you'd like to learn a lot more about Russia's home-grown chains, definitely take a look at this resource on Russia coffee chains.
For those that want the short-and-sweet: Russia's ubiquitous chain is Shokoladnitsa, which can be found everywhere, offering decent coffee and mostly reheated but edible lunches. CoFix and OneBucks are also large chains – they specialize in cheap coffee and snacks to grab on the go. Surf Coffee, a relative newcomer, is a growing chain that's recommended for coffee connoisseurs. It's not cheap, but is really good coffee. You can also, of course, find Starbucks here, although Starbucks in Russia is actually high-end coffee with some of the highest prices on the market. We greatly recommend trying out some of the local offerings. Our favorites, in fact, are generally the tiny new places, which often feature forgettable names and are usually staffed by a bored-yet-friendly young person. Taken collectively, these are almost as ubiquitous as the big chains now and are most likley to offer the chance at a conversation as well a good coffee at great value. Go local!
Student Reviews
Various Locations
Review by Helen McHenry
On a rainy Friday afternoon in late June, a few of my friends and I decided to brave the weather to check out one of Moscow's many cat cafes. Kotissimo, the largest such cafe in the city, is located slightly outside the ring of metro stations that make up the city center. After a brief but sodden walk from the station, we stumbled upon the cafe. To prevent the cats from escaping, we rang the doorbell and waited for an employee to unlock the door. We were then ushered into a small antechamber that smelled strongly of cats, where we deposited our coats and swapped our shoes for single-use socks and crocs. An employee explained pricing and cafe etiquette – pet, play, but don't pick up – and opened the inner door to the cats within.
My first few moments in the cafe were a blur, as my excitement at finally getting some quality cat time had me flitting around the room, not knowing where to begin. Resembling a house more than a cafe, the main room featured a large table at one end and an assortment of plush couches and armchairs at the other. A Maine Coon sprawled on top of a fish tank, his immense size dwarfing the fish swimming beneath, while cats of varying coloring and age lounged in beds situated within the deep window seats. A smaller room lay further back, in which lay more couches and tables, as well as an assortment of board games. For the cats' entertainment, videos of birds, complete with sound, played on a loop on a nearby screen. The remainder of the rectangular space was blocked off, doubling as a place for storage and a place for the cats to get away.
The cafe was an anticafe, so the selection was limited but complementary. We could choose between coffee, hot chocolate, and tea, serving ourselves as desired while snacking on cookies and fresh strawberries. Soon enough, we all settled down with a cat or some coffee – or both, as some of the cats seemed very interested in our drinks and snacks. One cat was so brazen as to swipe a strawberry directly from my friend's plate. We constantly had to shoo them away from our plates and cups, but all of us did so very good-naturedly, being used to doing so at home.
Although the sheer number of cats – between 20 and 30 – and their tendency to flit around the cafe at will made it difficult to remember names, there was one in particular who stuck out. Mao, an elderly caramel-and-black-colored cat, spent most of his time on top of the table where we enjoyed our refreshments. He tried to stick his head directly into one of our cups multiple times, as well as took a bite directly out of my friend's cookie. It was obvious that Mao was a favorite of the employees from the way they chided him, smiles on their faces, and gently placed him on the floor or pushed him to the other end of the table.
When I wasn't sitting with a cup of hot chocolate or wandering from room to room trying to pet as many cats as possible, I sat on the floor with one or two of the cafe's residents, tempting them with various toys. The cafe had a wide variety of feathered wand toys and smaller catnip-filled pouches of various shapes and sizes. Thus began the age-old challenge of finding which toy a particular cat prefers and how they prefer it to move. There was one moment when I had found success with two cats simultaneously, both of them leaping and running around me – utter bliss.
Too soon, my friends were ready to go, so we paid, said our last goodbyes, and trekked back out into the rain. All of us felt completely relaxed, stress a foreign feeling. I recommend the Kotissimo Cat Cafe for all animal lovers visiting Moscow, particularly those who are missing their own furry families at home.
Various Locations
Review by Samantha Barrett
Coffeeshop Company is a unique franchise founded in Vienna, Austria and the menu reflects its cultural roots. Moscow boasts harboring about thirty Coffeeshop Company cafés across the city. While I was exploring the beautiful Arbat area, I stopped by the Coffeshop Company at Улица Арбат 1 (Arbat Street, 1).
The Coffeeshop Company on Arbat is located at the far end of the road for those arriving to the area from Arbatskaya metro station. With artsy chalkboard menus over the counter, comfortable cushioned chairs, and floor to ceiling windows that enable prime Arbat people watching; the Coffeeshop Company is the definition of a peaceful yet stylish place to enjoy some great food and drinks! For those of us who are non-experts in the coffee field (*cough, cough* me,) and don't know the difference between the terms "americano" "cappuccino" and "frappuccino," or whatever the kids call it these days, have no fear! The Coffeeshop Company lays out visualized descriptions of the various types of coffee in their menu!
If you are in the mood for food, I personally would only recommend the Coffeeshop Company for a lunchtime excursion. The menu, while mostly focusing on coffee, offers snacks as well. The snacks vary from fresh salads to toasted focaccia wraps and stacked bagel sandwiches—definitely more along the lines of a midday meal! Additionally, the Coffeeshop Company offers a wide array of delicious desserts that will leave you craving more!
Before my first trip to this cute sit-down café, I had heard rumors about some life-changing gourmet waffles that are sold at the Coffeeshop Company: a perfectly cooked waffle with two heaping scoops of vanilla ice cream and sweet berry sauce. The whole reason I visited this café was because my friend (with whom I was exploring Arbat at the time,) had eaten one of these waffles a year previous while abroad, and claimed she'd "been craving it ever since." Unfortunately, the waffles are not listed on the online menu, nor do all store locations have them. If you want to experience, the Coffeeshop Company on Arbat is your best bet!
The next time you're wandering around the city and want to rest somewhere with relatively affordable prices without declining product quality, make sure you check out the Coffeeshop Company! With the heat of the summer right around the corner, chilling out in the air-conditioned Coffeeshop Company café while enjoying an iced mochachino with extra whipped cream is pretty high on my bucket list!
Oh, and I forgot to mention: free Wi-Fi.
Various Locations
Review by Samantha Barrett
Looking for a quiet place to enjoy great food and get some studying done? Check out one of Moscow's ubiquitous Шоколадница (Shokoladnitsa) branches—they are absolutely everywhere! With around one hundred cafés in Moscow alone, you will have no trouble at all with finding a Шоколадница in your neighborhood!
Шоколадница has a wonderfully calm atmosphere, and many locations have comfortable cushioned chairs that are set up family-style…perfect for enjoying some tea with friends after class! After seating yourself and giving your order to the waiter or waitress, it's simply too easy to watch hours go by as you take advantage of the free Wi-Fi and addictive menu.
My favorite item on Шоколадница's extensive menu is Блинчики с творогом и свежими ягодами (pancakes with cottage cheese and fresh berries.) However, my notorious sweet tooth is not the only taste that can be appeased at this café! Шоколадница also offers a wide variety of fresh salads and nutritious lunches. If you decide to visit a Шоколадница location for lunch, I would strongly recommend that you try the салат с сочной курицей и чечевицей (salad with juicy chicken and lentils.) It pairs very nicely with most of the main dishes and sandwiches available at Шоколадница.
In addition to the usual coffee lineup, Шоколадница offers a signature какао домашнее (house hot chocolate,) which is absolutely to die for (the name of the restaurant actually means "chocolatier," go figure). The cappuccino, with lots of foamed milk, is also a current favorite of mine.
You Might Also Like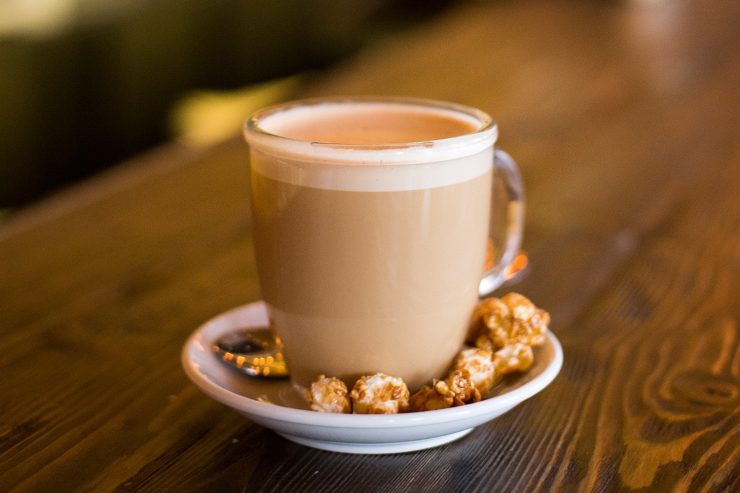 Coffee culture has come to Russia relatively recently – within the last few years – but has exploded within that time. Although there are now many chains and independent shops dotting Russian cities, covering kiosks, to-go windows, and sit-down shops, there are few chains that have managed to become truly "Russian" in that they were […]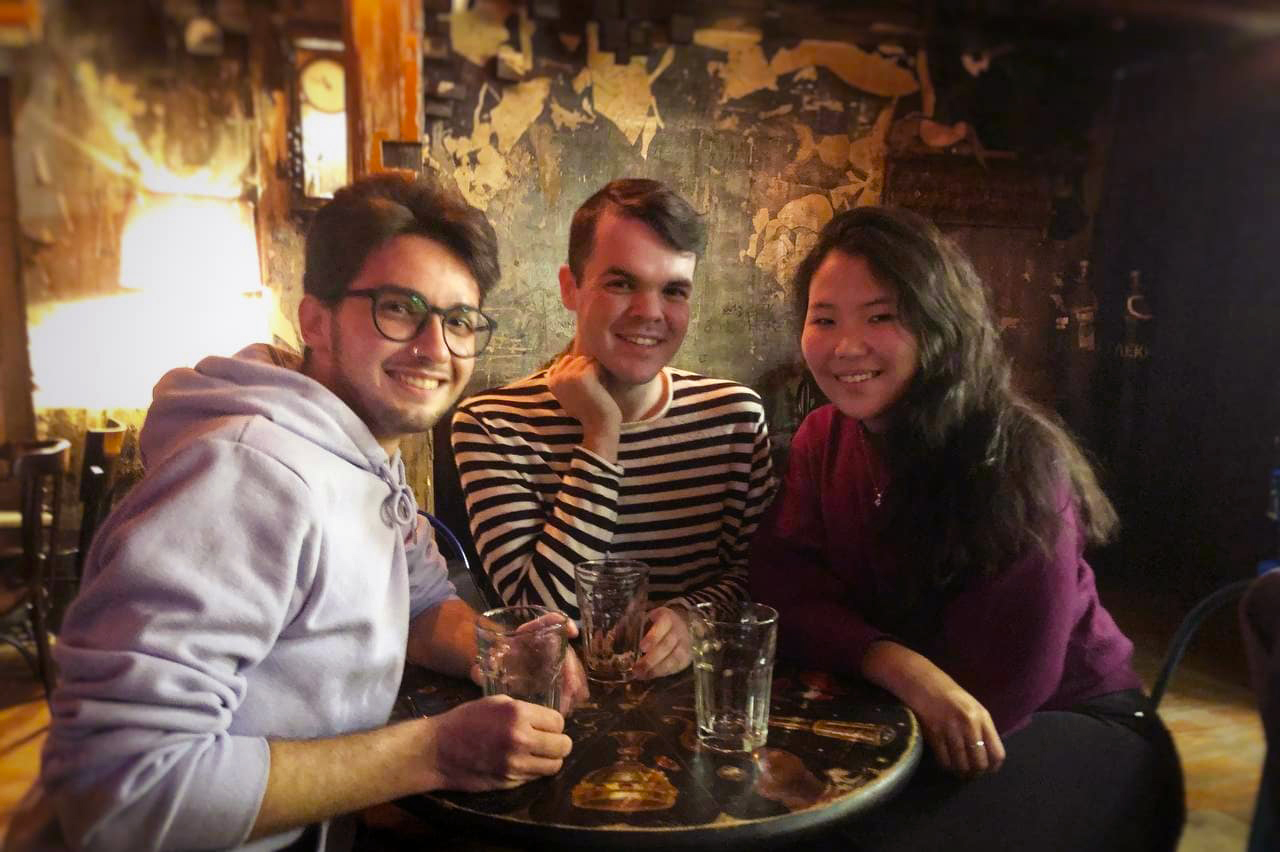 When a foreigner thinks of Russia, a few things likely come to mind – brutal winters, bears, and vodka – but drinks of choice are changing fast here. Vodka and other spirits are on the decline and have today given way to a new, gentler, and more cultured King of Booze – beer. Beer sales […]
0 comments