Many SRAS students seek to add extracurricular activities to their time abroad to help them integrate into their communities, improve language skills, and make new friends outside their classes. Particularly in Russia, where universities do not tend to officially host many clubs, reaching out of your comfort zone to find new opportunities is key.
If you are on an SRAS program in St. Petersburg, let us know what you are interested in. We can help you connect! Below are a few experiences our students have had in joining competitive sports (or cheering on friends) while in St. Petersburg.
Playing Baseball in St. Petersburg: Interview with Tristam Osgood
By Samantha Guthrie, 2014
Here we have an interview with SRAS student Tristam Osgood who spent this past summer in St. Petersburg. Tristam is a rising junior at Oberlin College and has shared with us his story of playing baseball for a local St. Petersburg team!
SRAS: Briefly explain your participation on the North Stars and why you were interested in this as an extracurricular activity.
Tristam Osgood: I'm currently a pitcher on the Oberlin College baseball team, so my initial interest in pitching for the North Stars was so that I could continue playing this summer and not come back to Oberlin in the fall having not pitched for the entire summer. The team competes in the "semi-professional" level of the Russian Baseball Federation (it's effectively the highest level of baseball there is in Russia other than the National Team). I had the chance to play in seven league games with the team, where we traveled to the Russian cities of Moscow, Balashika, and Khimki to play teams from Moscow, Balashika, and Yaroslavl. I served as one of the top pitchers for the North Stars.
SRAS: How did you find the team and finally "join" the organization?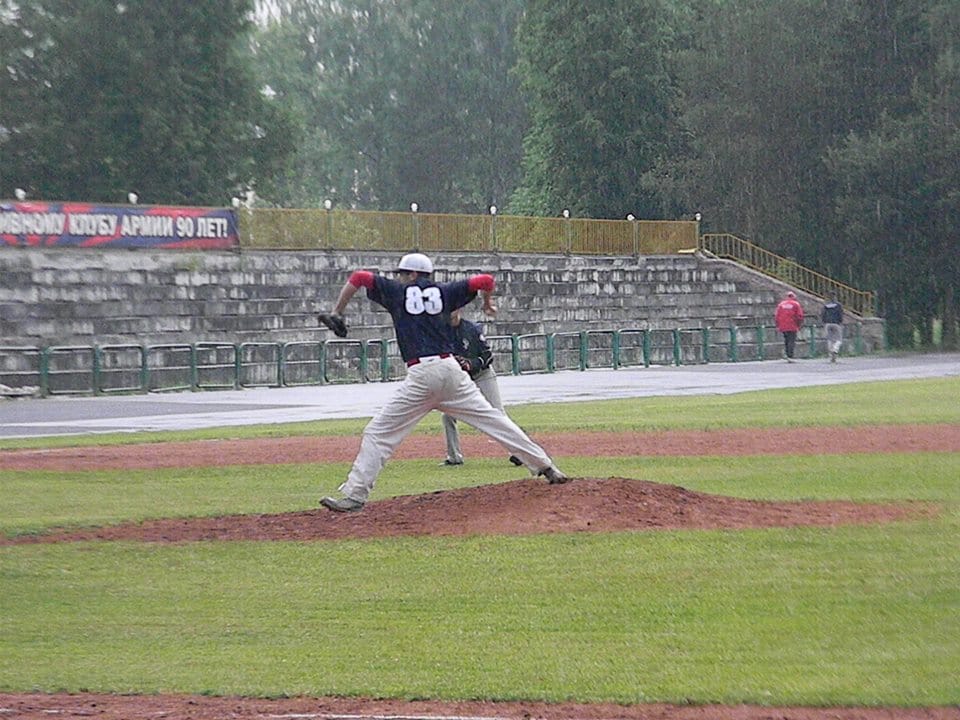 TO: After graduating high school in 2012, I played on an American team called "Old World Baseball" that traveled around Europe playing National and professional teams. We were coached by a man named Tom Gillespie. I emailed Tom in May prior to coming to Russia, asking if he had any baseball contacts in Russia for me. He got me in touch with the coach of the St. Petersburg North Stars, a man by the name of Denis Novokshonov. I emailed Denis when I arrived in Russia, letting him know that I was an American pitcher interested in pitching for the North Stars. I came to a practice, threw a short bullpen (this is a small number of pitches) in front of Denis, and had a spot on the team thereafter.
SRAS: How have you participated on the team?
TO: We practice twice a week, play Russian Federation league games every other weekend, and have intrasquad scrimmages every Saturday that we are not playing league games. The North Stars organization is not just our team…we also have teams at the 10-12 year old age group, and the 15-17 year old age group. I got the chance to work a couple of times at practice with kids from this age group on pitching. This was a really great experience for my Russian language…the kids spoke slowly enough that I was able to easily understand and converse with them in Russian!
SRAS: Do you think playing baseball here has enhanced your overall study abroad experience? In what ways?
TO: Absolutely! With the exception of a few guys, pretty much no one on the team speaks English (this is great), which forces me to use my Russian to "survive" on team trips! It has been truly transformational for my Russian language development to be completely immersed in the language as I am when the team goes on trips to play league games. In addition, I feel that I have made some life-long Russian friends from the team. It is awesome to hear their perspective on Russian and American culture, current events, and Major League Baseball (there are a lot of Red Sox fans in Russia!!).
SRAS: Have you made lasting relationships through the team?
TO: I touched on this in the previous question…but I have absolutely made lasting friendships on the team. When I return to Russia, I will definitely be visiting with some of the guys from the team, and I could even potentially play for the North Stars again.  
SRAS: Has the language been a barrier to your participation? How did you deal with that? Did playing help your language learning progress at all?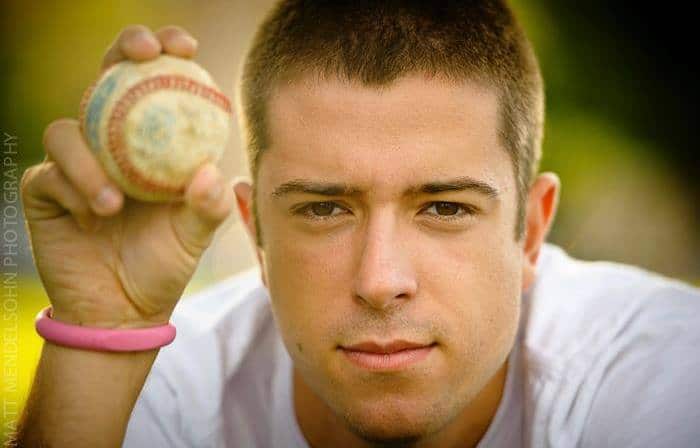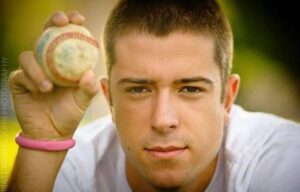 TO: The first practice that I went to was a pretty big struggle…besides being able to get my name, favorite American team, and what I was studying out, it was pretty hard for me to express myself in Russian to the rest of the guys. My Russian language progression has been pretty incredible throughout the summer; in fact, on our last trip, I was able to casually converse with the team in Russian about current events and their favorite American music. Playing on the team forced me out of my comfort zone (speaking English with other American kids in the student dormitories) and into an immersive environment where I was forced to speak Russian.
SRAS: Can you tell us one or two anecdotes from your experience with the team?
TO:
1. My first game in Russia, I was the starting pitcher for the North Stars. The leadoff batter for the other game, tried to bunt for a hit against me. The ball was bunted between the third baseman who was charging and I…in the heat of the moment, instead of yelling out the Russian word for "ball", "мяч", I screamed out in English "BALL BALL BALL". I got the runner out successfully, but everyone on the field (including the other team) shared a laugh and instantly knew I was American after that.
2. When we went to go play the Russian team based out of Balashika, I assumed that we would stay in a hotel like we had in every other city that we had played in. However, Balashika's home field is located on a military base in the town, so we stayed in the military barracks next to the field. This is where Russian soldiers go for a "boot camp" type experience before they head off for duty. How crazy is that!?!?
SRAS: Do you intend to keep in touch with the organization or players after you leave Russia?
TO: Of course! I know the Russian baseball landscape pretty well now, and obviously know the American baseball landscape well also…so I hope to serve as a type of "ambassador" between the two communities after my time playing this summer. Hopefully, I can get other American kids who play baseball, and are interested in learning Russian over to play for the North Stars…and vice versa for Russian players interested in potentially trying to play in America at the high school or collegiate level.
SRAS: Do you see yourself continuing to work with Russia/Russian language in the future? In what capacity?
TO: I will absolutely look to work with Russian language in the future, although I am not sure currently whether that will be in Russia or in the United States. This summer, I worked for the American consulting firm, Kelly Services, here in St. Petersburg. Kelly provides workforce management solutions for multinational firms looking to expand into the Russian market. It was a great experience for me to be able to use my Russian language in a professional setting, while becoming familiar with the Russian business landscape and market. After graduating from Oberlin in 2016(where I double major in Politics and Russian/East European Studies and minor in Economics), my ideal career path would be as a political risk analyst for an investment firm or multinational company looking to invest in Russia.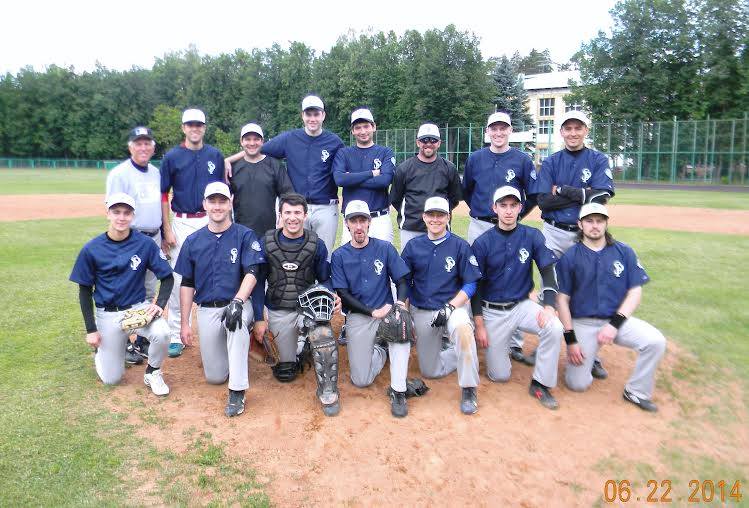 SRAS: What would you say are your biggest takeaways from the experience?
TO: Simply going to class and then burying yourself in a book after class is not going to allow you to advance your language skills to the same level as immersing yourself in the language with native speakers, such as I had with baseball and at my SRAS-arranged internship at the human resources company Kelly Services! Russian people really want to talk to Americans, and they want to talk to you even more if you are able to speak Russian with them! Get yourself out there and make it happen!
SRAS: Do you have any advice for students looking to involve themselves in extracurricular activities while abroad?
TO: Persistence, persistence, persistence! Try to find opportunities for yourself, whether it be volunteer work, interning, sports, music, going to a café or restaurant with some Russians…any place you are able to speak Russian with someone who has a native speaker will be a great experience for you! Keep putting yourself out there and work to create opportunities for yourself in fields that interest you.
SRAS: Thanks so much for talking with us, Tristam!
Playing Rugby in St. Petersburg: Interview with Dirk Hryekewicz

By Samantha Guthrie, 2014
"As long as a person is athletic and has a drive to improve himself, little to no experience is required to come practice with us. The team is close-knit, and everyone is willing to help out the new blood."

– Dirk Hryekewicz, an American SRAS Student playing rugby in Russia.
International sports are quickly making inroads into Russia as globalization continues to expand the public's access to unique traditions from around the world. One such sport is rugby (or регби as it's called in Russian). Rugby was born in 19th century England and is most well known in Commonwealth countries. In fact, out of 100 full and 18 associate members of the International Rugby Board, the US is the third largest member with 458,000 participants while Russia comes in at 19th with 22,000 players and over 300 clubs – just one spot shy of the Board's 18-member "high performance band." Interestingly, Georgia and Romania are included in the high performance band, showing that rugby is really making a name for itself in this part of the world. Russia has a professional domestic competition league,The Rugby Union of Russia, but it is not widely known amongst the general population.
Rugby was played sporadically in Tsarist Russia. A Scotsman working in Moscow arranged a match in the 1880s, whereas the first soccer match wasn't played until 1892. In 1886, however, the Russian police clamped down on rugby because they considered it the game too brutal and liable to incite riots. Over the next thirty years, there are few records of rugby, until 1923 when the first official match was played in Moscow. The first official rugby organization in Russia goes back to 1936, when one appeared in the USSR, and rugby has continually expanded since then.
Russia's notoriously extreme winters can cause problems with traditional rugby season. Sometimes the season is split to avoid the worst of the cold, or the rules can be adapted to play snow rugby! The dominant teams in Russia, unsurprisingly, come from the warm southern Krasnoyarsk region. In St. Petersburg there is a semi-professional team called Narva Zastava(named for Narva Gate – a city landmark). There is also an amateur team in St. Petersburg – Регби Клуб Университет (Rugby Club University) – on which one of our own SRAS students, Dirk Hryekewicz, plays!
The following is an interview about rugby in St. Petersburg and Dirk's experiences on the team.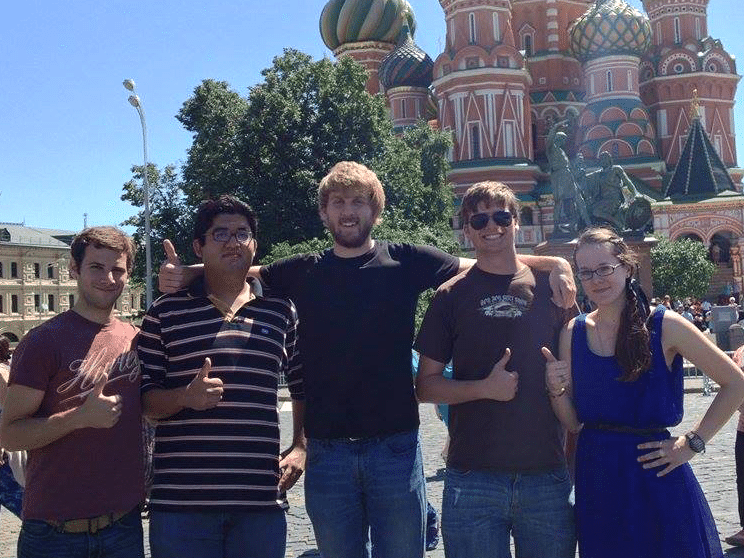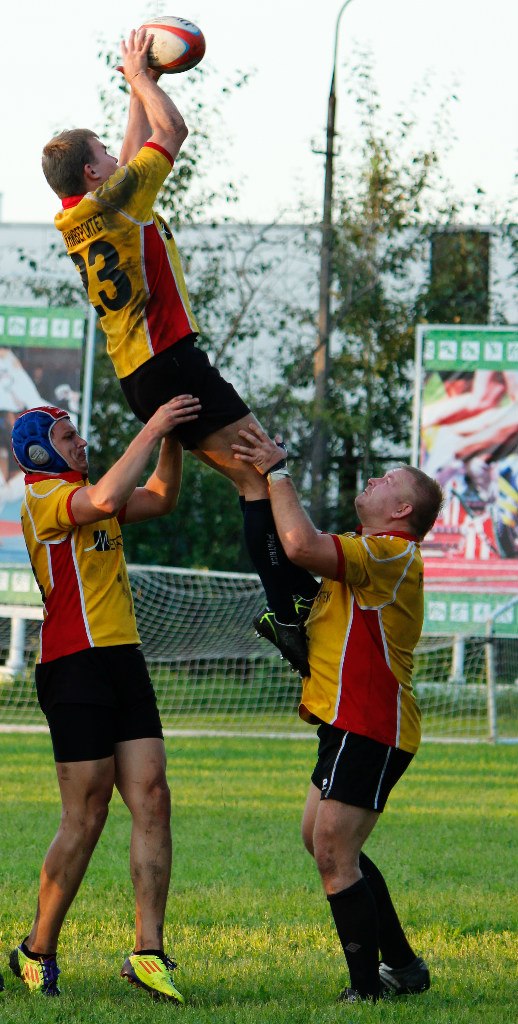 SRAS: Dirk Hryekewicz, welcome! So glad to have you with us today. Let's start off with a little introduction- what is rugby? Can you describe it for us?
DH: Rugby is an incredibly intense sport, focusing on strength, endurance, and skill. This game formed the foundation of American football, with the two main differences being that the ball cannot be thrown forward, and there are no stoppages of play/timeouts after every single play. This means that for eighty minutes (two forty minute halves and a five-ten minute timeout), the players are constantly moving and throwing themselves at the opposition.
SRAS: How official is the St. Petersburg rugby structure?
DH: I (and the Russians that I play with) do not seem to know what league we are in. We are just there to smash other people!
SRAS: How did you get involved with rugby?
DH: Back at Texas A&M, one of my friends told me about our university team, and within two weeks of talking with him, I was practicing with the official team, and within two weeks of that, I was part of the team and part of this fantastic brotherhood.
SRAS: How do most players in Russia get involved with rugby?
DH: Rugby isn't too common in Russia, so most of the players' parents or relatives were rugby players, and influenced their kin to start playing.
SRAS: Is it difficult to garner interest in the team?
DH: Surprisingly, it is quite difficult to entice new players to play. During my last game, there were some spectators in the stands, but it looked like they all personally knew players in the game, and they were not passerby's. There was no admittance fee to watch the game. Also, unlike teams in the US, there was no clear indication of sponsors or financial supporters. The team seems to be supported entirely by its players. This was evident at the stadium where we played our game, where the uprights [goal posts] were long PVC pipes rammed into the ground and supported by a soccer goal.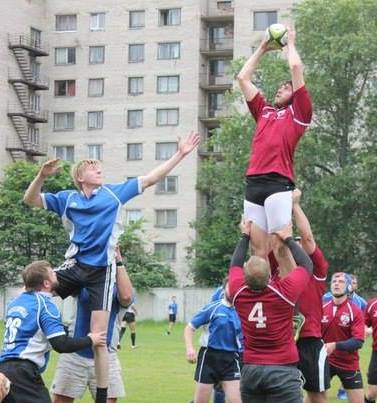 SRAS: What equipment do you need, and is it difficult to get in Russia?
DH: One of the beauties of rugby is the simplicity of the equipment. All you need to play is a ball and a relatively flat field with goal posts (or PVC pipe stuck in the ground). Some players wear mouth guards and scrum caps (padded headgear), but for the most part, mouth guards are all the protection players want. I do not know of any plans to improve where we practice. Currently, we practice on an overgrown field on СПГУ [St. Petersburg State University] campus, that looks like a stereotypical version of Chernobyl, without any field markings or uprights.
SRAS: How can people get involved?
DH: As long as a person is athletic and has a drive to improve himself, little to no experience is required to come practice with us. The team is close-knit, and everyone is willing to help out the new blood. Our VKontakte page is https://vk.com/rugbyclub.
SRAS: How is the season going so far? Dirk Hryekewicz
DH: Thus far, I have only played one game in Russia, though it was a great experience. We lost our game by two tries (touchdowns, for those who don't know about the scoring system), though it was a very close game that could have easily gone the other way. Our next game (and my last one before I leave Russia) will be on August 3rd.
SRAS: Tell us a story about rugby in St. Petersburg!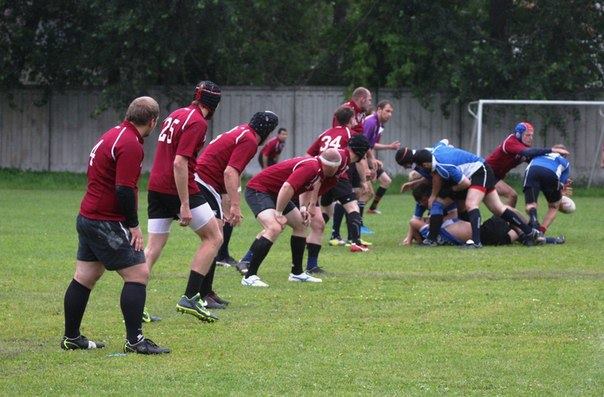 DH: There have been several "unique" experiences that I've witnessed while on the team, but one of the most memorable was during practice. There's this badass Russian girl (Aurika Stulgayte) who practices with all of the men, three times a week, for three hours at a time. For one of our drills during practice, we were doing a variation of Sharks and Minnows, where the "minnows" had to make it to the other side of the pitch without being tackled by the "sharks". On one of these runs, Rika was right behind me (I was unaware), so when I made a quick cut to the left, my elbow swung out and smashed into her nose, breaking it. I didn't actually know I broke it until I was at the other side, and I saw Rika, ever so calmly, walking to the sideline. She was holding her nose, and she was bleeding both on the inside and the outside. I can't believe how much of a trooper she is. She didn't cry, yell, or make a sound. I ran over to her to make sure she was okay. She ended up going to a doctor (I think), as her nose is straight again and has healed up. I guess this is a testament to the strength of Russian rugby players.
SRAS: Thanks so much for chatting with us, and good luck at your next game!
For more information, visit https://vk.com/rugbyclub, and to learn a little more about the sport, check out some video tutorials here!
The White Nights Marathon in St. Petersburg

By Marin Ekstrom, 2013
I am extremely fortunate to know Irina Aleksandrovna Boggie, my neighbor, Russian language teacher, and dear friend. She grew up in Novokuznetsk, studied in St. Petersburg, and now lives in northern Minnesota, a place not exactly legendary for its ethnic diversity. So when she e-mailed me about her plan to participate in the White Nights Marathon, we decided to meet up there. Not only would I get to meet up with my fellow Minnesotan in St. Petersburg, but I would also get to observe my first marathon!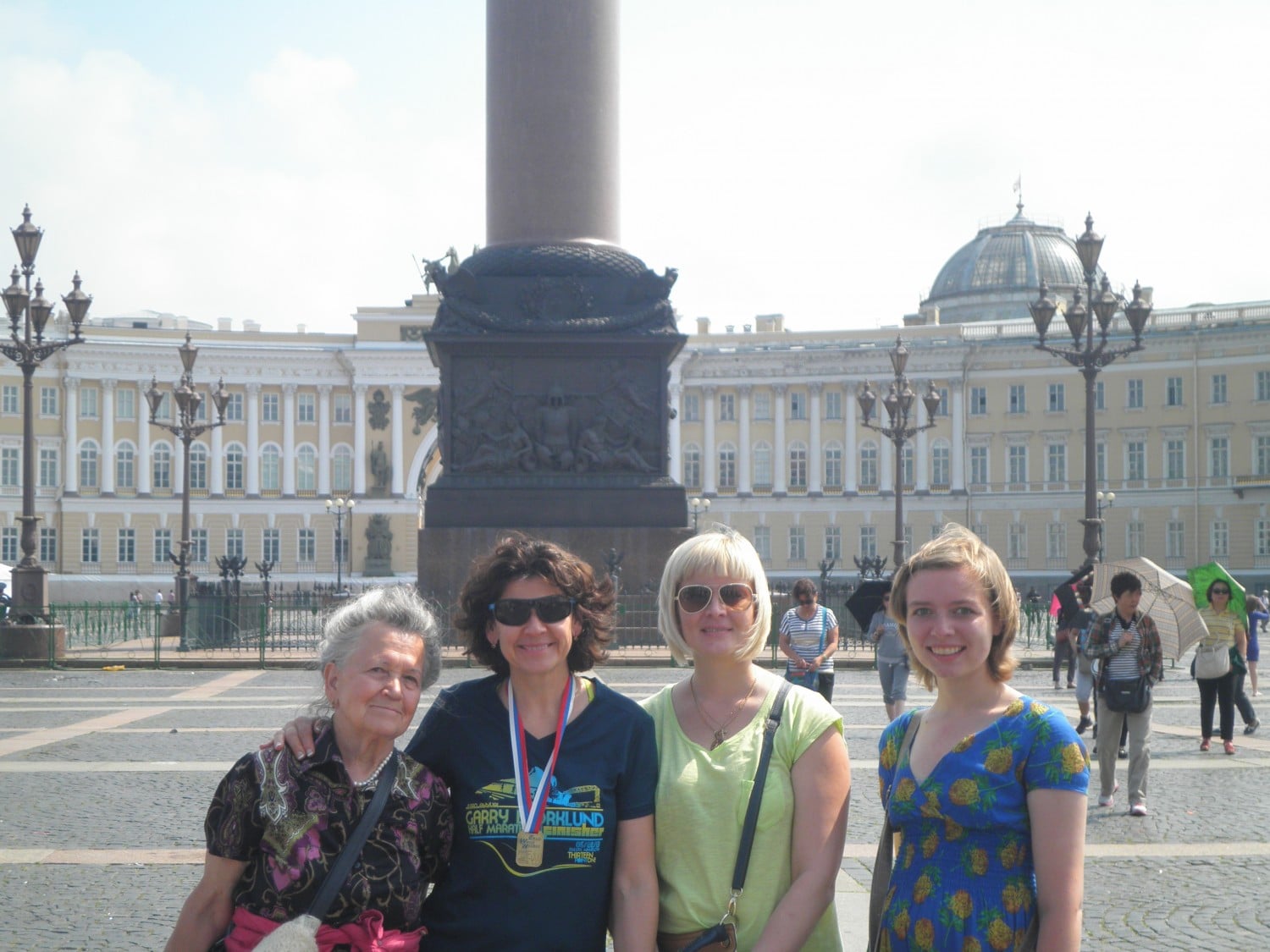 The 24th Annual White Nights Marathon, which is organized by the Saint Petersburg Administration Office Committee for Physical Activity and Sport and the Saint Petersburg Athletic Federation, took place on June 30, 2013. The race consists of a smaller 10 km race and the main 42 km (26 miles) run, which starts and finishes at Palace Square; therefore, the route loops all around the city, so that runners pass, as the official site says, the "embankments, avenues, and streets of St. Petersburg, [and go] past historical monuments." With these factors in place, the marathon fulfills its intent to promote "healthy lifestyles, introduce people to regular physical training and sports, to…further develop friendly international relations in sports and tourism, and to identify the strongest marathoners of St. Petersburg."
I arrived at Palace Square at 8:00 to meet Irina before the race. Her fellow runners and she, fueled by a carb-heavy spaghetti feast the night before, came to warm up, stretch, and mentally prepare before the race. While we did some registration work and took a few pictures, I noticed that the square began to rapidly fill up; luckily, it never became as crowded as I anticipated. Soon enough, it was time to line up, and off Irina went with her fellow runners! I returned to Palace Square about 5 hours later (Irina's predicted finishing time) and watched the runners cross the finish. After awhile, Irina, her mom, and her friend found me, and it turned out she had finished the marathon half an hour before I arrived! We spent a good time chatting, and although we were disappointed not to have been able to get a picture of her crossing the finish line, we were all pleased to have experienced such a momentous occasion!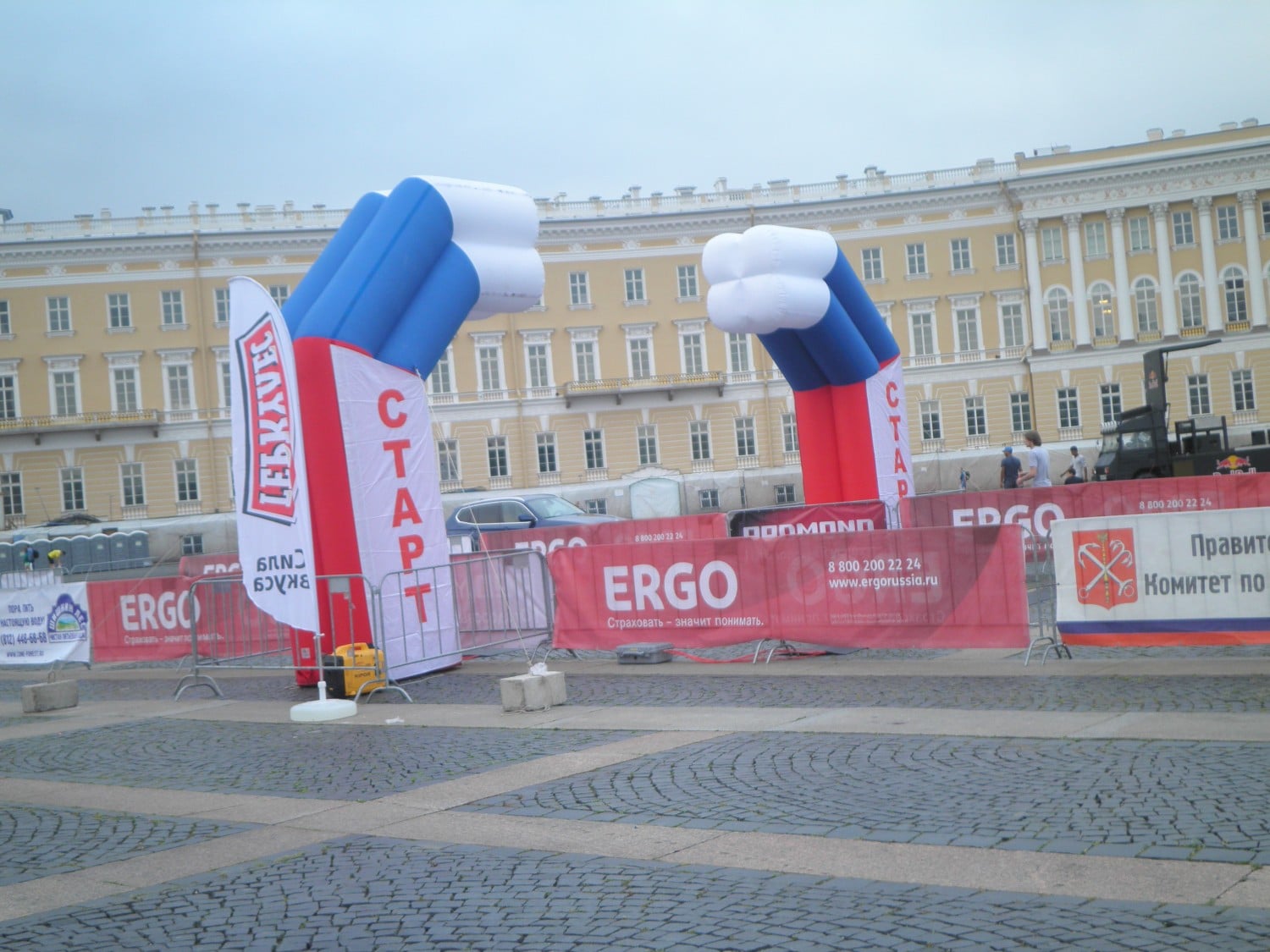 Besides my personal connection to the race, I also reveled in its strong emphasis on diversity. Runners of all ages and shapes participate in the marathon, from six-pack abs to beer bellies and teenagers to octogenarians. There is also a stong international flavor to the marathon. For example, I heard cries of the French "Allez! Allez!" accompanying the Russian "Давай'!", flag emblems on jerseys (i.e. Italy, Germany), and runners carrying little flags with them (Finland). There was even one runner with a Belarusian flag draped around his shoulders, which seemed to make him a superhero "Belarus-Man." Amongst the various nations present, I marvelled at the kindness, respect, and courtesy displayed for everyone. I heard Russians cheering for Finns, Chinese observers requesting pictures with Americans and Australians, and Germans and Italians high-fiving each other on jobs well done.
In short, the White Nights Marathon proved to be a great experience. Although I had the added bonus of cheering for my neighbor there, I think that all people, participants or observers, can enjoy the beauty, diversity, and the energetic excitement of the race!