In the past I have found health food stores hard to find while traveling off the beaten track…not so in Bishkek. Ecoland is a shop located directly across the road from London School and if you don't see it, you'll hear it. Speakers blast feel good music onto the streets from a "cabin in the woods" style hut, out of place among the grey city blocks. When I first stepped over the threshold of Ecoland, I was impressed by its homely feel and the stacks of shelves boasting products that are hard to find in the rest of the city. This article will be useful for you if you follow a specific diet and are worried about finding the right products to stay healthy while abroad. I've categorized products by diet, though this article will also be helpful if you're simply curious about peanut butter prices (peanut butter is still not common in Eurasia!) or where to find Eco-friendly laundry detergent!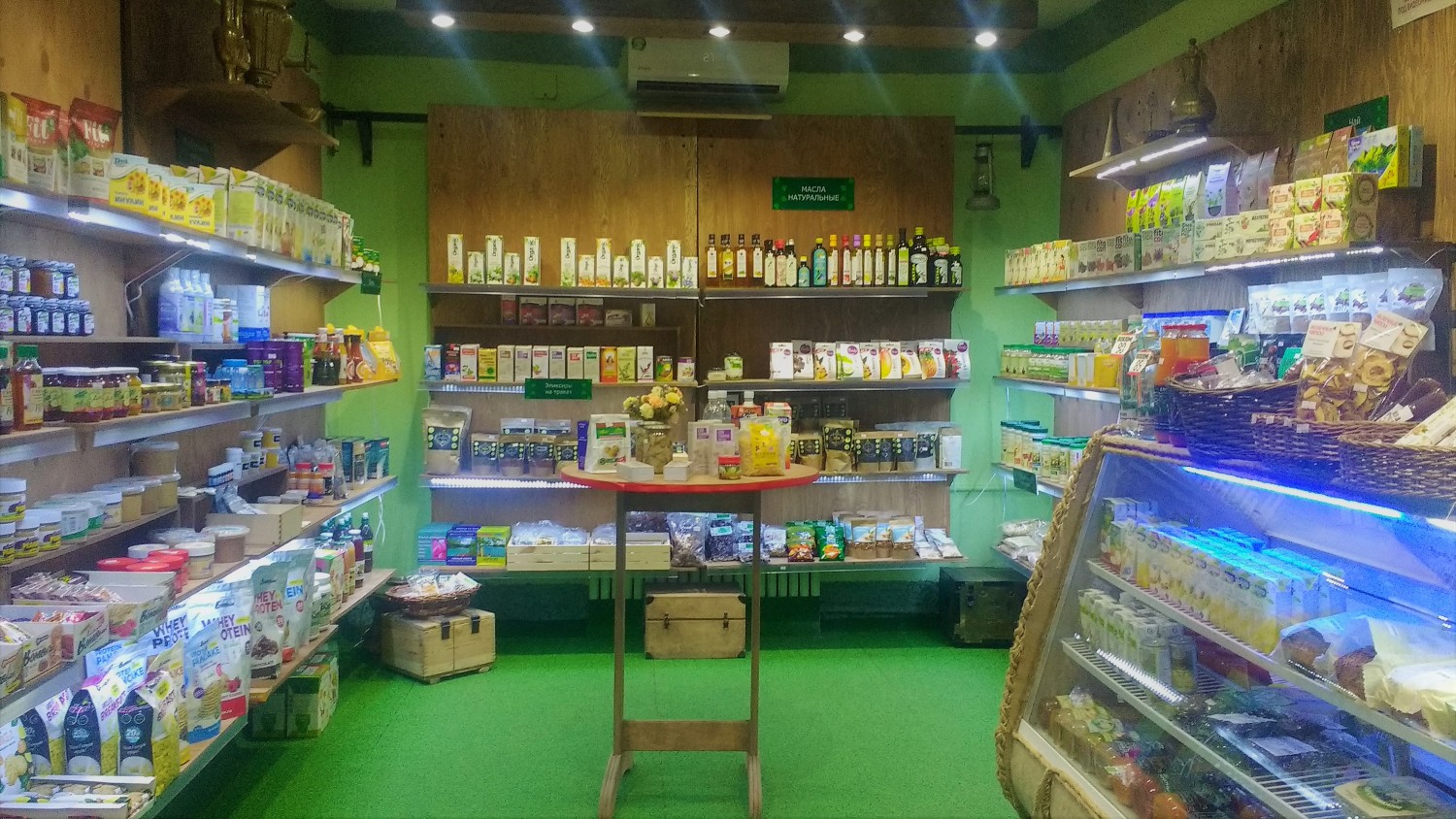 Food Products
– Vegetarian
The shop is made up of two rooms – the first holds a large counter fridge, within which you can find vegetarian sausages. The second has a freezer at the back on the far left, where you can get frozen veggie burgers and other frozen vegetarian meals. Prices currently are as follows:
Vegetarian sausages: $5.50 – $5.90
Tofu paste: $2.60
Tecto-mecto dumplings: $2.50 – $11
500g frozen berries: $2.70
– Vegan
For meat substitutes, you'll be pleased to know that the vegetarian sausages and tofu paste listed above are also vegan! Other products you can find include:
Bite milks (rice and coconut, almond): $4.60
1L Alpro milk (almond, soya, coconut, chocolate coconut, soya vanilla, oat, cashew, and barista style): $5
250ml Alpro milk (coconut, almond, soya banana): $1.70
180 ml Homesoy can: $1.40
250 ml Aroy-d creamy coconut milk: $1.70
Raw fruit/nut bars: $1.40 – $2
If you're looking for a high quality, B12 fortified vegan milk, Alpro is the way to go. However, due to being imported, these milks are even more expensive than in the West, so economically speaking, there are better options. Personally, I buy my dairy free milk from Globus or 7-Eleven, where there is a choice of oat, wheat, soya, and rice milk for about half the price, if not less.
– Gluten Free
The gluten free section is found in the second compartment of Ecoland, on the left from the doorway. Here you can find the following products:
Small gluten free bread: $1
500g spaghetti: $2.30
500g macaroni: $1.70
400g basic pasta: $6.30
500g gluten free flour: $2.40
250g coconut flour: $2.90
100g almond flour: $2.60
Gluten free biscuits: $2.70 – $3
– Health Foods
Ecoland boasts a wide range of workout food products, healthy cereals, oils, and nut butters. Everything listed below can be found lining the left and back wall when you enter the store.
Peanut butter: $4.60 – $7.90
Chia seeds: $4.30 – $8.50
Quinoa: $4 – $18
Cereals: $2.60 – $3.40
Cocoa powder: $3.60
Carob powder: $1.70
500ml Olive oil: $6.70
Coconut oil: $7
50g Stevia: $10
Protein powder: $1.40 – $25.80
Protein bars/cookies: $1.20 – $1.70
Cleaning/Cosmetic Products
To the right of the back room, next to the samples section, is also a small collection of eco-friendly cleaning and hygiene products:
Essential oils: $1.40 – $4.90
1.2 kg Eco laundry detergent: $6
48ml Washing up liquid: $6.20
Root 'n' Roll – To Go Foods

Ecoland is not just a shop! Tucked into the corner of the back room is a delightful street food kitchen, boasting a range of vegetarian and vegan options – for the falafel fanatics out there, this is the place to go. A favorite of mine is the falafel and hummus wrap, costing about $2 and ready in 10 minutes. With reasonable prices and food made fresh to go, this is a great alternative to the London school canteen.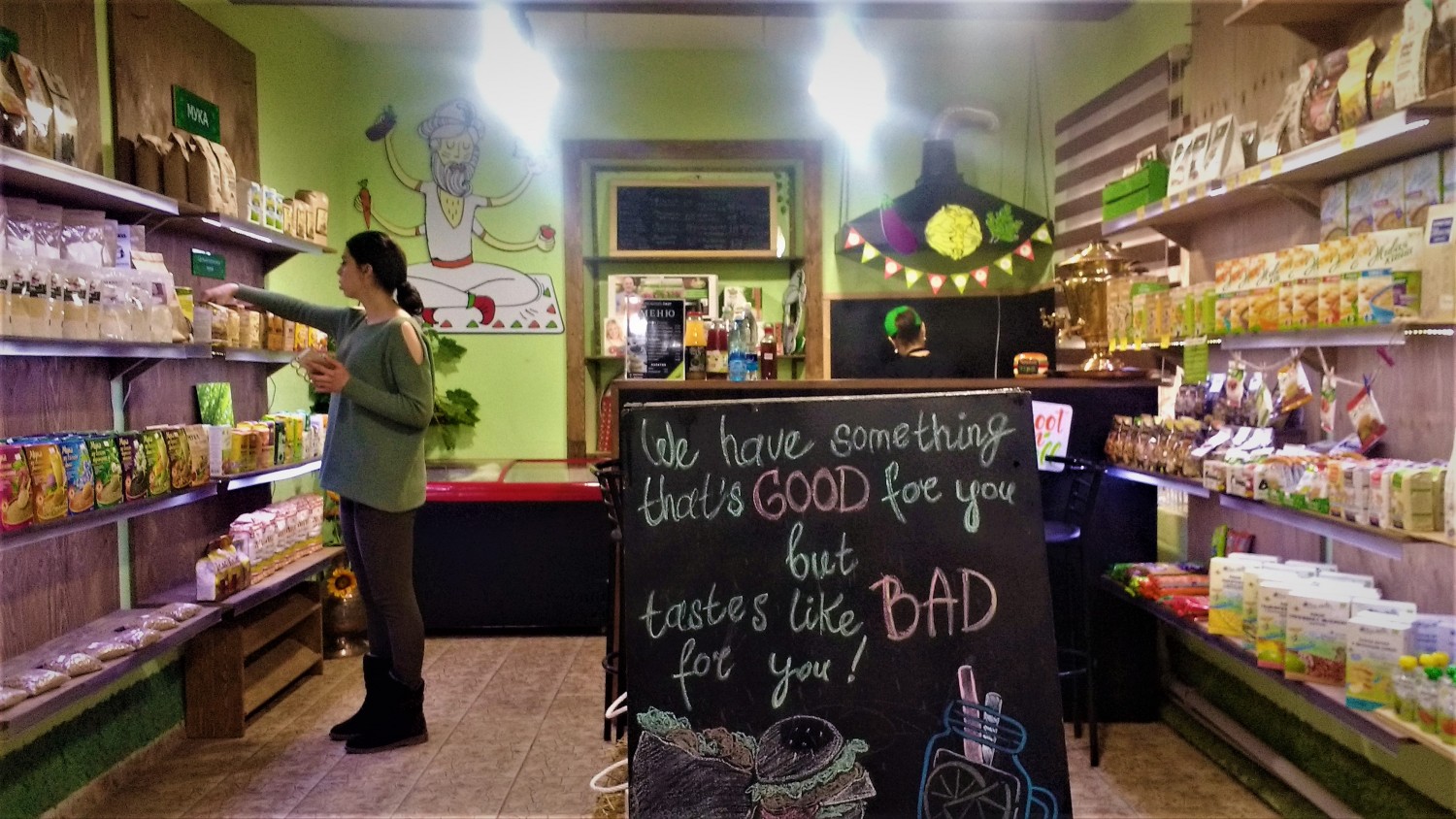 Overall Service
I find the staff at Ecoland to be friendly and helpful, happy to answer questions about products – at least one staff member speaks English and the others are very patient with my broken Russian. Though Ecoland is expensive by Bishkek standards, the products are high quality and there are discounts available. Overall, I recommend Ecoland for its wide range of interesting products, cheerful staff, and warm atmosphere.
This article is not an exhaustive list, so if you want more information on products and pricing, you can check out their Facebook page.