The following guide was created by Enot, an Russian-language online publication about local culture, business, food, shops, events, and people in Bishkek that has been popular with SRAS students studying there. It has been translated to English by SRAS Home and Abroad Scholar Sophia Rehm for the benefit of our students who do not yet speak Russian.
Enot editors visited eight Bishkek establishments famous for their shashlik. They stress that they have ranked the city's shashlik based on our own opinions. This guide reflects personal taste, and does not claim to present an ultimate truth. They rated the shashlik according to a 5- point system based on the following elements: meat, grilling, tenderness, juiciness, and taste. The final score is an average of the three testers' overall ratings.
Remember: all the establishments ranked here have reputations among locals for delicious shashlik.
Одиннадцать/Eleven
Microdistrict 11
Kuttubaev St / Aytieva St
T: 0 312 93-87-27
 Time: 25 minutes     Price: 220 som/$3.67     Rating: 3.66
The shashlik here comes in small portions, and it's difficult to say how many pieces of meat are on each skewer since meat and pieces of fat are all mixed together and squeezed onto the spit like one homogenous sausage. The marinade is very different from the one they used to make here. It seems that they have a new master griller, and the old one took his house recipe with him. The meat is rubbery and dry. It's hard to make an unequivocal comment, because the shashlik actually tastes good; there's just nothing at all memorable about it. It resembles the classic shashlik sold by the roadside on the way to Lake Issyk Kul.
У Гены/Gena's
Asanbay Microdistrict
Tokombaev St. / Kuttubaev St.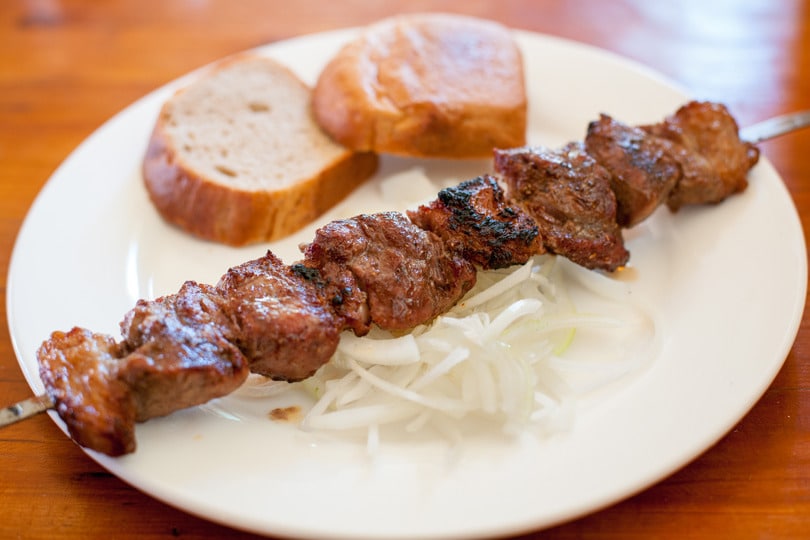 Time: 20 minutes      Price: 210 som/$3.51      Rating: 3.76
This is another establishment where the shashlik provokes universally ecstatic reviews. In the winter, the restaurant's opening is eagerly awaited by fans of Arpa (a local beer), simple get-togethers, meat, and loud company. We ordered ground lamb. Gena's also offers a steak option, which is a lamb chop skewer, and costs 50 som ($0.83) more than classic shashlik. Our first impression of the shashlik we were served: "Pretty nice, salty, well-done, unbelievably juicy." On our recording you can even hear the phrase: "Now this is what real, juicy shashlik is." A portion includes onion and two pieces of bread, for which there is an additional charge. No one asked whether we wanted bread; the answer is apparently self-evident for a carnivore. To sum up: the shashlik here is small, the pieces of meat are large, and the meat is rubbery, stringy and very salty, but well-cooked and incredibly juicy. Gena's is a good place to find the kind of shashlik to snack on with your beer.
Султан/Sultan
Microdistrict 5, No. 17
T 0312 57-14-81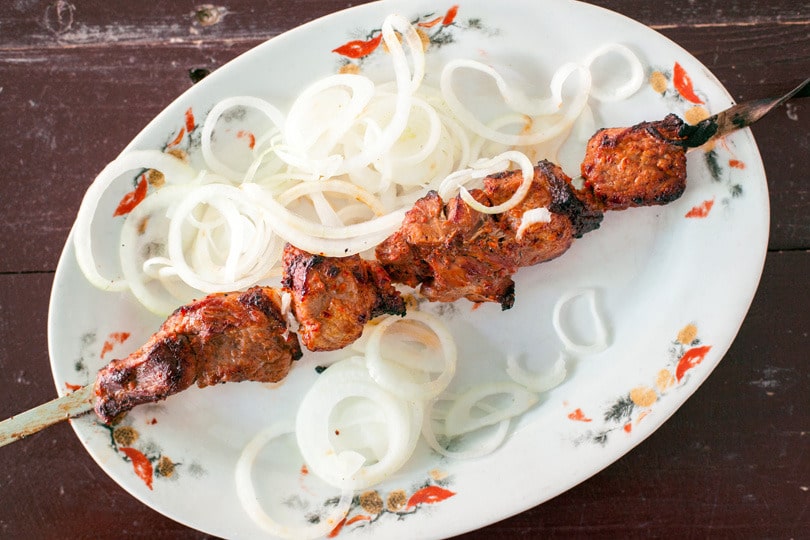 Time: 19 minutes      Price: 240 som/$4.01      Rating: 3.9
Sultan, whose shashlik earned first place last year, was seriously disappointing this time around. The shashlik is small, with five large chunks of fatty, stringy meat in all. It's immediately apparent how unevenly the meat is cooked, as though the coals in the middle of the grill cooled slightly, causing the meat to vary in tenderness, juiciness, and in how thoroughly it's cooked. Some pieces are outright dry, and other, fattier pieces are juicier. Sultan's shashlik is tasty despite all its shortcomings, but it is, undoubtedly, far inferior to the shashlik offered at many of the establishments on this list.
Жасмин/Jasmine
Microdistrict "Alamedin-1"
Kalinin St. / Cholpon-Antinskaya St.
T: 0 312 69-74-24

Time: 22 minutes     Price: 270 som/$4.50      Rating: 4.13
Jasmine is praised by many locals, including professional chef Aziz Kasymov, who is an expert on meat. For those who grew up and live in the city center, the café's location makes visiting it comparable to taking a trip to Alaska. The situation is complicated by the fact that Google Maps, for no clear reason, flatly lies about its location. The shashlik at Jasmine is large, with fairly big pieces of meat and a couple of pieces of fat that add juiciness and complement the meat wonderfully. The meat itself is good, with no tendons or cartilage, like the meat that once constituted almost a full portion of shashlik in the celebrated restaurant Baku Courtyard. The meat is lightly salted, and the chunks compete with each other for toughest. At the end of the meal we found a hair on the plate, which had a significant effect on our positive first impression. All in all, the shashlik at Jasmine is large and tasty, and a single skewer is more than enough to fill one person. But the reviews we've heard calling it "magnificent" are a not quite true to life.
У большого Мазая/Big Mazay's
Tokombaev St., No. 29
T: 0 312 95-92-72
Time: 25 minutes     Price: 310 som/$5.18       Rating: 4.33
Big Mazay's is famous first of all for shashlik made from rabbit and duck. Most of its customers, from the southern microdistricts and beyond, come here not for the fricassee and Caesar salad, but to taste the meat. They say that recently, Big Mazay's shashlik is not the same as it used to be, and the prices are inexcusably high. The lamb shashlik, however, is just huge – we counted eight full pieces of meat and three pieces of fat, resembling potatoes – and undeniably delicious. The meat is good, very tender, and cooked practically to perfection – its only great fault is that it is extremely dry.
Флажок/Flag
Lineynaya St. / Usenbaev St.
T: 0 778 12-46-46
Time: 24 minutes     Price: 170 som/$2.84     Rating: 4.46
The legendary Flag on Lineynaya Street is an establishment that remains as constant as its patrons. The kitchen is a sort of trailer or shipping container, situated with the road on one side and train tracks and a parking lot on the other. The diversity of the crowd that assembles here in the evening could make even the popular Café Faiza envious. Flag is a simple, affordable eatery that offers shashlik that is tasty, unpretentious, reasonably priced, excellently cooked, and tender. We all noted its interesting taste – a combination of indeterminate spices.
Алина/У Рамиза / Alina/Ramiz's
24 Panfilova St. / Mederov st.
T: 0 312 59-54-70
Time: 17 minutes      Price: 360 som/$6.01      Rating: 4.86
The shashlik at Alina, or Ramiz's Café, is among the top three mentioned when talking about good tandoori-style meat. To cut right to the chase: the shashlik is big and unequivocally delicious. Its intense saltiness doesn't spoil it, but rather brings out its singular flavor. The shashlik is cooked in a tandoor oven, and marinated in spices we couldn't identify, which give it an unusual, specific taste. Its flavor is very different from the classic vinegar shashlik marinade, especially in that it leaves a pleasant aftertaste. What's more, it is quite juicy and perfectly cooked.
Навигатор/Navigator
103 Moskovskaya St. / Razzakov St.
T: 0 312 66-51-51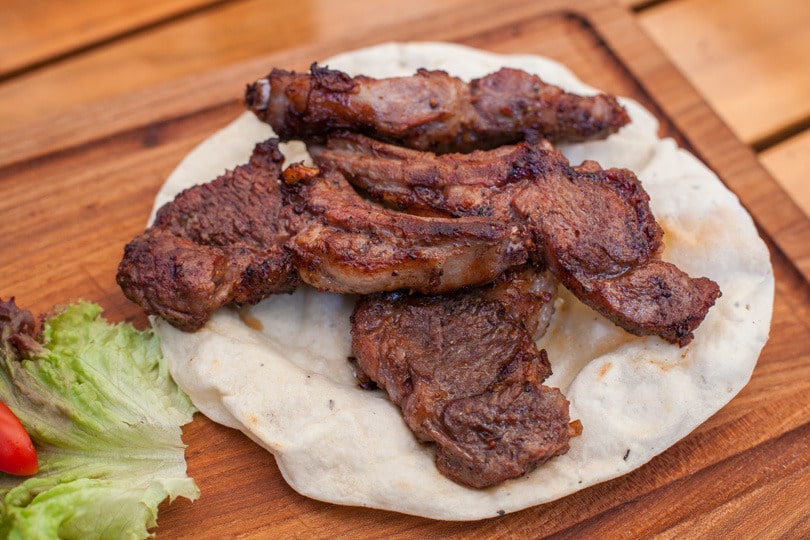 Time: 23 minutes     Price: 650 som/$10.85     Rating: 4.93
No one ever talks about the shashlik at Navigator, whether because beer- and meat-lovers pass by the place, or because the dish costs 650 som ($10.85), which goes up to 715 som ($11.94) with service. Unlike the chicken shashlik at Navigator, the lamb shashlik is served neither on a skewer nor in chunks, but in ribs on dry lavash (flatbread), trimmed with lettuce and a quarter of a tomato. All of this creates the impression of something too perfect to be decent shashlik, but it actually turned out to be the most delicious shashlik on this list. It really deserves a perfect score, with the proviso that its tenderness is nearly, but not quite, ideal.