The walk from the Курская metro station to where our classes were held at HSE is lined with a number of small cafes and convenience stores. Typical of the average college student, we often stopped in one of these cafes on our way to class. Below are my reviews of the three cafes most frequented by our group and their offerings for my prefered morning beverage: hot chocolate.
multiple locations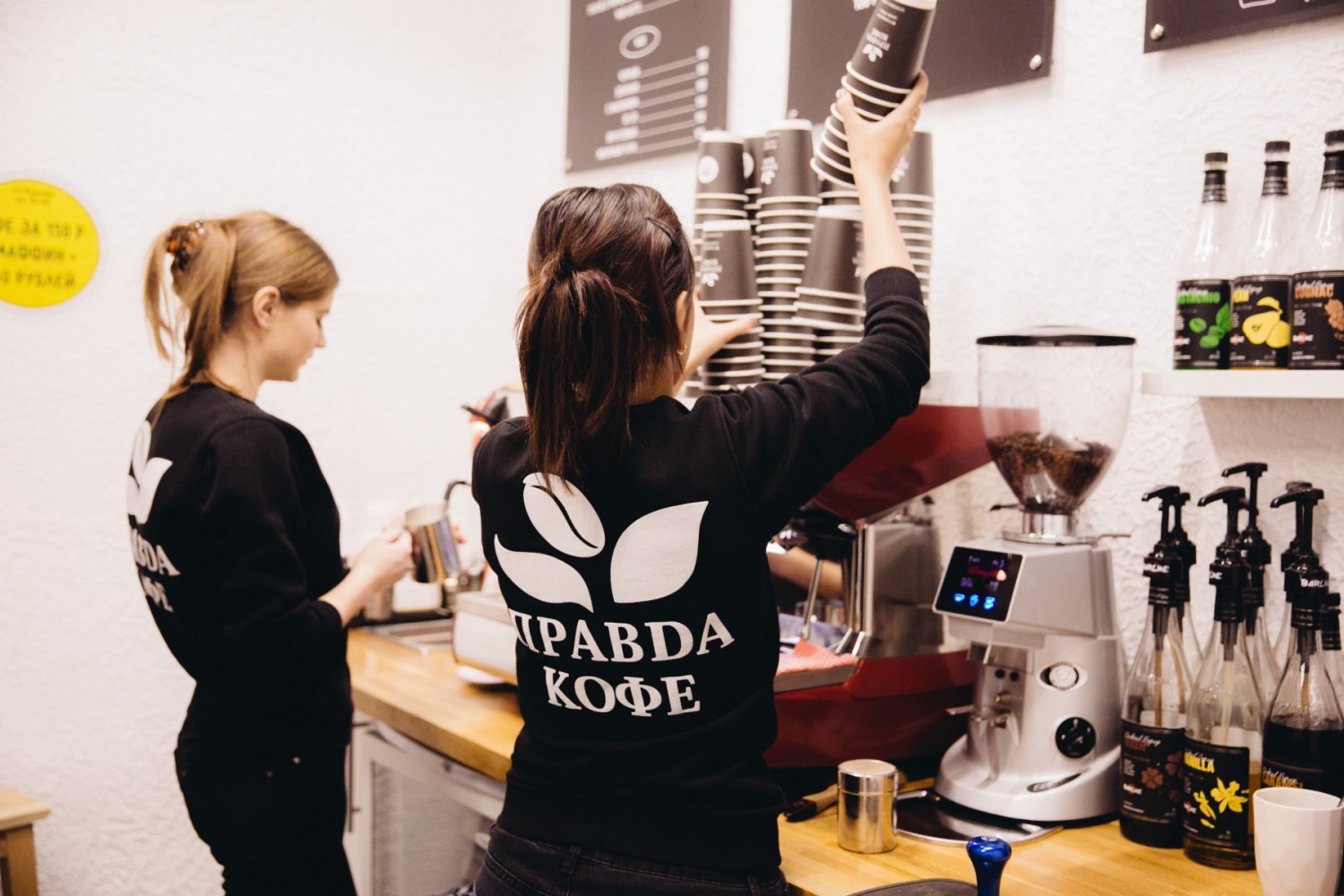 Правда Кофе was by far the most popular for our group. Located in the very last building on the strip of businesses that greets one upon exiting the metro, the cafe is the perfect grab-and-go, consisting only of an ordering counter and a waiting area. A purchase of at least a medium drink comes with a free muffin, and the selection is limited but enticing.
I have never been much of a coffee drinker, so I grade cafes by their hot chocolate. Some might think this an easy sell – how can you mess up hot chocolate? – but you'd be surprised. Правда Кофе has without a doubt the best hot chocolate on the strip. Rich without being overly sweet, what pushes the drink to the top of the list is the presence of a heavy layer of marshmallows that both line the rim and sink to the bottom, bookending the drinking experience with a tiny additional luxury.
Fixcup
Nizhniy Susalnyy Pereulok, 5 str. 1
Fixcup, on the other hand, was the most unremarkable of the cafes. Indeed, as it shares a building with Правда Кофе, we only patronized Fixcup when the former was overcrowded. The phenomenon was interesting, as Fixcup provided both an expanded menu and places to sit.
I dropped into Fixcup only twice during my stay in Moscow. The first time, I ordered some variety of tea. I can't remember exactly what I ordered, but it definitely wasn't what I got, which was a matcha latte. As I don't particularly like matcha, I couldn't say whether or not the drink was objectively good or bad. I can only guess that what I ordered was a chai latte, my go-to after hot chocolate. However, as "chai" is the same as "чай," the Russian word for tea, this may have been part of the problem.
On my second visit, I returned to my classic hot chocolate. The fact that I remember little of the actual taste says more about its quality than a description ever could, although I do recall a decisive lack of marshmallow. The cafe offered a second variety of hot chocolate (I had ordered the classic), and if I had given the cafe a third shot, maybe I would've found their specialty.
No marshmallows and no free muffin? Правда Кофе seemed worth the wait.
Multiple locations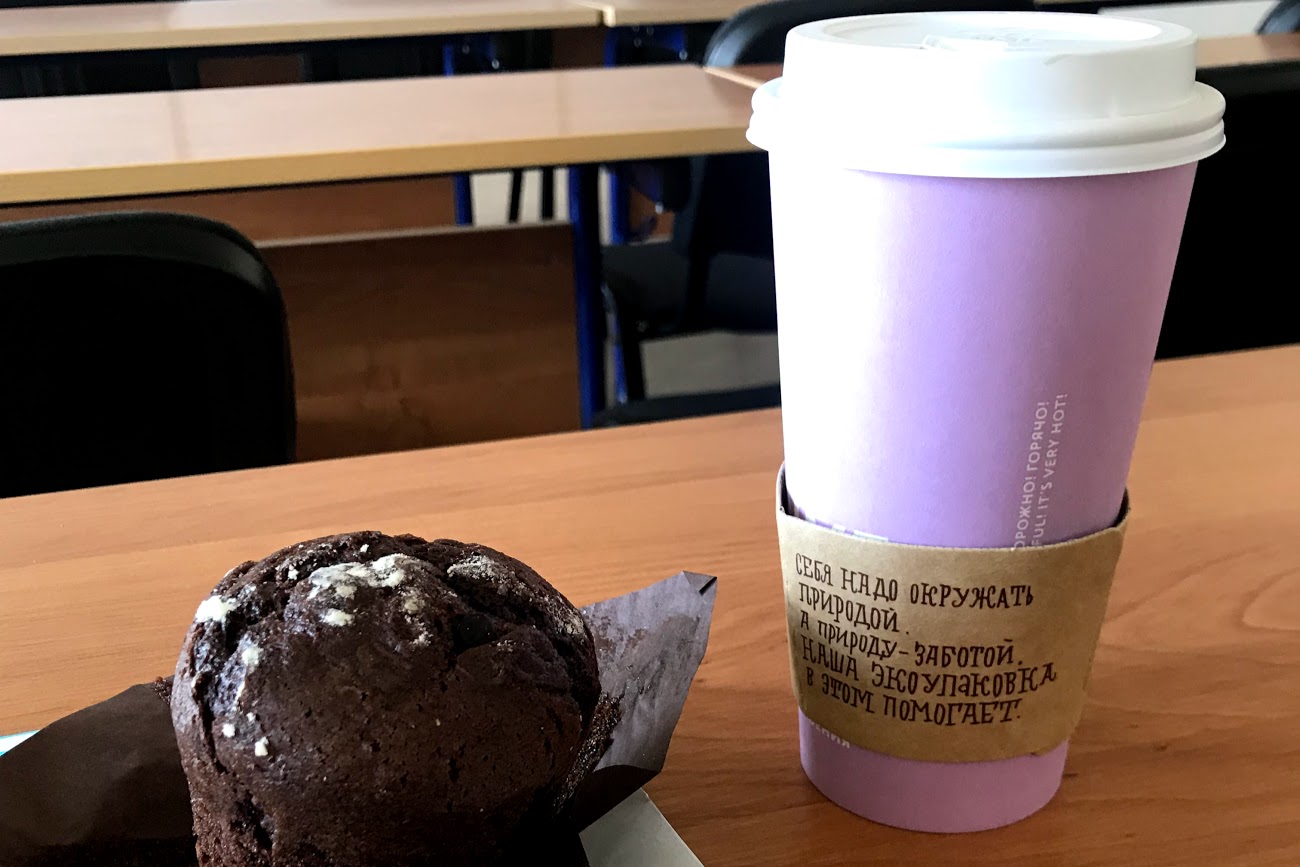 My visit to the final cafe was more of an accident than anything, as I had met up with a different friend group on my way to class and decided to join them in their usual morning routine. Prime Cafe, or Prime-Star, as its logo is a lime-green apple emblazoned with a white star, definitely provides the most conducive atmosphere for dining in, as my friends generally had breakfast there before class.
When my friend approached the counter, the employee smiled at her and recited her daily order – small black tea and a chocolate muffin – before beginning its preparation. I decided to stick with my usual hot chocolate, adding a chocolate muffin at my friend's recommendation. I ordered a size up from small – standard – and was shocked when handed a drink twice as tall as the small given to my friend. I didn't want to know how large the "large" would've been.
Prime's hot chocolate is by far the sweetest, still lacking the marshmallows but providing more than enough sugar. Indeed, I experienced quite the sugar rush that morning in class, not able to sit still and apparently making intermittent noises that could be heard from across the classroom. I crashed a class period later; one of my friends commented that "all of a sudden, it was quiet from your end of the room."
—
Правда Кофе remains the highest-recommended cafe in the sector of small businesses near the Курская metro station. Prime Cafe comes close, but I would recommend sticking with the small or otherwise staying away from drinks with any quantity of sugar. Additionally, the popularity of such cafes necessitates the presence of others not sampled during our two month-stay, so it is quite possible that the best cafe of them all is waiting for discovery by the next SRAS group in Moscow.