Coffee culture has come to Bishkek! The Kyrgyz are becoming more discerning consumers and this can be seen in its developing food and beverage business. I've had more than a semester to explore Bishkek's many coffee shop offerings, and now present here my list of Bishkek's five best coffee shops.
41 Gorky St, etc.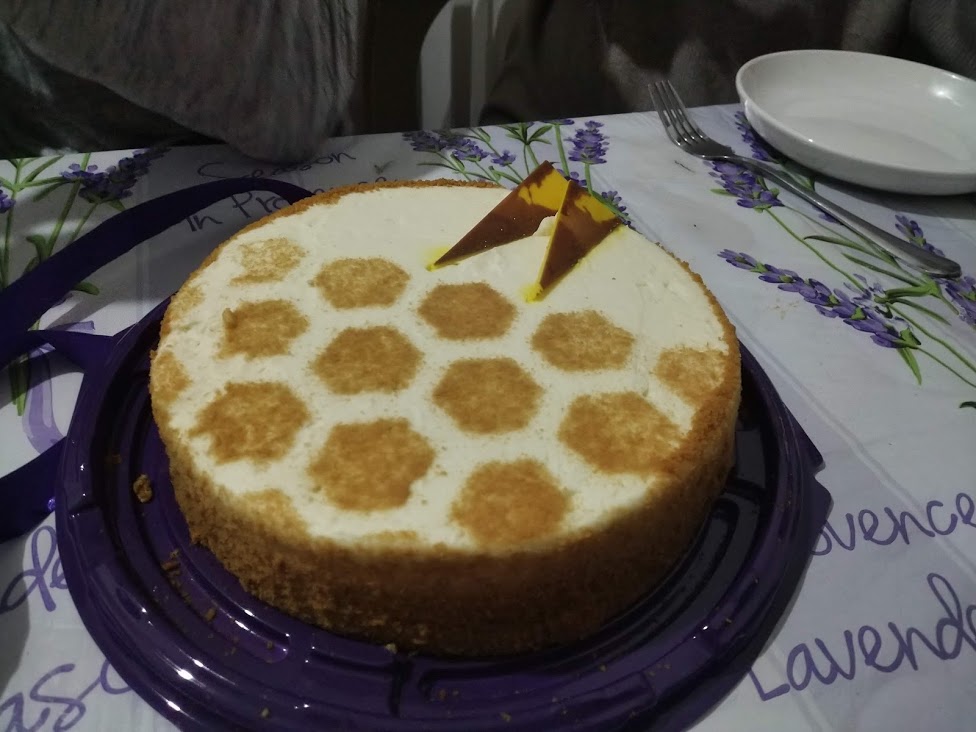 Куликовский is better known for its superb cakes and pastries than its coffee, but it does offer excellent cappuccinos ($2). Whole cakes run around $5 – $7 while cake slices can be had for roughly $2 . My favorite is the honey cake, but other good choices include sweet chocolate, caramel, and fruit cakes. The size of the café varies by location, but they are rarely overcrowded, mostly with a consistent, steady crowd of locals all times of day. In fact, I rarely see expats in these cafés. All locations have a similar purple theme – its signature color. Whether you decided to enjoy your coffee and cake at the café or to go, you will not be disappointed. This café chain has a ton of locations citywide, including one very close to the London School.
19 Gorky St
Cave Coffee makes the top five for its relaxing ambiance, wide food selection, and close location to the London School. Cave Coffee has a wide drink selection of coffees ($2-$3), teas, and more, but also a ton of international food like sandwiches and quesadillas ($5) – food options that are great when you're craving a taste of home. My favorite drink on their menu is the iced sea buckthorn (a local orange-colored berry) tea ($3). This is the best sea buckthorn drink out of any place I've tried. Cave Coffee overlooks a small book store and has a very peaceful upstairs section, making it a great retreat for a study session. It draws a mixed crowd of, again, mostly locals. It is slightly more expensive than its nearby rival, Traveler's, but given its wider food selection, paying the little bit extra can be justified.
1 Togolok Moldo St
I first visited this café with a few local friends on a Friday night and it was almost impossible to get a seat. Once I took a look at the menu and by the time we all tasted our food, it was no wonder why. I ordered the schnitzel ($6), one friend had the steak ($7), and my other friend an alfredo pasta ($5). Coffee shops in this end of the world, even if they advertise themselves specifically as coffee shops, will often be full cafes. And this coffee shop may have served honestly what may have been one of the best meals I've had during my six months in Bishkek. We ordered some tea as well, which despite being a simple green tea ($2.50), had a great taste. While we didn't try any coffee, they ran about $3. We also tried a classic honey cake for dessert, which was also to die for. This place is a great coffee shop with even greater food and a small, cute, and cozy atmosphere. This is perhaps not a place to try to study in. However, for a break from the typical western, expat-friendly coffee place, I recommend Бублик Кофеина as a great place to not only grab a coffee, but a great steak and dessert as well.
57/1 Manas Ave
Probably the number one coffee place with Bishkek's expat crowd, Sierra Coffee is also quite popular with locals alike. Sierra Coffee was established by an expat couple who wanted to bring the western coffee culture to Central Asia. Sierra Coffee has since enjoyed success for a number of years and has expanded to Almaty, Kazakhstan and Karakol, Kyrgyzstan (on the other side of Lake Issyk Kul). Sierra Coffee serves great coffee – in cups or even bags of coffee grounds if you have the pleasure of brewing coffee in your own home. Sierra Coffee also offers a combination of both western and local favorites – anything from hamburgers ($5) and grilled cheese ($3) to okroshka ($2) (a cold Russian soup popular throughout Eurasia), hence its ability to draw a mixed crowd. If you are missing a good American hamburger, Sierra Coffee might just be the best place in town to meet this craving. Although it might be considered a little bit costly by locals, getting a hamburger this good for the same price in America would be a sheer impossibility.
70 Baitik Baatyr St, etc.
There are several reasons to deem Traveler's Coffee the number one coffee place in Bishkek. The first is its proximity to the London School. Literally a two-minute walk across the street from the school, Traveler's is always available as a convenient, relatively peaceful place to get some extra classwork done. Open from 8 AM to 11 PM almost every day, Traveler's is always accessible whether you just want a cup of coffee, a western-themed meal, or to sit in a quiet place and study into the evening. Despite its western flair, this coffee place definitely draws more of a local crowd. It has a smoking room for customers ordering hookah or just looking to smoke a cigarette while enjoying their meal. The majority of local customers seem to sit in there most of the time, leaving the primary space relatively peaceful and rarely overcrowded. Traveler's also has surprisingly good customer service and I find the staff here very receptive and helpful when they aren't busy helping other customers. The food and drinks are also great. Traveler's has some of Bishkek's best cappuccinos ($2.50), especially for the price. They have excellent cakes ($4), especially the caramel-chocolate cheesecake – a personal favorite. Also, Traveler's has seasonal menus so you can keep trying new things. I particularly enjoyed the pumpkin soup ($3) and aquamarine blue matcha latte ($3) on their fall menu. Traveler's offers a variety of international food, from eggs ($4) and salads to Thai tom yum ($4). Traveler's will remain my favorite spot in town for its cozy, nearby, never overly-crowded aura and its tasty coffee, meals, and treats.
These are not all of the coffee shops in Bishkek, but these are the best that I've tried. This is also a rapidly developing market in Bishkek, so there are likely to be more options when you arrive!