Georgian food stands out as some of the best from the former USSR, with unique flavor and texture combinations that, while few have tried before coming abroad, nearly all love. For locals, Georgian restaurants are sure-fire wins for a great meal and, as the restaurant scene has developed across the former Soviet space, Georgian is one cuisine that can be found almost everywhere. You can brief yourself on subject with this list from our friends at Folkways. Then, try the below list of Georgian food places that students on SRAS Study Abroad Programs in St. Petersburg have found to relish in St. Petersburg, Russia.
Kazanskaya Street, 2
Of all the different cuisines I've tried throughout my time studying abroad, it's safe to say that Georgian is my favorite. Having traveled to Georgia and tried the national dishes as made there, I can tell you that, next to trying handmade khinkali in the beautiful land of Georgia, dining at Mamalyga is the next best thing!
This place is only 5-minute walk away from the dormitory where SRAS students stay. In hindsight, it's probably best that I didn't realize this sooner; I certainly would have spent far too much money eating there every week. Nonetheless, the restaurant is fairly priced, especially in comparison to other Georgian restaurants around the city. The menu is quite large, with specialty dishes from other countries as well such as Uzbekistan, Armenia, and Russia.
A large group of fellow classmates and I went for dinner at Mamalyga this past weekend. We teamed up on order so that, when our food arrived, our table was stacked with khinkali, kharcho, and three different kinds of khachapuri.
Personally, my favorite dish is khinkali. They are large dumplings traditionally filled with lamb, but, abroad, can be most often found filled with a still-delicious but less-expensive mixture of pork and beef. The dumplings have a special tradition attached to them, as well. In the past, Georgians would eat however many khinkali they desired, then leave the tops of the dumplings (which are uncooked dough) to show how many of them they had eaten. This was both an act of pride over how much you'd eaten, as well as a way to let the restaurant owners know how much they needed to charge for the meal. For those who couldn't afford to eat, they would eat both the khinkali and the knobs, in order to trick the owners. Now, this national dish is only eaten with hands and not consumed with wine, all in the name of those who once survived off of and worshiped khinkali the most.
If you're ever in St. Petersburg, whether it be for studies, work, or simply tourism, I highly recommend you try Mamalyga! No reservation is needed (most of the time), and the staff are some of the friendliest you'll meet. With great prices, a cozy interior, and being located in the heart of the city, Mamalyga should be at the top of your list!
Charlie Bacsik
Various Locations
If there's one non-Russian national cuisine that you should sample while in Russia, it is Georgian. Even Pushkin, who claimed that "каждое грузинское блюдо – это поэма" ("every Georgian dish is a poem"), would agree. And once you've tried it, good luck wanting to eat anything else ever again. The vivid and unexpected (to the American palate) combinations of flavors and textures are highly addictive.
Сулико (Suliko), whose Kazanskaya St., 6 location is a five-minute walk from the UNECON campus, is a great place to start your exploration. Here, you'll find well-executed staples like хачапури (khachapuri, a buttery, baked bread-and-cheese concoction) and хинкали (khinkali, enormous dumplings with meat, 350 rubles for five pieces) alongside a wide variety of hot and cold starters, main dishes, and desserts. The interior is cozy and clean, and the service is friendly and patient. Also, even if your Russian isn't great, don't fret: the menu is in both English and Russian and includes pictures of each dish.
I tried two types of хачапури. The хачапури "Аджарский" (Adjarian khachapuri, 360 rubles) is a substantial, boat-shaped bread with a slightly crispy outside, tangy cheese in the middle, and a raw egg and melted butter on top. To eat it correctly, use a fork to mix the butter and egg and spread the mixture over the top. Then take hunks of хачапури from the periphery and dip them into the egg-butter mixture, gradually working your way toward the center.
The хачапури "по-царски" (Tsar's khachapuri, 550 rubles) is an enormous disc with cheese inside and additional сулугуни (sulguni, a brined cheese with a pleasantly sour flavor) on top (an d no raw egg.) In some ways it resembles a pizza, but a 2009 survey showed that 89% of Georgians prefer хачапури to pizza. I think I'm with them: the "по-царски" is moister and more succulent than any pizza, probably due to the higher moisture content of the cheese and the generous use of butter.
For starters, we chose all vegetable dishes. Vegetarian dining is fairly easy with Georgian. The капуста (pickled red cabbage) is a refreshing counterpoint to the buttery хачапури. An absolute must-try is the фасоль стручковая с орехами (sliced beans with nuts) or the испанах (spinach with walnuts). The two cold dishes are very similar, since both involve green vegetables mixed with spices and walnuts, formed into patties, and topped with pomegranate seeds, but the green beans have a more solid texture. Both are delicious and very mildly spicy. The чашушули с грыбами (chashushuli with mushrooms) is a hot, rich, and flavorful stew. This particular version of чашушули is unique in that it is vegetarian; they also offer a more classic чашушули that comes with ample portions of beef. There are several other vegetable starters that could be combined to make a tapas-like vegetarian meal.
As a main dish, we got meat. Try the обжакури (obzhakuri), which is a sizzling platter of flavorful pork, savory potatoes, and vegetables topped with fresh onions, tomatoes, and dill. The potatoes are perfectly coated in spices, and the fresh onions add just the right bite to this rather rich dish. The first time I had it, the meat was lean and perfectly tender. The second time, it had a bit of gristle but was still extremely tasty.
There are a wide variety of alcoholic and non-alcoholic drinks on offer. Of special interest are the house Georgian wines, which come in both semi-sweet and dry varieties, and the house-made lemonades, especially the тархун, which is named for the fresh tarragon that is its feature ingredient. There's a refreshing, light Georgian beer, Натахтари, available for a modest price. I also noticed a tea with thyme on the menu that sounded like a good accompaniment for rich хачапури.
When I was here, an order a хачапури or 5 pieces of хинкали and a beverage would come to a simple 500-ruble-meal. If you decide to go all out and try several things, a filling dinner for two including one wine or beer each runs about 1360-2000 rubles before tip. Сулико is perfect for big, late-night dinners that feel more special than the average but still won't break the bank. It's even suitable for bigger groups, though you should definitely make a reservation if there are more than 3-4 people in your party – in fact, even if you only need a table for two, it's worth calling ahead if you plan to come during peak hours, especially on the weekend.
Mae Liou
Sadovaya Street, 39/41
This past weekend, I had some of the best food I have ever had the pleasure of eating. Fellow SRAS student Molly and I wanted to try something new, and a lot of our friends had been raving about how good Georgian food was. We went to Hochu Harcho, which is about a 10 minute walk from the dorms where SRAS students stay.
The interior of Hochu Harcho actually reminded me a little bit of a chic, Middle Eastern restaurant back in the States. Very open, airy, but cozy and welcoming at the same time. The hostess, who was wearing a uniform of a long red evening gown, led us upstairs and seated us right away. We were given menus, and a complimentary little glass of морс (a Russian berry drink).
We had the adjarian хачапури, and the waitress mixed up the cheese and egg in the middle and told us to dip the bread from the sides into it. That was our starter. We split just one order, but after that I was completely full. Luckily it took a little bit to get our main course out to us and it was a Sunday, so this wasn't a problem. I ordered чкмерули, a garlic chicken dish. It was cooked to perfection, with the meat falling off of the bones. The blend of sauces was incredible, the garlic mixing with the Georgian marinade perfectly. Molly ordered солянка мясная по-грузнский. This was a dish with pork neck and vegetables in a stew-like blend of Georgian spices. I also really liked her dish, although it did have a little bit of kick to it (I'm not a huge fan of spice).
I will definitely go back to Hochu Harcho. Georgian food has captured my heart, and I can't wait to try and find more restaurants like this to try.
Taylor Sirch
Griboedova, 40
My roommates and I have designated "foreign food Fridays." This week, we focused on Armenia and went to Kilikiya, whose name comes from a historic Armenian kingdom, located in modern-day Turkey, to fulfill this ethnic taste-test.
Kilikiya is adorned with Mount Ararat tapestries, old photographs of traditional Armenian dress, and other such mementos of Armenia. These details, coupled with the traditional Armenian music in the background, offer a tantalizing glimpse into this fascinating, underrepresented country. Although distinct, Armenian culinary heritage shares common features with Georgian, it's neighbor to the north, but even the better-known Georgia remains a bit of a secret for many. After ogling over the atmosphere, a friendly waitress seated us at a table, and handed us menus stylized after Oriental carpets. The menus came in both English and Russian (good for double- checking orders), and included trivia tidbits on Armenian culture alongside the order items.
After consulting the menu, we decided to start out with two appetizer items: камац-матун (kamats matun), a tangy fermented milk spread and eggplant roll-ups filled with nut paste. As for the main courses, we ordered we ordered a refreshing Greek salad with olives, tomato, and chunks of feta cheese, a quiche concoted from Sibekh (сибех) falcaria herbs, and Arishta (аришта) pasta, a traditional Armenain wheat noodle dish. If we had been hungrier, we might have split an order of traditional Caucasian dessert, such as pakhlava (baklava) or dried fruit, nuts, and honey. However, we were very satisfied with our main meals, as our daring choices turned out to be delicious.
Therefore, if you are curious to try a type of ethnic cuisine less well-known in the United States, Kilikiya is the way to go. The atmosphere evokes the mystique of Armenia, the service is very friendly (though perhaps a bit slow), and the menu offers an extensive array of dishes that spans Armenian, Middle Eastern, Russian, and European cuisines.
Marin Ekstrom
Belinskogo, 3
Cafe Lagidze is a Georgian restaurant just off the beaten path, located minutes away from both the Fontanka River. I went to Cafe Lagidze with Justin and Nathan, who, like me, are on SRAS programs in St. Petersburg.
We had so much food. In fact, way too much. We could have done without a few of the dishes and still have been full. The khachapori was amazing; exactly what I had hoped for. There was cheese on the inside and outside and the bread was light and fluffy. The baked cheese, we decided, could be done without. It was flavorful, yes, but unnecessary and really had no substance – it was just baked cheese. The mushrooms were good, but as they were pickled, they would be better with vodka then with our dinner, so we voted they could also be left out. Nathan's beef in tomato sauce was savory, the tomato sauce was rich and spicy, adding to the dish's great combination of tastes. Justin's steak was also amazing; for a Russian cut of meat and the price we paid for it we definitely give it five stars, maybe six for bacon.
The real trick to Georgian eating is ordering as a group, which is not something that many Americans are used to, but is something that is common for Georgians. Thinking this way, and beating back our eyes to match our stomachs, we could have had the two beef entrees, the khatchapuri (the size of a large pizza), one side, and non-alcoholic drinks for everyone and been much more effecient with our purchase. If you do this, most Georgian restaurants will be hospitable enough (hospitality is what Georgians are known for), to bring you extra plates so that you divvy up the portions.
We will definitely be returning to Cafe Lagidze and ordering a new variety of dishes to test our taste buds. It's hard to make a wrong choice at a Georgian cafe!
Rikki Brown
More Georgian Food
Georgian food is highly recommended as a way to please the most ardent vegetarians and die-hard carnivores. Between the khachapuri, vegetable dishes, and shashlyk, everyone walks away happy. The city's best value for the money is at Kvareli – a tiny restaurant near the city zoo that is so good and so tiny that you may want to book in advance. A bit more expensive, but larger and still affordable, most students like Tbliso for its delectable khachapuri and excellent service and Caravan for its festive atmosphere and wide range of dishes.
More in St. Petersburg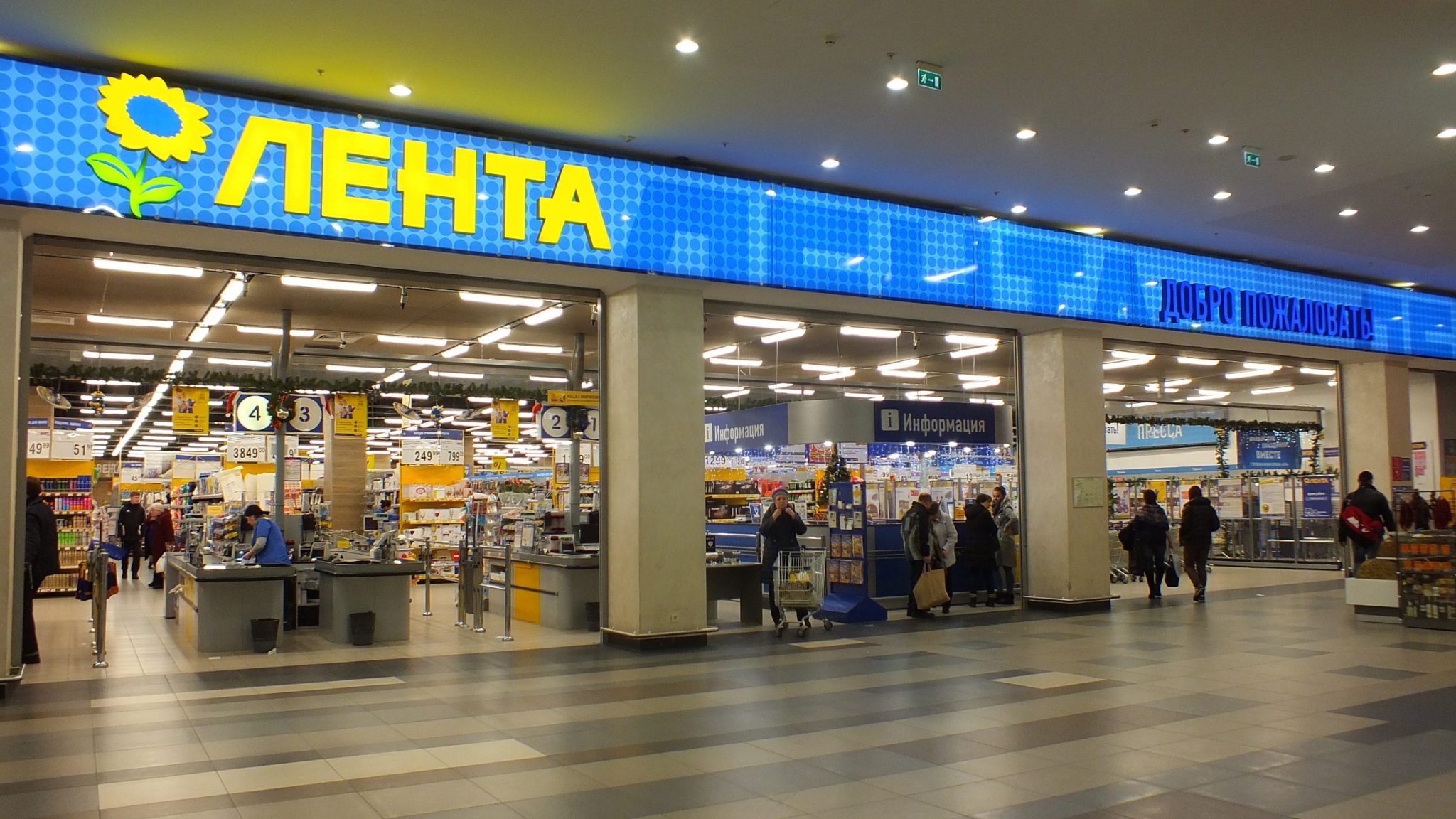 Russian supermarkets have been a great success story of the post-Soviet economy. Several large chains and holding companies have been built and, most importantly, Russian supermarkets have built up the supply chains to provide Russians with an ever-increasing diversity of produce and other groceries. The following short introductions to some of the largest chains of […]
4 comments