Bishkek is located in a valley, which means you don't have to travel too far outside of the city to find a decent place to hike. One quite easy but very scenic hike is Kashka Soo, located at a small suburb of the same name about an hour outside of Bishkek. It features a beautiful lake and hiking trails that wind around it before heading up a mountain.
Kashka Soo can be reached by taking marshrutka #265 to the end of the line. I started out just after lunch at 2pm and caught the marshrutka from Kozhobergenova, just south of Bishkek where my homestay is. The ride cost twenty-five soms (about $0.35) and the route runs about every hour. The last marshrutka leaves at 7:00 PM from the same metal-plated bus stop in Kashka Soo where it will drop you off.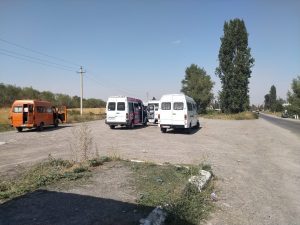 I visited the area with a local friend and her two kids. As we talked to her house, she explained to me that Kashka Soo is gradually becoming more developed as people from Bishkek build summer homes here. They come in large part because the air In Kashka Soo is much fresher than in the city, she said. Thus, there are many houses here that are new or under construction. My friend, unlike many of the people with homes here, lives here all year around, which was made apparent by the immaculate garden in her backyard. We sat down briefly and she offered me green borsht (sorrel soup). Despite the fact that I had just lunch not long ago, I obliged and was impressed by its unique taste.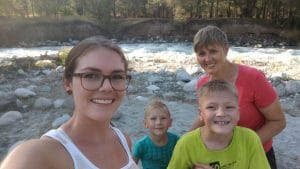 If you don't have a local to show you the way, you may want to download a mobile application called  , which works offline if you download the map ahead of time. 2GIS is helpful to map public transport routes and see where you are going in Bishkek's very crowded marshrutki, where it can hard to see out the windows, as you are likely to be standing.
To get to the lake and mountain, you need to walk about a mile further south on Kashka Soo's main road, Alla Archinskaya. There will be a river on your right-hand side, heading South. As you continue South, this river is met by an aqueduct, which according to my friend, has been there since Soviet times. Once you cross this aqueduct using a metal bridge, there will be a dirt road which you walk straight south on until you meet another portion of the aqueduct that, again, you will cross. In front of you will be a large lake and a dirt road around it. On the other side of the lake, you can begin the trail up the mountain. Each step up will bring you a clearer view of the giant lake you just crossed. The path is wide enough for a car, fairly well marked, and difficult to get lost on. As we reached the portion where the trail plateaued, I saw a pastor herding sheep by horseback off in the distance. Further off in the distance, you can see a place where people go skiing in the winter.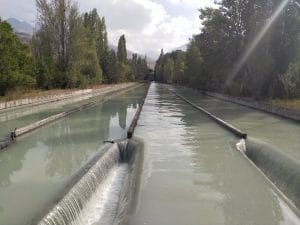 I continued with my friend and her two kids along the path down the hill. She explained to me that her and her children try to go on this hike once a day. Her two boys kept running ahead and horsing around. Despite some crocodile tears, my friend merely replied, "You know the way. You can get yourself home." Once we reached the bottom of the hill, there were many cows grazing. We went on another path that led to another river, which would be the farthest we would go on this trek. Along the way we picked some sea buckthorn, which are local orange berries, and ate them. I picked a few extra to take home with me. They are very commonly used for jam and drinks in this region of the world and are good sources of vitamin C.
Once we reached the beautiful stream, with its water roaring past the rocks it covered, we turned around and began our trek home exactly the same way we came, down the road, back to the dirt path where we crossed over the river, across the same aqueducts and dirt roads. We finally arrived back at my friend's house for a quick stop to collect the rest of my belongings and then were off on a roughly twenty-minute walk back to marshrutka #265.
Across from the dirt lot is a house where marshrutka drivers take a break and drink some tea before starting again on their route. You should ask which driver will be departing next and where you should wait. At the turn of the hour, I paid my twenty-five soms and set off on the last daily marshrutka back at 7 PM. This time of year, it stayed light out until I got home. With reduced traffic by this hour coming from the south, I was home within an hour.
A light hike at Kashka Soo was a very pleasant way to spend an afternoon. Nearly anyone could do it and it is an interesting peek into how Bishkek is evolving economically while getting some fresh air and enjoying the beautiful Kyrgyz countryside.