Kofe Khaus (Russian: Кофе Хауз) is the second largest chain of coffee shops in Russia. It is based in Moscow, where 108 of its branches are located. The chain is also present in Saint Petersburg, with 65 branches, and has some market coverage in the smaller Russian cities of Bryansk and Voronezh, and also has some locations abroad, such as in Kyiv, Ukraine.
Cafes are a booming industry in Russia. Although not usually associated with Russia as much as tea, the coffee industry has recently exploded. In 2016, for example, 519 coffee shops opened in Moscow versus 230 in 2006. An increasingly diverse range of branded and independent shops can be found in most major Russian cities.
Kofe Khaus features an American-style experience that attempts to appeal to a younger clientele. Furnishings are nice, but simple. Coffee and other drinks are an important part of its business model, but drinks only comprise about 60% of sales. A unique feature of Russian coffee shop culture is that locals rarely go out just for coffee, but instead usually order food to go with it. Thus, Kofe Khaus is not only a meeting place, but somewhere to grab a quick bite to eat and visit with friends.
Founded in 1999, the company has quickly expanded to include dozens of locations. However, it has experienced some contraction recently, with the number of coffee houses dropping from 209 in 2013 to 182 in 2014. All the same, its market share among chained cafes and coffee shops in Russia is 23.6% with annual turnover of $160-170 million—not shabby at all. It underwent a merger in 2014. Gallery Alex, a company which owns another, larger Russian brand, Shokolodnitsa, bought Kofe Khaus, but still runs the chain under its own branding.
Its new owners are changing that branding, however, to compete with increasingly available small coffee shops that specialize in quick to-go service. The new format, which has been unvieled in a few locations in Moscow, features generally smaller premises, at-counter service, and donuts that appear similar to those found at Dunkin Donuts and breakfast sandwhiches that appear similar to those found at McDonalds. Prices on many items have been substantially lowered as well.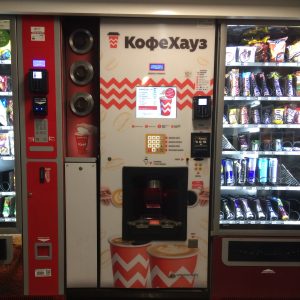 Internationally, the company has expanded to Kiev, Ukraine, where it has met with some controversy. In particular, some have wanted to avoid supporting a Russian company in the post-Crimea political atmosphere. An additional complaint of some Ukrainians is the use of the Russian language in the establishment, rather than Ukrainian, although Russian is a widely used language in Ukraine in general and in Kyiv in particular.
Critics have often pointed the quality of food and service as weak points in the chain's business model – which may be one reason that recent developments indicate that Kofe Khaus is moving to a more quick-service brand rather than a dedicated café by the holding company. Overall, however, Kofe Khaus is a convenient place to get a drink and perhaps a quick meal. Its business is driven by the ubiquity of its well-known brand throughout Moscow and St. Petersburg.
An advertisement for Kofe Khaus.