St. Petersburg is a large but friendly and accessible city that offers lots of cheap, fast, filling options for grabbing a bite to eat. While you will find big name western fast food all over the city, there are a number of local options you should try as well. These include chains that specialize in local comfort foods like Russian pies and blini, as well as quite fast-and-healthy cafeteria-style or deli-style places that serve a range of foods, and even a few "nostalgia" places that you should try as "museum eating" – fast food joints that have survived the last few decades of Moscow's recent tumultuous history and offer insights to how Soviet fast food seekers would have dined! Below is a sizeable menu assembled by students on SRAS Study Abroad Programs in St. Petersburg. Get familiar with some of the great possibilities!
A. Specialty Chains
Various Locations
At one point or another, every foreign student studying in St. Petersburg asks the same question: Where can I eat without punching a hole in my wallet and letting my money bleed out the bottom? Or to be more culturally appropriate – where can I eat without selling my bayan? Teremok easily the best bang-for-your-buck deal we've found so far.
Teremok easily the best bang-for-your-buck deal we've found so far. It's fast, it's cheap, it's filling, and best of all there is a location to St. Petersburg State University. Located on the 7th Line street right next to the Vasileostrovskaya Metro Station, it's less than a 10-minute walk from where most RSL classes are held. I've already been twice this week and will be going for the hat trick this weekend.
What gives Teremok so much appeal?
Let's start with their staple dish, the Russian blin, which is simple, filling, and delicious. The selection, too, is extensive: you can order a smaller blin with ham and cheese, you can get heartier helpings including chicken and sliva (sweetened cream), mushrooms and cheese, or ground beef and veggies, or if you're feeling the need to go all out, caviar.
If you're like me and afraid one blin won't be enough to hold you over, there's also an extensive selection of soups, as well as an assortment of other typical Russian favorites like pelmeni and grechka. To drink, they offer the standard selection of soft drinks, chai (tea), and of course beer, but what separates them from other establishments is their home-brewed kvas. (One thing all visitors to Russia should do before they leave is try the kvas. If you haven't had it, it's like a dryer version of root beer.) And, just like you'd expect from a blin-based cafe, they offer a number of delicious-looking dessert blini as well.
So Far This Sounds Like Blin Heaven!
You're not wrong. But I should point out some potential negatives. While it is a completely local (Russian founded, owned, and operated) establishment, it's totally fast food. Feel-wise, you may as well be in a Russian McDonald's (which incidentally is right across the street). Some people understandably don't want to experience this when they're living abroad. What's more, the Taco Bell-like atmosphere lends itself to a similar environment: small, uncomfortable seats, space issues, and frankly speaking a complete absence of character. If these things are important to you, you may not come away with the same high opinion.
Our Experience
On our first trip, I came in famished following 3.5 hours of Russian lessons, and left completely full after a cup of mushroom soup with crackers ("chipsi" they call them) and a sizable meat and vegetable blin. My friend Barbara got the mushroom and cheese blin and loved it. We didn't order any of the dessert blins but badly wanted to. And we could have done it and still stayed under budget, but we were stuffed!
The next day I went back solo – I just couldn't keep away. This time I tried the chicken and sliva, which frankly was a little disappointing (the sliva had a taste that was hard to place but certainly unfamiliar) – and the ham and cheese, which was delish.
Teremok is an excellent place for a quick, filling, affordable, local meal!
Chris Chaplin
Various Locations
There is no shortage of places to find pierogi in St. Petersburg. Pierogi and piroshki can be found in grocery stores, at food trucks, being sold by babushkas near the metro station, and at bakeries. What you'll usually get is a little pie wrapped up in a plastic bag, ready to be eaten anywhere and on the go. These simple, handheld bites make for a cheap and quick snack. But what about pierogi that's a little more upscale? What if you want to sit down at a table with your pierogi while grabbing a cup of coffee with a friend? Then you may want to try out the designer pierogi being served up by popular local chain, Stolle.
The pies at Stolle are the focal point of the restaurant, literally and figuratively. Walking in, the first thing you see are heaping helpings of all kinds of pies, sweet and savory, under the glass countertop. Usually, two or three girls will be behind the countertop, waiting to slice into any pie a customer requests.  Flavors sometimes depend on the day and location, but reliable flavors are usually beef, cabbage and cheese, salmon, cherry, and cranberry. If you're lucky, you may visit on a day when you'll find rabbit and mushroom, herring, and green onion for the savory flavors, and apricot, lemon, tvorog, and cowberry for the sweet. The fruit flavors are seasonal, and the tvorog goes pretty fast, as it is one of the most popular.
Pies can be sliced into three sizes, or you can buy a whole pie. Typical flavors are beef, egg and rice, cabbage, lingonberry, tvorog, and "pig in a blanket," made with hot dogs.
The pies – particularly the fruit pies – are really delicious. The fruit filling is always the perfect mix of sweet and tart, and the crust is thick and hearty. These are one kind of pierogi you don't want to be eating out of a plastic bag – they get messy fast, even on a plate when eaten with a fork and a knife! The meat pies, on the other hand, are not bad, but are certainly not up to par with the fruit pies. One thing to know before ordering a meat pie is that it will be served at room temperature, as none of the pies are kept heated while under the glass countertop. They go so fast that one doesn't really need to worry about spoilage, but you may be a bit disappointed to cut into your rabbit pie and find that it's not warm. You might also find that the meat fillings are a bit under seasoned, and seem to be lacking a kick.
The restaurant also has salads and pasta dishes. As for drinks, there's also a coffee bar with cheap drinks coming from an actual espresso machine.
Stolle has several locations throughout St. Petersburg, and can be found in most metropolitan areas in Russia. It's equally popular with locals and tourists – especially the later, who may be drawn to the ability to simply point at what they want under the glass countertop, and for the fact that usually at least one person behind the counter is able to speak English. You may order your pierogi in Russian, but don't be surprised if your accent or a stumble gets the conversation switched to English by your cashier.
Kristin Torres
A. Soviet Nostalgia
Italyanskaya street, 17
Since arriving in St. Petersburg, my fellow classmates and I have seen signs reading "stolovaya" (the Russian word for "dining room") scattered throughout the city. Therefore, when my friends Ryan, Elizabeth, and I decided to dine out one day, we chose to explore the nearest one, a nice little establishment called Stolovaya No.1 Kopeika. (the kopek is the lowest denomination of Russian currency, therefore this name indicates the affordability of the establishment.
As you enter this stolovaya, you see a dimly lit hall laid out as a cafeteria/ buffet. The food line offers a wide assortment of choices, labeled in both Russian and English. The array includes soups, vegetable salads, sweet and savory rolls, grain and vegetable side dishes, meat cutlets, cakes, and beverages. Once you reach the end of the line, you pay the cashier, and then enter a wider dining area for sit-down eating. The dining room has a homey, kitschy, and nostalgic atmosphere, displayed by the retro wallpaper, bright and spacious layout, and its nice yet unpretentious tables, chairs, and lanterns. Some of the "stranger" details that we noticed during our visit included a big screen TV showing TOM AND JERRY cartoons (a lot of Russian establishments provide cartoons or playrooms to make themselves more family friendly), Soviet propaganda posters hanging on the walls, and a background soundtrack that included a slow, jazzy interpretation of Gloria Gaynor's classic "I Will Survive."  All of these details worked together to make us marvel at the novelty of stolovaya dining while simultaneously making us feel "right at home" in Russia.
When it came time to order, I was a bit intimidated, as I had to make my decisions quickly as to not hold up the line. I decided to take a hard boiled egg, "Vitamin Salad," a mixture of pickled carrots, onions, and, some type of pickled bean sprouts and/or bean sprouts, a generous scoop of grechka, and a Pepsi. The meal was a tad simple, yet filling, tasty, nutritionally balanced, and almost unbelievably inexpensive!
In conclusion, I left Stolovaya No. 1 Kopeika with a feeling of great satisfaction. I recommend visiting it for a variety of reasons.
First, while the cafeteria line can be a bit awkward and intimidating, experiencing that type of dining offers an interesting contrast to what's typical in the United States. The interior is visually intriguing, and while the cashiers can be a bit brusque and slow moving, the overall service is relatively hospitable.  However, the definite highlight is the quantity and quality of the food received for such a low price. Stolovaya No. 1 Kopeika does an excellent job of combining the dining out experience with the simple variety and cost-effectiveness of home cooking, making for an unforgettable dining experience.
Marin Ekstrom
Bolshaya Konushennaya, 25
You probably know the place is good when you post a picture of your food to Facebook and your professor back in the States knows exactly where you got it because she ate the same thing at the same spot during the Soviet era. This place is so good it will probably be here forever.
Nestled down the Nevsky side street Bolshaya Konushenaya is this пышечная, or donut bakery. You might miss it if it weren't for the queue of people forming two lines in the doorway, leading to two small dining areas and counters. It doesn't matter what line you stand in, as you'll be able to get the same thing at each end. Quarters are cramped and small — even the ceilings are low — but suffering the elbow jabs and push of people trying get in is worth it.
A few rubles will get you one пышка, though you probably won't be able to stop at just one. Unlike many Western donut shops, you won't have an array of donut flavors to choose from, making it easy to narrow down what kind of donut you want. Here, donuts look like mini funnel cakes from the state fair and don't have the frosting, sprinkles or other (albeit tasty) distractions. This place specializes in one thing and does it well — donuts with slightly crispy exteriors, soft and chewy on the inside, and covered in powdered sugar. A few rubles more will get you a small cup of coffee, with milk and sugar pre-added. Coffee 'mugs' are about a third the size of a standard mug, but you can probably afford a few refills and couple of donuts make for an early morning breakfast of champions before class. There are also juiceboxes, tea, and more.
It can't be emphasized enough that the menu at Pyshki is pretty fixed and limited. One type of donut and a smattering of drinks are all that's offered. Most patrons seem to enjoy their pyshki accompanied by a cup of coffee – Russians and Americans really aren't so different in that respect, it seems.  Seating is just as limited as the menu, and getting a table will likely require a bit of luck and a good eye. When packed, you'll see a lot of people simply standing around or leaning against the wall, content just to indulge in this popular treat.
Once seated, you'll notice every table has a stack of little rectangular sheets of paper. Looking like haphazardly made napkins fashioned from printer paper, these, I've gathered, are for absorbing a bit of the grease off your donut or your fingers. Be forewarned, you'll really need them.
While the snacks are great and the prices even better, much of the appeal and charm of this spot is its history. It's been around for more than 50 years, and the interior is a retro and simplistic. This spot even observes the same pyshki making method as it did in the beginning — you can watch a video on YouTube of the process of how a pyshka comes to be by clicking here. (The video was made during the Soviet era when Bolshaya Konushenaya was called Ulitsa Zheliabova, which accounts for the name difference.)
Kristin Torres
Local Delivery Services
If you are primarily looking for convenience, you can always order in with a local delivery service. Yandex Eats is a very popular app and was one of the first in Russia. If you see someone in a yellow jacket with a scooter – you're likely seeing the company's delivery people. They're everywhere! Delivery Club is also a really good resource for the days when you don't feel like leaving the dorm or cooking. You can find plenty of budget friendly options on both websites.
More in St. Petersburg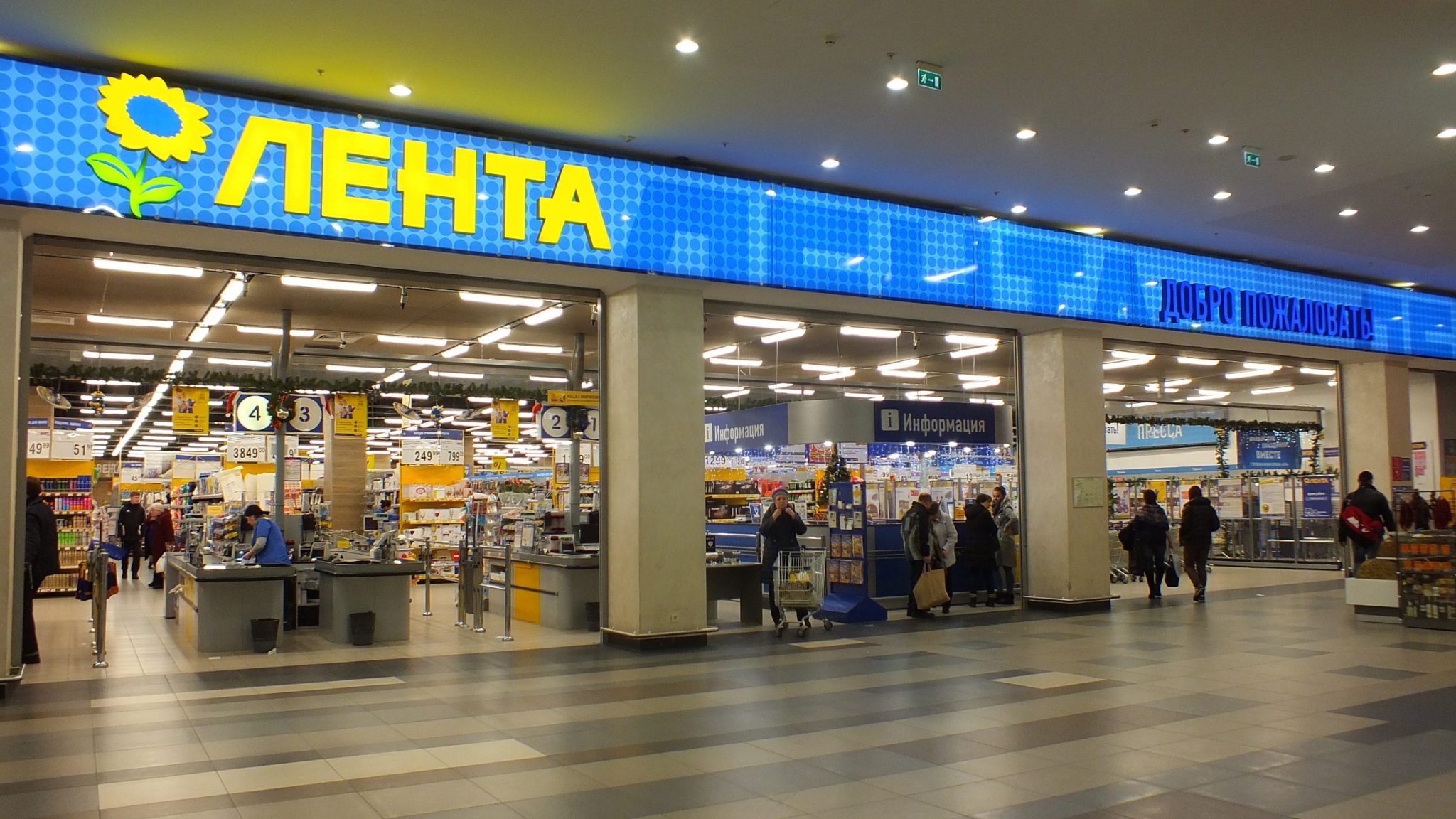 Russian supermarkets have been a great success story of the post-Soviet economy. Several large chains and holding companies have been built and, most importantly, Russian supermarkets have built up the supply chains to provide Russians with an ever-increasing diversity of produce and other groceries. The following short introductions to some of the largest chains of […]
4 comments