Where can you grab a really good lunch as a student in Vladivostok?
For a couple places specializing in traditional Russian, try Nostalgia, serves good quality Russian dishes for fair prices, and is also an art gallery and souvenir shop. For a cheaper Russian option head to the Satisfied Dragon (Сытый Горныч) at 4a Admiral Fokina Street. Ух ты блин is a popular local place serving blini and other traditional Russian food.
Below are a few more options that former SRAS students there have tried and recomended.
Sukhanova, 6a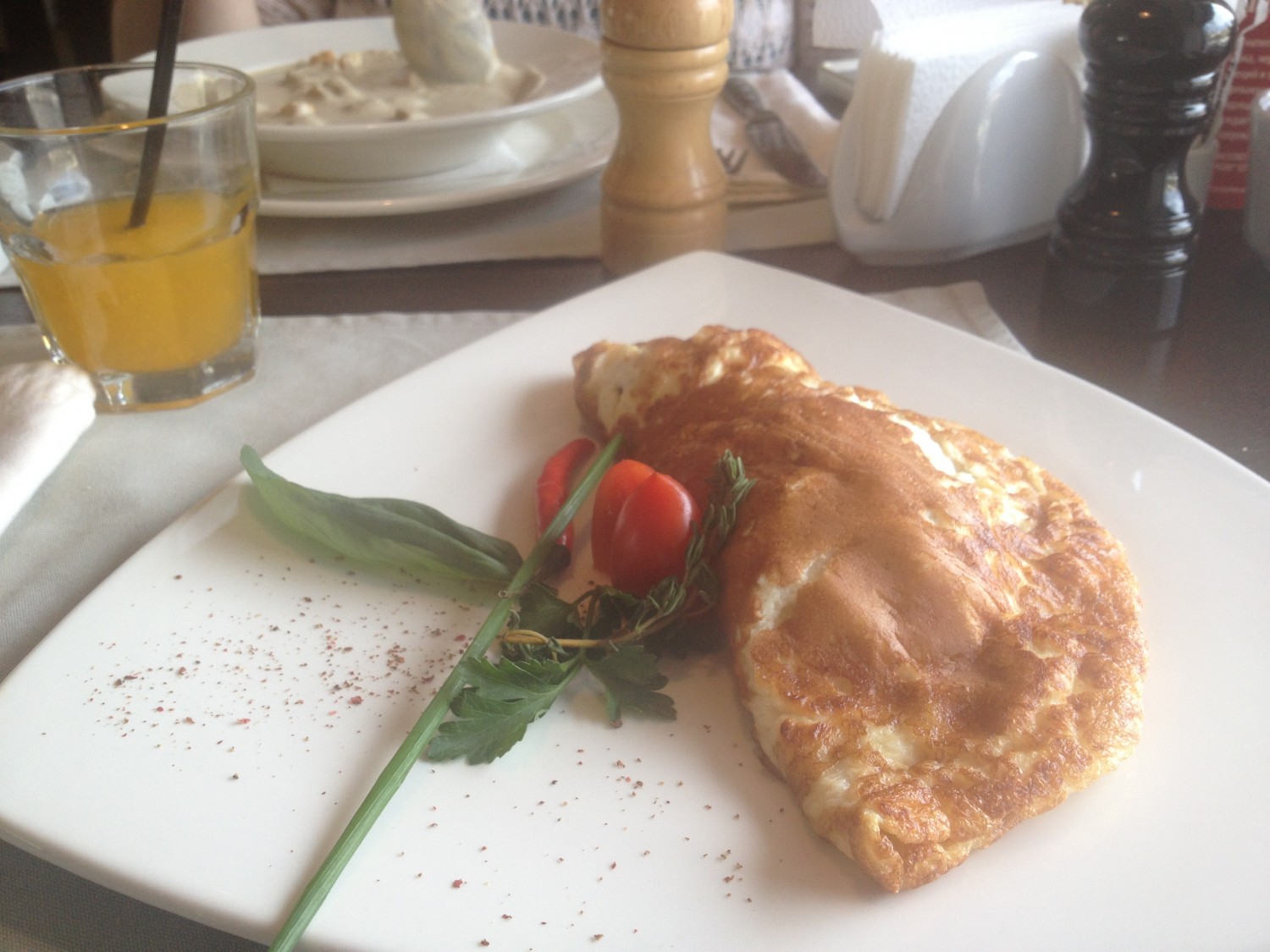 If you ask for any restaurant recommendation in Vladivostok, even if you specify something for coffee, you are likely to have Milk and Honey on the list of places that locals recommend. It's an upscale, but not altogether inaccessible location and is a long-standing part of the Vladivostok food scene for very good reasons.
If you're looking for that classic café snobbery, you can find it at Milk and Honey in spades: the porcelain tea services would be at home in Queen Elizabeth's collection, there is a child-size, wrought-iron cage in one corner, sporting a live bird, and I'm fairly sure not one entrée off the normal menu starts under 300 rubles. However, there is a choice of paths at this establishment, a fact amply reflected by the faint punk/anti-establishment edge evinced in the political tome-filled bookcase, the back wall full of security mirrors serving as décor and the not infrequent Lana Del Rey playing in the background.
Should you choose to take the red pill, you'll need to come to Молоко & Мед between 12 and 5 pm, the time during which the inexpensive business lunch is served. I had an absolutely delicious, no less than three-egg omelet filled with onion, pork leg, and a light tomato sauce for only 200 rubles. In fact, it was the most expertly seasoned dish that I have tasted in Vladivostok, and perhaps in Russia at large, and was also amongst the most skillfully plated dishes that I have come across. To top off the experience, I had a glass of облепиховый морс (oblepikhovyj mors; sea-buckthorn juice), which was clearly house-made, refreshingly sweet, and smelling of springtime (60 rub). On a whim, I also added a piece of walnut biscotti (30 rub) to the mix, which was a step I could have eliminated, as it was rather too crumbly for my liking and somewhat tasteless aside from the giant nut chunks. Besides, I was already past full!
When all's said and done, I would recommend Молоко & Мед without reservation (although it is wise, before going, to make seat reservations). Not only was the food unexpectedly pleasant on the palate, but the service during the meal was also quite attentive and genuinely helpful. Further recommending the establishment is its discount card, which is completely free – all you have to do is sign up and come back for it. And even this slight inconvenience turns into a bonus upon the realization that you get to eat here again!
Jordan Bryant
Multiple Locations
When news came Michel's Bakery, a chic international French bakery with locations heretofore only in Tokyo, Paris, and Moscow, would make Vladivostok the fourth on its exclusive list of host cities, it had the locals' attention. They've also done well – and now have several locations around the city.
Strolling in on a Friday afternoon between the rushes of lunch and dinner, we found the interior solidly populated with only reserved and a handful of twin-seater tables unoccupied. Our twosome slid comfortably into one of the troika of half-booth tables in the center pit of the room. Groups of more than four would likely be stifled by a coziness clearly intended for more intimate parties.
The decoration scheme is a hybrid of southern comfort and modern style. Metal placards sporting sappy sayings in English and famous faces line the walls, overhead is a whirling pool of words in French that look to be as if done in chalk on a blackboard and a large panel window painted over with flowers and hot air balloons inscripted with items menus colorfully displayed in Russian divides the room.
Having seated ourselves, we noticed a sign indicating that orders are placed at the register (у кассы). Glancing through the glass display case of pies and browsing the rich selection of breads and pastries, we kept things light on our afternoon run through grabbing a classic baguette (багет) for 50 rubles ($1), a serving of chicken quiche (киш с курицей) for 150 rubles ($3) and a pot (чайник) of Milk Oolong tea (молочный Улун чай) to split for 240 rubles ($4.50).
Michel's Bakery is not one of the cheapest places in town, but not utterly off limits to the cash-strapped student. All of the French bread (французкий хлеб) is pretty cheap. They also regularly run specials on the bakery products (выпечка) such as  half-off (скидка на 50%) after 9pm or a buy two cupcakes, get the third free (купи два капкейка, получи третий в подарок) promotion. So don't let the fact that you can't swing a four-course meal and three bottles of wine (which they also have in stock) keep you from picking up something from the bakery to go with your coffee or tea.
Ian Blair
Svetlanskaya Street, 61
Coffetory Cafe is the swankiest place I have been to here in Vladivostok. It is also the place of choice for many of my Russian friends to meet for lunch or dinner.
The menu is expansive, but not expensive; they have literally about everything, from sushi, pizza, Italian pasta, Russian dishes, sandwiches, salads, burgers and more. They also have a large drink menu with assorted cocktails.
The basement floor has an area for a DJ who is typically mixing playlists while you eat. I must admit I'm pretty into the music that they play. It is primarily electronic, very trance-like but it varies from DJ and with time. The basement is made up of small, secluded table areas that sit 4-8 people. In these holdings are a blown-up, kitschy, female nude posters and a single dim light. A lot of people smoke hookah (which costs from 700-1300 rubles depending on flavor), so if you are sensitive to smoke I recommend you stay on the ground floor, which has a bar on the right and smaller tables (that fit 2-6 people) on the left. There are large televisions that play fashion television everywhere, so even if you go alone you'll be entertained by weird, high end fashion shows.
For the last two times I have gone, I had Nastya, for my waitress. She was exceptional at her job. She was always around whenever we needed her and very kind. Service was quite good at Coffetory; not too invasive, but not too absent.
I go for pizza every time I have been (just because finding decent pizza is quite difficult in Vladivostok). Pizza at Coffetory is tasty. I have not found a place that has understood the importance of crust here; most pizzas in Vladivostok are tomato sauce, cheese, and ham on warm bread or thin crust pizza. Coffetory at least has thin crust. I recommend the Пицца с яблоком и молодым сыром (Pizza with apple and young cheese) if you're looking for a sweet pizza or Пицца «Четыре сыра» (4 Cheese Pizza) if you're looking for a more classic pizza. They are fairly large for Russian pizzas (like a small Papa John's pizza in the US) and have filled me up each time. I also super recommend their non-alcoholic strawberry lemonade. It is one of the best strawberry lemonades I have had; it is sweet with a kick of bubbles.
Ian Blair
ул. Гоголя, 41
Ресторан Аванта (Restaurant Avanta) is actually located within Vladivostok State University of Economics and Service, the place where all of SRAS students stay! One of the interesting things about studying at this university is that it has an entire hotel within its confines; as part of the "service" sphere alluded to in its name, the university has a whole department dedicated to the management and operation of hotels. It is in this hotel that Ресторан Аванта is located.
Like many a hotel restaurant, Аванта is quite a classy sit-down spot, so if you don't want to feel underdressed (as we did), do make sure to look a little more professional (or just dress like the average Russian). Also like many a hotel restaurant, Аванта is normally quite expensive, so if your goal is to eat cheap, do not order from the regular menu.
The low-price option is called бизнес-лаунч or комплексный обед, and there should be a small tablet on the table reflecting your options and the prices. In short, it's a bit like the prix-fixe options that have been popping up of late on the American dining scene. You can choose a salad, soup, main dish and drink or any smaller combination of these options.
As is the usual for me, for I eat in style or not at all, I had all the available courses: оливье (olivye – a Russian salad made with ham, еggs and peas), рассольник (rassol'nik – a Russian soup, the base of which is tasty pickles!), spaghetti Bolognese and nice, strong black tea.
I was very skeptical about what the quality of the food would be given the prices – 60 rubles each for the salad and soup and 140 for the spaghetti – but I was pleasantly surprised overall. Both the salad and spaghetti Bolognese were quite delicious, with generous portions and fresh, flavorful ingredients. The soup, too, although overwhelmed by the taste of too much parsley, was relatively tasty, and what it lacked in taste was surely made up by the wonderful presentation of each dish and the chic atmosphere of the place. After all, the restaurant does sit on the 7th floor of a building near the top of a high hill, so it commands a beautiful and far-reaching view, not to mention the plush furniture and sleek, modern décor that accompany the vista. Therefore, I judge that a weak soup can be forgiven, and in fact, need not even be ordered, as mentioned above. The only other, very minor complaint that I would voice is that although our server was very nice and polite, it seemed that she often forgot about us, especially at the end of our meal when a large party came from the hotel's conference hall to dine. I must say, though, that by Russian standards my fellow poor students and I did not look too important!
I think I hardly need add that at the end of the meal, I was not only satisfied, but quite full! The compatriots with whom I lunched, Megan Dwyer and Josh Solomon, both SRAS students, as well, reported to me a similar level of contentment. If you've been to a hotel restaurant in almost any country, this will be nothing new to you, as there is nothing especially "ethnic" about the place, but if you, like myself, don't cook and need to buy yourself lunch while living in the dorms at VGUES, you could certainly do a lot worse. In fact, I would rate it the best area option for the price that I have thus far experienced!
– Jordan Bryant