Paulig, a Finnish-owned foods company, recently introduced a line-up of geographically branded coffees to the Russian market. The locations the coffees claimed to represent were established coffee capitals: Havana, Paris, and New York. Soon after these three appeared, however, a fourth, locally-branded, Moscow flavor joined them.
While Russia's rapidly growing coffee market makes a localized product quite reasonable, its appearance is still surprising from a historical standpoint.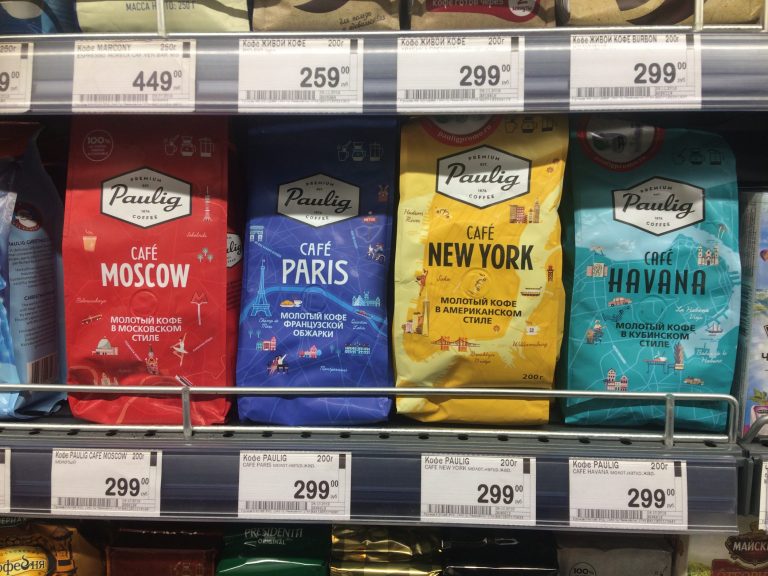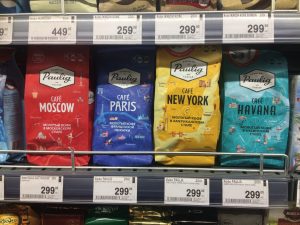 In the USSR, as in most places in the world, instant coffee was most popularly consumed. The US, and later much of the rest of the world, went through a rapid revolutionary change to ground coffee in the late 80s and 90s, at the same time that communism was falling and Russia spent a subsequent decade in economic turmoil.
Ground coffee made some small inroads into Russia as the economy began to solidify and grow again in the 2000s. However, as late as 2016, instant coffee still accounted for 61% of all coffee sales in Russia and Moscow had only four coffee shops per 100,000 people (while New York, for instance, had 132). In addition, most of Moscow's relatively small coffee shop market had been long dominated by Shokolodnitsa and Kofe Khaus, two chains known for serving coffee, but not particularly known for the quality of their product or service.
While there were some higher-end coffee houses in Moscow such as Coffee Bean and Kafemania, these chains remained very small and their influence on the market quite limited. In fact, until about 2016, it would have been hard to say that Moscow had a "coffee scene" at all.
However, this began rapidly changing around 2015. The financial crisis of 2014 coupled with a rapidly growing online retail market saw prices for brick-and-mortar real estate sink. This proved a boon for the food service industry, including coffee shops. The number of chains, many of them locally founded, exploded, and the number of locations, from sit-down cafes to coffee-service windows, likewise grew at lightning speed. By 2017, it felt like the Moscow coffee scene had established itself almost overnight.
For the first time, a range of coffee options was available throughout the city, with some local options such Pravda Coffee and Surf Coffee offering good product and truly recognizable brands. Smaller non-chain shops, likewise locally operated, also sprouted up.
Given the relatively youth of good coffee in Moscow, it seems strange that, in late 2019, a brand purporting to be a distinctive Moscow blend has appeared so quickly. But it has. And it's pretty good.
Paulig markets this as specifically formulated to be used in raf coffee. Raf was invented in a Coffee Bean location in Moscow and consists of coffee, syrup, and milk all blended into a thick drink.
Paulig's Moscow blend is thus a darker roast to allow the coffee taste to survive being so diluted. However, the company has also found a balance so as to maintain moderate levels of acidity and not roast so dark as to bring out ash flavors. The result is a coffee that can comfortably be drunk black as well.
Paulig has also launched a highly ambitious marketing campaign to establish this new brand in Moscow. It has been recruiting people to speak about the Moscow streets they live on and so far has shot short videos on more than 3600 Moscow streets. They have also arranged what they claim is the world's largest coffee tasting – with 300 liters given away at Moscow's VDNKh park.
Although introduced by a Finish company, this product seems a quite proud achievement to add to Moscow's phenomenal recent coffee history.