If you're like me while traveling, bouncing from one hostel to the next, you've probably tried out a pub crawl or two. If you haven't, it's never too late! You encounter all types of travelers on pub crawls, from solo wanderers to English stag/hen parties (aka bachelor/bachelorette parties for fellow American English speakers).
Pub crawls aren't only for travelers and the soon-to-be-wed. When I moved to Warsaw, I had no idea where to begin searching out the decent nightlife. You may never come across the best bars on TripAdvisor or Google searches, wasting valuable time and money in common tourist traps. In my case, I went on a pub crawl to get the general lay of the land (bar-wise) and it progressed from there. Because many of Europe's pub crawls are headed by locals, you can get a plethora of tips for the areas to avoid or frequent, the best spots for deals or dancing. Or hey, if you want to find out what Disco Polo is all about, they can help you with that, too (no judgment).
The deal:
2 cocktails, beers, or glasses of wine at the first bar
Welcome shot at each bar
VIP entry to each club (skip the lines)
Challenges and games
Price: 60 PLN or 50 PLN if booked online or at your hostel
Where, when, who
8:30 pm by the Palm Tree on Aleje Jerozolimskie (intersection with Nowy Świat)
to be sure of the times, check out their Facebook
All are invited for a good time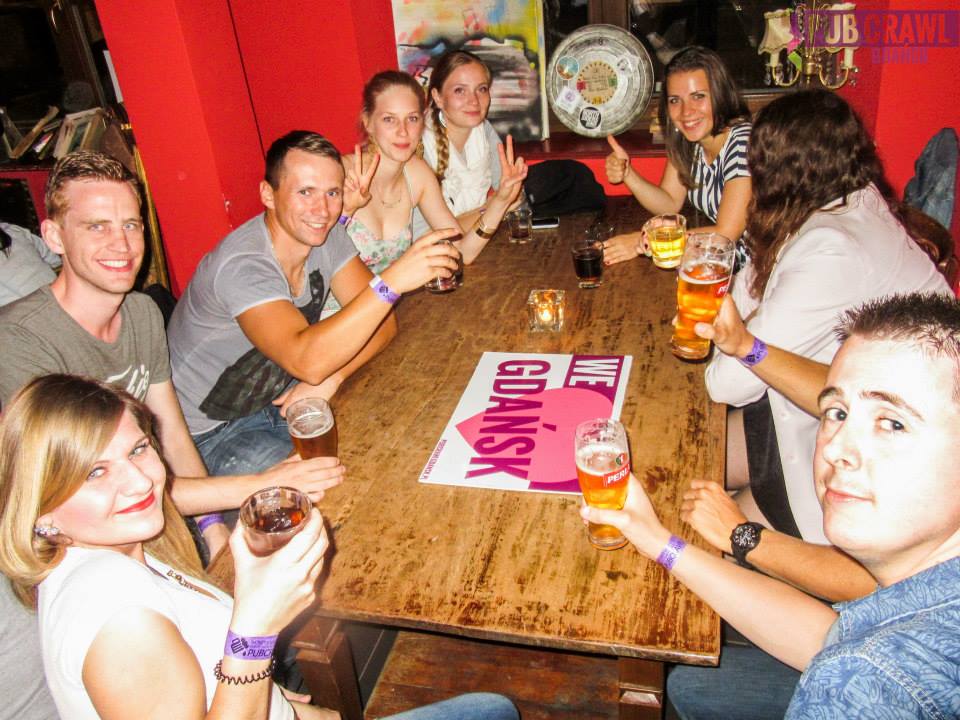 An exclusive interview with Kamil Kopyłowski, coordinator of Pub Crawl Warsaw and Gdańsk
What made you decide to coordinate Pub Crawl Warsaw and Pub Crawl Gdańsk?
It's quite a long story. In 2011, I was working in one of the hostels in Warsaw and met an American who introduced me to the idea of a Pub Crawl (he was working for one in Rome). I searched more online and when summer was gone, I figured I would buy myself a one-way ticket to Rome and see how it is there. I ended up working on a local Pub Crawl there for 5 months, showing the ancient city to people from around the world. I returned to Poland to start my masters, but there was no Pub Crawl in Warsaw. Having loads of experience after Rome, I figured out I would be the perfect person to start it in capital of Poland. This is how it started. Gdańsk Pub Crawl started just this year and since we wanted to start new project in a new city, we picked Gdańsk.
What do you hope travelers will get out of the experience?
I hope people visiting Warsaw will see what it has best to offer when it comes to nightlife. Warsaw is the biggest Polish city and party spots are spread around a large area which makes it hard for foreigners to find themselves in the perfect spots at the best times. Our team of local legends comes with help, not only showing cool venues, but also bringing people together during crazy challenges* as well as introducing them to various vodka flavors.** You have to remember that Warsaw is more of a financial city since it is a capital, but now the nightlife scene is growing so much! Some experts are saying that soon it will become new Berlin, famous for its alternative scene. *** Also now the well-known Wisła River Boulevard and city beach has become a major attraction during summer where awesome all-night parties are being organized.
What are some challenges coordinating the pub crawls?
I would say that these are the same ones as operating any other type of company. We have to make sure every detail of each night is planned in the best possible way. All party guides are informed and trained well, after all their job is not only to drink with guests. Operational stuff has always been a difficulty, dealing with taxes, contacts, and Polish bureaucracy- but anyone will tell you that. Besides that changing the mindset of local bar managers back in 2012 was an issue. When I first came to the local bar managers with the awesome news that I will bring them international clients, they were not interested. They considered foreign customers similar to English stag groups who drink from shoes. Fortunately having friends in some of the bars helped me show travelers the unknown Warsaw and a bit of the typical Polish party style experience.
What are some of the best experiences you've had leading the pub crawls?
It has been always awesome to meet new people from all over the world. It's really cool that such diverse people meet up in one place to have an amazing night in a city they don't know. Each night is different because of the people. Some of the nights finish the day after or even two. I will tell you, the best nights happen when you don't overly plan. Just come to the pub crawl, and we'll take care of it.
~~~~~~
* The Pub Crawls hand out challenge cards through the night. Personally, I've had to serenade someone, propose to someone else, and do ten push-ups.
** The Poles have a plethora of vodka flavors – one of the well-known ones is Źubrowka, named after the grass that European bison eat!
*** no citation given
All photos courtesy of the Pub Crawl's Facebook pages.
Links, for your viewing pleasure.
Pub Crawl Warsaw official page
Facebook
TripAdvisor
Instagram: nightlifepoland
Contact: friends@pubcrawl.pl
Pub Crawl Gdansk official page
Facebook
TripAdvisor