The particular mix of foods that the USSR brought together still stands out in the mix of local restaurants found across Russia. The three major cuisines are Caucasian, most often represented by Georgian food, Central Asian, which is most often represented by Uzbek varients, and Ukrainian. While many more can be found if you look, these three dominate the local restaurant scenes along with, of course, Russian food. Below, former SRAS students detail some of the places that they've tried to sample these cuisines.
Introduction
One of the great things about Moscow is that you can easily try food from all over the former USSR at very reasonable prices. MuMu and Grabli offer a (mostly) Russian menu in convenient and inexpensive cafeteria-style formats. For some amazing and amazingly cheap Russian pirozhki, we highly recommend Stolle. Ever wanted to actually try salo? We tried it at Korchma, a reasonably-priced chain of Ukrainian restaurants, and liked it! You should also not leave Moscow without trying Russia's homegrown fast food chain, Teremok, which serves great blini, pelmeni, kasha, and soups… Georgian food is pretty hard to go wrong with and Moscow has many Georgian cafes and chains around Moscow including Dzhon Dzholi and Kafe Khinkalnaya, both chains offering a relatively upscale feel for still-reasonable prices. For great Uzbek food, try Chaikhana№1, a chain of comfy cafes with really excellent plov and lagman on offer. The Embassy of the Kyrgyz Republic has a small restaurant attached, open for the public, that offers great Kyrgyz staples like beshbarmak and borsok. Varenichnaya looks like a Soviet answer to Applebee's. They serve traditional Russian/Ukrainian foods in an atmosphere drenched in Soviet nostalgia – with old issues of Pravda and Soviet-produced domestic goods all over the walls. There are still a few Soviet-era eateries around as well. See Blini for a near-museum eating experience!
Moscow also offers some truly excellent and unique dining experiences – many of which are still reasonably affordable and accessible in terms of getting a reservation (most times you can just walk in). White Rabbit was named one of the world's top restaurants on multiple occasions. They offer a creative menu based on traditional Russian foods and ingredients and friendly staff that will often walk you through your meal, explaining the dishes as they come out. The Pushkin Café serves exquisite, traditional Russian food in an atmosphere recalling the glory of Czarist times. It's definitely worth at least one try while you are abroad.
Caucasian
Georgian food stands out as some of the best from the former USSR, with unique flavor and texture combinations that, while few have tried before coming abroad, nearly all love. For locals, Georgian restaurants are sure-fire wins for a great meal and, as the restaurant scene has developed across the former Soviet space, Georgian is one cuisine that can be found almost everywhere. You can brief yourself on subject with this list from our friends at Folkways. Then, try the below list of Georgian food places that SRAS students have found to relish in Moscow, Russia.
Various Locations
Review by Samantha Barrett
As our summer program with SRAS came to an end, we celebrated the end of a great experience. SRAS invited us all to a Georgian feast where we ate some of the tastiest food in the city. We talked about what we were eating as we ate it so that we learned even more about Georgian culture.
Dinner started off with mors, which is juice made by boiling berries and adding sugar. As the night went on, we also tried tarkhun – a lemonade made from tarragon that was invented in Georgia. We tried various types of salads, roasted eggplant rolls and three different types of pkhali (spinach, green beans, and beets), an appetizer made of crushed spices, nuts, and vegetables.
Even though we had already stuffed our faces with appetizers, everyone at the table immediately perked up when the main courses arrived. Khachapuri, for instance, is a delicious Georgian dish which consists of cheese and butter (and often other things) baked into bread. Each region of Georgia has its own language and culture and its own version of this simple but wonderful dish. We tried four of them.
Next out of the kitchen came khinkali, a large Georgian dumpling filled with meat. Although khinkali can be made with many types of meat, the most traditional is lamb. That's the one we had. The proper way to eat khinkali looks pretty funny. The eater is supposed to hold the dumpling at face level, bite the bottom, and suck out all of the juices. That way none of the juices will spill! I learned that the eater is also not supposed to eat the top of a khinkali, which is a tightly wrapped nub of dough. Apparently, if one eats this part of the dumpling, it means that the eater is poor and want to stay poor. If this philosophy is true, I want to stay poor forever because the dough on top is my favorite part! After the last of the khinkali had been eating, we dug into several types of shashlik–marinated meat cooked on skewers over high heat. It was perfect!
Dessert time! We had four types of desserts. We had two that are popular throughout the former USSR and not particularly Georgian: Napoleon, a puff pastry with soft cream; and Smetannik, soft dough cake with strawberries and sour cream frosting. We also had two that were very traditionally Georgian and made from concentrated grape juice: Pelamushi, a traditional Georgian dish that is basically a grape juice pudding; and Churchkhela, nuts dipped in thickened grape juice that is then allowed to harden. Georgia is major grape producing region and grapes play a large roll in their wine culture as well as desserts!
We ended our dinner how the Georgians end theirs–with a few piping hot pots of tea.
This feast was incredible! It was great to learn about food from Georgia, and enjoy a big family-style dinner to wind down the summer.
Sam Prishyol

Various Locations
Review by Meghan Kindy

Сам пришел (Sam Prishyol) is a loose chain of Georgian restaurants. You'll find them around Moscow, but there is no central website for them and instead they all maintain their own. The one we tried is located about a fifteen minute walk from the Лубянка (Lubyanka) metro station or a ten minute walk from Китай-город (Kitai-gorod) station. It is a one-story wooden restaurant with parking on the left side of the building and a beautiful, outdoor seating area in the back past a small rock archway. The restaurant itself has is quite cozy with wooden walls, potted plants and traditional Georgian-style decor. There is another about a 10-minute walk from the MGIMO dorms for students staying there.
The wait staff at Сам пришел did not speak English and a few businessmen at a table near us giggled when they realized our Russian language skills were sub-par, but our waitress was extremely friendly and she got an English menu for us to look. We ordered Сациви «Традиционный» (Traditional Satsivi), Хачапури аджарская лодочка (Adjarian Boat Khachapuri), Жаркое по-домашнему (Homestyle Roast) and Цыпленок в чесночном соусе (Chicken in Garlic Sauce). Сациви is a traditional Georgian dish served as a cold dipping sauce for bread or as a sauce for meat or fish. Our сациви had tender pieces of chicken mixed in the sauce. Хачапури is another traditional Georgian dish that comes in various styles. Хачапури аджарская лодочка is made by forming bread in the shape of a boat and filling it with cheese before baking it. Once out of the oven, an egg is immediately cracked on top and a little butter is added. The heat from the bread/cheese cooks the egg sunny-side up. When you cut the bread, each bite is a delicious mixture of egg, cheese, and bread. Hunter, my dining partner, and I loved these two dishes.
Soon after we finished the appetizers, we heard a woman and a man sing live music from a small stage in the room next to ours. We didn't understand the meaning of the song because the lyrics were in Russian, but the tunes made the atmosphere more romantic than before. The next main dish that arrived was the Цыпленок в чесночном соусе, which was simply pan-fried chicken cooked and served with a buttery, milk-garlic sauce. The second main dish was Жаркое по-домашнему, which was pork with baked potato wedges, onions and spices. Both of these dishes were extremely good as well, and the meal left us full and content. The restaurant was definitely not the cheapest I'd tried in Moscow, but my dining partner and I both want to go back at least once during our stay. I enjoyed the experience and would recommend it to anyone wishing to taste traditional Georgian cuisine.
Central Asian
Central Asian cuisine was born of nomadic cultures. The food tends to be meat and grain heavy – reflecting the foods that were easily accessible on the vast steppes and mountains of Central Asia. Horse and lamb are the most traditional meats, although modern restaurants and recepies will also allow for beef and chicken.
Various Locations
Review by Samantha Barrett
You know that feeling you get when you try a new type of food and suddenly become obsessed with it and want to eat it all the time, everyday for the rest of your life? Me too. That type of food for me is Uzbek, and the location from which I derive food to sustain this addiction comes from Чайхона No. 1!
Чайхона No. 1 has a variety of locations across Moscow. The interiors of the restaurants are each uniquely decorated and never fail to achieve a perfect "chill out" atmosphere. Sit back and relax in the pillowed sofas meant to accommodate a large party of friends! At Чайхона No. 1, it is easy to accidentally lose track of time while enjoying the ambiance; but who says that's a bad thing, especially when one considers the incredible menu.
Let's start with appetizers. The roots of the restaurant are based in the cultural belief that every part of an animal should be utilized. That being said, horse jerky and cow tongue are actually pretty tasty! I would not suggest that anyone who dislikes squishy textured food order a plateful of cow tongue; however in order to learn about and appreciate Uzbek delicacies, I would highly recommend trying it at least once!
Каурма-лагман (Kaurma Lagman) is to die for. It is noodle dish with explosive flavor from the spices in the thick sauce. The dish is deceptively filling, even after only a few bites! This can be attributed to the thickness of the noodle combined with the large sizes of the cooked vegetables included on the plate. Another dish I would highly recommend is мини-манты (mini-manti). They are similar to dumplings in appearance, but the dough is twisted into a little nub at the top of delicious pocket of meat or vegetable filling. There is also a trick to eating them! Holding the top of a single "Mini Manty," bite into the bottom part and drink the juice from the inside. You can then proceed to eat the rest of it without spilling all over yourself.
The time has come to discuss my favorite part—dessert. During my time spent in Moscow, I have been lucky enough to try a lot of Чайхона No. 1's desserts, and I can guarantee that each are as delicious as the next. I'm not proud of this, but once I went to the Чайхона near MGU with some friends solely for the purpose of buying my new favorite type of cake, пахлава домашняя (homemade baklava). Flaky on the outside with a whipped cream center, it's easily one of the most unforgettable sweets I've tasted. Other desserts that I would highly recommend are ли-нон (li-non), which are similar to блини in nature, but with a thicker, crispier outside, and штрудель яблочный (apple strudel), which is essentially a dough pocket filled with apples and sweet syrup—the true ingredients to pure happiness.
After my first trip there, Чайхона No. 1 immediately secured its place in my heart as my favorite restaurant. Experiencing the atmosphere and the traditional foods was a very enlightening experience, and I can't wait to go again. If I could suggest a calm, more laid-back place to hang out with your friends on the weekends, Чайхона No. 1 is where I would send you first!
Arbat str. 45/24
Review by Ann Le
Central Asian food seems to be all the rage in Moscow. These restaurants are often decorated with beautiful Central Asian designs and décor, and often have a "hip" theme. There is often hookah served, furniture upholstered in a Central Asian or almost Turkish style. Because Central Asian food is not well-known in the West, you will not be able to easily find this cuisine once you return to the United States. Therefore, while in Moscow, I definitely encourage you to try Central Asian cuisine.
Although Central Asia includes Kazakhstan, Kyrgyzstan, Tajikistan, Turkmenistan and Uzbekistan, it is the cuisine of the latter that appears to be the most notable. One thing that sets Uzbek cuisine apart from the other Central Asian countries, is the use of spices. Some commonly found in Uzbek dishes are cumin, black pepper, barberry, and coriander. An abundance of delicious fruit grows in Uzbekistan, especially in the summer. Uzbeks often add raisins, apples, dried apricots and other fruits into their savory dishes, adding a well-balanced flavor.
On Staryi Arbat, Vostochnyi Kvartal offers a variety of Central Asian food, including Uzbek, Kyrgyz, Tajik and others. I ordered the plov, a popular dish in Central Asia. It is a rice dish with meat, vegetables, and sometimes fruit in it. This dish I ordered had beef, raisins, and a sort of yellow vegetable I wasn't familiar with. It was slightly greasy – authentically so, and I thought it was still very good. I loved the raisins in it.
I also ordered lagman. This is a popular Dungan dish. The dungans are a predominantly Muslim people from Eastern China. There are minority Dungan populations in many Central Asian states and Dungan cooking styles have greatly affected food culture across central Asia. Lagman is made of noodles that are traditionally made by hand, a tomato sauce, and vegetables, such as bell peppers and garlic. Just making the noodles can take hours.
My friend ordered the samsa, a pastry that is filled with minced beef, sheep, or even pumpkin. In Central Asia, this is a popular and cheap street food. She also ordered a warm banana dessert with two scoops of ice cream and fruit sauce drizzled over it. We weren't sure if this was exactly a traditional Central Asian dish, but it was good.
Overall, the food was all very delicious. The lagman in particular, was authentic. I did, however, notice that some of the more exotic dishes, were "westernized" or left off. For example, the Kyrgyz besh barmark, traditionally eaten with the fingers (the name of the dish actually means "fivefingers" to highlight this) was served with cutlery. There was no sheep's head or intestines (traditional particularly to Kazakhstan) to be found on the menu.
The prices at Vostochnyi Kvartal are often comparable to, if not slightly more expensive than other cafes in the Arbat area. The main reason for the slightly higher cost is likely due to the cuisine's current popularity. Still, I highly recommend that you take advantage of being in such an ethically diverse region and give this lesser-known food a try.
For group and faculty-led tours, I highly recommend this place. It will provide cultural value and spark conversations about ethnic minorities in Moscow. It is also a great place for groups, and has ample seating inside and on the patio. I saw a sudden crowd of about 35 people come in and they were all taken care of very quickly. You might call ahead and make reservations, though, to be on the safe side.
Ukrainian
Ukrainian food is closely related to other Slavic cuisines like Polish and Russian, but has it's own specific varients of dishes and taste combinations considered most traditional to that area.
Various Locations
Review by Kyle Mendes

To find Korchma simply come out of the metro and walk down Strastnoi Blvd. Petrovka will be running parallel to that street and Korchma will be one of the first places you'll see.
Location/Service
Somewhat hidden and having only two small signs designating its location, Korchma has something of an unassuming edifice. The only clue connecting the facade to the festive interior is the man in traditional Ukrainian garb who opens the door for you and says hello with a smile.
The inside of the small restaurant is decorated with loads of pictures, instruments, icons, ivy lining the top of the wooden walls, and countless other pieces of fun little paraphernalia. Our hostess was a boisterous middle-aged woman who loudly welcomes all the patrons with enthusiastic tidings and inquires as to what language menu they would prefer (they apparently have many different languages available). She then sits you down at one of the tables covered in stiff cloths and with napkins stitched with colorful, charming, yet bucolic, earthy embroidery. After a few moments of looking through the novel-length menu, our young, beautiful waitress came over, asked what kind of bread we would like, then just stood there patiently, pen in hand, until we decided what to order.
The whole atmosphere is casual and festive, especially with the bouncy Ukrainian music which perfectly completes the whole aesthetic.
The Food
The complimentary bread was served with four individual bowls of seasoned butter for each of us. It was delightfully rich and the perfect way to whet the appetite for the entrees to come. However, as I was eating our delicious Ukrainian black bread with the glorious butter and looking at the menu, I got a little nervous. Most of the plates with substantial portions are four to five hundred rubles. Indeed my friend Julian ordered a salad and a bowl of dumplings with a glass of water and spent well over six hundred rubles (~$20). Not to mention that the cups of tea my friends Kris and Qui Di enjoyed were 140 rubles each.
However, I stuck to my Cheap Eats budget and ordered a plate of chicken wings (320 rubles) with onions, parsley, lemon, and lettuce that came with two of the most amazing sweet/savory sauces I've ever had in my life. The chicken was impossibly moist and I don't think time itself has ever picked bones so clean. The chicken had been cooked in herbs and spices with a squeeze of lemon. The sauce made it even more amazing. Kris had a huge bowl of borsch (170 rubles) and Qui Di decided on a plate of salmon and potatoes (120 rubles), the former of which I tried and really enjoyed…wonderfully fresh and perfectly salted, just as fish should be.
As we finished Qui Di said "good choice," to our choice of restaurant for the evening and we all agreed with a unanimous thumbs up.
Conclusion
Though perhaps not the place at which to dine two or three times a week, Korchma was the perfect treat after a Saturday of site-seeing. Everyone there was super nice and, as we left, the hostess insisted on taking a picture with Kris and Qui Di (pictured). If you have an afternoon free on a weekend, you have to pay this place a visit. There's no way you'll leave disappointed.
Post-Soviet Gourmet

Inside Smolensky Passazh Shopping Mall at Smolenskya Pl., 3
Review by Ann Le
For the not-so-wealthy student who is "cursed" with the love of exquisite food, the opportunity to dine at a fancy, yet accessible establishment is quite rare. By accessible, I mean a restaurant that is affordable, local, and doesn't require reservations months ahead. White Rabbit is that elusive restaurant. Better yet, it is actually listed as #23 of the top 50 restaurants in the world.
This restaurant is located on the 16th floor of the Smolenskiy Passage. When we entered the top floor, we were taken back by the way its décor, which was beautifully decorated in an Alice in Wonderland theme. Waiters dressed in Mad Hatter inspired uniforms, and portraits of dignified, personified rabbits hung on walls. Come for dinner around 7:00, and enjoy a panoramic view of Moscow through the glass dome roof. It's an unforgettable experience.
Despite its lofty ranking, the food is surprisingly quite affordable. You can get dinner for $15.* Moreover, an important part of the experience for me was that the service was not pretentious whatsoever. The waiters were sweet and patient with our broken Russian and indecisiveness. As half-broke college students who managed to assemble some sort of decent outfits from our suitcases, we felt very comfortable in this supposedly hoity-toity establishment. In fact, we felt more comfortable there than we ever did while checking out with the cashiers at the supermarket Dixi. If that's not enough to convince you to go, you don't even need a reservation.
Dishes ranged from more "everyday" dishes, such as cheese ravioli ($16), to rabbit tongue served in mustard sauce ($20). If you have been craving mousse made of a young goat cheese with honeysuckle ice-cream, your search ends here.
Some tips:
Even if your Russian is good, ask for an English menu as well. Because many of the ingredients are quite unusual, I had a hard enough time understanding them even in English.
This place does not employ "face control." However, it is a nice establishment and I recommend that you wear something decent. I have seen people wear t-shirts here, but I don't recommend that, since some online reviewers said that they have been turned away for that.
Come early and block out your entire evening. It can take an excruciating long time to prepare the food. However, go with good company and chat! Or, be a nerd and go over your Russian language flash cards, like I did.
Go in smaller groups. It will be easier to get seating, especially if you don't want to make a reservation. Plus, the tables are not really set up for groups of 10.
As mentioned earlier, even though you might not need reservations, I recommend going on a weekday night if you can. If they tell you they can't take you in because you don't have a reservation, ask if you can wait. We did that once, and ended up waiting only half an hour. Otherwise, you can possibly ask to sit at the bar instead.
If you do have to wait, kill time by going outside to the smoking patio, which is connected to the restaurant on the outside. Ask the waiter where this is, since it may not be obvious. From there, the view is gorgeous. You can see one of the Seven Sisters and take pretty photos of the city.
If you do want to make a reservation, however, you will have to put down a large, non-refundable deposit with your credit card. It will go towards your meal, but will essentially ensure the restaurant that you will spend a certain amount.
*The writer of this review is not responsible if you dine at White Rabbit and realize you are unable to refrain from ordering way past your budget limit.
More to Do in Moscow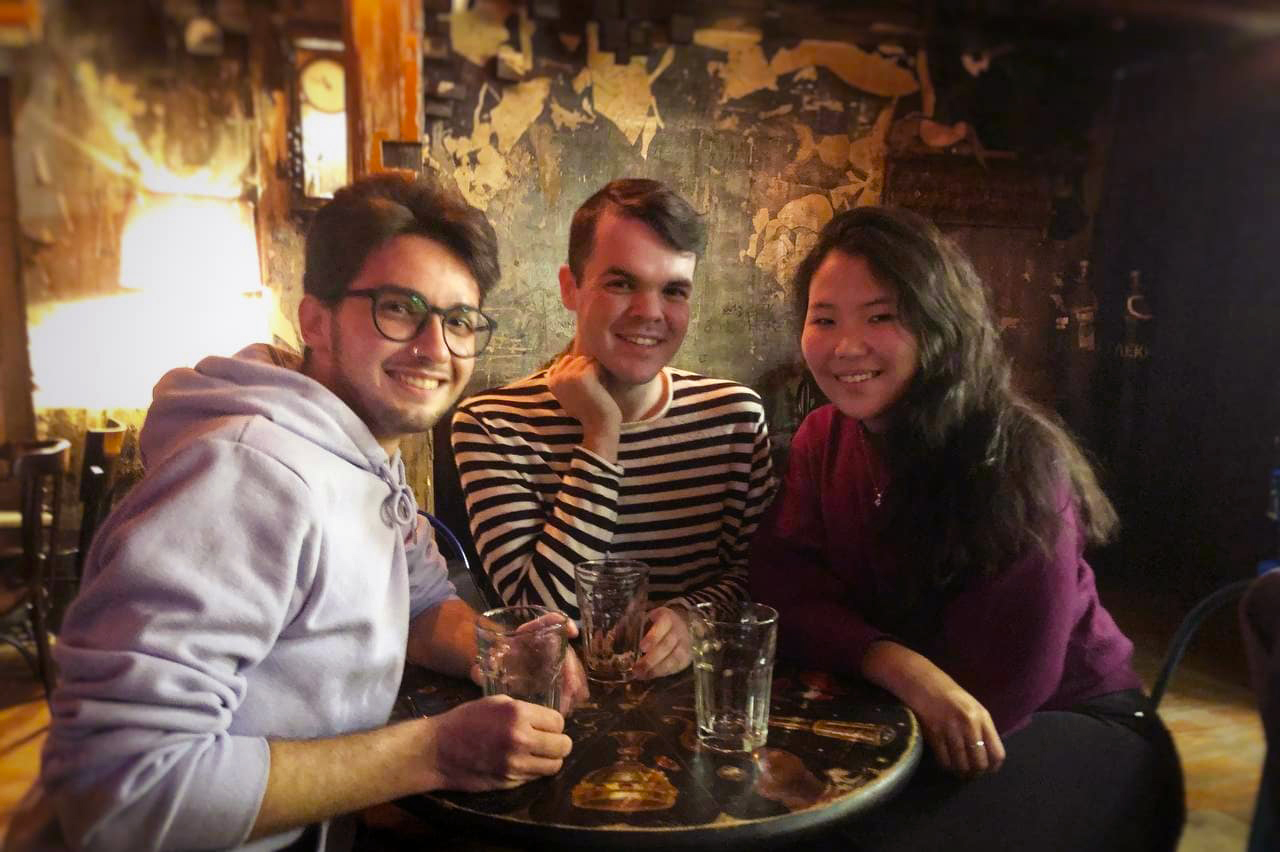 When a foreigner thinks of Russia, a few things likely come to mind – brutal winters, bears, and vodka – but drinks of choice are changing fast here. Vodka and other spirits are on the decline and have today given way to a new, gentler, and more cultured King of Booze – beer. Beer sales […]
0 comments