Most things are significantly cheaper in Bishkek than America – gym memberships are not. Monthly memberships at a Planet Fitness back home can be had for as little as $9.99. In Bishkek, a month at a no-frills gym with little equipment will start at 1000 soms ($14). A decent gym will cost at least $30-$50 per month, plus additional fees if you want to take classes. As a college student on a budget, I decided to skip this expense and fell back on my now ten-year habit of running.
The Challenges to Running in Bishkek
Running in Bishkek isn't always easy. The most difficult thing is that there are no truly pedestrian roads for running. A bike trail was recently built at the south side of town, but it's not very extensive. Therefore, like anything that doesn't already have infrastructure in place, there is not a culture surrounding urban running, bike riding, or being very active in general, unless we're talking about a weekend outing to the nearby mountains.
There are also specific local apprehensions about exercising outside. One is exercising in the cold. If 40° F or below, you are likely to be met with expressions of confusion. Another is if you are woman. Conservative Muslims (Muslims are a majority in Kyrgyzstan), look down on women exercising in public. So, you may encounter looks of downright disgust. It's also expected that you'll avert your eyes as a woman when passing strangers, even if they are staring at you. To avoid having to constantly keep this in mind, I wear reflective sunglasses when running. But the awkward stares definitely make you run faster!
One last challenge is smog. Because Bishkek is situated in a valley and because Kyrgyzstan has few emission standards for vehicles, pollution is a problem. I recommend checking the air quality daily, and doing your best to run only on days where the air quality is moderate. Avoid rush hour – between 8 and 9 AM and 4 and 7 PM, when cars put a lot more pollution in the air. The colder months from December and February are also poor, as air inversions are more common.
Where to Run in Bishkek?
Because I've been to Bishkek multiple times, I have different routes which have become part of my daily routine depending on where I'm based in the city. However, Bishkek isn't so big, and so most of these should be fairly accessible no matter where you are, if you are looking for some variety.
– Midtown: Malenkiy Park (Mаленький парк)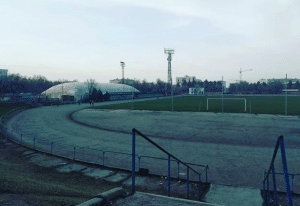 This one will probably be most convenient for SRAS students at London School. Although I only ran here once, if I would have had a full spring semester in Bishkek (it was cut short by the coronavirus), I would have made this my new spot. Malenkiy Park (The Little Park), as it is named, is a ten to fifteen-minute walk south from London School and is behind the Kyrgyz State Academy of Physical Training and Sports. When we have practice with our conversation partners for an hour each week, we often walk here and back. During these walks, I noticed a track. While it is not in the best condition, it is fully functional, free to use, and a full 400 meters long. Therefore, this is a great place to go if you want to get an interval work out. The roughly one-and-a-half-mile jog there and back from London School provides a great warm up and cool down. Although not as aesthetically pleasing as some other places, it is generally the most peaceful spot I've found so far. Regardless of the time of day, there are never many people here – and those that are usually here are school children, college students, and moms.
– North Side: Park Derzhinka/Erkindik(Парк Держинка/Эркиндик)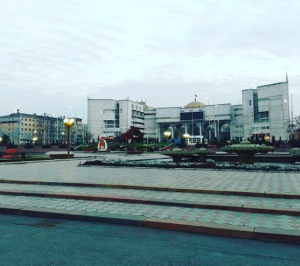 This is another park that is not so far from the London School. It spans about five blocks and is somewhat removed from main roads. However, it can get crowded on a really nice day, making your run feel a lot like a game of Frogger. The best times to run here are during the changing of seasons when it is cool out, when both the people and pollution are comparatively limited.
This run is interesting because there are so many parts to it. First, head north on the main road, Baitik Baatyr, where the London School is located. You could turn left on Lineynaya St, and take in the train station, a gorgeous piece of Soviet architecture near the park, which also has bathroom on its lower level in case you need a mid-run pitstop. Or, you can go another block up and make a left on Bokonbayev, where I've found there are fewer potholes to dodge.
Once at the park, continue on Chuy Ave – a main street considered to be the city center which will take you to Ala-Too Square, Bishkek's main attraction. Run across the square before turning around and heading all the way back to the London School. Ala-Too Square really is something to marvel at, usually making it the highlight of my run.
– South Side – Park Lyubvi/Zdorovya (Парк Любви/Здоровья)
The first time I lived in Bishkek, it was for two summer months across from this park. During this time, the park was my designated running spot. The old name of the park is Park Lyubvi (Love Park). It has recently been renamed Park Zdorovya (Health Park). Like many places and roads in Bishkek, it seems to have kept both names after the renaming. It features a giant, brick track with a lot of interesting attractions in the middle. There is restaurant, volleyball sandpit, and a lake for fishing or wakeboarding near the entrance, for instance. In the evening, the benches lining the track will be filled with couples and parents with babies in strollers. In the morning, however, especially round 7 or 8 AM, everything is still shut down, without a soul anywhere to be found. Both variations are nice – depending on whether you want to enjoy some peace and quiet or entertain yourself by people watching during your run. My favorite part about this park, besides the lake in the middle, is the view of the mountains, especially in the morning on a clear, summer day. This remains the most aesthetically pleasing spot I've found to run within the city.
Why Run in Bishkek?
Running provided me with a great way to give my brain a break from all the Russian I was learning and a time to reflect. On a good air quality day, I was able to get some fresh air, especially during the warmer months. Running in Bishkek is a great way to explore the city and keep yourself in shape without burning a hole in your wallet.