Russia's discount retail sector has grown rapidly in recent years. Many have attributed this primarily to the stagnation of Russia's economy since 2014. However, many other chains have grown in that time as well – with many of them in the luxury sector. Coffee, craft beer, and craft burgers have also experienced explosive growth, as have convenience-focused online retailers and outlet stores.
Much of this growth has been driven by real estate prices falling and stabilizing from Russia's years of rapid growth as well as the maturation of Russia's markets. Business models that have been well established abroad are only now finding a niche in the daily life of Russia's economy.
Below are three of Russia's largest discount retail locations that SRAS students might encounter while abroad. See our shopping guides for individual cities for more information on marketplaces and other finds abroad! For additional discount grocery retailers, see our Guide to Rusisian Supermarkets.
Household Goods, Food, Stationary, and More
FixPrice has grown into the fastest growing global retailer and Russia's largest discount retail chain since its inception in 2007. Sergey Lomakin and Artem Khachatryan founded FixPrice having served as the CEO and founders, respectively, of the discount grocer chain Kopeika in addition to over twenty years of experience in the retail industry.
As the name suggests, FixPrice offers goods at various fixed price points ranging from RUB 49 to 299. In the last decade, the Moscow-based chain has opened over 4,800 stores in high-traffic, often residential, locations through 79 of Russia's 85 regions as well as in Belarus, Kazakhstan, Uzbekistan, Georgia, Latvia, and Kyrgyzstan.
FixPrice boasts more than 20 item categories, available online and in-store, for affordable prices, which has enabled the company to gain significant traction in the global discount retailing market. Additionally, the company relies on a standardized distribution of products and interior store layouts. It also manages its distribution centers through a highly centralized supply chain. This gives it a highly scalable business model and vast savings in transportation costs. As a result, FixPrice can offer a selection of food, games, hygiene products, books, cleaners, household goods, and other daily essentials with a relatively frequent changes to seasonal and food products sold.
Not only has FixPrice captivated Russian consumers, but it has also drawn the interest of global investors. Earlier in 2021, FixPrice began laying the foundation for an initial public offering (IPO) on both the London and Moscow Stock Exchanges that totaled $2 billion, the largest Russian IPO since 2014 and one that valued the retailer at $8.3 billion. About 40% of this was sold to American investors, driven by projections that Russia's discount retail sector is expected to triple in size by 2027.
Based on a survey published in November of 2021, FixPrice ranked second in Russian retailers with the highest trust rating and third for visibility index. Customers also favor the chain because of its loyalty program that converts 20% of each check into bonus points, which can then be used to save up to 50% on later purchases.
Although FixPrice may offer a smaller breadth of products than traditional retail outlets, utilizing fixed prices for its goods has led to sixteen consecutive quarters of like-for-like sales growth and control over 90% of Russia's discount retail market in 2019. If FixPrice continues to place emphasis on consumers' happiness and affordability, it will strengthen its hold as the primary discount retailer for consumers throughout households in Russia and the former Soviet countries.
---
Clothing, Homewares, and More
Founded by Tver-based businessmen Dmitry Lukovnikov and Herman Oshkordin, Familia began in 2000 as a chain of discount stores selling goods from local suppliers and has become Russia's first and only nationwide chain of off-price stores.
In 2006, Familia started adding products from reputable global manufacturers, following the example of Western discounters, such as TJX and Burlington. Around this time, flea markets were the primary form for Russian consumers to purchase a similar range of products. Familia offered an alternative to this: a single, clean, organized store of well-priced items.
Since then, the company has continued expanding and now offers 7,500 different brands at its 390 stores. Familia has locations in most regions of Russia, one in Belarus, and plans to expand to other parts of Eastern Europe. Every store is filled with clothing and shoes, textiles, home decor and appliances, and cosmetics from suppliers from 50 different countries.
Off-price stores work by buying goods unsold by season's end or by otherwise coming to special terms from distributors or manufacturers. Familia discounts goods repeatedly until they are sold, and branded products are mixed together to ensure greater anonymity of the supplier. Displaying items in this way has led to the affectionate nickname of  "treasure hunters" for the chain's loyal customers. Adjusting for demand, Familia purchases items year-round, but introduces new goods daily for an average turnaround time of three days.
Focusing on an off-price model has sustained Familia's success in the face of economic change. During times of higher inflation, the prices in the discount chain will not rise as quickly thanks to its special agreements, which allows Familia to remain highly competitive in the market. This is important for lower income families, who often perceive inflation to be much higher than it actually is, and generally adjust their spending accordingly. Consumers not only enjoy the diverse range of products within Familia but also have come to rely on the company for its stable business model.
Even in the face of COVID-19, Familia was able to make great strides in maintaining its financial goals and trajectory. Following Russia's lockdown, the chain opened 39 new stores, added 400 new brands, and increased traffic by 17%. The company even earned 32% more in the first half of 2021 than in the same period in 2019.
The steady growth has been coupled with further investments into the company from Goldman Sachs and Baring Vostok, which became shareholders in 2016, and TJX, which acquired a 25% stake in the company in 2019. Familia is also considering an IPO as early as 2022.
Familia CEO Svetlana Mozhaeva affirms that the company has a significant advantage over traditional retailers because of its unique off-price model. Not only are the prices appealing, but the constant updates on discounts and stylish brands have also captured consumer attention. It is therefore no surprise that about 15 million annual treasure hunters flock to Familia stores for the best deals on the market.
Smeshnye Tseni
Clothing, Shoes, Accessories, and More
Smeshnye Tseni (Смешные цены, which directly translates to "Funny Prices") is a Russian discount chain that is often ranked among the top Russian fashion retailers in terms of turnover. As of 2018, the chain was estimated to have some 388 locations bringing in approximately $50 million dollars a year. They have since grown considerably, but no new estimate has been made public.
Each store has a similar format which generally attempts to maximize the amount of product on the floor and available for sale. The retailer mostly specializes in clothing, shoes, and accessories although other products can occasionally be found here, especially related items such as shoelaces, replacement zippers, and more.
The structure of the company is extremely opaque. It's various locations are owned by various corporations and private entrepreneurs in what appears to be a franchising arrangement. Each location uses a similar font and color for its sign, but logos used are a range of publicly available and general yellow emojis. There is no publicly-facing information about how one becomes a franchisee, although there are some existing locations that are currently for sale by individual owners.
The company's official site lists only a handful of its Moscow locations, and some general information, but no information on corporate structure or online purchasing options.
Most Russians compare shopping at Smeshnye Tseni to shopping in a 90's-era flea market. Such flea markets were once a staple of Russian life – crowded and tightly packed with products whose origin was unquestioned so long as the prices were low.
Smeshnye Tseni has largely avoided the spotlight, despite its now formidable size and ubiquitous visibility across many Russian cities. The news it does garner tends to be negative: individual owners arrested for offering bribes, counterfeit goods founds, or COVID regulations violated.
One of the major cases reported on was that of Mushfig Abdullayev, who owns several Smeshnye Tseni locations in Kazan, and who confessed to deliberate bankruptcy and money laundering at the end of 2021. In another case, a court confiscated more than 130 pairs of improperly documented shoes from one store in the northeast of Moscow. The shoes amounted to a total of RUB 77,478 (about $1,000), but the infraction itself resulted in a fine of RUB 5000 (about $66). Additionally, with relation to COVID, several stores were either shut down due to violations of safety regulations or were fined up to RUB 50,000 ($660) for disregarding preventive measures and disinfection regiments. Meanwhile, most of the advertisements to buy franchises indicate that monthly profit per outlet may be around $10,000.
Although Smeshnye Tseni appears to be a throwback to the unruly perestroika flea markets that city authorities have worked to close in recent years, the chain's decentralized and profitable franchise model will likely mean that these stores will be around for the foreseeable future.
You Might Also Like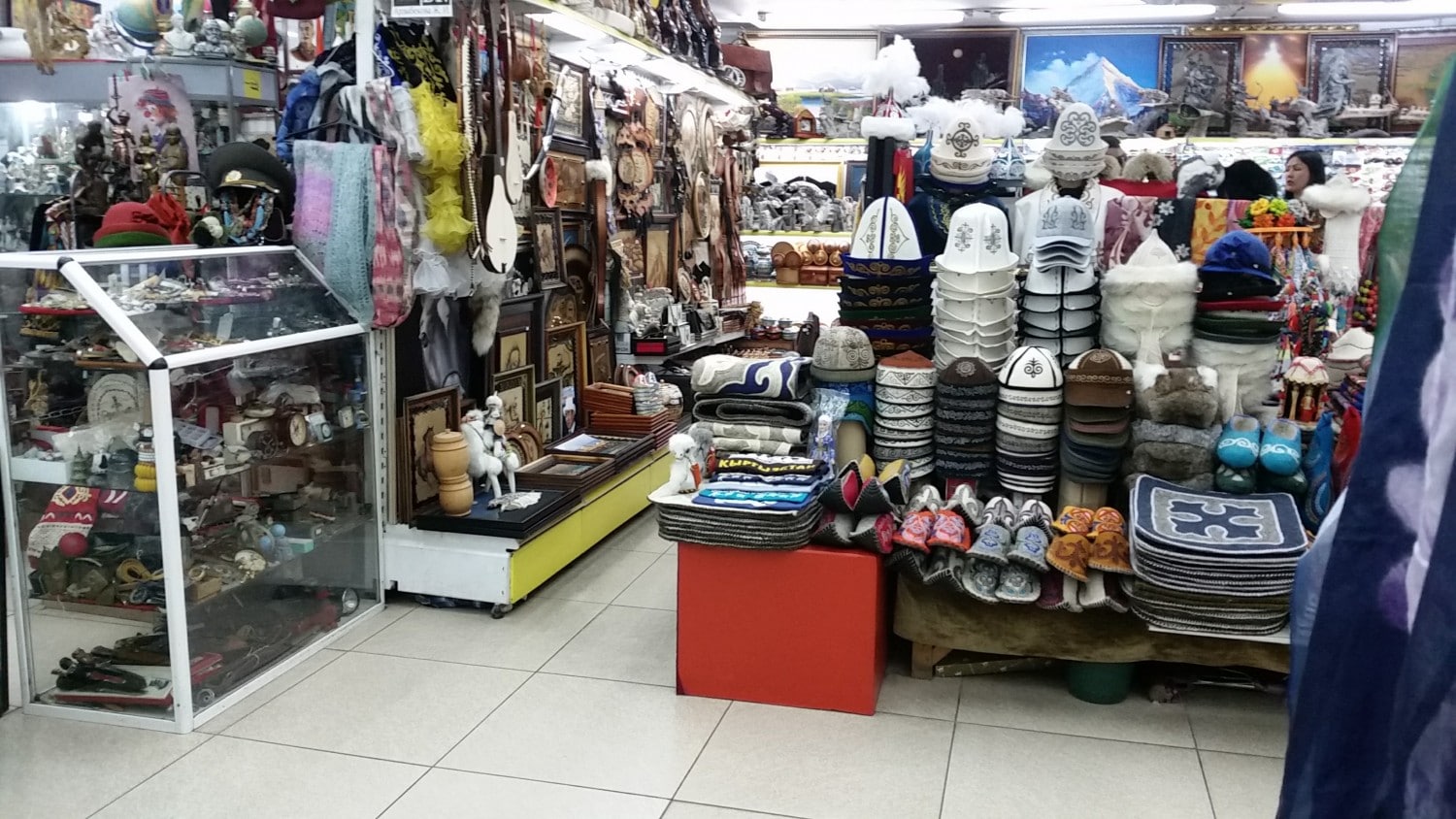 Bishkek brims with shopping outlets. From large shopping malls to tiny kiosks and its traditional bazaars, from antiques to the latest fashions, this guide hopes to introduce you to some of the best opportunities that students on SRAS programs in Bishkek have found! This resource is part of the much larger SRAS Guide to Living […]
0 comments