One of the best parts of living in Bishkek is its cuisine. With over 80 ethnicities represented in Kyrgyzstan, Bishkek offers a smorgasbord when it comes to answering the question, "What's for dinner?" This week I bring to you the wonderful world of Dungan cuisine.
But first, who are the Dungans? The Dungans, also known as the Hui, are Chinese-speaking Hanafi Muslims originally from the northwest Chinese provinces of Shaanxi and Gansu, and autonomous region of Xinjiang. They speak a Shaanxi dialect of Mandarin Chinese, although they use the Cyrillic alphabet. In the late 19th century, after a failed revolt against the Qing Dynasty, the Dungans migrated west to the Russian Empire territories — and since then, and for many other political and economic reasons, have stayed. Today, there remain significant Dungan populations in northern Kyrgyzstan, Kazakhstan, Uzbekistan, and Tartarstan.
There are about 51,000 Dungans in Kyrgyzstan today, making up about 1.1 percent of the country's population. The Dungans mostly reside along the Chui River in the cities of Tokmok, Karakol, Milyanfan, Alexandrovka, Ivanovka, Kanbelu, Sokuluk, and Kant — all short mashrutka rides from Bishkek.
Dungan cuisine most resembles northwest Chinese cuisine, so expect a lot of similarities with Uighur cuisine — so, lots of meats like lamb and mutton, and fresh vegetables. Dungans especially love to fry their vegetables, and then throw them into various rice-or-noodle dishes. Dungan cuisine is also spicy. You will almost always see available at Dungan cafes a spicy relish called lazi, which is made of cayenne pepper, garlic, and vegetable oil.
Perhaps the most popular Dungan dish in Kyrgyzstan is laghman (known in Dungan as liuman), a noodle-and-gravy dish. Though you will often see laghman in most Kyrgyz restaurants (laghman is now considered one of Kyrgyzstan's "national dishes"), Dungan laghman will almost always be served with more spices, more seasonings, thicker toppings, and with chopsticks. I have also heard that there are up to 120 varieties of laghman, and that every Dungan cook will have their own definition of what the different types of laghman mean.
Food is always a fascinating window into culture, so if you're interested in learning more about this particular ethnic group that combines the cultural and historical traditions of Islam, Russia, Central Asia, and China, dine at a Dungan cafe today. Oh, and don't forget to wear a bib when you eat laghman — or at least to not wear white. No matter how careful you are, this noodle-and-gravy dish will always find a way onto your shirt.
Here are seven places to get you started.
Appetit Café
(Аппетит Кафе)
Address: 2nd floor, Taatan-2 Market, Lermontov Street
This halal eatery, located on the second floor of a dark Chinese indoor market (right above a shop selling mirrors, and right next to a shop selling light fixtures) epitomizes the phrase "hole in the wall." You'll have to wind your way through trucks, dust, and construction items before you'll find this joint. But it's worth it. Its menu has the biggest selection of laghman I've seen: jzhidkii (soup), osobi (where the noodles and the gravy were prepared separately, and then thrown together right before serving), gyiry (fresh, unfried noodles), botso (fried noodles), and cyiry (where the noodles and meats have been cut into small pieces). I like the botso, a hearty, greasy delight, with fresh noodles that are cut up into bite-size pieces and fried with beef, garlic, red and green bell peppers, cabbage, carrots, onions, and a sufficiently spicy vegetable sauce. With a cup of hot tea, your meal cost you only $2.50 (120 som). Ambience is casual, family-friendly, and conservative. Smoking and alcoholic beverages are prohibited, and most of the clientele are Muslim families in headscarves and short-rounded caps. Service is quick and efficient. Other reasons to eat here: It's an excuse to check out a pocket of Bishkek's Chinese diaspora. You can also buy doors, mirrors, and chandeliers on your way out.
"Dungan Cuisine" Café
(Дунганская Кухня)
Address: Taatan Building, Lermontov Street (next to Kishlak Restaurant)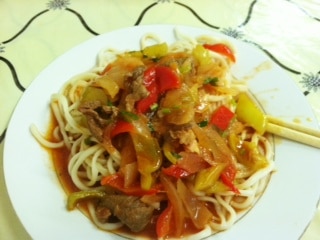 This cafe is definitely the most mom-and-pop of all the Dungan joints I've tried. Again, it is located in the Chinese market place, but in the plain Taatan building (there are three Taatan buildings: Taatan, Taatan-2, and Taatan-3). It doesn't even have a name: it is simply called Dynganskaya Kyknya (Dungan Cuisine), and it's advertised by a small poster board propped up on the sidewalk during operating hours. If you can't find it, look for the humongous Kishlak Restaurant next door.
"Dungan Cuisine" Cafe is definitely a locals' hangout. For one, there is no menu. (The first time I went, I asked, "What do you have?" They replied, "What do you want?") For another, there are only five cozy booths, which is great for meeting new people, especially during the lunch rush. Once I ended up sitting next to a Uighur woman, whose husband is Dungan, who said she comes here often during her lunch break. The atmosphere is friendly and relaxed, operated by one man, who handles the register, and three or four women cooking in the open kitchen. Other reasons to come here: It's the best way to observe the noodle-making process, since the kitchen is in full view from the dining area. Also, in the same building, you will find many Chinese vendors selling jars and jars of fresh loose-leaf Chinese tea.
Address: Corner of Moskovskaya and Orozbekov Streets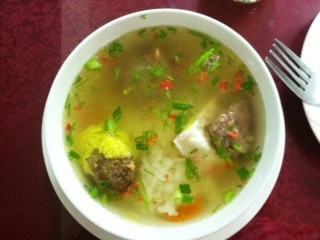 This small cafe, which translates to "King," has a great central location, so if you don't feel like trekking to the other side of town to try some new cuisine you've never heard of, this is a good starting-out place. I recommend the shi dynganskie, which is a meatball soup filled with rice, dill, green onions, potatoes, and carrots, and a little omelette, at $1.60 (80 som). I also recommend the homemade maksym, a brown, tangy, barley drink, which is much more light and airy than the Shoro brand stuff you'll find on the streets. (And yes, I realize maksym is a Kyrgyz, not Dungan drink…I just highly recommend it.) Smoking and alcoholic beverage are prohibited. Other reasons to eat here: It's located across the street from the most darling souvenir shop, Atelier, which sells high-quality accessories, bags, scarves, brooches, and other handicrafts. The café has also got a fish tank, a Chinese symbol of fortune, money, and wealth. Gotta trust a place that covers all the corners, right?
Avraziya Café
(Авразия Кафе)
Address: 186 Chui Street (between Beyshenalieva and Zhash Gvardia Streets)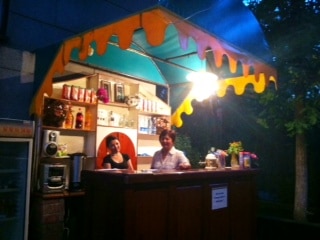 Though Avraziya advertises itself as a Dungan café, it is really a Eurasian café with an extensive Dungan menu. Best way to tell is that you can smoke and drink beer and vodka here. The best part of Avraziya is its outdoor seating, where you can sit in a lovely garden patio under umbrellas. It's great for those warm summer evenings when all you want to do is drink Baltikas with good friends. I recommend the ganfan, or white rice topped with meat and vegetable sauce for $1.66 (80 som). Other reason to eat here: It is located near Osh Bazaar and Oktyabr Movie Theater. Reason not to eat here: Staff with no sense of filter. As my friends and I were enjoying our beers, a waitress came up to my Kyrgyz friend and said, "Where are you from? We were betting that you weren't Kyrgyz." My Kyrgyz friend just looked at her. Yeah, no tip for you, miss.
Address: Dordoi Bazaar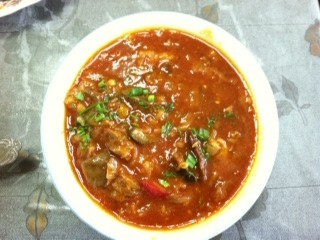 This cafe, which takes a typical Dungan male first name, is located in the heart of Dordoi Bazaar, the biggest bazaar in Central Asia — if not all of Asia. Rashid gets points for having the most buzz. The place was hoppin' when a friend and I arrived for a late lunch on a Sunday afternoon. First we were greeted at doorway with a large wok (called guo in Dungan) of plov, no doubt situationally placed to lure in passersby. Once inside, we were enveloped by the clattering, chattering energy of busy waitresses and hungry masses. I recommend the trebyha po dynganski for $2.08 (100 som.) The plov is also good, although to be honest I'm not sure how it differs from any other plov I've had in Bishkek. Again, smoking and alcoholic beverages are prohibited. Other reasons to eat here: It is located near Dordoi's souvenir shops, so you can kill two birds with one stone if you need some kalpaks from, you know, the biggest bazaar in Central Asia. Dordoi is also filled with many Dungan vendors who sell packets of laghman ingredients that you can assemble yourself at home (noodles, vegetables, and spicy relish sauce made of tomatoes, onions, garlic, peppers, vinegar, and spices.) Reasons not to eat here: Rashid charges you for a basket of bread, whether you eat it or not. (It'll only cost 10 cents per person, but it's still annoying to pay for something you haven't touched.)
"Dungan Cuisine" Café
(Дунганская Кухня)
Address: Corner of Logvinenko and Moskovskaya Streets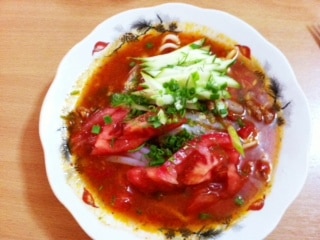 This café is yet another unassuming (read: no name) yet charming Dungan café, located in a basement next to one of Bishkek's ubiquitous pharmacies. I say "charming" because it puts the most effort into its furniture, which is distinguished from all the other no-frills joints by its comfortable, cloth-covered seats, tied with a bow. The place is a bit dark, but it's peaceful. It has the cheapest menu of all the places I've visited. It also has the best customer service, with a very friendly and patient staff, even during the height of the lunch rush. Lastly, this joint has a killer ashlamfu, a sort of cold version of laghman that is perfect for 100-degree weather. Wash it down with kompot (fresh fruit juice) and it will only cost you $1.77 (85 som.) Other reason to eat here: It is a close walk to Sierra Café, Bishkek's beloved Western-style café, so you can head there afterwards for a mocha frappe.
Address: Yysk-Ata District, Chui Province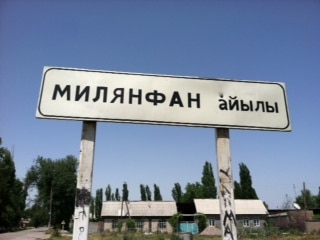 Finally, if you're really adventurous, you can find Dungan cuisine in a Dungan village in the outskirts of Bishkek. So one hot Sunday afternoon, I did exactly that — took a hot and sweaty mashrukta with a fellow Bishkeker to Milyanfan, a village with a supposedly large Dungan diaspora. The goal: to eat Dungan food amongst Dungan people in a Dungan village.
I'll just say off the bat that I didn't actually get to eat Dungan food in Milyanfan. We quickly learned upon arrival that there aren't any eateries there. The village is so small that people just eat at home (who's going to eat out on the streets when you have Mom whipping up laghman for you at home?). But I still recommend visiting. Milyanfan is a fascinating peak into Dungan culture.
First of all, we got to ride in a mashrutka with Dungan commuters, while listening to their music and language. Two of the commuters were women in colorful headscarves carrying boxes filled with live chicks, which kept spilling onto the aisles. Once at the village, we got to admire the Dungan architecture of some of the residences, office buildings, and temples; lots of beautiful Chinese ornamentation. Wandering through the streets, we observed the differences between the more conservative attire of the Dungans, with the more cosmopolitan attire in Bishkek. We also got to meet a local named Eric, who has lived in Milyanfan for about 38 years, who was more than happy to talk about Dungan culture, history, and hospitality. He seemed pleased that Americans were interested in his small village; seems the last American to have stopped by Milyanfan was a fellow named Richard. In fact, Eric talked a lot about Richard. (A lot. Richard must have made quite an impression. When another local stopped by to talk to us and learned we were Americans, he said, "Oh! Do you know Richard?")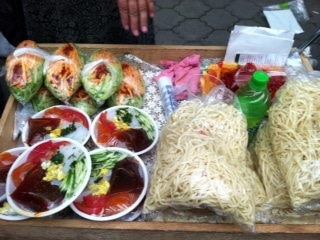 The only reason I mention Milyanfan is because if you do know a Dungan, get yourself invited to their home. Can't think of a better way to experience local cuisine than through a home-cooked meal. (Eric said he would've invited us, but his wife was out of town.) Other reasons to visit Milyanfan: To learn more about Golden Boy Richard.
—–
So there you have it: Dungan food at its Central Asian best. Stop by today for something sizzling, spicy, sometimes sweat-inducing, and oh-so delicious.