Update by: Samantha Barrett – June 21, 2017
Izmailovin' It – A Beginner's Guide to Enjoying the Vernisazh in Izmailovo in Moscow
Calling all tourist trap victims who are simultaneously balling on a budget: Put down that overpriced Matryoshka doll that you found in Red Square and back away slowly. If you're as enthralled with Russian art, cultural mementoes, and ornate souvenirs as I am, then taking a day trip to Вернисаж в Измайлово (Vernisazh in Izmailovo) is well worth your time—and money! Assisted by the striking backdrop of the Izmailovo Kremlin, this location is truly a magical wonderland of inexpensive souvenirs.
Directions: Take the metro to Partizanskaya Metro Station. Walk straight outside from the doors of the metro and cross the street directly in front of the station. You will then see the towers of the white Izmailovo Kremlin on your left!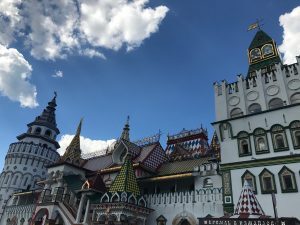 Touring the bustling aisles and hidden corners of this flea market can become pretty overwhelming, especially on the weekend. If you are not a fan of large crowds, I would suggest planning your visit for a weekday; there will be fewer vendors available, but the crowds will also not be as daunting. For the people who could easily win the gold medal in Olympic Competitive Bargain Shopping however, the buzzing weekend atmosphere at Izmailovo is a perfect fit for you. Regardless of your personal comfort levels when it comes to crowded areas, there is one golden rule to live by when you decide to take the metro ride out there: Have. A. Plan.
Matryoshka dolls, khohloma patterned spoons, palekh, ornate scarves, gzel porcelain, amber necklaces, shell necklaces, artisan-crafted toys, fake furs, real furs, cheap trinkets, antique photographs of random Russian families, the inside of someone else's babushka's closet—if you're looking for something in particular to purchase in Russia, odds are you will be able to find it at Izmailovo. That being said, the amount of items for sale there is enough to drive anyone out of their minds. Many of the aisles are reflections of the ones before it, but have different prices. There are enough Soviet pins on display throughout the area to build a small home, and enough wooden Matryoshka dolls to heat that home for three years. This barrage of potential purchases is why it's important to do some research before arrival. If you are staying in Moscow for a month or two, I would suggest making a list of 3-4 item that you know you want to have in your hands when you're on the train home, and stick to that list. You can always return for more! If you are only able to make one trip to the market, create a list as well, but make sure to be very careful about budgeting and getting the best bang for your buck. It's easy to get swept up in the first few booths that you see, and accidentally blow through your personal budget before you've had a chance to fully survey the area. To anyone, regardless of how many times they plan on visiting, I would suggest taking a full walkthrough of the market, mentally noting where to find what and how the prices differ from vendor to vendor, and returning for those items later in the day.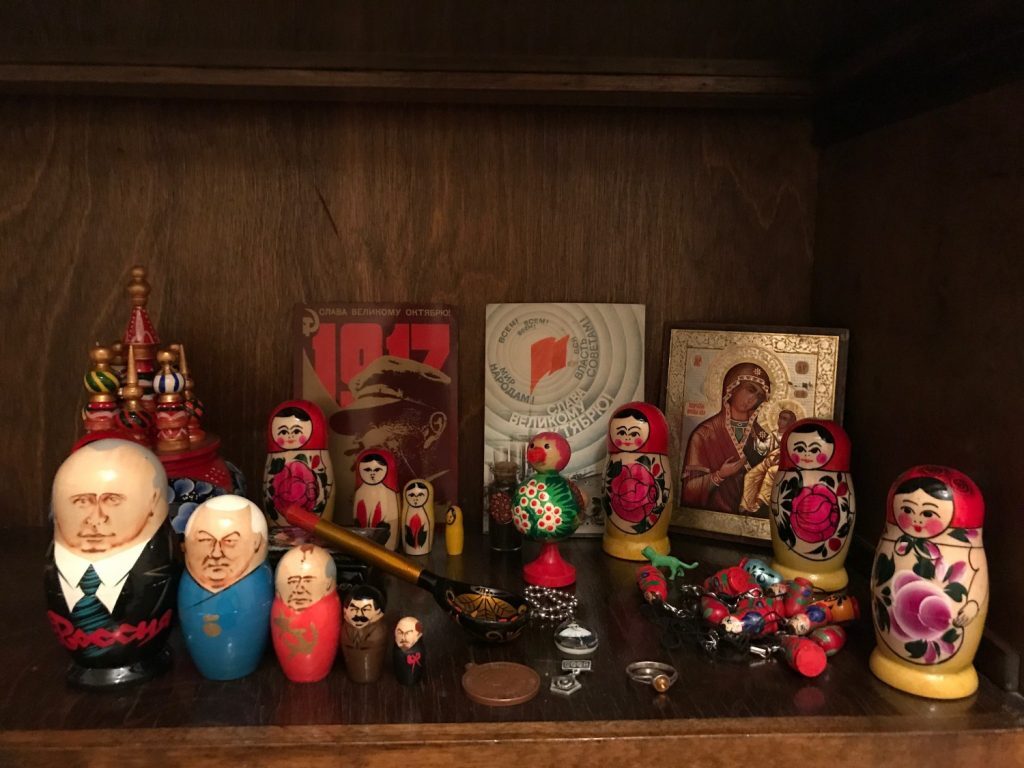 Bargaining is another key tool to pull out when you've decided on an item that you'd like to buy. You will find much better deals at Izmailovo than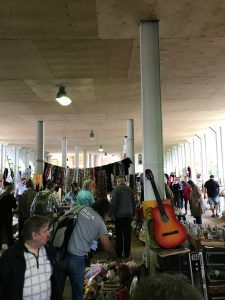 you will from street vendors or commercial malls. However, the attraction is still primarily geared toward tourists, and the prices can be unnecessarily inflated for this reason. But fear not, my friends. Bargaining in a foreign language is not as scary as it sounds! In fact, it will actually help you remember phrases and words if you are constantly repeating them throughout the day. A fun trick I like to use on occasion is pulling the "Ignorant American" card and pretending I don't understand the price that's been offered. I will simply hold up a lower amount of money and ask if it is enough. If the vendor says yes, great! If not, I will usually say, "Oh well, I only have this much to spend. Thank you anyways." That's how I was able to buy a music box for 600 rubles cheaper than the asking price. The power of walking away from a sale reaps discounts, kids. The vendor actually yelled, "WAIT" in English, and agreed to the price, but only after I had one foot out the door.
A note about vendors: they sometimes get an unfairly poor reputation! Unless you are dealing with a truly unpleasant sales person, or a seedy conman or woman (we've all been there,) most vendors will be very respectful to you and even try to start up a conversation. If you walk up to a stall and greet the vendor with a polite "Здравствуйте," is it likely that they will do one of two things:
Immediately change their facial expression to something to the extent of "Oh you're not from here," and proceed to ask you where you're from. (Me. Every time.)
Begin excitedly explaining their products and asking you if you're looking for something in particular. Many of the vendors are selling their own artwork, so it is actually a really nice experience to witness them talk about their works with such passion.
Be polite to the vendors, and they will be polite to you. If you are just taking your initial walk through of the area and do not want to buy anything at the moment, you can nicely say "Я посмотрю и вернусь," ("I will look and come back.") Funnily enough, after I got into a conversation with a vendor during my first trip to Izmailovo, she taught me this phrase to use I ever needed a way to get out of buying something. Similarly to that woman, most of the vendors are very genuine and want to help you learn the language, even if it means teaching customers how to turn them down.
Visiting the Vernisazh in Izmailovo is a truly incredible experience. In a single day, you can walk away with some very interesting items as well as an amplified sense of confidence in your language skills. The vendors are used to tourists popping in and out, and are therefore prepared to hear some pretty terrible accents, or a complete butcher of a whole attempt of a sentence. So have fun with it! Regard your communication at the flea market as a great and friendly place to practice your Russian, and learn phrases that you can carry over the next time you go shopping in a mall. Remember to plan out what you want to buy, and how much you are willing to spend. Good luck and happy shopping!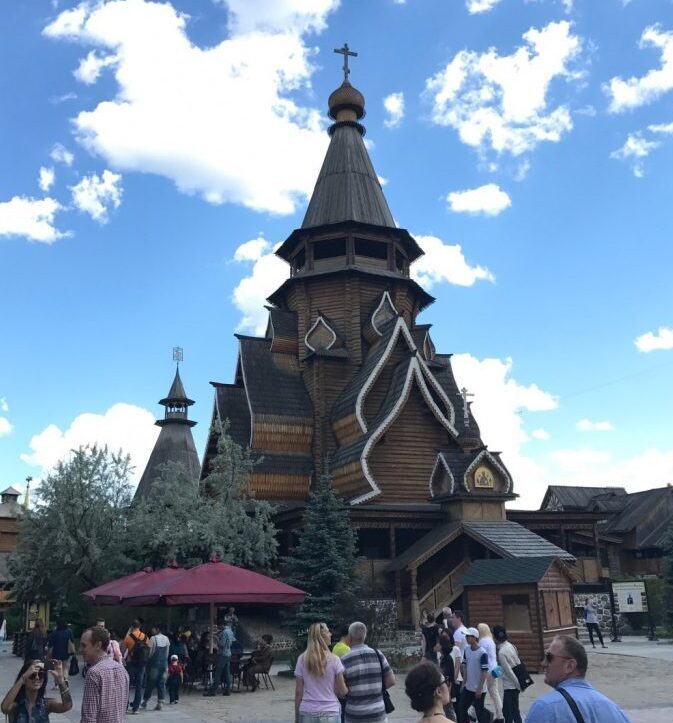 Budgeting for Izmailovo is based on personal preference. Below, I have listed some common prices of goods that are regularly found at the market.
Matryoshka Dolls: 100p-5000p, depending on the size, decoration, and number of pieces included.
Palekh boxes: 700p-8000p, for authentic ones, depending on the detail and paint used
Scarves: 300p, price increases with quality
Gzhel Porcelain: 400p, price increases with quality and size
Shell necklace: 500p
Amber jewelry: 200p-2000p
Soviet memorabilia: 40p and up
Vernisazh Souvenir Market at Izmailovo
Izmailovo Park (Metro Partizanskaya)
Wednesday-Sunday from 10am to 8pm
Closed Monday and Tuesday
Budget: 40 rubles – infinity
Update by: Jack Fischer – September 09, 2016
Go to Izmailovsky Market
I'm keeping this review short and sweet. Go to Izmailovsky market. Seriously, just go. It's one of the oldest and largest flea markets in Moscow. While technically open every day of the week, many vendors only come out on Saturdays and Sundays, so go then. Some vendors pack up and leave after lunch, so it's best to visit early in the morning. The market sells anything and everything. You can attempt to bargain if you'd like, but the vendors aren't stupid, so don't expect any wildly good deals.
When I went, I first met up with friends in the Partizanskaya metro station around 10am on a Sunday. None of us had been to the market before, but finding it was simple enough. Exiting the metro, we crossed the street, walked under a big arch labeled "Вернисаж," and then continued straight on the pedestrian street past a group of hotels. We knew we were in the right area as we already started to see a few vendors here and there along the walkway. After a short walk of about a kilometer or two, we ended up at the entrance of the market, which was impossible to miss due to a crowd and conspicuously placed signage.
Entering Izmailovsky was a magical experience. There were people all around, and a hustle and bustle that you'd only expect to see in movies. Stalls stretched out along both sides of three long, parallel paths and continued for about three-fourths of a kilometer. The vendors had everything: decorative eggs, photo-shopped Putin-on-a-bear coffee mugs, nesting dolls, soviet watches, anti-U.S.-sanction T-shirts, fur hats, and more. About halfway down the right path was an excellent café where we stopped for chicken shashlik, salads, fresh bread, and pear juice. The total cost was a little under 500 rubles per person (~$7) and well worth it.
At the end of the three paths, the roads diverged in too many directions to keep track of. It was pretty much a maze for us at that point, and felt really unique. You can climb stairs into an upper terrace, head into buildings, snake down alleyways, and generally just have a good time exploring. Expect to see lots of old soviet artifacts like posters, medals, surplus military clothing, etc. There are also lots of old books and paintings for sale in the upper area of the market, but you'll just have to wander as they're rather spread out.
One note – particularly on medals, note that awards given by the state are considered to remain state property even after they are awarded. Thus, they cannot be sold and cannot be removed from Russia. Be very careful if buying a medal – make sure it's a reproduction and not the real thing. Generally, anything that looks like it could be a genuine antique – and particularly rugs – should be handled with care. There may be laws concerning their removal from Russia. Most of the standard fare here, though, is fine to buy as a souvenir – and there is a lot of it to choose from.
Still, it wouldn't be a market without machine guns, and naturally, Russia delivers. We weren't sure if we were supposed to take photos or not, so we only took one and did it quickly. Just use your best judgment and don't be surprised if the sellers ask you why you're browsing automatic weapons.
So really, when I said go to Izmailovsky, I meant it. Have fun and don't worry too much when you don't understand a vendor's sales pitch. Worst case scenario, you pay $10 instead of $8 for something that would have cost you $20 in the U.S. anyway. Just show up with an open mind and enjoy the ride.