When packing for my semesters abroad, I gave myself a rule: One backpack and one suitcase. I'm a firm believer in "traveling light," and one suitcase, in my opinion, is more than enough space for the necessities. Any extra clothes/shoes/accessories that you may want while abroad can be purchased once you arrive, and often at a cheaper price. This was something that proved to be very true when I moved to Kyiv, Ukraine.
I have two words to describe shopping in Kyiv: abundant and affordable. The city is overflowing with malls and name-brand carriers, underground metro shops, and rynki, or what I like to call "shopping villages."
First, several large shopping malls can be found throughout Kyiv: Ocean Plaza, Lavina Mall, Gulliver Mall, SkyMall, Globus Mall, Tsum Mall, and Metrograd Mall. These are all similar to ordinary American malls, with name-brand stores and a large selection of products. There are two malls along Khreschatyk Street, which is a ten-minute walk away from the NovaMova Language School. There you can find popular name-brand stores, the Tsum Mall and Metrograd Mall, and a lot of different clothing and sport stores. If you're looking for excellent fashion and a lot of variety, these are great places to start!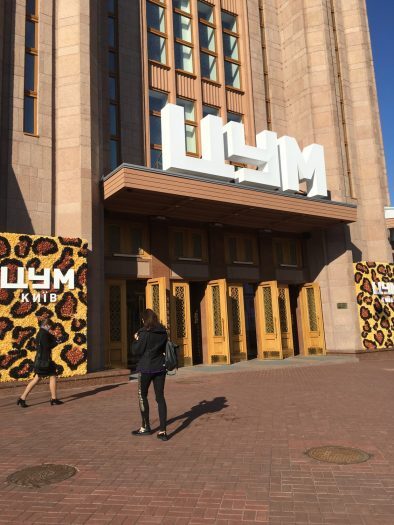 One of my favorite parts of Kyiv is the underground shops. At many metro stations, there are clusters of shops/booths set up with various products. Here you can find just about anything: clothing, footwear, toiletries, hardware, soap, food, etc. Many locals depend on these booths for basic household products, such as batteries, hangers, and slippers. There are also many stores and small shopping malls that are established underground, as well.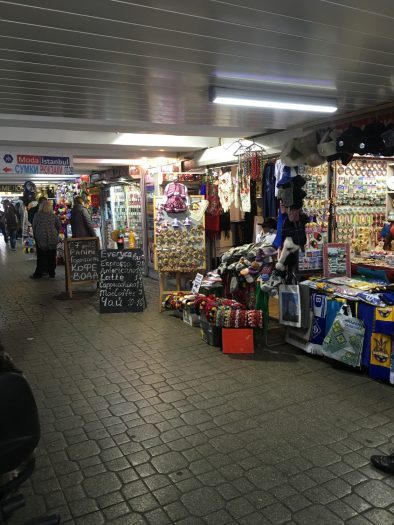 The rynki, or shopping villages are my personal favorite. As you get further from the city center and more to the outskirts of Kyiv, little clusters of shops and kiosks start popping up. This is what is called a "rynok" in Russian and "rinok" in Ukrainian. English usually renders these as "marketplace." After the fall of communism, these became extremely popular not only as fairly reliable sources of goods, but also as places to open one's first small business. Like the underground shops in the metro stations, these "villages" have just about everything you can imagine. Many of the booths are set up by local, private merchants, and prices are regularly negotiated (I found this to be great language practice, too!). From a cultural standpoint, these shopping villages provide a true glimpse into how the local society functions. Many people set up booths and sell homemade crafts or random goods, and trading is very common in these areas. Bartering truly is an art among the locals; if you don't debate the price, it's almost a dead giveaway that you're a foreigner. For me, strolling through these villages is always a great way to observe the culture around me and interact with different people.
Having grown up in Texas, my wardrobe prior to this semester abroad was not exactly tailored for cold weather, so several key purchases had to be made when I arrived in Ukraine (eg: winter coat, warm socks, hat). Many of my friends recommended that I bring warm clothing with me, but, in hindsight, I'm glad I chose to purchase everything in Kyiv. Firstly, prices are much cheaper, and the locals know how to dress for the cold climate. Secondly, it's much easier to follow local fashion and dress accordingly. Thirdly, shopping really did give me excellent language practice and I fluently learned the art of bartering.
If you'll be arriving in the dead of winter and will need something immediately, then it will probably be best to bring clothes from home. However, I'm glad that I used the warmer weather at the beginning of the semester to explore and shop on my own.
My recommendation for those traveling to Kyiv is to take advantage of all of the small booths and shops, and stick to just one suitcase! There's plenty of shopping opportunities waiting for you in Ukraine!
Shopping in Kyiv, Ukraine
A Real Bang for your Buck
Fall 2017