St. Petersburg brims with shopping outlets. From the discount to the luxury, from giant shopping malls to tiny kiosks, from antiques to the latest fashions, this guide hopes to introduce you to some of the best opportunities that students on SRAS programs in St. Petersburg have found! While the capitalist cornucopia in and around Nevsky Prospect is sure to tempt you, some of the best souvenirs and clothing items can be bought further from the center…
Introduction and General Directory
Groceries: Most students do thier shopping at the neighborhood Perekrestok or Dixi. If you are looking for a store with wider variety and potentially lower prices that what you might find near the center, try the Okey by the Ladozhskaya Metro Station. For an even larger selection, try Auchan or Lenta. For more on Russian Supermarkets, click here.
Clothing and Shoes: Russia, with its often harsh and wet weather, is very hard on shoes. You can also find a Zara and an H&M near you on Nevsky Prospect.
Electronics: For electronics, first check out Zurbagan. You might also see St. Petersburg's several Sony Centers and Re:Stores, the latter of which sells Apple products.
Art and Souvenirs: At the St. Petersburg Art Community – also known as Pushkinskaya 10 (Ligovsky Pro, 53, under the arch) you can find art shops, used clothing, and an alternative record (yes, plastinki) shop. For antiques and souvenirs, look for the rinok between the Church of the Spilled Blood and the Neva River. One of the best places to get a deal on souvenirs is the Lomonosov Factory Store (Obukhovskaya oborony, 151), where you can still get fine porcelain cup-and-saucer sets for as low as 100 rubles (around $5). Another souvenir idea is a customized university sweater from UniFashion. There you can choose between different colors and logos.
Books: See our lineup of Petersburg's best book stores on Museum Studies Abroad, our sister site on SRAS' Family of Sites!
Kosher products can be found at a small store at the Grand Choral Synagogue.
Vegetarian/Vegan Foodstuffs: Soymilk can be found at Maxi Sopot, a very large shopping center just behind the Primorskaya Metro station at 68 Zheleznovodskaya Ul. VkusVille locations offer mostly locally-produced foods and many speciality healthfood items like peanut butter. There is also an Indian Foods Store located at 22 Vosstaniya Ul. that carries many vegetarian items.
Student Reviews of Shopping in St. Petersburg

The market, known as a "рынок" in Russian, has a special place in Russian history. The market was a bastion of privately produced and sold goods that allowed under the USSR and allowed people access to hard-to-find goods, usually of the food sort. In the 1990s, the market was a booming enterprise, full of private initiative and, often, mafia and small-time crooks. In today's Russia, however, the market is an increasingly hip and regulated establishment, populated as often by local hipsters and hippies as babushki. They can be great places to try local food, pick up unique souvenirs, and chat with locals. Below are few markets in Petersburg that SRAS students have tried out and loved.
Flea Market on Udelnaya
(Удельный Рынок)
Фермское ш., 41
by James Taylor (Fall, 2018)

Six blue line stops north of Nevsky Prospect  is one of the most enjoyable and authentic experiences that I have had in Russia. Rows and rows of stalls selling clothes, antiques, jewelry, tools and everything in between. Sellers often shout about what they're selling before discussing prices. This is Udelnaya.
The Flea Market on Udelnaya (Блошиный рынок на Удельной), sometimes called Clothing Market on Udelnaya (Вещевой Рынок на Удельной) or just Udelnaya Market (Удельный Рынок) is the largest flea market in Saint Petersburg. In the hope of buying a few cool shirts and other souvenirs for cheap prices, a friend and I decided to make a Saturday out of it.
Take the blue metro line to Udelnaya Station; the market is just across the street, adjacent to the Udelnaya Vokzal, the train station with lines to Finland. The only way to enter the market is in between two relatively small, gray block buildings. After you pass through, you'll see a line of these gray block buildings, five on each side of the walkway. These house the sellers that are most like traditional stores. There are price tags and scannable labels. Stores with electronics, shoes, and clothes line this sidewalk.  The prices here are good, but this is not truly part of the flea market.
Once you get past these buildings,  the real experience starts. Some sellers work out of stalls but many sellers have their goods just spread out on blankets on the ground. Some items have little price tags on them, but that price is certainly not final. Many items are just sitting there without tags and you must ask their prices. Most sellers there were willing to bargain. Unlike many souvenir sellers in the center, people here are not attempting to rip off tourists with 1000% markups. I don't think bargaining was all that necessary, but I thought it would be fun (it was!).
If you are interested in trying your hand at bargaining but not sure how to get started, try this. If something is listed at perhaps 1000 rubles but you think that is a bit too much, start by asking if half of that price would be OK. The answer is almost always be no, but that is ok. If they are interested in bargaining at all, they give a counter offer less than 1000, perhaps 800 or 900. I am not a great bargainer but usually on bigger and more expensive items I could get the price down 25%.
Goods that I bought include shirts, beer glasses, Soviet era pins, and dolls. All the prices I found here were more than agreeable, especially after a little bargaining. If your Russian is up to the task, this is a great place to get practice with numbers and chat it up with pensioners.  
Udelnaya truly felt like an authentic Russian experience. In central St. Petersburg, there are many tourists from all over the world.  At Udelnaya, I noticed exactly three. Most people there were middle aged or older, and it was easy to tell this was a communal hang out spot. You could see men greeting each other like old friends and chatting about their vast coin collections and women flipping through piles of clothes while laughing it up. Frankly, I only met one seller who was interested in speaking English rather than working with my sub par Russian, and he was selling the same souvenirs I saw in all the shops in central St. Petersburg. I won't say speaking some Russian is a requirement to visit Udelnaya, but it is strongly encouraged.
Whether you are looking for a new outfit or a souvenir for your mother, the flea market has it — and just about everything else. More importantly, this is a great place to practice your Russian skills and is a truly authentic Russian experience.
Different Location Each Time
by Charlie Bacsik (Summer, 2018)
As an avid window-shopper and a habitual bargainer, it's understandable why flea markets hold a special place in my heart. I can confidently say that I have never turned down going to any kind of flea market, even if it has landed me in some unimpressive places. For the most part, flea markets tend to showcase the same genre of material: antique goods, worn out band t-shirts, nifty trinquets, and maybe some junk someone found in their garage. However, every now and then, I stumble across a flea market that is true gold. This past weekend was one of those times.
The Intelligent Flea Market is a local project created by a group of women who wanted to bring a trendy and chic vibe to the world of flea markets. The project has been evolving for five years now, and the organization hosts flea market events every few months in different locations. The group prides itself on hosting the events at venues that are special or unique to St. Petersburg. For example, some of the past locations have been an old gas tower, alternative film studio, dilapidated church, and even a historic mansion. The most recent event was held at the Tkachi Exhibition Center of Creative Spaces, a five-story building with different cafes, shops, and expressive art exhibits. The Tkachi Center occupies a historic building that used to belong to 'The New Cotton Manufacture,' a large clothing factory from 1846.
Local vendors can participate in the flea market for a small fee, which brings a plethora of creative and spunky artists to each event. I spent several hours browsing through the various booths, sampling locally-produced honey, and admiring all of the hand-crafted goods. Items for sale included jewelry, ceramics, leather wallets and purses, vintage clothing, home decorations, etc. The best part: almost everything was below reasonably priced! Even on a student budget, I was able to walk away with a few goodies! (Note: Most of the vendors only accept cash!)
The Intelligent Flea Markets typically only last two days, so each event produces a huge turnout. The group also has a large social media following on VKontakte and Instagram (@intelligent_flea_market), which has made it well-known among the locals of St. Petersburg. From a student's perspective, I highly recommend all of my classmates and fellow Russian learners to go and explore one of their events! It's not only great language practice (especially for numbers), but it also presents the perfect opportunity to chat with locals in an informal, less-intimidating setting. Most of the vendors are eager to talk about their creations/goods, so striking up a conversation is simpler than ever. Luckily, there will be one more event before my semester in St. Petersburg ends, so I will definitely be going back!
Multiple Locations
By Marin Ekstrom (Summer, 2013)
"Hey, if you need to buy groceries, cleaning supplies, or whatever else, go to Lenta. It's basically a Russian version of Wal-Mart!" My classmates have frequently expressed this sentiment over the past two weeks, piquing my interest for Lenta. Since my roommates and I did need more supplies, and we were curious to explore this peculiarity, we hopped on a marshutka (shuttle van) and headed for Lenta!
Lenta (which is Russian for "ribbon") is located in a neighborhood filled with Communist-era apartment buildings at ул. Уральская, 29. This detail makes Lenta stick out like a sore thumb, as its wide parking lot and stacks of blue-and-yellow shopping carts immediately marks it as a hypermarket in the style of Sam's Club and Costco. Upon entering the store, the irony becomes even greater, as it offers an enormous amount and variety of products. Admittedly, Lenta is probably the same size, or slightly larger, than of the average Sam's Club or Wal-Mart supercenter in America. However, when fighting the preconceived notions  of Soviet food and supply shortages, Lenta is a definite sign that we are not living in our parents' idea of Russia.
As soon as we stepped into Lenta, our natural capitalist instincts kicked in (we are Americans, after all), and it was time to shop till we dropped!  As we passed through the aisles, we picked up a large array of groceries and household products. We were ecstatic to discover the good deals available; for example, juice boxes were only 7 rubles apiece, so we packed our cart with shovelfuls of them. Our purchases included breakfast cereal, two baguettes, spaghetti sauce, yogurt, clothes hangers, and sausages. Our total tally came to 1430 rubles, which was a reasonable price considering that we were buying for three people…and the fact that we got an enormous amount of stuff!
In short, I feel that Lenta is a cost-effective paradise, but also a bit of an oddity. As stated before, it resembles American corporations in the fact that it sells bulk goods at low prices. However, Lenta also eerily emulates these companies in more detailed ways, such as in its advertising. For example, the color and font of the signs, along with the overly enthusiastic people featured in promotion posters, pay obvious homage to Wal-Mart. However, while Lenta may appear to be a copycat of American hypermarkets, I think that the ironic fact that it exists in Russia, a country once stereotyped for anti-capitalist doctrine and supply shortages, gives the store its own identity. With those assessments in mind, I highly advise you to visit Lenta at least once during your stay- it will definitely be a memorable experience!
More to Do In St. Petersburg: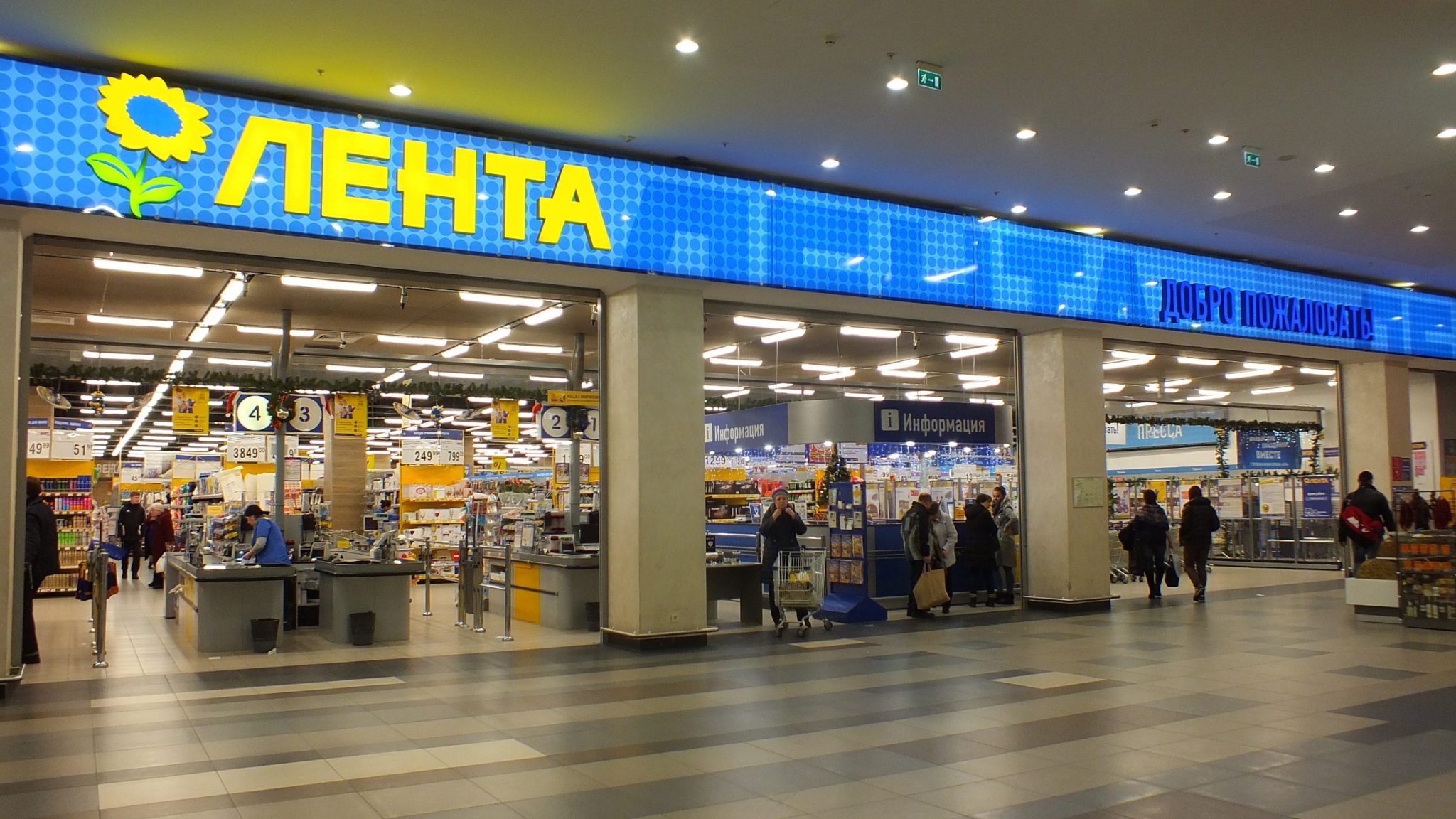 Russian supermarkets have been a great success story of the post-Soviet economy. Several large chains and holding companies have been built and, most importantly, Russian supermarkets have built up the supply chains to provide Russians with an ever-increasing diversity of produce and other groceries. The following short introductions to some of the largest chains of […]
4 comments