Along with all of the positives that are part and parcel of moving to a new city – experiencing a new culture, learning a new language, making new acquaintances – there are of course difficulties. Hopefully, this short guide will work to ameliorate at least one of the challenges of settling into a lifestyle; namely, that of where to find food, and how the different options near the ВГУЕС campus compare.
General grocery shopping tips: Bring a reusable bag with you. Supermarkets charge you a fee per bag (пакет), so save yourself some money and the environment some waste and come prepared. I personally just use my backpack. Go outside of the university for your groceries. A nice convenience about ВГУЭС is that the university itself sells just about everything you need to survive in the college itself: a pharmacy (аптека), small market (продукты), several cafes, even clothing stores and numerous other boutiques. However, do yourself a favor and get out and see the city a bit – you won't regret it. Also, the convenience of these shops tends to manifest itself in slightly higher prices.
ул. Некрасовская, 76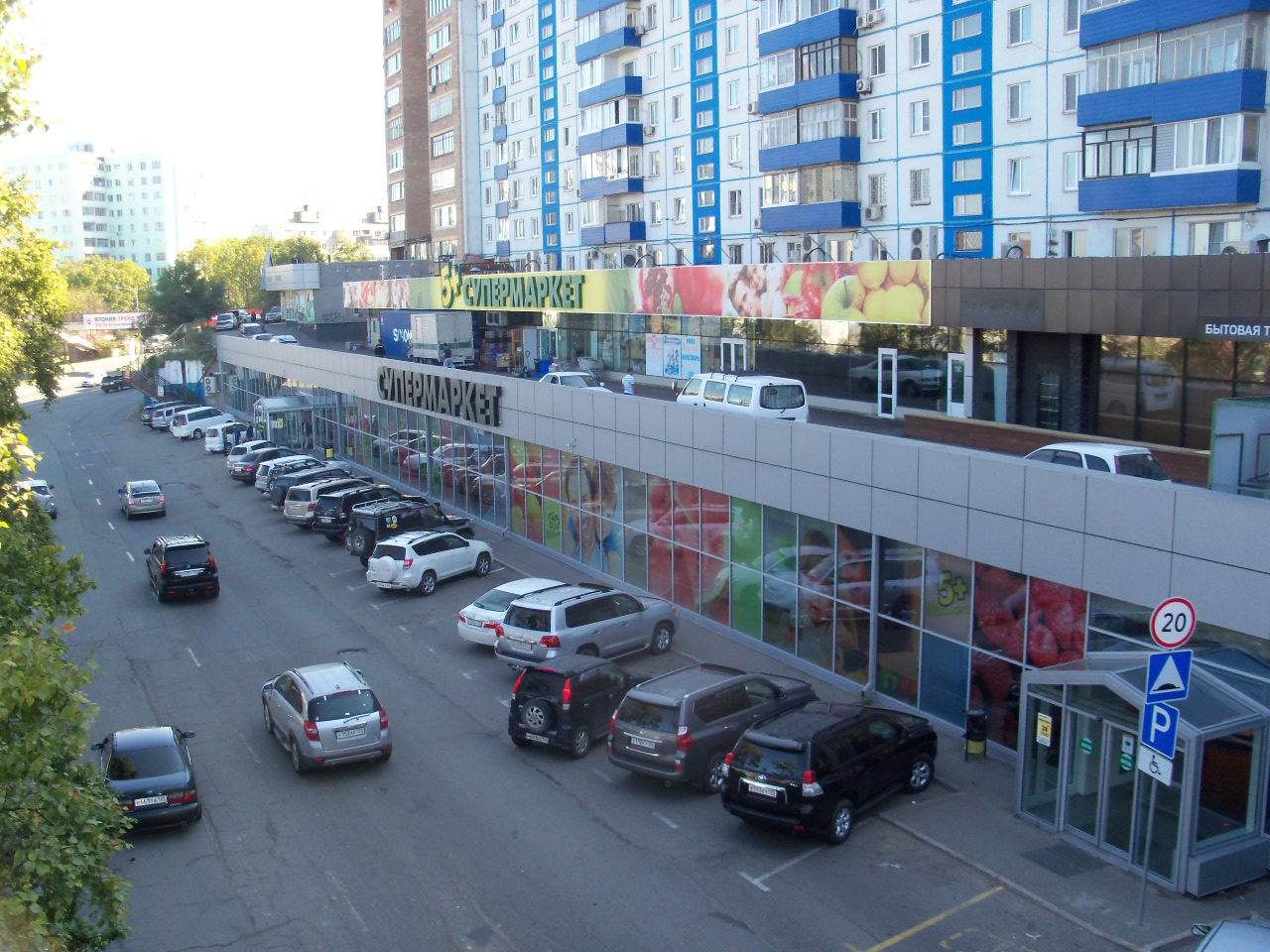 Likely the most popular location among students for doing any sort of significant grocery shopping is the supermarket 5+ («пять плус»), located about a kilometer (0.6 miles) from campus. Of the «супермаркеты» and «продукты» that litter the landscape surrounding the БГУЭС campus, 5+ certainly boasts the greatest selection of all variety of foods, from the staple grains and dairy to the more distinctly Russian пироги (stuffed pies) (available freshly baked as well as in preparable packets) пирожки (pastries) and so on. There are lots of good vegetarian selections here as well: the largest selection of fresh and frozen produce in the area, a hot-bar with a variety of vegetables salads in conjunction with a full-service deli and a large bakery.
Highlights: ATM inside, accepts credit cards, the best black bread (чёрный хлеб) in the area, a fairly priced cafe (кафе) inside, extensive hot-bar
Красного знамени проспект, 86а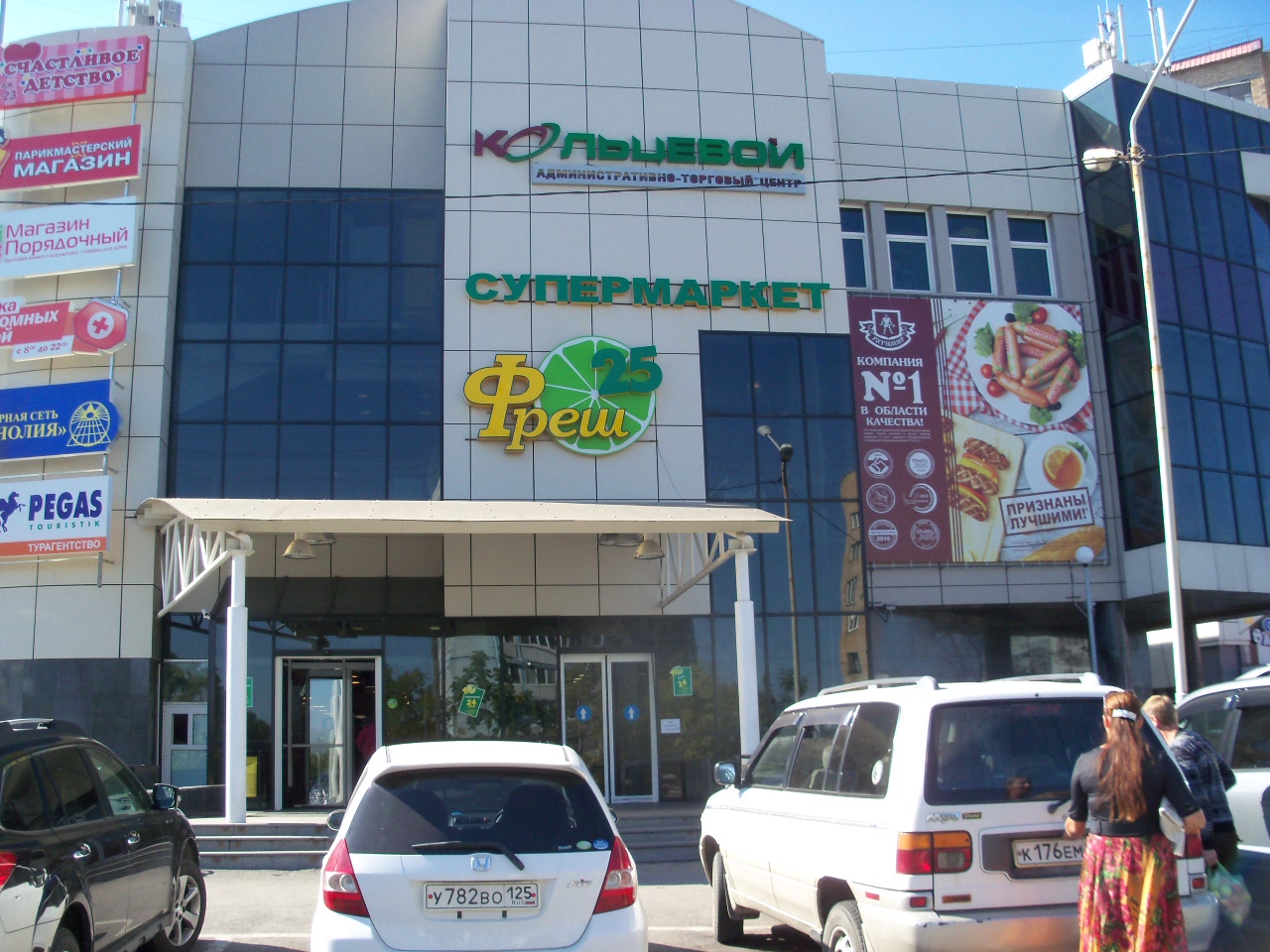 Less than a half-kilometer beyond 5+ is another popular chain supermarket, 25 Fresh («двадцать пять фреш»). You'll find the general selection of goods to be lacking here in comparison to the former, especially as far as fresh produce and the bakery are concerned. 25 Fresh does hold one exceptional distinction in that it carries peanut butter, an otherwise extreme rarity. Though the widely-adored paste asks a cool 200 rubles for a mere 340g (standard U.S. jars tend to be around 500g), I suspect many would pay even double for a taste of home. As for the extra-food related items like personal care products and office supplies, items which many of us have become accustomed to being readily available in American groceries, 25 Fresh boasts the broadest selection. On the other hand, if these items are your primary interest, Freken Bok (Фрeкен бок), located on the opposite side of Prospect Krasnovo Znameni (Проспект красного знамени) from campus, is the place to go. In general though, the prices at 25 Fresh are comparable to 5+, though product selection differs slightly. This is of course especially true regarding the deli, bakery, and freshly prepared dishes 25 Fresh also offers. Try it out if you're not finding what you're looking for elsewhere or you simply want a little variation.
Highlights: accepts credit cards, more than just food, peanut butter (!)
ул. Некрасовская 29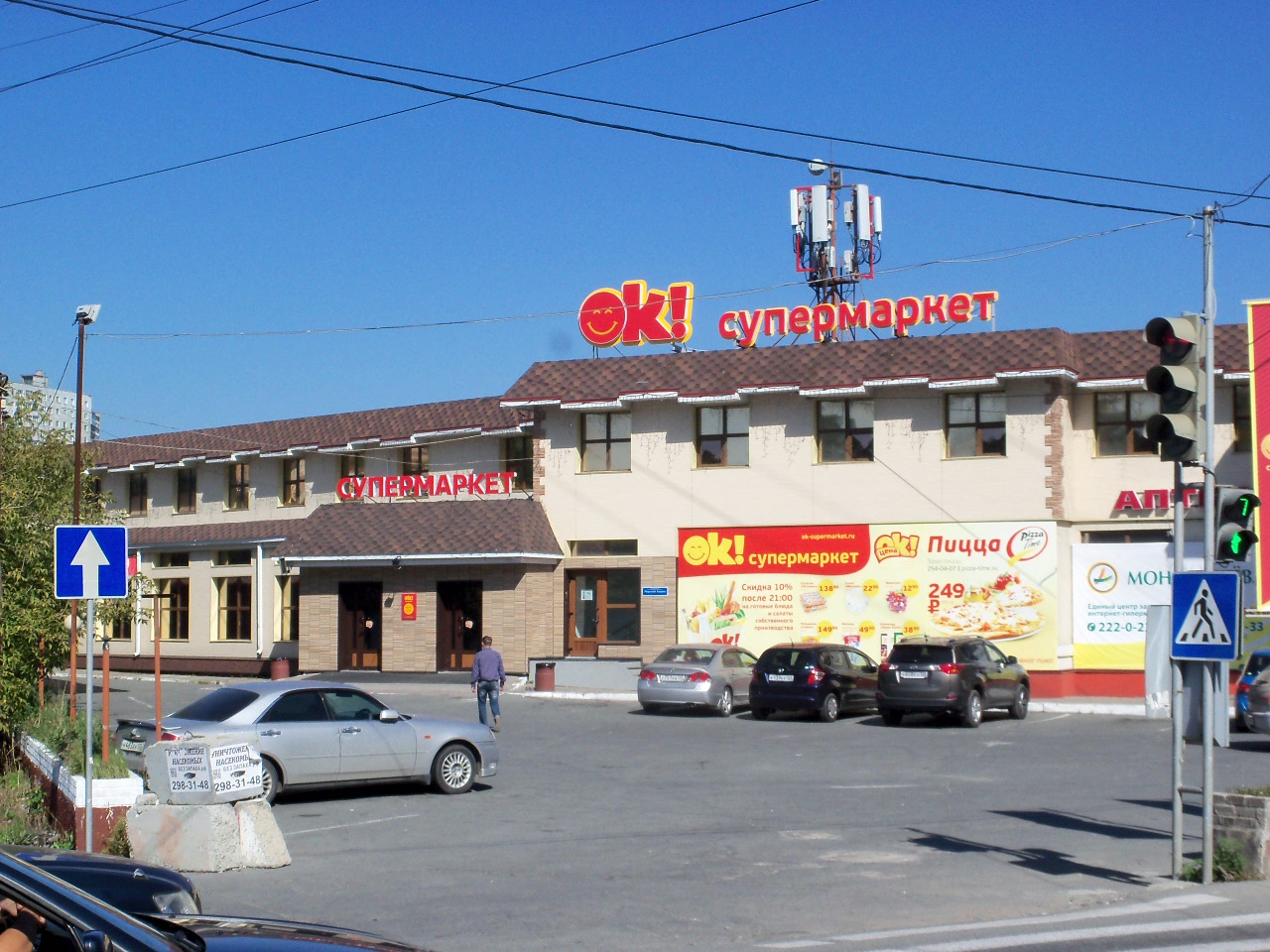 Yet another supermarket, and this one, even closer to campus. OK! Supermarket (ОК! супермаркет), located on the corner of Krilova (Крылова) and Nekrasovskaya (Некрасовская), is the closest to campus, being a mere 5 minute stroll from the grounds itself. However, what it boasts in proximity, it lacks in quality. It seems that this is likely the last stop the produce truck makes, and the selection in all departments considerably trails the prior two destinations. However, as one might expect, the prices here are a little lower and it does carry, from what I have heard from a fellow foreign student, an exceptionally scrumptious brand of pelmeni (пельмени) called "Homestyle Secrets" (Домашние секреты). Additionally, it is a convenient option when you've forgotten an easy-to-find item or are in need of one those cumbersome 5-liter jugs of water and want to save a little walking time. In summation, despite the exclamation mark, OK! Supermarket is just OK.
Highlights: accepts credit cards, close to campus, inexpensive
Красного знамени проспект, 82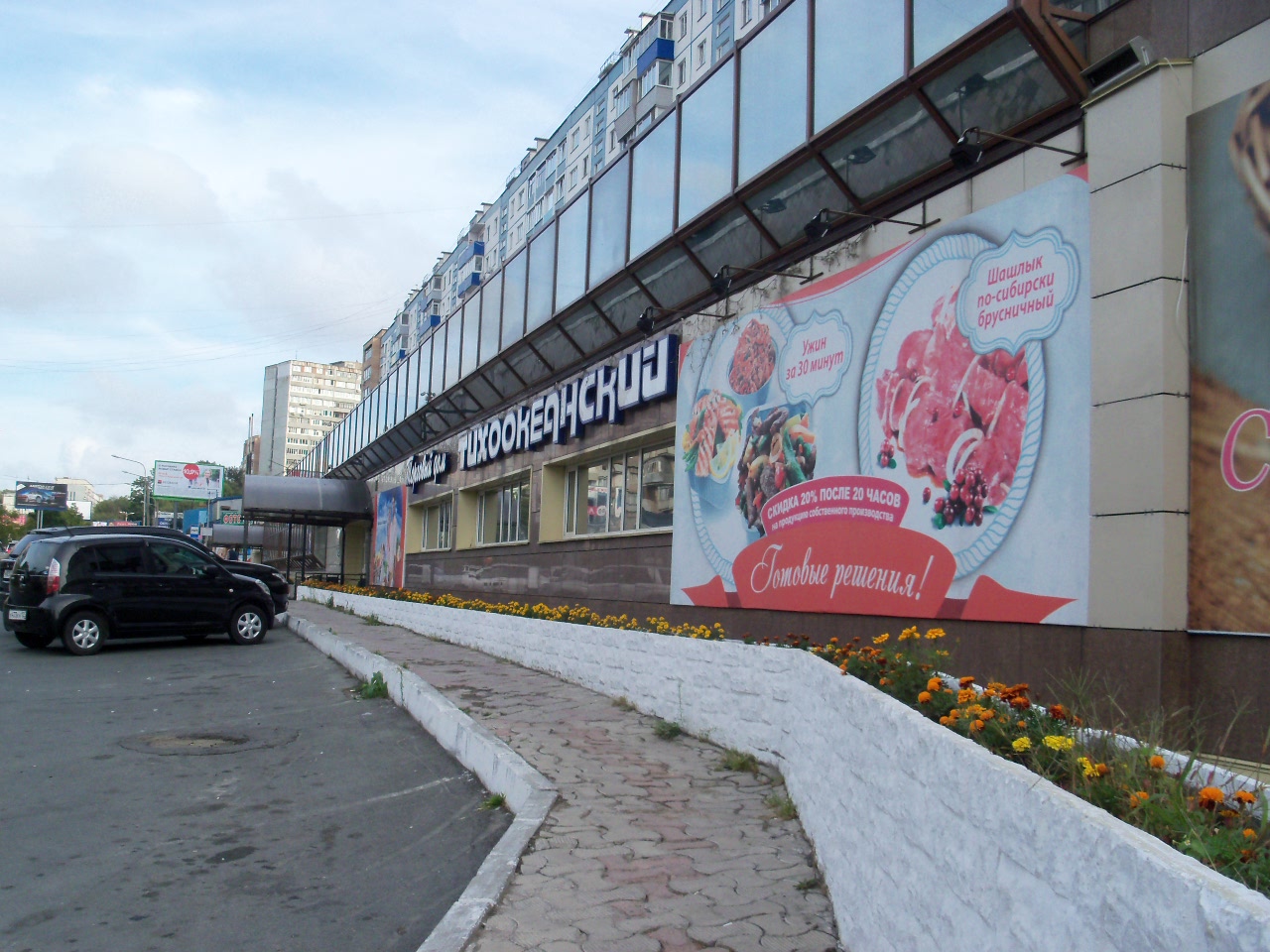 Located in between 5+ and 25 Fresh, directly on street level, is Pacific Ocean Supermarket (Тихoокеанский супермаркет). Coincidentally, this store's location relative to its neighbors seems to match its offerings. The selection of fresh produce and bakery products is close to that of 5+ and certainly ahead of 25 Фреш. Though, for no particular reason, I tend not to frequent this establishment and will, therefore, refrain from any conjecturing. Know that it's there, relatively close and worth a look if you're having trouble finding a product elsewhere.
Highlights: accepts credit cards
Open air/farmer's market
(Cельскохозяйственный рынок)
Красного знамени проспект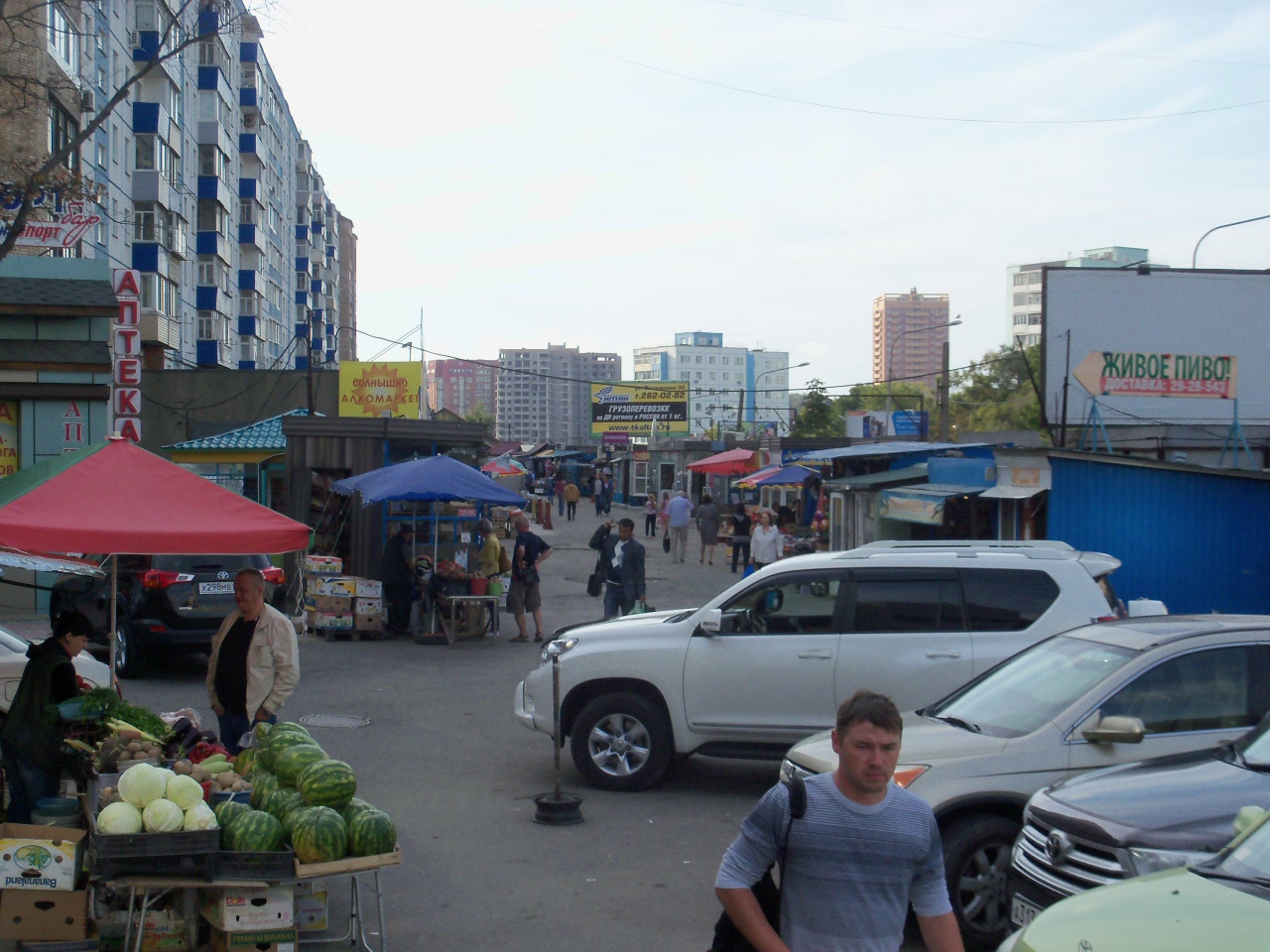 The "saving the best for last" mentality certainly holds true here. As it's only late September and shorts and a t-shirt are still sufficient dress during the day, the farmer's markets are still loaded with produce. And this is by far the best option, economically, environmentally, taste-wise and on and on. I'm here usually daily if not specifically in need of something, then simply to experience the communal atmosphere that emanates from the alleyway of clustered salesmen (продовцы) and saleswomen (продовшицы). Apart from featuring the freshest, most inexpensive produce around the campus, this market also allows you to develop relationships (and practice your Russian) with the local farmers and shop-keepers. Such opportunities are harder to come by in the larger chains. Located in between 25 Fresh and Pacific Ocean Supermarket, this market is as close as any (apart from OK!). While fruit and vegetable stands can be found all over the city, some perhaps closer to the university at times, this location is consistently crowded with farmers and boasts the most consistent, widest selection of goods in the area.
Highlights: fresh produce, very inexpensive, best place to shop while experiencing local culture