For those that don't know, a business lunch is an inexpensive pre-set meal that restaurants offer to maximize their lunchtime traffic between about 12:00-4:00pm. This is a student's paradise!
Most business lunches offer a main dish, a side, and a drink for around 200-350 rubles ($3-6). Some places offer one or two choices for each dish, while others can offer up to 5. Since they generally pre-made, the meals are also usually very fast, which is helpful if you only have an hour between classes. There are literally dozens of these offerings around town.
With so many of these popular offerings available, I was inspired to find the top places to get a business lunch within about a seven-minute walk from UNECON, where I am studying. Here are the results!
Kanala Griboedova 38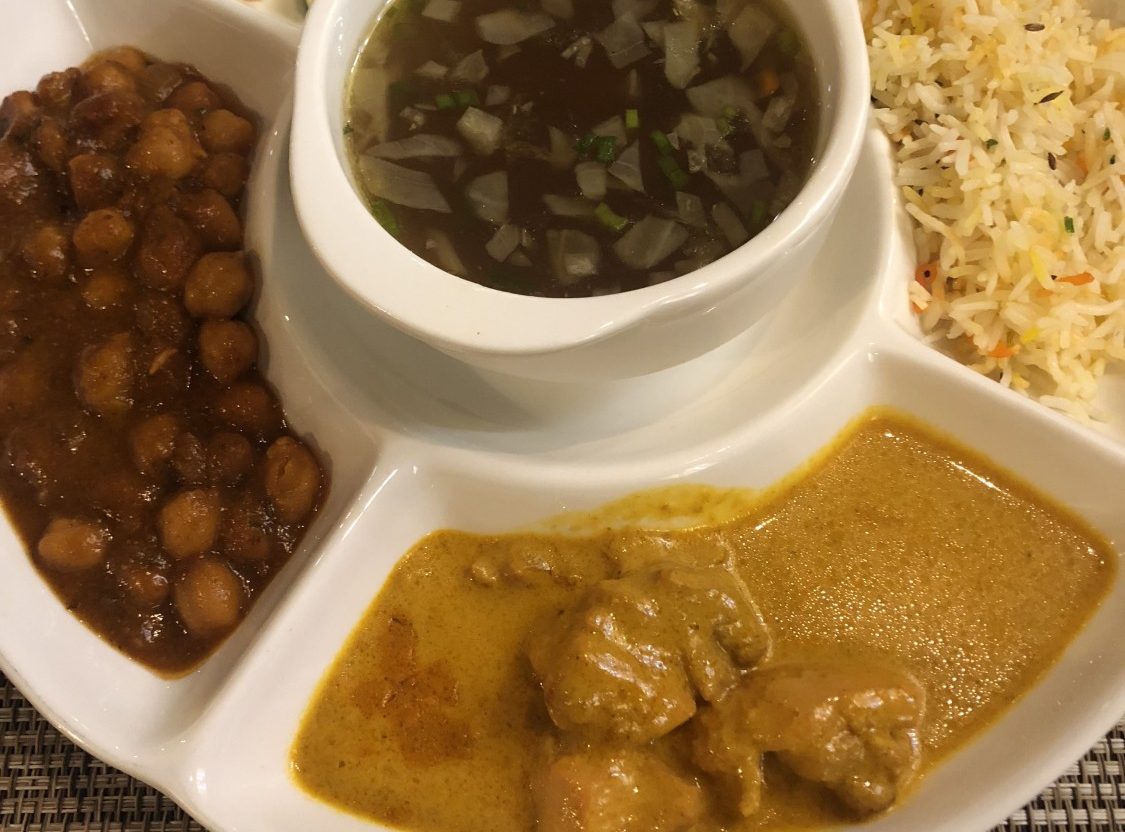 This is an amazing place for business lunch and food in general. Their lunch is 250 rubles, ends at 4pm, and includes a large plate with two curries, rice, salad, soup, roti/naan, and their homemade mors (a Russian fruit drink). Every day the curries, soup, and salad change, but they have all been delicious every time I've gone. You are able to choose a veggie, chicken, or meat option for the meal, so it's a good option for all.
(Kanala Griboedova 22)
This restaurant focuses on mainly Asian cuisine, with some Russians and American options as well. Pick up their "red card," a club card that will get you discounts of up to about 50%. Since the card does not belong to one person, you can split the cost (300 rubles) with as many people as you want.
The business lunch here has 4 options (prices are with the red card): Japanese (185 rubles, miso soup, bowl of rice, and California roll); Asian (215 rubles, miso soup and Asian noodles with chicken and veggies); Russian (245 rubles, borsht, chicken schnitzel, and veggie salad); and American (195 rubles, chicken burger, fries, and salad). I got the Japanese option, and it was good, the miso soup was quite tasty, and the sushi was quite average. The soy sauce that the restaurant provides is the more Russian style of soy sauce (which is more sweet than salty), but the pickled ginger was good. I was not impressed with the service speed, however, and be warned that there are no veggie options (although you can order other veggie options from their menu).
Nevsky Avenue 21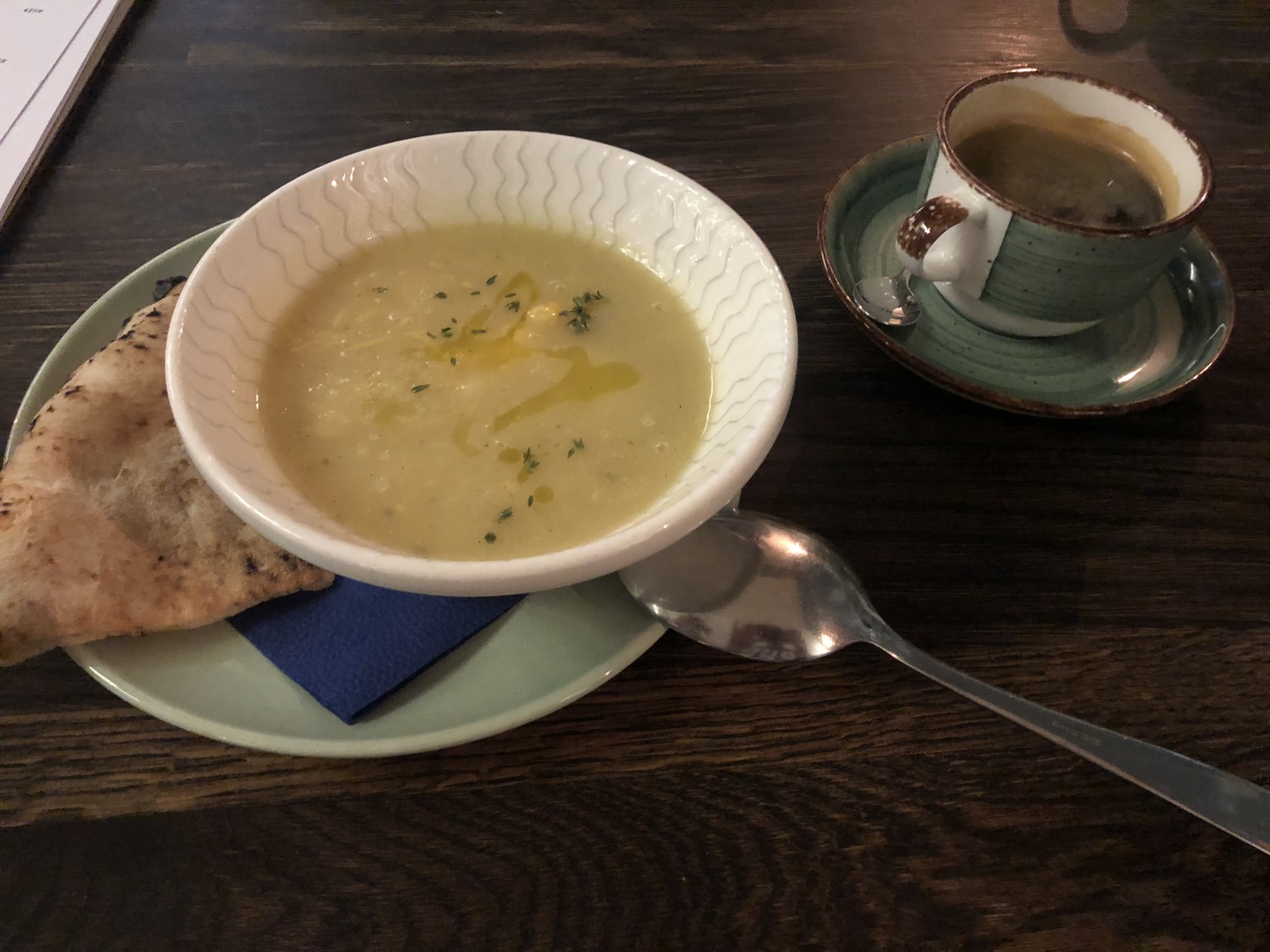 A nice Italian place on Nevsky, Marchellis offers an extensive lunch menu. For 280 rubles, you can pick one dish, for 370, two dishes, and for 450, three dishes. Several options for salads, soups, mains, pizza, pasta, and drinks are offered. A beverage, ciabatta bread, and a mini dessert is also included in the price. You can even add a glass of wine for 150 rubles.
Malaya Konnyushennaya Street 7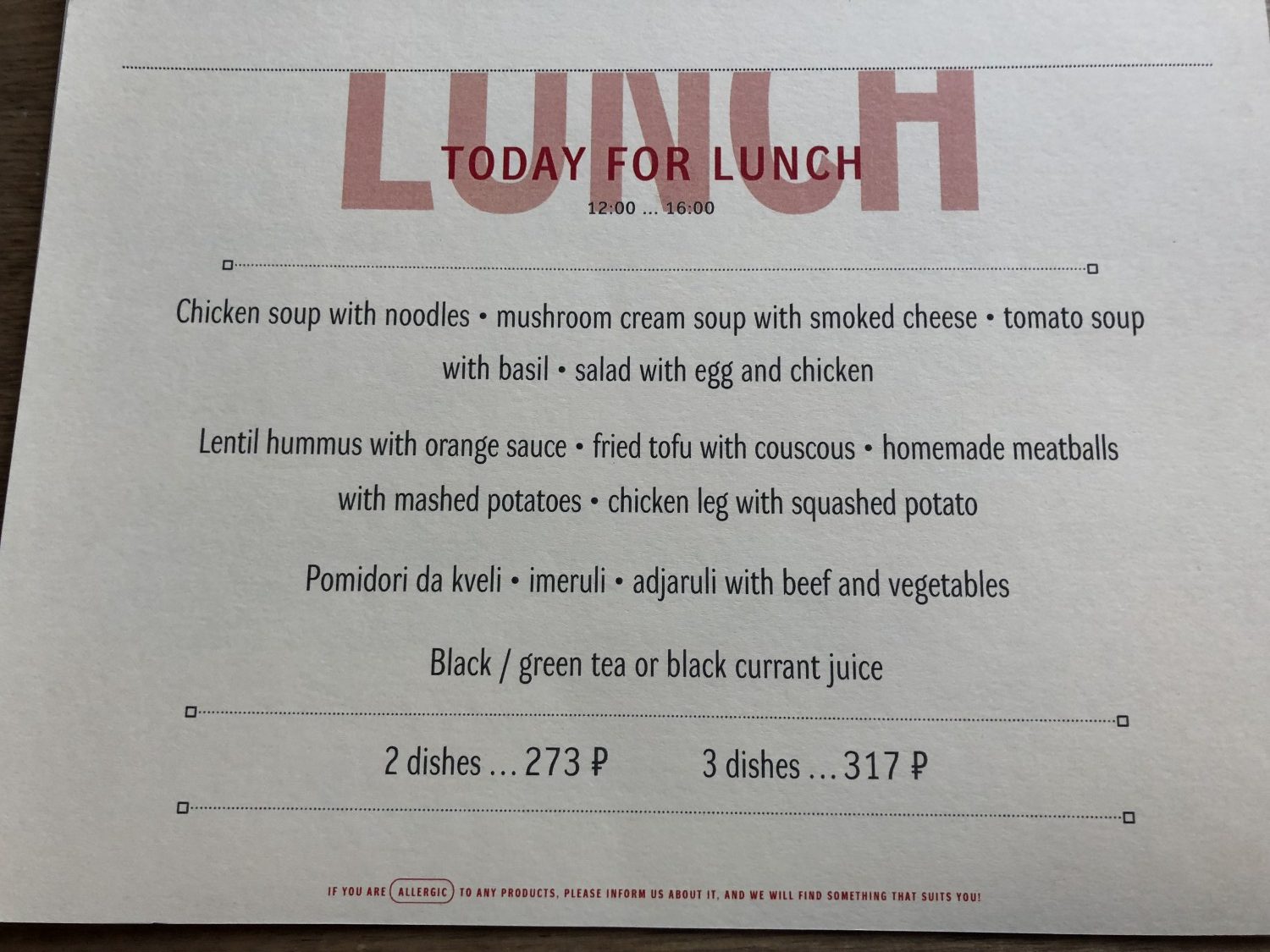 This Georgian place offers a different lunch menu each day. For 273 rubles you get two dishes, and for 317 rubles, you get three. They offer a few types of soups, salads, appetizers, and mains, and tea or juice is included as well. Not included, but really tasty, is their homemade pomegranate wine, which you can order as a single or double glass!
Kanala Griboedova 22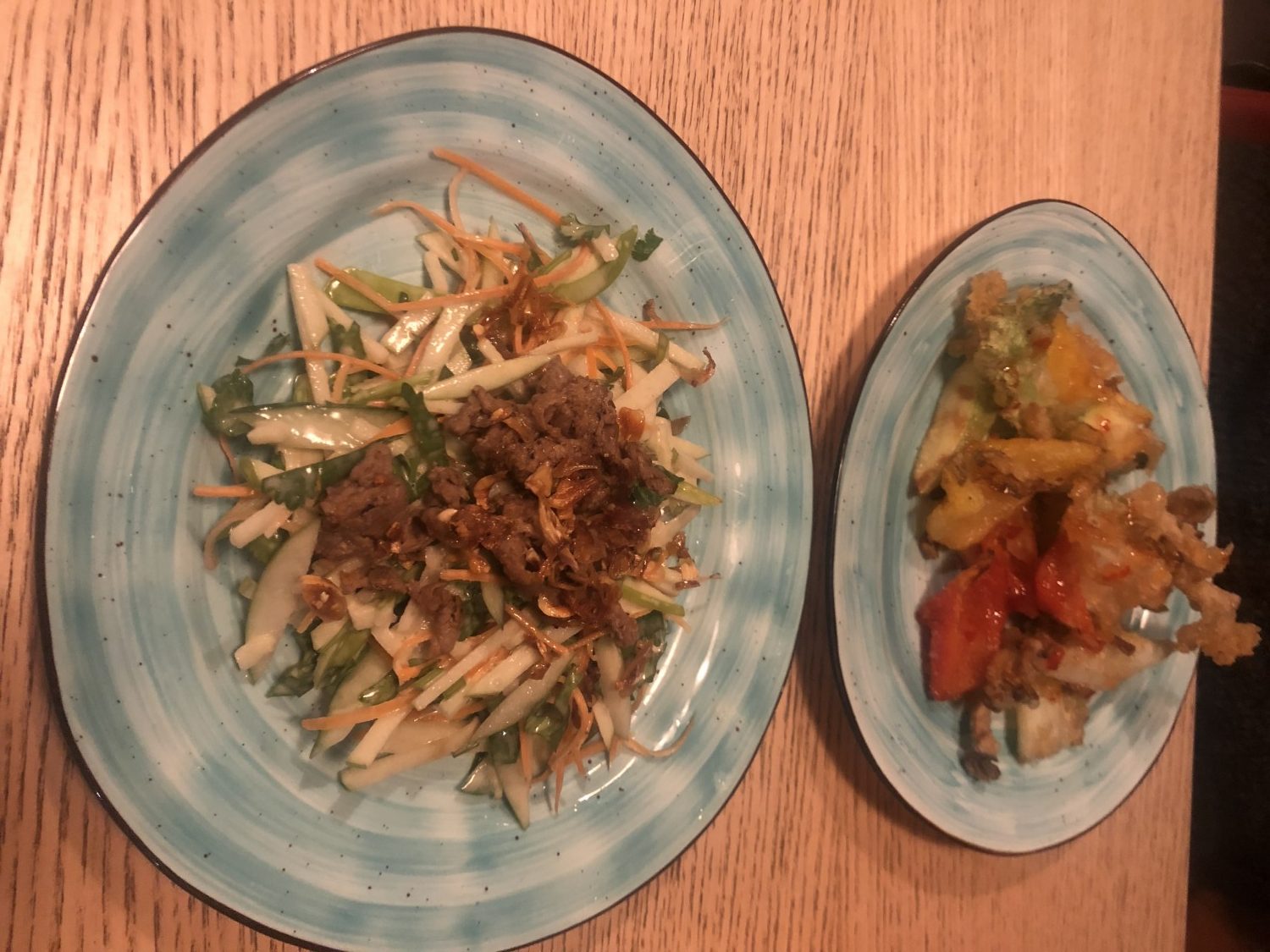 Pho has been my favorite food for years, and if I could, I would eat it every day. While this isn't as good as my dear Seattle pho places, it hits the spot. Their lunch menu offers four different combinations ranging from 240 rubles to 340 rubles, and each combination comes with three options for salad, main, soup, and/or drink. They have a few vegetarian options!
All Entries Abrove by Katherine Grigerman
Various Locations
For a cheap, tasty meal look no further than На Парах (Na Parakh; Steamed). This local mini-chain of casual restaurants focusing exclusively on dishes cooked with steam has two locations in the city center. From the more traditional steamed vegetables and dumplings to creamy soups and lasagna, the menu is surprisingly diverse.
A friend and I checked out the location on the corner of Liteny and Nevsky Prospectы on a warm mid-August day. For just 239 rubles, the small business lunch includes two moderately portioned dishes, while the 279 ruble large business lunch adds another dish- both include a drink and bread. I ordered a delicious bowl of pumpkin cream soup and spaghetti bolognese, while my friend tried the lasagna. The food was light and delicious, a perfect simply lunch with classic flavors. I highly recommend the pumpkin soup- perfect for fall! The restaurant is extremely well run: the design theme is coherent and comfortable, the wait staff is attentive and friendly in accordance with Western-style restaurants, the food quality is high and consistent. Our waiter was new and a bit nervous, but when he accidentally dropped a napkin in my drink he immediately brought a new one free of charge.
It's difficult to combine cheap, healthy, and tasty even in the United States, and being in a foreign country where you're unfamiliar with the culinary offerings can be an added challenge. I highly recommend Na Parakh as a simple solution! Both locations are near metros (Sportivnaya and Mayakovskaya, respectively) and easy to access. They have seasonal specialty menus that keep things fun and different. Breakfast is offered from 6am until noon- try the homemade tvorog!
Samantha Guthrie
Gorokhovaya Street 17/56
During one of my many afternoons of wandering around the city and exploring the streets of St. Petersburg, I stumbled across the Koreana Restaurant. Having never tried Korean food before, I texted one of my fellow classmates who was familiar with the cuisine and invited her along with me. She mentioned that she'd heard fabulous things about the restaurant and that many locals recommended it to her. Apparently, she'd also seen countless cars with Koreana stickers on the back windshields, which made me that much more curious to see what made it so special.
On the Koreana website, they request all guests to make a reservation ahead of time; however, we showed up on a Wednesday afternoon, so there was no problem with seating. The restaurant is sit-down style with a cozy atmosphere and a large menu that includes just about anything you could want from the Korean cuisine. We visited there during lunch hours, and they provided us with a Business Lunch Menu. This included a main dish, a small soup, a side dish, and a drink. The prices ranged from 320-370 RUB (~$5-$6) depending on what main dish you chose. Many restaurants in the city provide tasty business lunches, and it's a great way to try different restaurants for a cheaper price!
The entire menu had descriptions in Korean, Russian, and English, and the wait staff was quick to recommend a few dishes for us to try. My friend and I ended up choosing dishes from the main menu, which were still reasonably priced. For the price I was paying, I expected much smaller meals, but was pleasantly surprised by the large serving portions when the dishes were brought to our table. I ordered Ojingeo Bokkeum, a spicy squid stir fry, and my friend had the traditional Haemultang, which is essentially a spicy seafood soup. According to her, both dishes tasted like authentic Korean meals, so we definitely were not disappointed!
There are several Koreana locations across St. Petersburg, but the closest location to campus is only a seven-minute walk! You can also place your order ahead of time through their website; however, online ordering requires a minimum bill of 1000 RUB (~$16). You can also find the entire menu on their website, Koreana St. Petersburg.
Overall, my first experience trying Korean food was a success! On one of my last days in the city, I'm glad I got the opportunity to explore the popular restaurant with a fellow classmate before we all part ways. For all the SRAS students soon to be traveling to St. Petersburg, I highly recommend adding the Koreana Restaurant to your activities list!
– Charlie Bacsik
Невский пр., 24

Marketplace is a great place to go for someone easing into the St. Petersburg experience. Just off the plane, hungry, and still a bit intimidated to place an order at a Russian restaurant? This small chain takes some of the edge off. For English-speakers especially, the storefront along Nevsky Prospekt is easy to spot, being one of the few restaurants with a non-Russian name. Once in the door, your experience at Marketplace can be as Russian as you want it to be, as the self-service restaurant has a multinational cuisine. 

The relatively new chain's first location opened at 24 Nevsky Prospekt in summer 2012, but now has four other locations throughout the city. I've been to two of them, and can say that while the restaurants vary in size and layout, they have the same atmosphere and a nearly uniform interior. The Vasileostrovskaya location, closest to the university, is a coffee bar on the first floor. Comfy seats abound and free Wi-Fi is up for grabs. Up the stairs is a small but plush dining room with couches and long tables, great for studying or catching up with friends. Past that is the self-service area, but it's noticeably more compact than the Nevsky location.
Whatever location you head to, the restaurants are divvied up in the same way. The self-service areas are divided into individual stations serving different a la carte items. You spot what you want, place it on your tray and move on to the next. Cook-to-order grills are also available to make certain dishes, like grilled chicken or beef. The best and worst thing about Marketplace is found at the a la carte stations — new students of the language may feel more at ease that the menu items are in English and Russian, and the cooks know both terms for each item. You can even simply point at what you want or grab it yourself without muttering much to any of the cooks. Essentially, it's easy to cheat here and not use Russian. If not abused, though, this can be really comforting and welcoming to English-speaking students new to Russian and not yet ready to walk into a "stolovaya" and rattle off an order like a regular.
As for the food, you'll find the Russian staples – shashlik (beef or chicken kabobs), meat-stuffed piroshki, and beet salad. The chicken kabobs are delicious and served with a spicy, creamy, red dipping sauce, they're great for those missing barbeque. Keeping with the theme of cuisine from around the world, you'll also find a "wok" station offering creations with rice noodles, rice, shrimp, and sautéed vegetables. If you're in the mood for pasta or a simple salad, you'll find what you're looking for,too. Salads especially can be customized.
There are plenty of interesting drinks, too, including a house-made cherry juice which comes with real cherries at the bottom. You'll see it on almost every patron's tray. There are also coffee and tea drinks and a tasty- and refreshing-looking non-alcoholic mojito. Desserts are available, too, which range from simple sugar cookies and petite cakes to cheese danishes filled with creamy tvorog, the Russian cheese similar to a sweet ricotta.
Another thing to be said about the restaurant is that it appears to be immaculately clean. The cooks wear crisp chef whites, the countertops are alternatively gorgeous granite or wooden, and Marketplace employees swiftly clear off the table and trays you leave behind on your way out the door. Adding to the effect, both locations I've been to have had a generous number of windows, and the natural light really floods the space inside, creating a relaxing ambiance.
– Kristen Torres
The Hermitage Museum Staff Cafeteria
Inside the Hermitage – open to Hermitage staff and students
If you're a student on one of SRAS' museum studies programs, you you probably already know the incredible opportunities they offer. Unprecedented access to one of the largest and most famed museums the world over is one of them. Getting up close with some of the more than three million works within its walls, including original works by Rembrandt and Raphael, is another. The nifty nearly-all-access pass allowing you to bypass the out-the-door lines of tourists clamoring to get inside is an honorable mention. Not to be overlooked, though, is the Hermitage Museum's staff cafeteria.
It's true. There were a lot of things to look forward to, but lunch time, at least for me, was a cherished part of the day. And it wasn't just because hours of drawing and museum exploration will rile up an appetite – it's because at the staff cafeteria, you can get delicious home-style Russian meals for pennies on the dollar (or kopecks on the ruble).
Here's how the joint works. After flashing your pass to get in through the staff entrance, you'll walk into the first part of the cafeteria, which is effectually a cafe meant for quick bites and caffeine boosts. There's a glass case featuring desserts of the day — all kinds of cakes, muffins, and pies — as well as a selection of soda products and pre-packaged snacks.
If you're appetite is bigger, though, take a right and head into the adjoining room, which is where the cafeteria is located.
Once in line, grab a tray and some silverware and wait until the server behind the counter asks what you'll be having. You can check out the day's selection of salads in the glass case that you have to pass by while waiting to inch your way over to see what the entrées are available that day. Most salads don't have tossed greens as a foundation. Instead, you might find a small plate of chopped red onions, carrots, boiled egg slices, sunflower seeds, and a dollop of mayonnaise. (I ate this almost every lunch session!)
Once you get farther down the line and the server asks what you'll be having, you'll find you have a few options to choose from. Usually, a meat dish will be prepared in big batches and it'll be up to you how you'd like to dress the rest of your meal. For example, the meat of the day might be beef stroganoff, and you can choose to have it over rice, mashed potatoes, or macaroni. You'll also be asked if you want a half or whole portion. Know that a half portion is still very generous.
If beef stroganoff is not your thing, the cafeteria serves white fish topped with melted cheese almost every day as a trusty standby. I never had it, but it was a popular option. Check the menu and see what the soup of the day is, as this is also time to ask if you'd like a bowl or a cup of soup. Most days beet red borscht with beef is on the menu, but now and then they'll mix it up with a white bean soup in chicken broth or a general mishmash of vegetables.
Next down the line will be the desserts. The sweet treats menu would rotate, but one constant was zapekanka. I didn't know what this was when I first saw it, but the person in line in front of me told me it was like "Russian cheesecake." I asked the server to slice me a piece to try. She suggested I try it topped with sour cream or a sugar glaze (sgushenka). I opted for the sugar glaze, though I've been told the version со сметаной is good too, but I can't quite imagine the flavors mixing well. Zapekanka wasn't something I had every day, but I certainly had it once or twice a week. Made from tvorog (Russian farmer's cheese) and sometimes including fruit like golden raisins or berries, its sweet and creamy enough to be eaten alone, but is extra nice with a sugar glaze.
Besides zapekanka, dessert items tended to include tiramisu, slices of Napoleon cake, and chocolate chunk cakes. Simpler offerings were the always available pirozhki filled with compotes and jams of various delicious stripes.
The last offerings before getting to the register are juices. Staples like mors, apple juice, and fruit juice cocktails made from pineapple, for example, are sold for about 25 rubles.
There were days I came into the cafeteria starving, loaded my tray, and hoped for the best when it came time to pay, never having more than a few hundred rubles on hand. Even on days when I had a full course meal — a salad, a meat entree, a bowl of soup, a slice of zapekanka and a glass of juice — my total would never top more than 260 rubles. And that 260 rubles worth of food would keep me full for the whole day! Not to mention the food was always really tasty and made me feel like I had a Russian mom of my own cooking for me each day.
So while The Hermitage is famous for, well, being The Hermitage, it should also be famous for another thing — serving tasty meals to staffers and SRAS' museum studies, students that will cost so little for what you get that you might walk away feeling like you've pulled the ultimate museum heist.
– Kristen Torres
More in St. Petersburg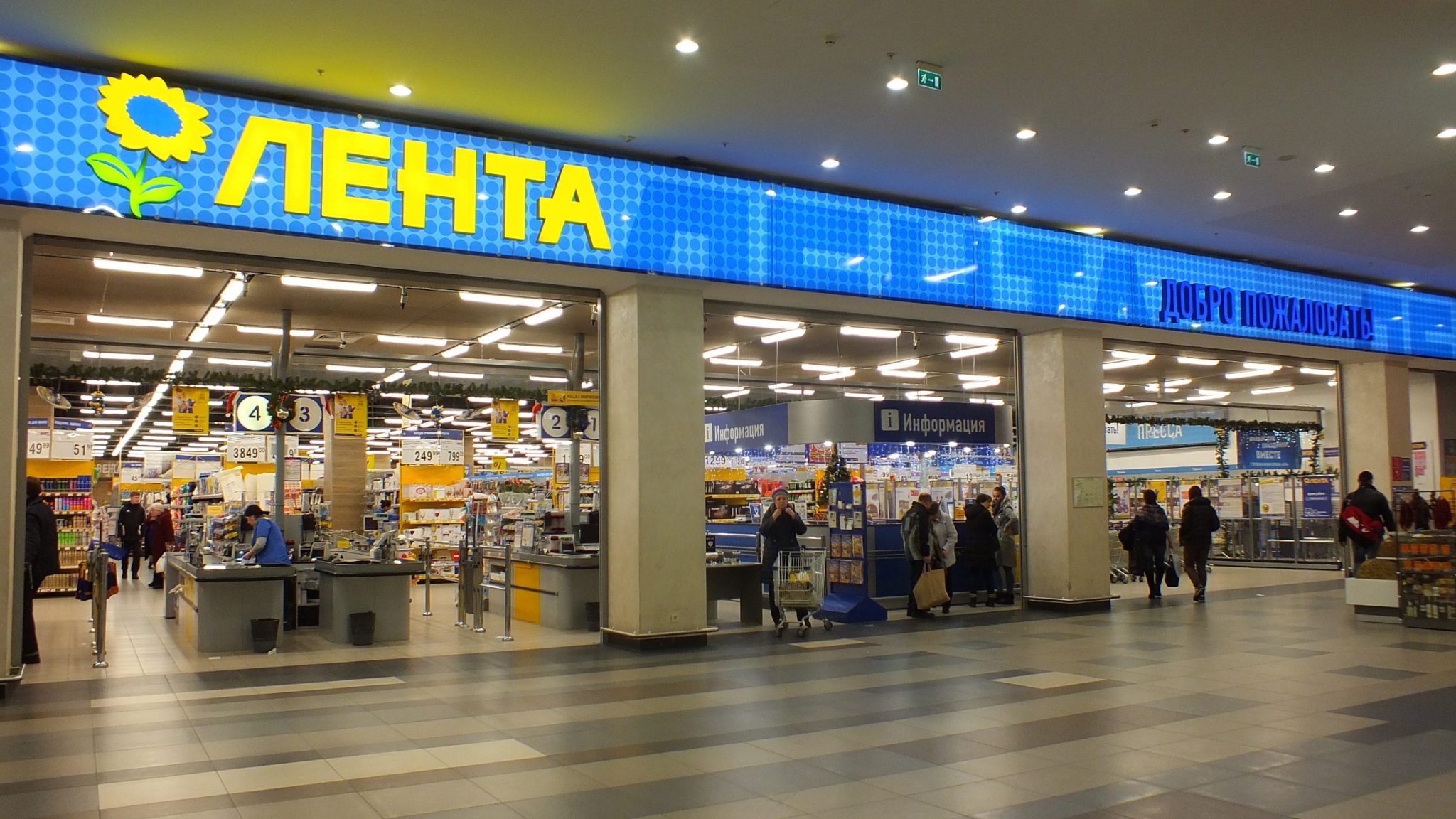 Russian supermarkets have been a great success story of the post-Soviet economy. Several large chains and holding companies have been built and, most importantly, Russian supermarkets have built up the supply chains to provide Russians with an ever-increasing diversity of produce and other groceries. The following short introductions to some of the largest chains of […]
4 comments