St. Petersburg abounds in small, cute cafes. These often offer specialty food items and comfortable, attractive, quiet interiors. Here are five places that students on SRAS Study Abroad Programs in St. Petersburg have found to try some of St. Petersburg's burgening European food culture!
If you'd like to try some truely upscale options for local cuisine, try some traditional Russian fare at Severyanin which is located near Sennaya Ploscad. There is also a restaurant called Tsar' if you prefer a higher end dining experience. The goal of the restaurant is to treat its guests like the former Tsars that lived in St Petersburg. The list below highlights some much more modern and boutique affairs.
Гороховая, 41
When I first walked by a heart-shaped waffle sign reading "Vaffel & Wine", I thought that it seemed like an odd combination for a restaurant — and why was it spelled like that? I did not end up visiting until a few weeks later when a few of us happened to be walking by and decided Vaffel & Wine was unique enough to try. Frankly, we weren't 100% sure what to expect: Would it be only Belgian waffles? Maybe classic fluffy American waffles smothered in syrup?
Upon entering, we were asked if we wanted English or Russian menus (if you have more than one person I always think getting one of each is the best for learning the language and knowing what you are ordering) and taken from the bar side of the establishment to an equally-sized dining room adjacent to it. This was quite a small restaurant, with room for perhaps 25 people in total. It was a hip place, and the staff knew it. The newest alternative rock played from the speakers. Almost everything was black and white with 'waffle-yellow' accents.
Upon receiving menus we realized the restaurant wasn't what we thought it was. For starters, the front of the menu finally answered the big question: these were Norwegian waffles. To be honest I didn't know Norway had their own waffles. You can order the waffles in a classic style, served with any combination of jam, butter, fruit, and sour cream. But that is just one item on the menu.
Most of the menu consists of what I will call waffle sandwiches: a Norwegian waffle folded with a variety of ingredients inside. Vegetables, mushrooms, and plenty of meats are all options. You can even get a burger in between two waffles. Of course, there are also dessert waffles of many varieties to finish off your meal. I have visited a few times, and I've loved everything at Vaffel & Wine.  The flavor combinations are all unique and work very well with the waffle as the bread. The wine menu was vast, but there were many delicious teas, juices, and lemonades as well.
The prices are modest and, when I have visited, Vaffel & Wine has been somewhat empty even for a small restaurant, but the food has been consistently delicious every time.
James Taylor
Various Locations (See here)
On my first day in Saint Petersburg someone took me to a cafe. At that point, I didn't know the name of the cafe, how I got there, or how to get back to the University — but the cafe was an inviting place. The decor was simple: wooden tables and chairs, plain white walls, and some chalk on blackboard art scattered about. Yet, the cafe was full of life, with talkative patrons and friendly, hardworking staff members. I decided to order an omelet with ham and cheese, as well as some coffee — it seemed like an easy enough order to say in Russian. Well, I butchered it. Even so, the young woman taking my order figured out what I was trying to say and was happy to work with me. I tried to apologize for my poor speaking ability, but she would have none of it and seemed to be thrilled that I was trying.
I took my cute little bucket with my order number painted on it so the wait staff could find me, and sat at a table just around the corner from the counter where I had placed my order.  Within just 10 minutes, I had utensils laid in front of me with Bushe's slogan, есть настоящее (eat real), on the silverware sleeve and sugar packet. My coffee and omelet soon followed. It was exactly what I was looking for. This was my first experience in Russia that didn't include customs or a taxi ride, and I what I look back on as a huge stepping stone to having a successful summer in St. Petersburg.
Since that first day, I have returned multiple times to Bushe (Буше), as it is only a block from my dormitory, the service is fast and friendly, the prices are reasonable, and they have high-quality and tasty food.

Bushe is a regional chain. At the time I'm writing this, there are over 35 scattered around Saint Petersburg and one in Moscow. Five exist in central Saint Petersburg, and two of them are within easy walking distance of campus here at UNECON. Their full menu, including drinks, pastries, breakfast, sandwiches, soups, salads, and freshly baked bread can be found on their website. The website also includes nutritional information, ingredients, and prices.
If you are looking for a classic cafe experience in St. Petersburg with great food and reasonable prices, you cannot go wrong with Bushe.
James Taylor
Гороховая ул., 24
This small chain of restaurants in St. Petersburg offers an attractive atmosphere, friendly staff, and reasonably priced food. I stumbled upon the place by accident on one of my many "lost in the big city" outings. It wasn't very busy and they were more than happy to let me sit with my laptop at a corner high top table and write this blog entry as I ate lunch. The location on the corner of Gorokhovaya and Sadovaya is arranged with a long communal table in the center and about five high top tables along the walls. There is a medium-sized bar with a large wine selection and plenty of fun cocktails – try the apple-ginger!  You can watch the chefs at work through a glass window into the kitchen.
The vibe was overwhelmingly hipster: they play diverse music from modern pop and hip hop to indie rock, the check is brought in a cocktail shaker, and my waitress had dreadlocks and a nose ring. There is also free WiFi (ask for the password – it was 12345678 when I was there)! Although the name is "Café and Bar", it is more of a restaurant by American standards with a large menu and geared more towards an evening crowd.
The menu is in Russian and English, with some Russian favorites like  борщ (borsch) and chicken Kiev, but is mostly general European/American dinner fare. My waitress noticed my stumbling pronunciation and immediately switched to English for me. I ordered chicken in tomato sauce and a 7Up. The food was hot and served quickly, the delicious sauce made up for the chicken, which was a little dry.
The location in the city center is just off the often busy, overcrowded, and overpriced Nevsky Prospekt, but the establishment is convenient and affordable. Overall, I thought I'm Thankful for Today had a cute, inviting vibe and would recommend it for a lunch or dinner in the city! It is not, however, likely to become your everyday hangout spot.
For groups and faculty-led tours, the communal table would work for a group of 8-10, but it gets fairly crowded in the evening so it would be best to book in advance.
Samantha Guthrie
Nevsky Prospekt 51
Metro Маяковская
Naturally, there are still signs of the Soviet Union in St. Petersburg, or as the city was called about 20 years ago, Leningrad. However, it is still difficult to find places that are really, shockingly Soviet. One of these places is the preserved Soviet-style restaurant, Kvartirka, (which means "Little Apartment" in Russian), tucked neatly away on Nevsky Prospekt.
Descending the steps to Kvartirka, you definitely get the feeling of entering an old-fashioned Soviet-style apartment, similar to the ones seen in films, such as the classic Москва слезам не верит/Moscow Does Not Believe in Tears or the more modern, Стиляги/Hipsters. The walls are covered with oriental rugs, copies of famous Russian paintings, and pictures of Russia. The restaurant is jumbled with different types of chairs and pillows. The color scheme reflects the 1970s US, except somehow dulled a little.
After being led to our table, which was a pink booth with yellow, shag pillows, we looked at the menu. All of the food is traditionally Russian/Slavic. They have borsch/борщ, пельмени/ pelmeni, вареники/vareninki, and more. After studying the menu, I selected hot potatoes with white mushrooms, while my friend got pelmeni with mushrooms. We both really enjoyed our meal, even if the portions were a little smaller than normal Russian portions. What was probably most unique about the menu was that they offered popular Soviet/Russian beer and desserts. Feeling adventurous, I got a St. Petersburg brewed «Василеостровское/Vasileotrovskoe" beer, and it was not bad.  My friend got a cherry milkshake, which also looked delicious.
Although the food was very good, and it was an interesting atmosphere, I do not think I will go back to this restaurant. Firstly, it really is a tourist location, and I think for that reason, only good for one visit. There is not much else to see or experience by going a second time. Secondly, they had a non-smoking section, but it was small and filled. The restaurant is also underground, without windows, so the "non-smoking" section was essentially another smoking section. It is also a small restaurant, and tends to get very loud. Most reviews I read complained about the service of the wait staff, and although I personally did not experience bad service, I did go there when it was less crowded. For Groups and Faculty Led Tours, I would say this restaurant is too small and too slow. It would be a bad idea for groups of six or more, and if you are in a rush.
However, if you are looking for a kitschy Soviet-style restaurant, this is definitely the place to go, and I would say, worth a visit.
Jacqueline Dufallla
Моховая Улица, 41
Прекрасная Зеленая (Prekrasnaya Zelenaya; Beautiful Green) Café filled a hole in my heart I didn't even realize was there. Everything about this place is heartwarming and I cannot recommend it highly enough.
I discovered it on a cool Saturday afternoon in March, I was searching the Internet for cafes to study for an exam and Prekrasnaya Zelenaya was nearby and inexpensive, so I decided to check it out. It is a vegetarian café by name, and also offers many vegan options with eggless omelets and soy milk lattes, but omnivores have no fear- there are several menu items with meat! The menu in fact looks a bit like a children's scrapbook with paper pages inside a small decoupage binder. It is extensive, serving breakfast all day (from oatmeal to omelets), sandwiches, salads, soups, and slightly more expensive hot meals (pasta, stuffed peppers, eggplant soufflé). They incorporate interesting ingredients such as Adyghe cheese and local greens into the dishes, coming up with unique flavor combinations.
My omelet was more like crumbly scrambled eggs in a bowl, but with fresh, warm tomatoes, strong Adyghe cheese, and a sprinkling of greens it was delicious. My hot chocolate came in a tall glass (bigger than most I've had in Saint Petersburg) with a thick layer of soy milk foam on top. Everything was delivered hot and quickly, the only waitress in the small café was busy but I never felt neglected. I eyed the table of women next to me as they enjoyed some incredible looking desserts- cheesecakes and brownies and pudding, oh my! The menu also offered traditional Russian desserts like syrniki (cottage cheese patties) and vareniki (filled dumplings), along with intriguing offers of "basket of figs, coconuts, and wood berries" and Indian samosas. The menu also had a section especially for Italian-inspired dishes.
My favorite part of the menu was the drink selection. Your typical offerings of coffee and tea were represented, along with milk-cocktails (not an American milkshake, more like flavored, frothy milk), and hidden in the back few pages was a list of "fruit-berry-vegetable cocktails." Self-described as "delicious and very nutritious," and are similar to American fruit smoothies- which I have been craving the past couple of weeks!
The décor is comfortable, casual, and a little bit quirky. The silverware comes wrapped in a napkin tied with a piece of hemp string, live plants sit in the window, and countryside cottage trinkets- pinecones, homemade dolls, potpourri- line the walls. The front section has a few comfortable booths and there is a back room with bigger tables that can be booked for group meetings. Most people were chatting and eating, but I felt fine working on my laptop. Speakers softly pipe in jazz and lounge music. There is a bulletin board plastered with advertisements for events and a sideboard covered with business cards from local entrepreneurs.
Honestly, I felt more at home at Prekrasnaya Zelenaya than at any other café I have visited in Saint Petersburg; maybe it reminded me of my favorite café back home, maybe it was the friendly waitress who helped me get my Russian cases right as I ordered, or maybe it was the beautiful sunny day I enjoyed through the windows, but in any case I have fallen in love! Do yourself an affordable, adorable favor and stop by Prekrasnaya Zelenaya while you're in Saint Petersburg. I promise you won't regret it!
Samantha Guthrie
More in St. Petersburg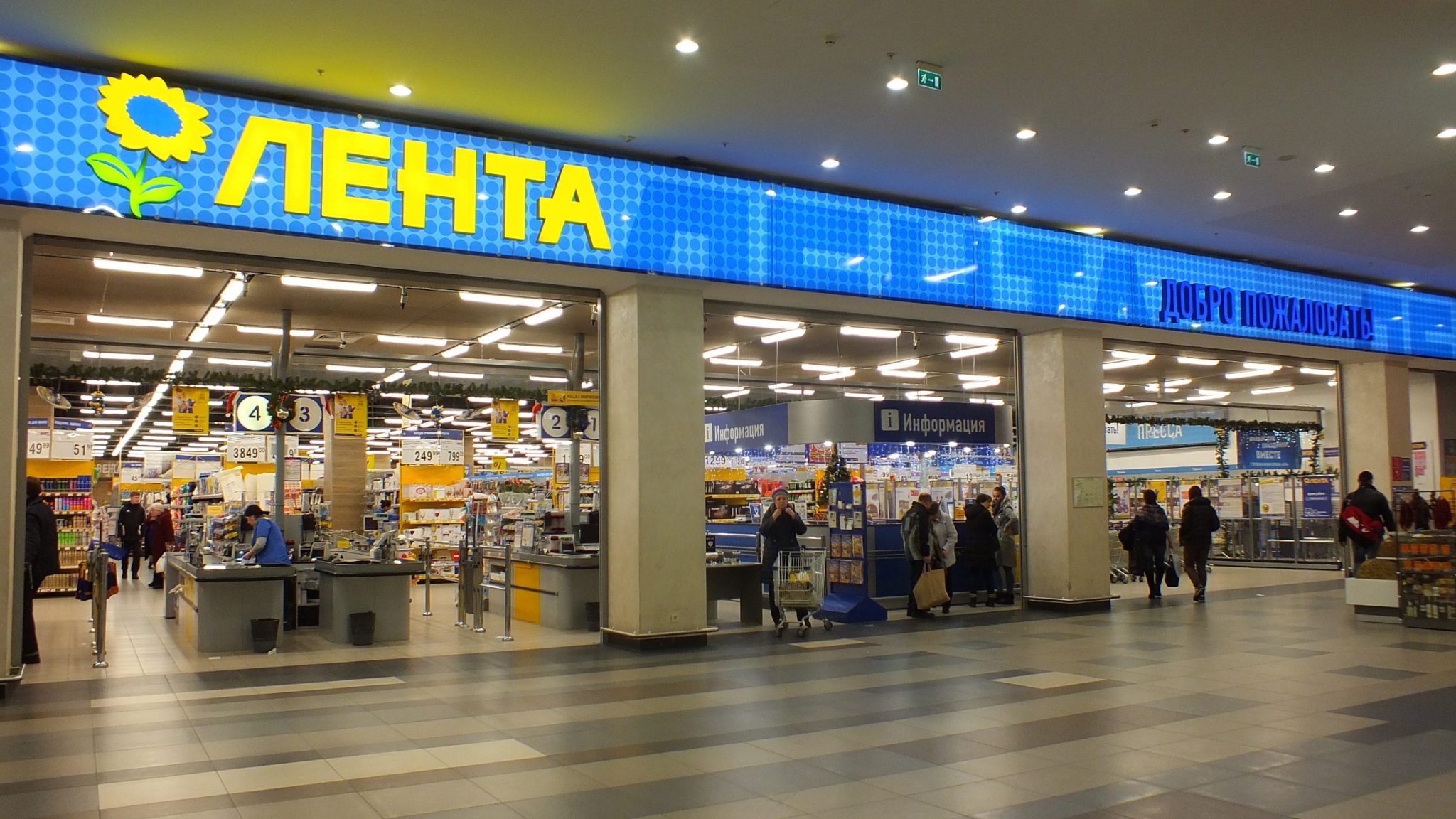 Russian supermarkets have been a great success story of the post-Soviet economy. Several large chains and holding companies have been built and, most importantly, Russian supermarkets have built up the supply chains to provide Russians with an ever-increasing diversity of produce and other groceries. The following short introductions to some of the largest chains of […]
4 comments