Six blue line stops north of Nevsky Prospect  is one of the most enjoyable and authentic experiences that I have had in Russia. Rows and rows of stalls selling clothes, antiques, jewelry, tools and everything in between. Some sellers shout about what they're selling, while others discuss prices and make sales with shoppers. This is Udelnaya.
The Flea Market on Udelnaya (Блошиный рынок на Удельной), sometimes called Clothing Market on Udelnaya (Вещевой Рынок на Удельной) or just Udelnaya Market (Удельный Рынок) is the largest flea market in Saint Petersburg. In the hope of buying a few cool shirts and other souvenirs for cheap prices, a friend and I decided to make a Saturday out of it.
Take the blue metro line to Udelnaya Station; the market is just across the street, adjacent to the Udelnaya Vokzal, the train station with lines to Finland. The only way to enter the market is in between two relatively small, gray block buildings. After you pass through, you'll see a line of these gray block buildings, five on each side of the walkway. These house the sellers that are most like traditional stores. There are price tags and scannable labels. Stores with electronics, shoes, and clothes line this sidewalk.  The prices here are good, but this is not truly part of the flea market.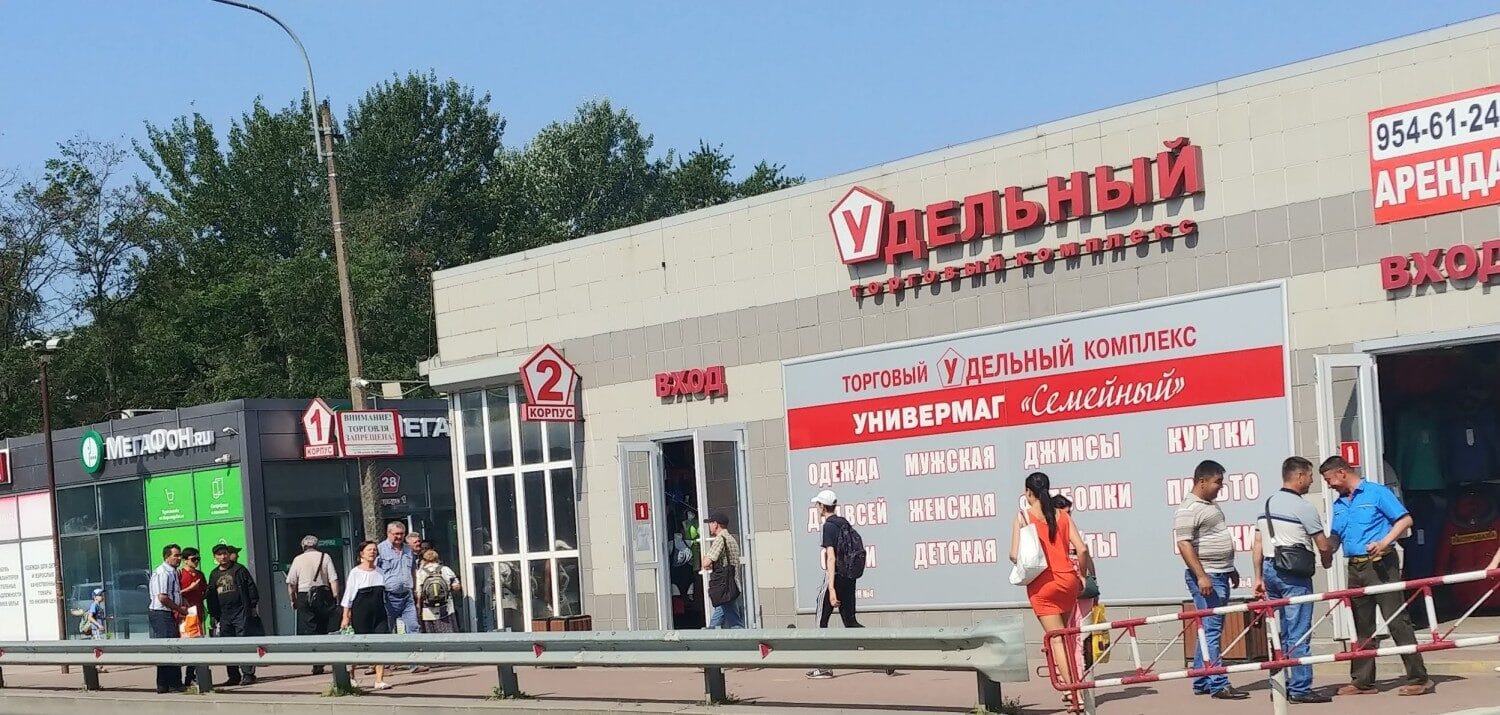 Once you get past these buildings,  the real experience starts. Some sellers work out of stalls but many sellers have their goods just spread out on blankets on the ground. Some items have little price tags on them, but that price is certainly not final. Many items are just sitting there without tags and you must ask their prices. Most sellers there were willing to bargain. Unlike many souvenir sellers in the center, people here are not attempting to rip off tourists with 1000% markups. I don't think bargaining was all that necessary, but I thought it would be fun (it was!).
If you are interested in trying your hand at bargaining but not sure how to get started, try this. If something is listed at perhaps 1000 rubles but you think that is a bit too much, start by asking if half of that price would be OK. The answer is almost always be no, but that is ok. If they are interested in bargaining at all, they give a counter offer less than 1000, perhaps 800 or 900. I am not a great bargainer but usually on bigger and more expensive items I could get the price down 25%.
Goods that I bought include shirts, beer glasses, Soviet era pins, and dolls. All the prices I found here were more than agreeable, especially after a little bargaining. If your Russian is up to the task, this is a great place to get practice with numbers and chat it up with pensioners.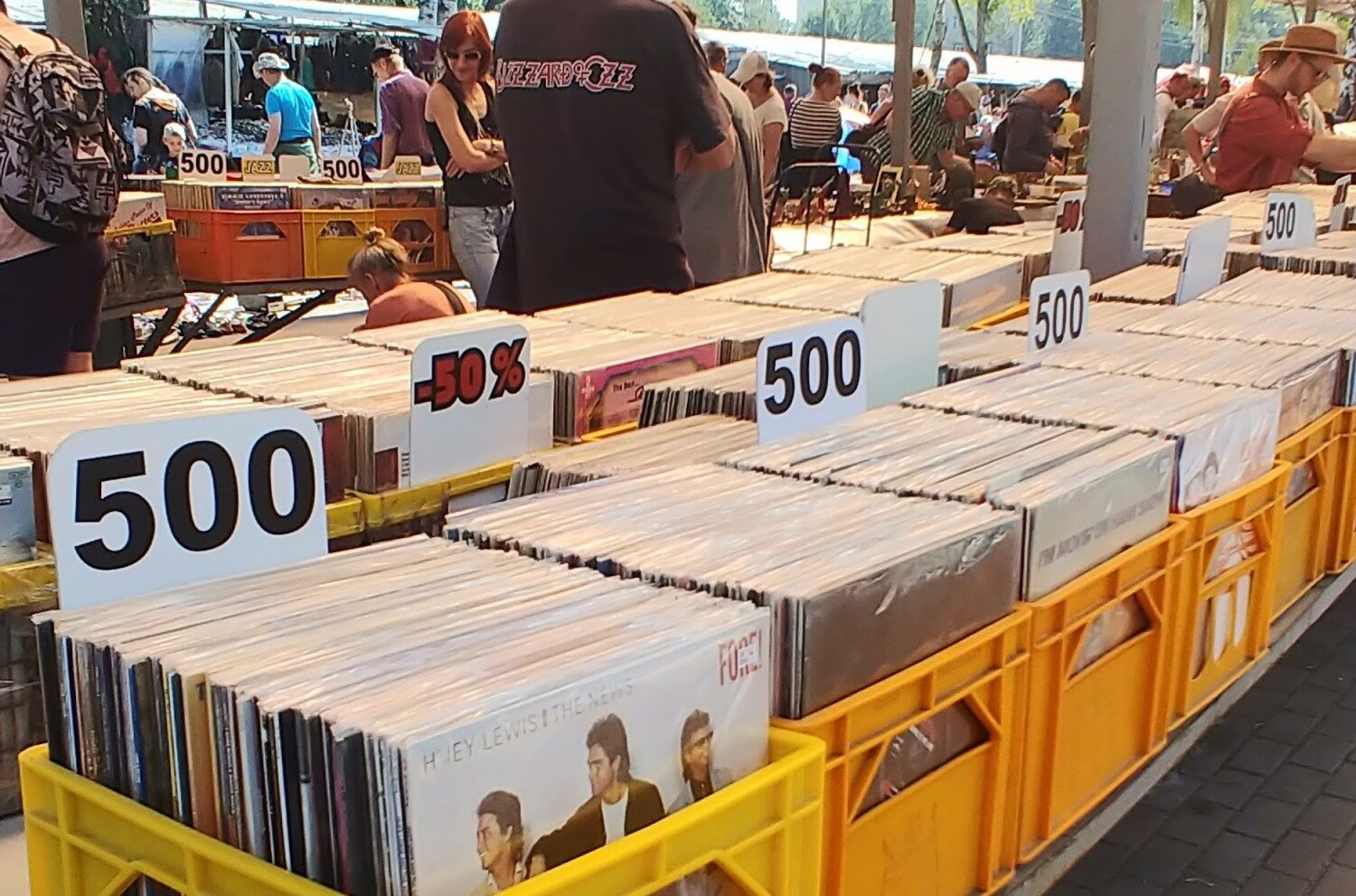 Udelnaya truly felt like an authentic Russian experience. In central St. Petersburg, there are many tourists from all over the world.  At Udelnaya, I noticed exactly three. Most people there were middle aged or older, and it was easy to tell this was a communal hang out spot. You could see men greeting each other like old friends and chatting about their vast coin collections and women flipping through piles of clothes while laughing it up. Frankly, I only met one seller who was interested in speaking English rather than working with my sub par Russian, and he was selling the same souvenirs I saw in all the shops in central St. Petersburg. I won't say speaking some Russian is a requirement to visit Udelnaya, but it is strongly encouraged.
Whether you are looking for a new outfit or a souvenir for your mother, the flea market has it — and just about everything else. More importantly, this is a great place to practice your Russian skills and is a truly authentic Russian experience.