Thanks to a couple of local friends, I had the opportunity to check out an extreme sports place called On the Wake, which I don't think I would have ended up finding otherwise. I was told by my friends that this was an indoor trampoline park, which was true, but there was also a lot more to it – with rock climbing and gym equipment also available.
The place is not easy to find and going with a local person made it easier. Their address is 1/31 Ankara Street, located in the northeast corner of the city. However, to find it, you must first turn left onto Vinogradnaya Street and then off a small side street to your right shortly after turning left onto Vinogradnaya. There, you will find On the Wake on your left-hand side.
Upon first glance, it did remind me of a Kyrgyz version of America's Sky Zone indoor trampoline parks, which usually attract multitudes of little kids with moms waiting passively as their children jump. There were a few little kids there, but I wondered if a parent or relative also worked there because these kids were all so good at gymnastically jumping that it seemed like they frequented the place.
The entrance fee was 800 soms per person, or approximately 12 USD, which is a bit steep for most locals. Thus, this is not likely to be an entertainment that many take often. My one friend, Luiza, who I was there with is considerably younger than me, about 15 years old, and some other friends of hers, who are around my age, were there. The older girls weren't as fond of jumping. They seemed to find it exhausting, so I proceeded to jump with my younger friend. Since I have not invested in a gym membership during my time here, I used this as an opportunity to fit in a mini workout in, which was made even easier by the other equipment offered in this center.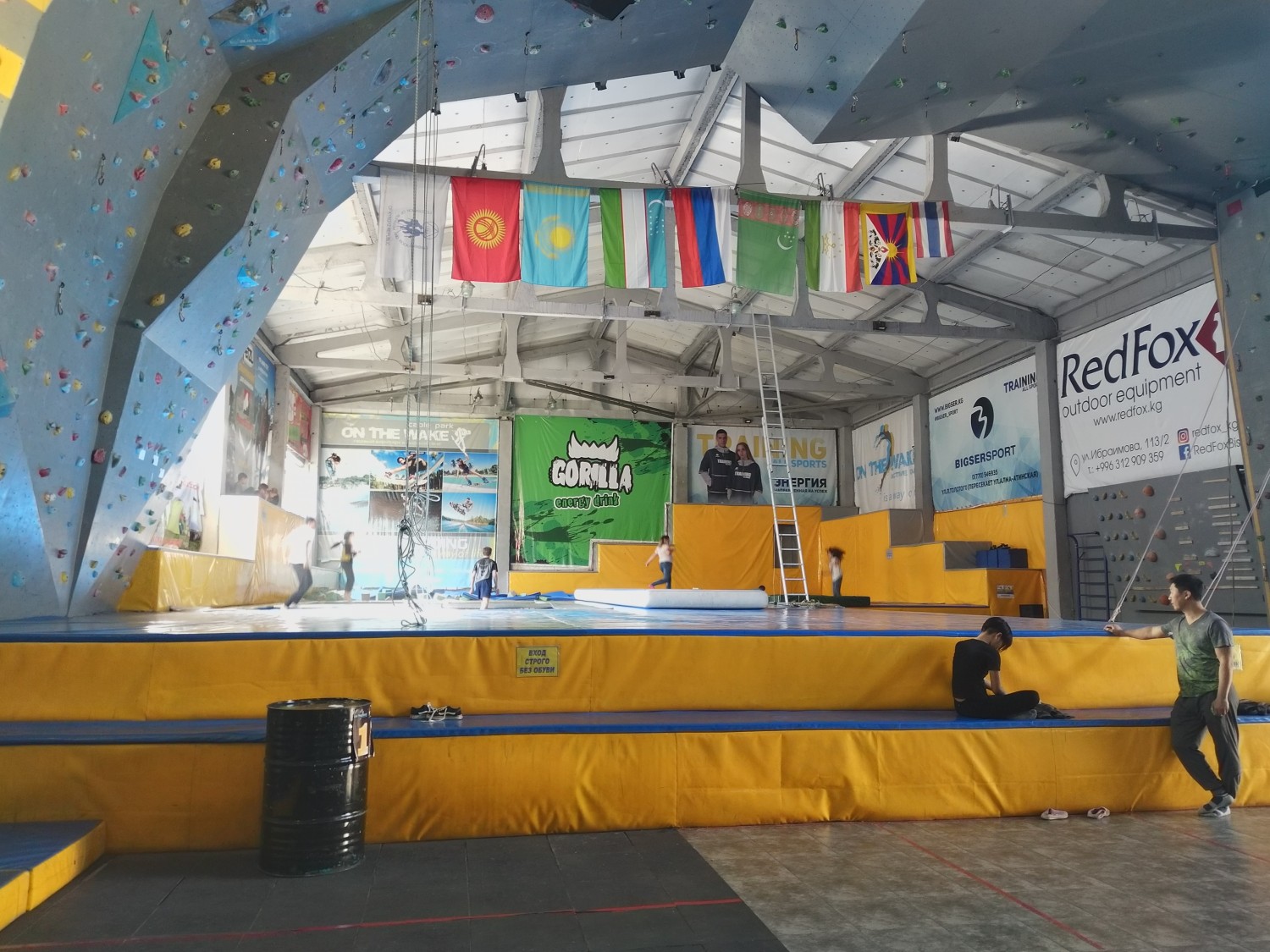 I noticed that rock-climbing was available, but I wasn't sure if this included an additional cost and didn't see anyone else doing it, I didn't pursue doing it. At the end, however, when I took their business card, the card boasts that they are the largest rock-climbing site in Kyrgyzstan.
In addition to rock climbing walls, the trampolines fed into a foam cube pit, which brought me back to the days of childhood gymnastics. There were also high-rise blocks lining the walls, in addition to a runway that you could jump from and into the cube pit.
On the other side of the trampoline and rock-climbing segment, there was a ping pong table and a mini gym. I played ping pong with my friend for a while. At a slow point, I decided to start utilizing the dumbbells and sit-up equipment available there. There was also a balance board, which resembles a very small surf board that you needed to balance with a rolling, hard foam cylinder underneath. While I am normally terrible at these, I was able to place it under some hanging gymnastics rings for support, and was able to get the hang of it. There was also a vault, which, too, reminded me of my days of gymnastics. In this area, there was also a rope you could climb, or swing on, as my friends liked to do.
Luiza found it strange that I felt comfortable exercising and using the gym equipment in front of men. I then remembered that the reason why this was a shock to her was because gyms in Kyrgyzstan are divided by gender, which is common in dominantly-Muslim countries. I explained to her that gyms in America are co-gender, which was why I didn't even think about it when exercising.
After finishing another round of sit ups and bicep curls, everyone was about ready to leave. I jumped on the trampoline one last time with my friends before we all headed home for the evening, sometime around 8 PM. We had been there in total for about four hours.
Although considerably smaller than Sky Zone, I enjoyed my time both on the trampoline and utilizing other exercise equipment at On the Wake. I appreciate that I had this experience with locals, because it allowed me to learn a variety of new vocabulary words in Russian contextually, such as those for trampoline (батут), jump (прыгать), arm wrestling (побороться руки), etc. It was also interesting to be able to compare this type of experience with the ones that I've had in America and how they are alike and different. For that reason, I would recommend visiting some sort of sports complex for anyone abroad long term. Not only does it help with contextual language learning, but also with cultural understanding.