Moscow is a giant, international metropolis. One can find food from just about every culture here, so long as you look for them. Below are several examples of some very different places to satisfy very different cravings for world cuisine – that are accessible from a student budget – in Moscow! Thanks to all the SRAS students who have contributed to this list!
Introduction
Vegetarian: Moscow was once a desert for vegetarians. No longer! Most restaurants have at least one or two vegi-friendly selections available. Ganga Cafe, Avocado, and Sok offer all vegetarian food with fresh ingredients in creative dishes. Also, pretty much any Georgian restaurant (as common here as Mexican restaurants are in the US) will have many delicious vegetarian dishes rich in bean, nut, and/or dairy protein.
For other vegetarian-friendly cuisines, try Jagannath (Indian and Asian), Viet Café (Vietnamese), Addis Ababa, (Ethiopian), or Staryi Sichuan (Chinese) food.
You can also read more the History of Vegetarianism in Russia from our sister site, SRASstudents.org.
For Music: Kitaisky Lyotchik (aka Dzhao Da) features local and European bands with reasonably priced drinks and covers. 16 Tons is more expensive, but also gets in some bigger names from time to time.
For Sports: BarBQ is an expat hangout in central Moscow that shows English and American Football and major basketball and baseball matches. If you have a special request, the management may be willing to tune one of the several big screen TVs to the match that interests you most.
For the Homesick: Starlite Diner, open 24 hrs, is an old expat favorite featuring American food in an America-dripping ambiance. You'll find burgers, milkshakes in metal mixers, pancake stacks, and even some passable Mexican foods. Moscow now has a lot of great burger places – try B&B Burgers and Peterburger for experiences that will rival any you've had in the states.
Brew: Craft brews are now sweeping Russia. Moscow has several places featuring large selections. Try for instance, Craft Republic, Vse Tvoi Druzya, and Beer Market. For a retro Soviet experience, try Zhiguli, a revived Soviet standby on New Arbat that bears the same name as a popular Soviet brew. They have very reasonable prices, and they play live music, usually Soviet retro, at night in the back hall.
Student Reviews
Various Locations
Review by Samantha Barrett

In celebration of the Fourth of July, the students of SRAS Moscow were invited to breakfast at an American-themed restaurant called, "Starlite Diner."
Starlet Diner takes the idea of "American diner" very seriously. Red padded stools around an aluminum bar, rock and roll band posters littering the walls, and a real working juke box all help to tie together the homey feeling of a retro cafe.
The menu at the restaurant was possibly more American than food in American chains! There were bacon and eggs, burgers with fries, hotdogs, and my favorite item–mutant sized milkshakes!
The milkshakes alone are enough to feed a small village. One of my favorites is a huge glass dipped in melted chocolate with the rim coated in M&Ms and chocolate shavings. On top of the milkshake itself is a thick layer of whipped cream, more M&Ms, and a cherry!
This time I ordered a stack of pancakes, a bacon, egg, and cheese breakfast sandwich, and a chocolate milkshake. This excursion was delicious–a perfect way to celebrate America's birthday while not being in the country itself.
Various Locations
Review by Kyle Mendes

To find Avocado simply come out of the Chistie Prudy station, stay to the right, and walk down the street. You'll run into the restaurant in about a quarter of a mile or so. They serve exclusively vegetarian food, and in fact, according to folks on various internet forums, some of the best vegetarian food in the city.
Location/Service/Food
Avocado is nestled amidst drooping trees and seems almost purposefully tucked away from the busy street. The covered entrance gives the feel of a high-class restaurant, yet you can tell right away that it's a pretty casual place. To the left of the entrance you see outdoor seating visually connected to the inside via vibrantly painted windows and decorated with large white drapes. The inside of the restaurant itself has a bar on the left, most of the seating on the right, and light rock music coming through hidden speakers. The waiters (at least some of whom speak English as evidenced by the service given to the two American women sitting near me) seem to just be hanging out when they aren't rushing food to various tables.
Scanning the menu, the place does seem a bit pricy. Ordering a salad and an entree will probably run you close to 300 rubles and it would be easy to spend much more. However, like many such places in Moscow, they do offer a fairly cheap business lunch. Avocado's is just 210 rubles.
The lunch came to me in three courses: the first, a beet salad with a French roll and a glass of juice. The second was a bathtub-sized bowl of vegetable soup with tiny pasta, red and yellow peppers, onion, tomatoes, and parsley. As the weather seems to be slowly but surely changing to the chillier side, I had actually awoken that morning feeling a bit under the weather. But this soup warmed me right up.
I thought I was through after the soup, but the waiter brought one more dish. I'm still not too sure what it was. It seemed to be slices of cooked potatoes (or perhaps pumpkin?), carrots, peppers, tomatoes, and onions covered in reddish sauce and garnished with dill. Whatever it was…it was transcendent.
I'm a person of considerable carnivorous leanings, so I had my doubts as I prepared myself for a meatless meal on this adventurous outing. But that final dish was just so amazing. It was heavily seasoned without being the slightest bit overbearing. It satisfied both my palate and appetite in a way that usually only a few (usually meat-ridden) dishes can. The whole procession of salad, soup, and savory, saucy goodness was, it seems to me, nothing short of genius. Perhaps I'm pushing the boundaries of hyperbole, but I assure you, it was really, really good.
Conclusion
I found Avocado to be my ideal type of restaurant: sit-down, full service, and having that aesthetic that communicates confidence and dedication to its food, yet also a casual, unpretentious attitude towards its presentation. I have to say that when it gets even colder, this will probably be the first place that comes to my mind when I want a satiating meal that will warm and replenish the insides.
Various Locations
Review by Ann Le
As a huge fan of Italian food, I've been really excited about the ubiquitous presence of Italian cuisine in Moscow. So far, one of my favorite places is Rukola.
Like many restaurants in Moscow, it is much bigger than it seems from looking at the entrance. There are three floors, each beautifully decorated. The first floor is more casual, with lots of natural lighting. The second and third floors seemed fitting for a date but was still casual.
My lunchmate and I ordered a pasta dish with chicken, creamy pesto sauce and spinach. We also ordered a pizza with tomato, mushroom, prosciutto and bacon. The pasta was delicious. It was the best textured pasta I've had so far in Moscow. It was cooked perfectly al dente. The cream sauce wasn't very "pesto-y," but I was okay with that because it was quite delicious. The pizza was also very fresh tasting. The crust was light and crispy, just the way I like it.
I already can't wait to come back here, especially for the pasta.
Staraya Basmannaya 9/1
Review by Ann Le
If you are studying at the Higher School of Economics (HSE) and need a break from the food at the stolovayas, try some of the cafes located nearby. Florentini City Cafe is located on Staraya Basmannaya Street, which is on the left side of the street as you're walking to the HSE classroom building nearby. In the summer, they have a nice outdoor patio on the left hand side.
The food is a little on the pricey side, especially when compared to the stolovayas by HSE. But then again, anything will after eating there a few times. However, you're going to be spending just a few more dollars for a nice atmosphere and pretty good Italian food. My lunchmate and I ordered a Margarita Pizza and Four Cheese Ravioli. During lunch hour, they give a 20% discount.
The service took a little while, but we made sure to let our waiter know we had to go back to class in an hour. The food came out about 15 minutes later, and was pretty good. Not amazing, but I did enjoy the atmosphere.
Florentini seemed to have a good amount of seafood dishes, so I might give that a try next time. There's also a "Top 5 Summer Dishes" menu that offers gazpacho soup and seafood salad with eggplant. Again, its on the pricey side, but I might consider going again since I liked the patio.
Malyy Kazennyy per., 16
Review by Joseph Ozment
Laflafel has recently made its full entrance onto Moscow's restaurant scene, serving up Middle and Far Eastern dishes with Russian dishes interspersed throughout the menu. The friendly owners speak English and will take time to explain the dishes to you.
The foreign dishes on offer range from Israeli to Indian, with a small menu ensuring that food is always out quickly. The soup of the day arrives within minutes in its own cast iron pot. Make sure to ask which soups are available that day, and I recommend the sambar, a south Indian spicy lentil soup.
The daily selections are listed via placards on the wall, and usually include hummus served with pita and salad and a falafel burger that will delight burger enthusiasts and vegetarians alike.
Each dish on the menu is unique, complete with its own flavors and spices. Follow the Sambar with Palak-Paneer (380 rubles), or something milder like the Israeli favorite latkes (potato pancakes). The Russian breakfast dish kasha is always available on the menu as well.
Two rooms make it easy to gather with friends, or sit and enjoy a book paired with tea or coffee. Sit at the large, rustic bar and order an iced latte (150 rubles) while vinyl records of Western pop and oldies give the café a hipster buzz.
Vegans can enjoy Laflafel's signature Spielberg (340 rubles), a Russian-style cutlet of falafel, chopped and tucked with hummus and served with a side of vegetables.
No matter the origin, Laflafel's dishes are authentically exotic, yet done subtly enough and in such a casual settling that they are incredibly approachable. Portions are very well sized, and at reasonable prices, one can easily order several dishes without feeling full or as if the wallet has taken a hit.
Combine this with the charm of the place and the fact that you'll likely be served by the restaurant's owner, and Laflafel certainly stakes its claim as a great spot for a casual get-together or getaway.
Two locations (see here)
Review by Ann Le
Sushi is extremely popular in Moscow. You've probably noticed that everyday cafes offer a variety of sushi along with other dishes, whether Italian or Armenian. In fact, Russians eat more sushi than the Japanese. Fresh fish is flown in everyday to Moscow on a Boeing 747 in order to satiate Muscovites' appetite for sushi.
Bento Wok is one of my favorite places to get sushi near Aviamotornaya metro, where one of the Higher School of Economics' dormitories is located. When I need a break from schwarma or other fast food, I come here. HSE students swear by their sushi, citing it to be the freshest and cheapest in the area. I used to order their noodles here, which are great. However, I jumped on the sushi bandwagon and found myself coming here each week to order their assorted Bento boxes. For about $4, you get about 18 pieces. For example, Assorted Bento 1 includes rolls with crab and salmon. It's the perfect amount to get full. Or, you can order the Assorted Bento for Two, which includes 26 rolls for about $12.
Other than sushi, they offer a variety of fresh salads and soups. The only thing I would not recommend that I've tried, is their Tom Yum soup. For almost $5, you get coconut milk broth with just a few small pieces of shrimp and mushrooms.
As for their noodles, you choose the type of noodle you like, the type of meat or vegetable, sauce and other toppings. Noodles start at $3. With each add-on, you get charged a small additional fee. I ordered the udon noodles with Thai sauce. I got a dish that was not actually made with udon noodles nor Thai sauce. I still liked it anyway. You can't afford to be picky about that kind of thing here.
Many people seem to order their food to-go, as the cafe is quite small. Each sushi takeaway order comes with a cute sealed soy sauce bottle, plastic sauce dish and chopsticks.
Overall, I really enjoy coming to this place. I like being able to eat at the cafe and watch people walking by on the streets. If I am pressed for time, it's nice to have the convenience to order my food to-go. But most of all, I love the freshness and quality of the sushi here.
If your Russian is good enough, you can order your food and get your food delivered.
3-rd Tverskaya-Yamskaya, 36/40
Review by Alyssa Yorgan

Many countries with an economic and diplomatic presence in Russia will likewise have a cultural center somewhere in the Moscow area, where anyone interested can sample said country's food, art, and/or music without buying a plane ticket. These centers, which often function as off-shoots of the embassy, host a variety of events, many of them free or priced for students. A scan of the Czech House's offerings, for example, showed that an exhibit of Olympic photography is currently on display (see photo), a Czech film will be shown at the Russian State Library of Foreign Literature (ВГБИЛ) as part of a festival dedicated to International Women's Day, and, for the truly hard-core, Czech language classes are available. On this particular evening, I was invited by my friend Honza, who in addition to being a living and breathing citizen of the Czech Republic, works for a company that sells luxury chandeliers to Russian businesses.
The House also happens to have an amazing restaurant on the first floor that serves traditional Czech dishes like Roasted Pork Knee (pečené vepřové koleno) — an impressive kilo of meat served bone-in with mustard and horseradish. For those with less of a voracious appetite, I'd recommend the Gulash with Dumplings hovězí guláš s knedlíkem. They also serve real Pilsner beer (which, as I was told, differs from the "inauthentic slosh" on tap at the Pilsner restaurant chain in Moscow.) It also only runs about 80 rubles ($2.25) for a half liter. For those yet to encounter downtown Moscow prices (where 300 rubles for a standard bottle is not uncommon), these prices are pretty low. Be ready to turn on your currency converter app. though, as everything on the menu is listed in euros (however, rubles are accepted as payment.)
Because this restaurant functions as part of the Czech House, going there requires a bit of planning ahead. There is a guard at the door whose job it is to figure out why you're there, as the primary clientele consists of people affiliated in some way with the Czech Republic. That said though, all I had to say was that my friend was waiting for me in the restaurant (which was true, but it didn't seem like anyone was too concerned regardless; nobody asks for ID.) Nevertheless, it might be best to plan a trip to the restaurant in conjunction with attendance at an event being hosted there (a film showing, exhibit, lecture, etc.) which can be found listed (in Russian and Czech) on their site. This will help get the most out of your visit and put to rest suspicions that you're just there for the cheap beer. You know, like going to your university's Hari Krishna meetings for the spiritual experience, with the awesome free food being an afterthought.
More to Do in Moscow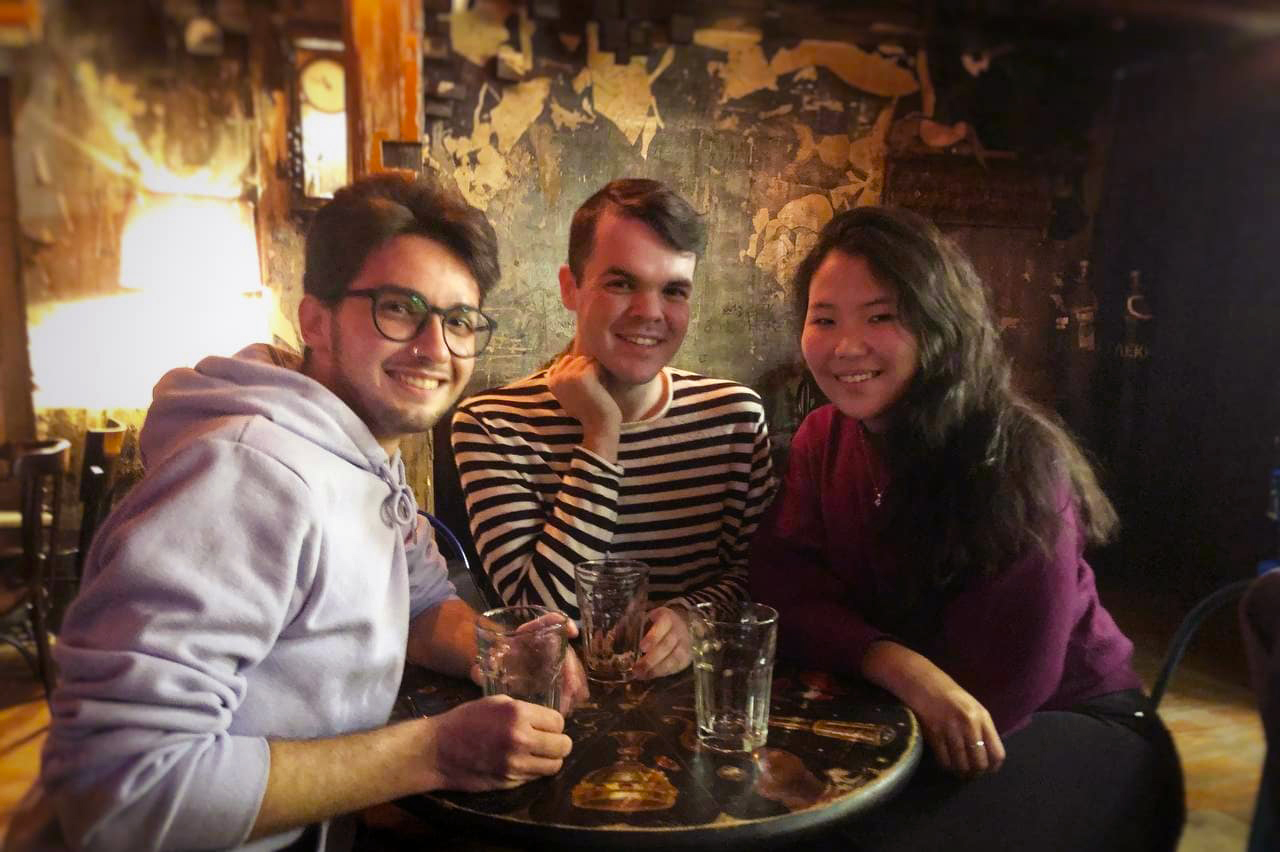 When a foreigner thinks of Russia, a few things likely come to mind – brutal winters, bears, and vodka – but drinks of choice are changing fast here. Vodka and other spirits are on the decline and have today given way to a new, gentler, and more cultured King of Booze – beer. Beer sales […]
0 comments