Running is one of the oldest forms of exercise there is and for good reason: it's cheap and easy (to understand, hard to do sometimes). It's also an amazing way to explore a brand-new city. When I came to Warsaw, Poland I was excited to put some rubber to the road. In this article I'll share a few of my favorite running routes in the city, some overall tips, and the best places to get the basic gear needed to start clocking' those miles.
First off, I'm no Usain Bolt. Running is still a challenge for me and my times, speed, and distance are nothing to write home about; but that is what is great about running- it is an activity in which you're only focused on improving yourself and can start at any skill level. I'll be honest though, starting off can suck. Your lungs will burn, legs are going to hurt, and the urge to stop will be a very tempting choice. The thing is, it gets easier; you just need to keep at it. Over time you'll get stronger, faster, better and this is when you'll fall in love with running.
Running Routes in Warsaw
Onto my favorite routes in Warsaw! First up is the old town loop. This one is great because you get a taste of everything Warsaw has to offer: modern skyscrapers, beautiful parks, and the charming old town. The route starts off by passing through the Ogrod Saski Park and then onto the Ogrod Krasinskich Park which has the quaint Palac Krasinskich in it. The route then loops down around the Multimedialny Park Fontann and up into the beautiful oldtown of Warsaw. It got a little difficult here because the oldtown sits up on a hill but running up the narrow streets to get there was a fun path. One thing to note about running in the oldtown however, is that you should watch your footing on the cobblestone. It's better than some other European cities (looking at you Rome), but still be careful. After finishing up in the oldtown I was cramping up and decided to cut my run there. Luckily, Warsaw is a very scooter/bike friendly city, so I just rented a scooter and zipped back home.
The next route is the Pole Motowskie Park route. Warsaw has some amazing parks in it and can boast that around 50% of the city is green space. Pole Motowskie Park is one of the larger ones and serves as a great place to put down some easy miles on flat, open trails surrounded by nature. With this route the most difficult part is actually getting to the park. I opted for renting a city bike (which can be done for only 1 PLN – or about 25 cents) to get me there quick and still with all the energy needed to get a good run in. I really enjoyed running in this park because it was well varied, had a good amount of people (and dogs), and had some great fall colors.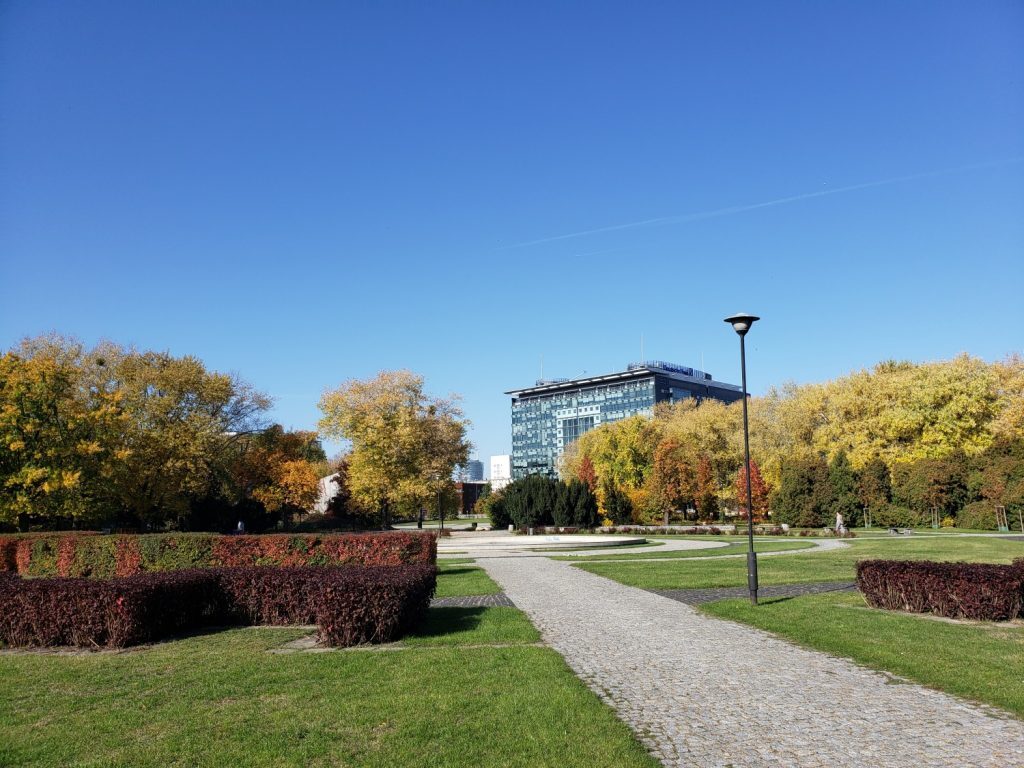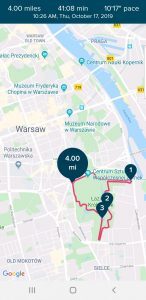 Next up is the Lazienki Krolewskie Park route. Lazienki Krolewskie is the crown jewel of the parks here in Warsaw and is an amazing place to run. Again, the same strategy of renting a scooter or bike can be used to get to the park or you can use public transportation as well. You're going to want to save your energy for the run because this park is huge and it is well worth exploring every inch. I ran the outskirt of the park for the most part but had to tuck in to get an up close look at the beautiful Palac na Wyspie. This route is also great if you are feeling like you need an escape from the hustle and bustle of the city. Midway through my run I took off my headphones and all that could be heard was the pounding of my feet, hard breathing, and the soft sounds of nature. My absolute favorite part of this route though, are the trees. It's Fall right now, the leaves are turning, and the trees make this a stunning run.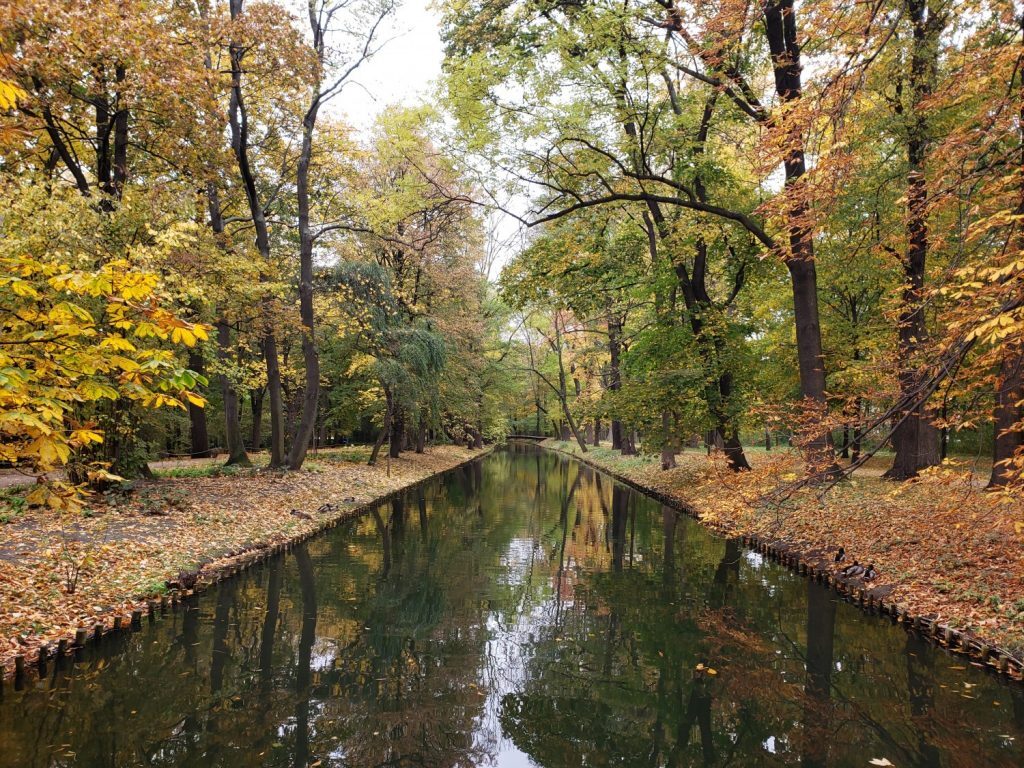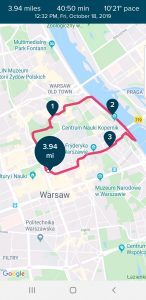 The final route I call the river run. This route lets you get up close and personal with the beautiful Vistula River, and provides views of the modern bridges and the PGE Narodowy Stadium. The pathway along the river is akin to the Chicago Riverwalk and offers a modern pathway with plenty of benches, modern art instillations, historic monuments, and great views of the Praga District of Warsaw. I love this run because it offers a very open setting. Unlike other cities when Warsaw was reconstructed after the Second World War, they made sure to leave the river-front free of major skyscrapers. Additionally, the design of the pathway along the river makes it a fun and partially technical run that encourages you to push yourself to go faster, and before you know it you'll be at the end and wanting to do a second lap.
I think if I had to choose a favorite route of those listed above, it would be the Lazienki Krolewskie Park route. There is just so much space, trees, and pathways that running it feels different every time. You can go further and further and can start to combine routes and have fun and varied runs.
Buying Running Equipment in Warsaw
For running equipment, the most important piece of equipment to have is proper, comfortable footwear. Specific running shoes are probably the best option; lightweight, comfortable, and generally not too expensive (300 PLN). If you're looking to run in rain or even in freezing weather outside, consider a pair of trail runners. These offer more grip on the bottom and waterproofing/resistance; but may be slightly more expensive (500 PLN). Other than that, just some running shorts or tights and a fast-drying shirt and you're good to go. Oh, and music! Podcasts or some good music are a must when I run so I suggest some Bluetooth headphones for this. In Warsaw there are three stores I suggest checking out for running gear. The first is Martes Sport, they sell sports equipment for a wide variety of activities and carry the big-name brands. Here I purchased a dry-fit running shirt for 80 PLN ($20) and trail runners for 440 PLN ($110). The next store is Zgoda FC. They specialize in football (soccer) and running equipment, a pair of running shoes sells for 600 PLN ($150). The last store I suggest is Sklep Biegacza (Runner's Store), and they specialize in everything running. A pair of Nike running shoes sells for 500 PLN ($125) and a long sleeve running shirt for 229 PLN ($58).
Running is one of the best ways to explore the new city you are studying in, stay in shape, and not blow the budget. If you are ever in Warsaw and have the time to squeeze in a run, check out some of the routes above for a great experience! I'll finish with this quote from American marathon runner John Bingham: "If you run, you are a runner. It doesn't matter how fast or how far. It doesn't matter if today is your first day or if you've been running for twenty years. There is no test to pass, no license to earn, no membership card to get. You just run."