The first thing to know about Kyrgyz food culture is that it is heavily meat based, due to its nomadic history. It is not impossible to maintain veganism while in Bishkek, but it is difficult, as even vegetarianism is not common here. People assume that it's purely for diet reasons, rather than ethical or environmental, so dietary misunderstandings are regular. The most important thing to do is to check everything and be sure to over-communicate, in a clear and respectful way.
Eating Out
There aren't any purely vegan restaurants or cafes in Bishkek, but there are a number that offer vegan options, or are at least happy to make adjustments upon request. If a menu says something is vegetarian or vegan, it doesn't necessarily mean that it is – always be sure to clarify, as sometimes locals define vegetarian/vegan options as simply vegetable based dishes, rather than meat free.
Root 'n' Roll
76 Baitik Baatyr St
This is a street food cafe located within Ecoland, across the road from the London School. Here, you can get falafel wraps and burgers, with a selection of sauces such as hummus, chilli sauce and vegan mayonnaise.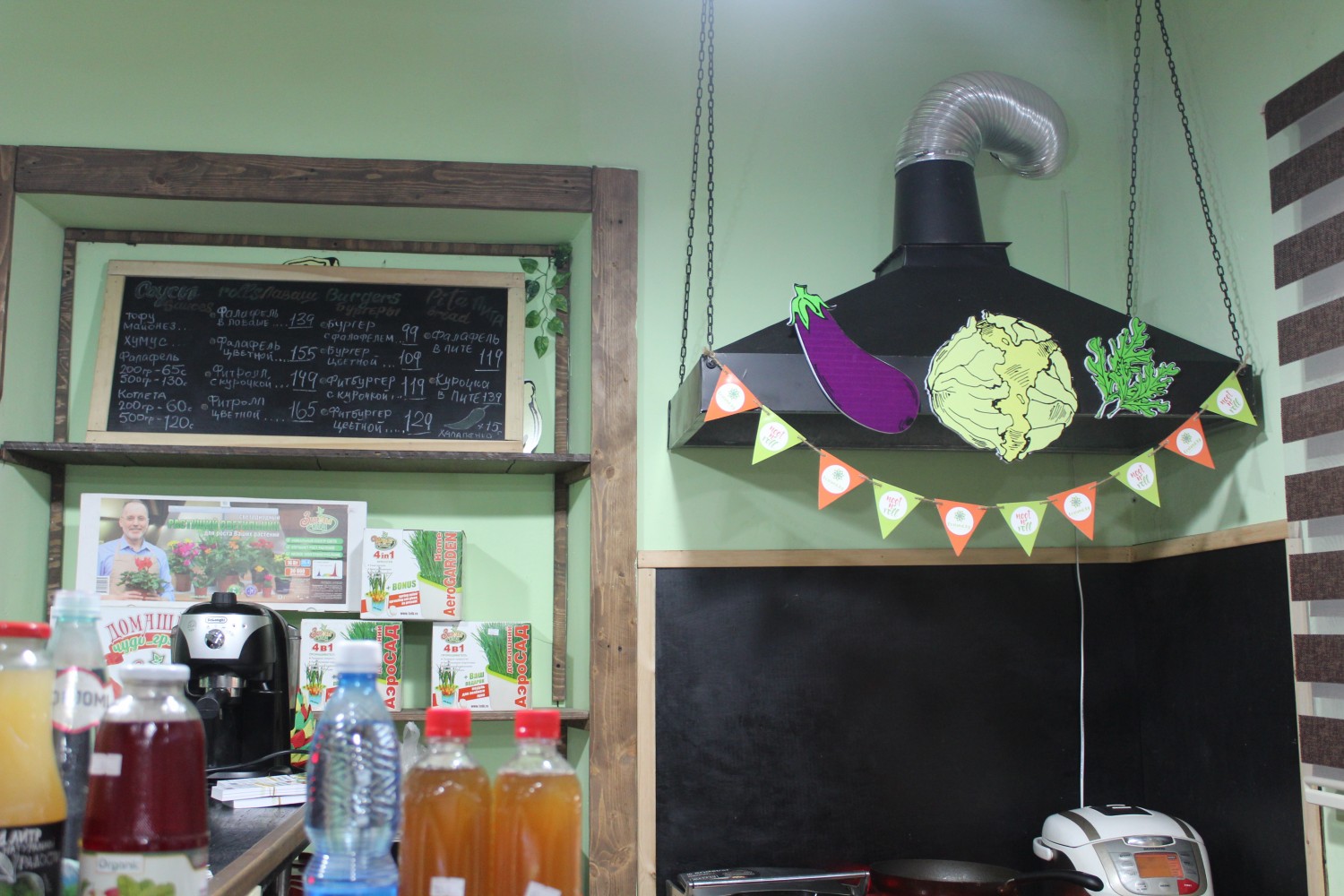 Seoul
137 Yunusaliev Ave
One of my best vegan experiences in Bishkek was at Seoul, a Korean restaurant. As the owner is Korean, I wasn't met with the baffled response that is usual in Kyrgyz restaurants. We ordered a large selection of Korean dishes, and simply asked for meat and eggs to be removed where possible. Korean food is generally low in dairy products anyway, so that wasn't an issue. Just watch out for oyster sauce!
Chicken Star
Erkindik 36
Don't be fooled by the name – while Chicken Star does specialize in chicken, there are a couple of tofu based options on the menu that are suitable for vegans. This is undoubtedly one of the most popular restaurants in Bishkek with expats and locals alike. I've never heard anything but glowing reports. The owner is Korean and speaks English, so it should be easy enough to explain dietary requirements.
The Host
204 Usup Abdrahmanov St
This is a well priced Indian restaurant with a wide range of easily modifiable vegetarian curries. Check out our review for more information.
Somewhere Bistro
Jibek Jolu 487
This as an expatriate bar and restaurant, run by a French/Indian team. One of the owners is vegetarian, so there is a selection of veggie Indian snacks, that can be made vegan upon request.
Alternative Vegan Options
If you do go to a local restaurant, there are certain options on the menu that are usually vegan or easily modifiable, as listed below:
Cheeseless vegetarian pizza

Potato or pumpkin manti

Vinaigrette (a Russian beetroot salad)

Lentil Soup

Grilled vegetables

French Fries

Lepyoshka (a round Kyrgyz bread)

Meatless Lagmon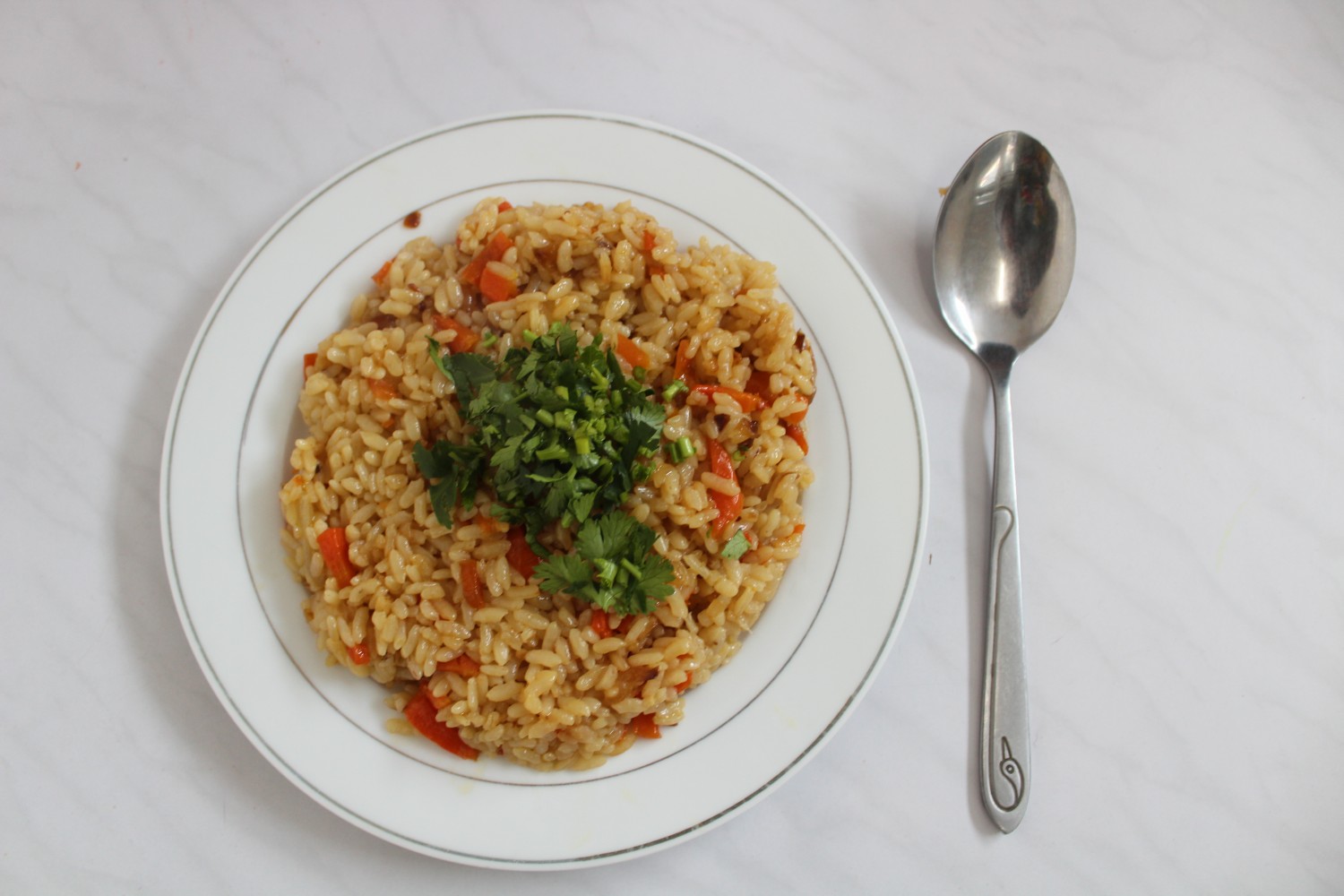 Grocery Shopping
Grocery Stores: The closest place to find well priced vegan milk and peanut butter is 7 Days, about a 20 minute walk from London School dormitories, or at Frunze in the Vefa Center. Vegan milk as well as tofu can be found at Alma, and Globus Supermarket. Vegans at London School should also definitely check out Ecoland, which across the street and has a large selection of vegan meat, specialty products, and (admittedly overpriced) vegan milks. Check out our review article for more information.
Bazaars: The best and closest place to get fresh, high quality fruit, vegetables, and nuts, is Ak Emir Bazaar, about a 30 minute walk from London School. The other two bazaars worth visiting for groceries are Orto-Sai and Osh Bazaar. You can buy all kind of high quality produce in bulk for a really good price – way better than you would find at a standard grocery store.
Visiting Locals
If you live in a home-stay or have the privilege of going to a local's home for a meal, there are some things to be aware of. Firstly, the family will likely never have catered to a vegan before, so make sure that you explain your diet in detail and provide options of local food that can easily be veganized. These include:
Plov cooked in vegetable oil without meat or fat

Potato or pumpkin manti

Vinaigrette

Borsh

Lentil Soup

Salads made without fish, meat or mayonnaise

Fried vegetables and potatoes
It is also customary to bring a small food gift such as sweets or baked goods when going visiting – you can use this as an opportunity to bring something vegan and share some of your own cuisine. In terms of explaining veganism, be honest with your views but also be gracious if people don't understand. The Kyrgyz people were not traditionally farming communities, but nomadic hunters, so the ideologies here are not the same as in the West. However, as most Kyrgyz people are Muslim and don't eat pork, this is an easier starting point for explaining why you don't eat certain things. From my experience, people are sympathetic towards health and environmental reasons, but not as much towards animal cruelty, so be aware of this. I would not at present recommend that a vegan lives in a home-stay long term, but if you are staying in dorms and cooking for yourself, it is perfectly plausible to maintain a healthy vegan diet while living in Bishkek.
For more information on vegetarian friendly eateries, check out the Vegetarian Guide.