Ош Базары/Ошский Базар/Osh Bazaar
No street address; 3 km west of city center on пр. Чуй
Most stalls open from sun up to sun down
No entrance fee
Today I decided that I needed to experience something that I have long wanted to. Today I decided to go to my first real bazaar in Central Asia, and frankly, in the entire world. As a little boy, like anyone else, I had musings of traveling to the orient, filled with far-away people speaking strange languages, hustling and bustling, selling, bartering and buying anything they could. I imagined this electricity in the air and constant movement. In essence I pictured a bazaar to be the beating heart of any South/Central/West Asian city. The bazaar I went to is called Ош Базары in Kyrgyz and Ошский Базар in Russian. It also does not have a proper street address. This is not so uncommon in Kyrgyzstan and most of the locals do not find this strange. Certainly any cab driver will know exactly what you mean if you just tell him you want to go to Ош Базары.
On the cab ride over to the Ош Базары/Ошский Базар (Osh Bazaar), it would be dishonest to say I wasn't at least slightly worried that it wouldn't be all I pictured as the romanticized oriental bazaar from my childhood dreams. My worries were all short-lived, because everything I saw superseded my expectations.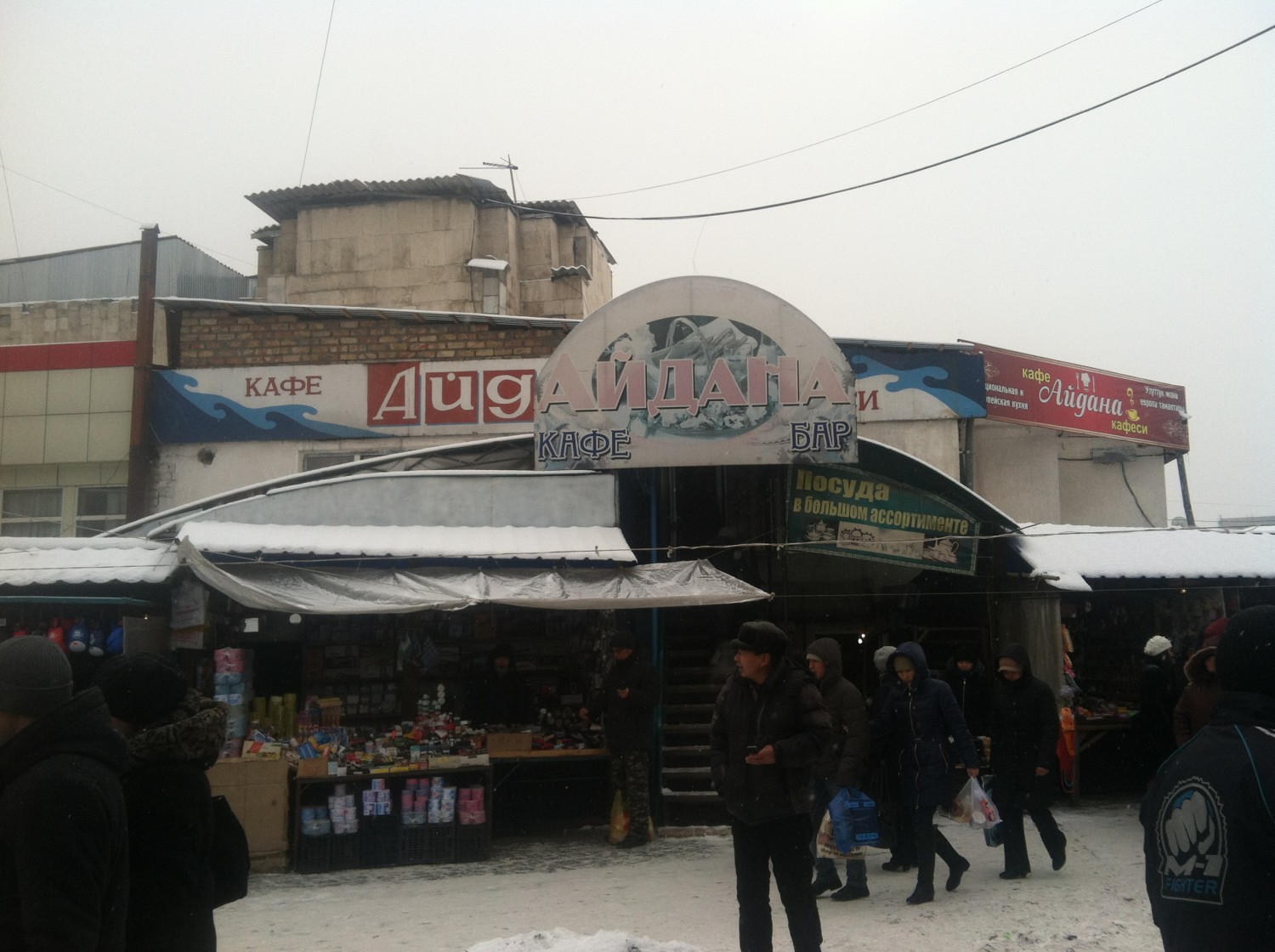 I left the dorms at around one, and snow was falling from the sky. There was a slight breeze that caused the snow to fall diagonally, which for some reason added to the theatricality and excitement I felt. I hopped a cab right outside school and told him where I wanted to go. The cabbie and myself both agreed on an even 200 som ($3.93) for the price to get me there. After a quick ride over, I noticed the closer and closer we got to the bazaar, the more and more people I was seeing. I was excited. I paid the fare, hopped out and headed toward the bazaar. The first thing I immediately noticed was the temperature. While it was a brisk 5 degrees Fahrenheit today in Bishkek (nothing a Buffalo boy like me can't handle) I noticed that even though the market space was mostly outdoors, it got warmer and warmer as I got deeper into the bazaar. It was probably due to the narrow corridors, abundance of people, and fires everywhere that created a "heat bowl", so to speak.
There was everything here, and it was everything that I imagined. From traditional Uzbek clothing, to traditional Kyrgyz rugs, to Kyrgyz military surplus gear, to power tools, to a seemingly endless emporium of dried fruits and foods where everyone was trying to get you to buy what they were selling. And this was only in the first few minutes of me being there. These people are tough, and I love that. There are elderly women who work selling items at the bazaar and probably stand outside all day in the weather, even if it is 5 degrees or slightly warmer. It is an entirely fast-paced experience. People are constantly pushing past you trying to get where they need to get to.
This was not grocery shopping as we imagine it in the West, where we go to an immaculate super market, with relaxing music playing, where we have ample amounts of personal space and everything we purchase is wrapped in some sort of sterile container. Not in the slightest. This is way more fun. There is a constant struggle inside the bazaar. Heck, I felt like I was in a competition just walking through there, and I loved it.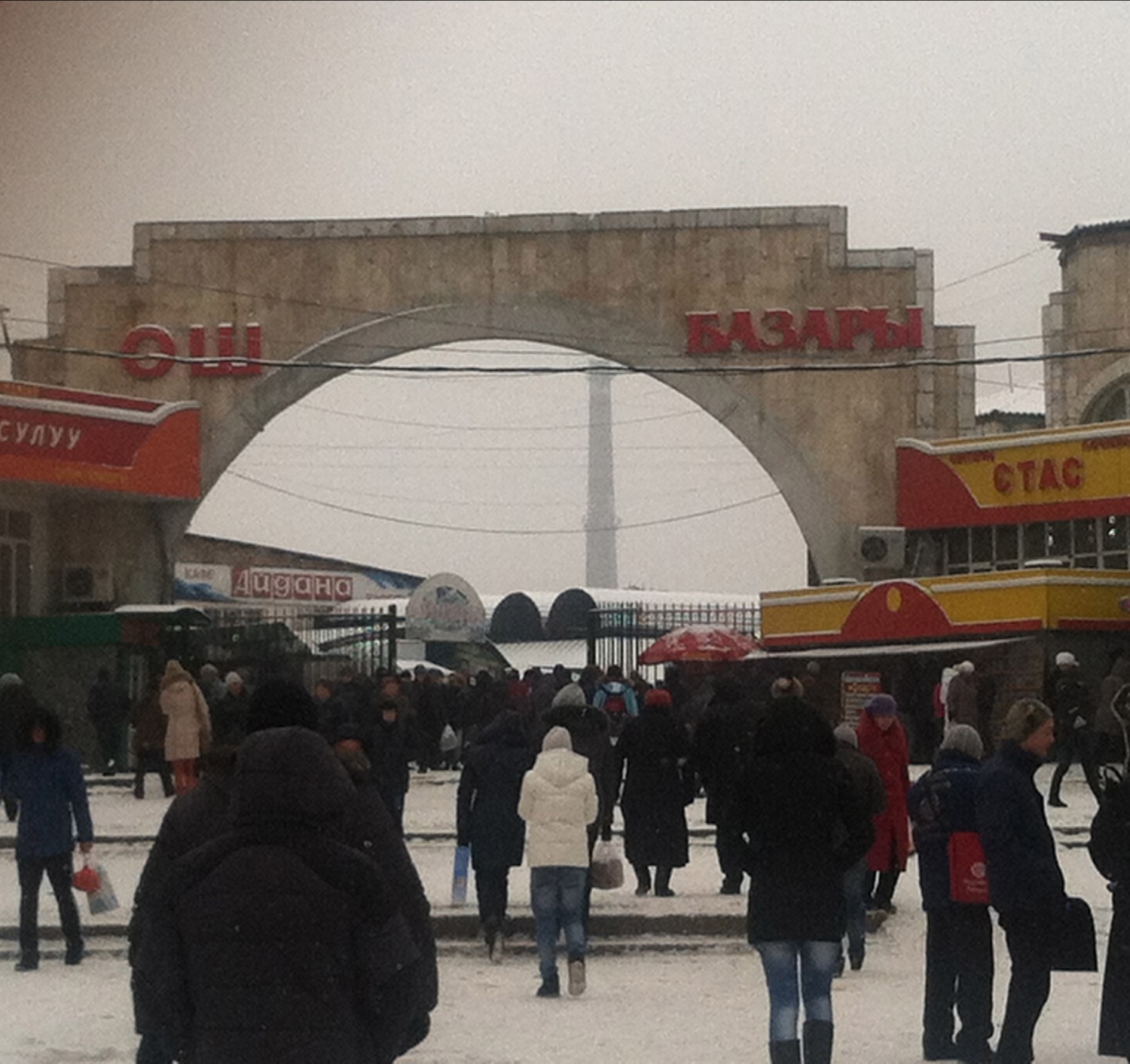 I would love to be able to explain how to find your way inside the bazaar, but truth be told I mostly just wandered, and I don't think I could have found direction in there if I tried. It is a labyrinth of narrow corridors and walkways, each with different sections that had their own sections within them that fanned out like the delta of a river, which led into other sections and corridors of their own. At one point, when I was looking for a place to buy Kyrgyz rugs, I stumbled into the section with women's clothes. I felt slightly out of place, so I started walking quicker than I would normally, being the only male there. I ended up in a large section for women's underwear and lingerie, and I was the only male there, and I was getting some funny looks. I decided to just head back the way I came with my tail between my legs. Eventually finding the area with rugs, kalpaks, and all other sorts of traditional Kyrgyz goods, I bought myself a nice little set of two rugs, together 1000 som ($19.63) and tried to find the way out. After I realized finding direction was futile, I decided to just pick a direction and walk straight until I found an exit. This worked.
After hopping another cab with a friendly cabbie named Osman, I studied the nice little rugs I bought. In all honesty, I felt like a kid again. I felt like Marco Polo or some explorer who decided to go and spend time in the orient. Today was a good day.