Wherever you travel, finding souvenirs is likely going to be a part of the journey. Bishkek has many felt and yurt-themed souvenirs that allow you to remember your time in Bishkek fondly. However, Kyrgyzstan, and subsequently Bishkek, aren't exactly hot tourist spots, so troves where you can find gifts for the whole family are limited. There are two major venues to visit for souvenirs: Osh Bazaar and the top floor of Tsum. Small souvenir shops can be found scattered around the city, but they are more expensive and don't have nearly as many options as Osh and Tsum. Generally, purchasing small mementos is very inexpensive. A magnet or keychain will cost about 70-100 som ($1-1.40), and a cheap kalpak is about 200 som ($2.80).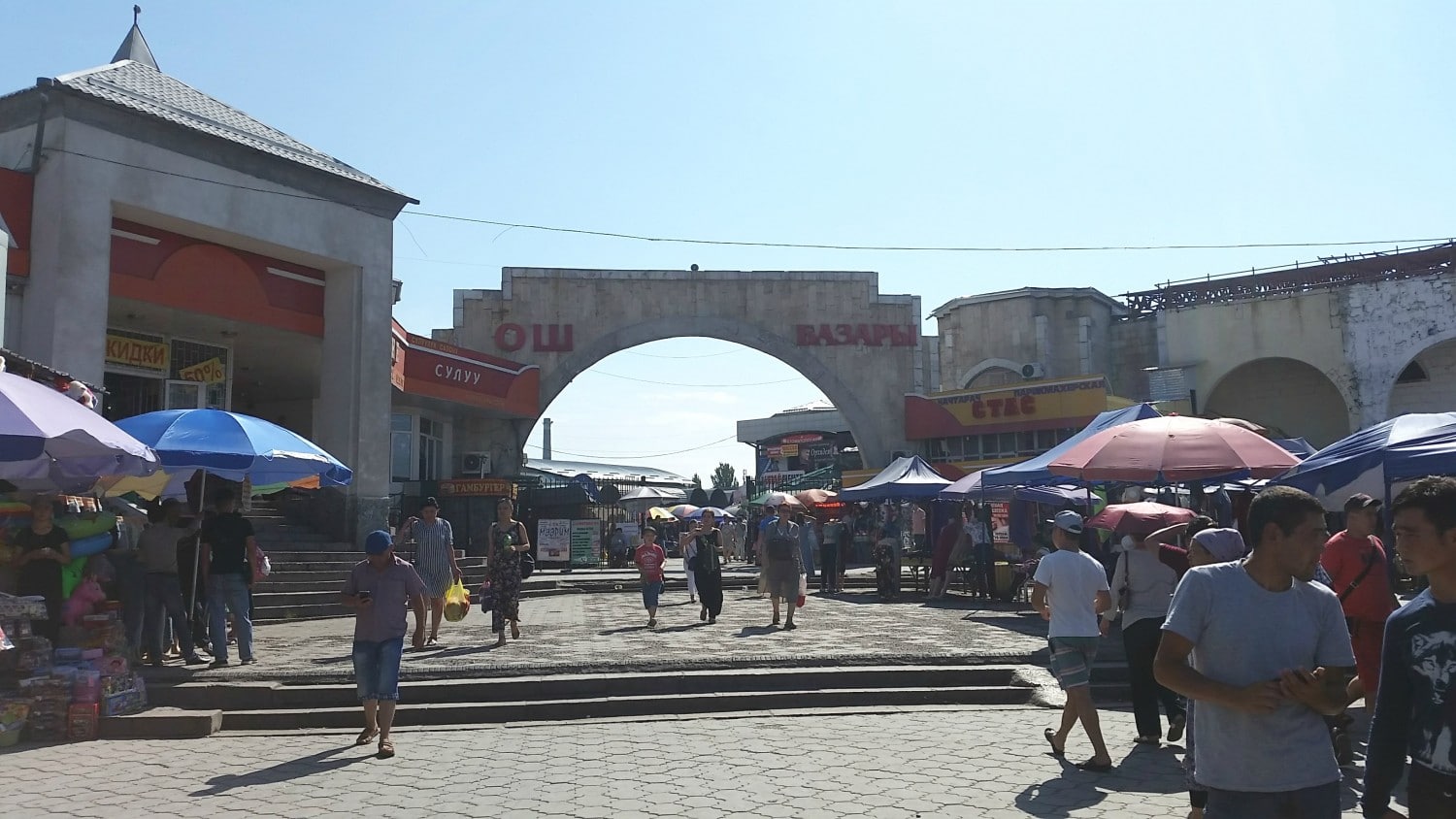 Osh Bazaar
Along Chuy Prospect and B. Beyshenalieva Street (northwest of the school)
+996 551 998 990
Every day: 8:30am-7:30pm
There are two major bazaars in Bishkek, Osh and Dordoi. Both are to the north, but Dordoi is farther from the London School (though also much larger). I never made it to Dordoi in my time in Bishkek, but Osh has everything you need when looking for souvenirs. It's easy to get to Osh — just wait for one of the many  marshrutkas that advertise Osh as one of their destinations. It's about a 20-30 minute journey from the London School, and you can keep track of where you are with the handy 2GIS app. Osh Bazaar is huge and overwhelming, and you'll know when you've arrived. Stands with bread and other food, covered by umbrellas, line the street. You have to walk past fruit and clothing stands to find the aisles with souvenirs. Everything in Osh is loosely clustered by the type of item (food, clothes, home improvement items, military gear, etc). Many souvenir stands are together, but their clusters are spread across many aisles.
Osh Bazaar has the cheapest souvenirs in town. You can find tons of different magnets, keychains, and other trinkets. There are boxes in the shapes of yurts (everything is available in the shape of a yurt) for just 100 som ($1.40). You can also purchase traditional clothing and felt carpets or wallhangings. There are traditional keepsakes like postcards, and more unusual ones like horse whips. If you like collecting patches, the military section has all kinds of patches and even some Soviet pins. You can get a Kyrgyz flag patch for 50-100 som ($0.70-1.40). For history buffs, Soviet hats can also be found at Osh. Even if you aren't big on finding souvenirs, walking around and seeing what the stands at Osh have to offer is fun and can fill up your whole day.
Besides the sheer number of gifts to peruse, another benefit to Osh is the option to haggle. Now, I can't give good tips on negotiating prices because I was far to passive to do anything beyond question the prices of of several items, but other students on my trip successfully haggled the prices of hats and slippers. Negotiating down the price of an 80 som keychain probably isn't worth it and won't be terribly successful, but if you're buying pricier items or purchasing in bulk, you can haggle by offering prices back and forth.
Keep in mind that not all stands are open on all days – and seem to keep their own schedules. I went back on a Monday to finish up buying gifts, and only one stand with souvenirs was open. So if you want to explore everything that Osh has to offer, it's better to be done on the weekend when all of the stalls are open. You'll have to brave throngs of people, but if your mission is to find perfect Kyrgyz keepsakes, it's worth fighting through the people. Plus, you get to experience what it's like to shop at a Kyrgyz bazaar, where you see residents of Bishkek shopping for their everyday needs.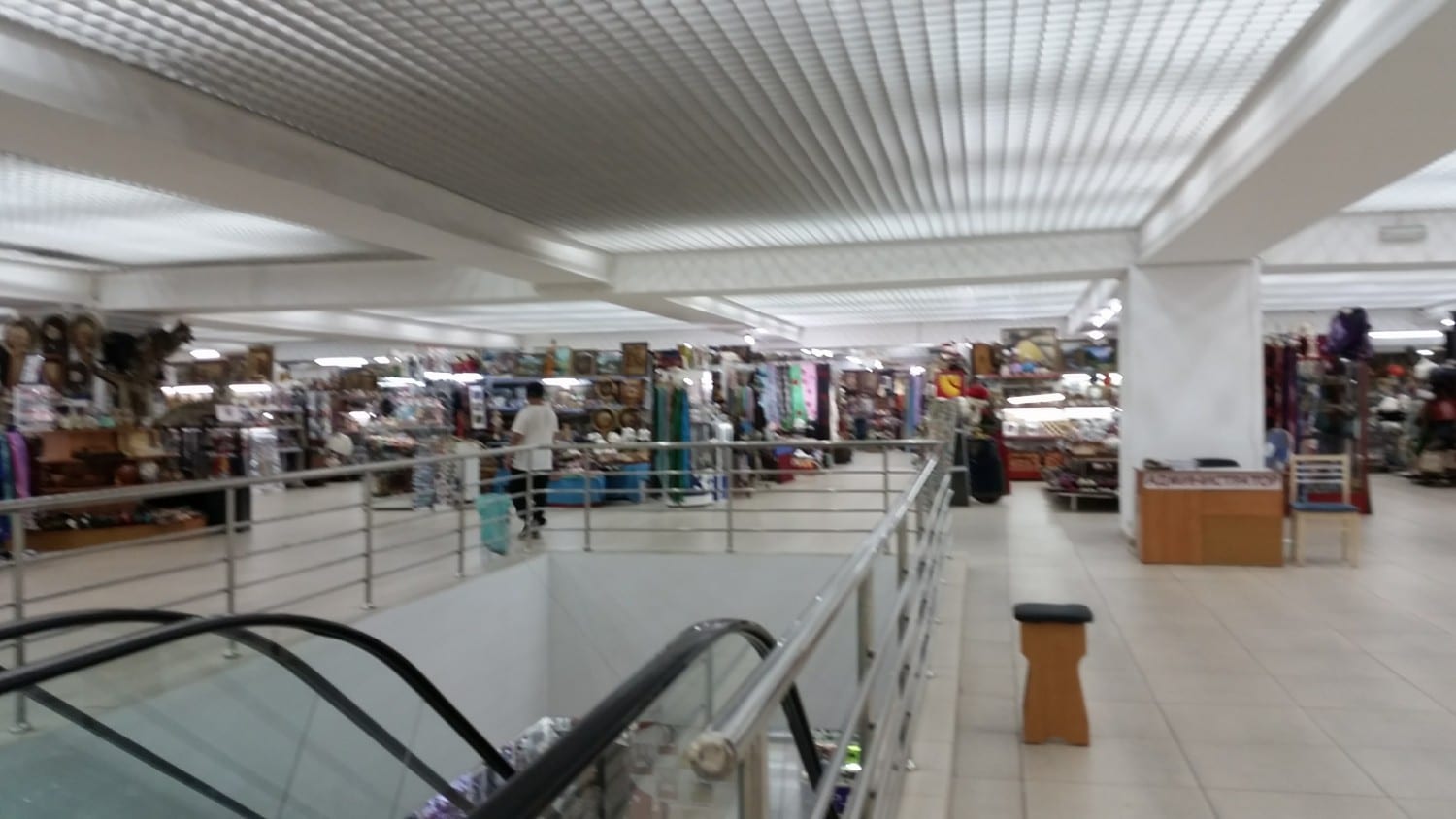 Tsum
155 Chuy Ave, Bishkek, Kyrgyzstan
+996 312 909 279
Monday-Saturday: 10am-8pm
Sunday: 10am-7pm
Website
I stumbled across the top floor of Tsum by pure chance. My friend and I decided to shop around Tsum because we were in the area, and we found that the entire top floor is dedicated to souvenirs. Tsum is easier to get to than Osh and far more relaxed, but everything is generally more expensive. However, it is abandoned compared to Osh, so if crowds aren't amoung your favorite things, Tsum might be a good alternative. Like at Osh, the stands in Tsum have an abundance of keychains, magnets, and other yurt-themed curios. The women working the stands will often pick up something and point out that it is in the shape of or sports a yurt. Things like keychains and magnets can be purchased for Osh-comparable prices at Tsum, though there aren't quite as many options. Anything that is made of felt can be purchased for less at Osh, such as boxes, hats, or slippers.
Tsum has a couple stands of Soviet things. Where Osh mostly has Soviet military gear, Tsum has everything from pins to artwork to household items. If you're interested in finding cool Soviet gear, Tsum is worth a visit. I purchased a Soviet pin for Bishkek for just 200 som ($2.85). At these stands, you can also find interesting things like work from modern artists. Small line art or watercolor drawings can be bought for 400-600 som ($5.70-8.50).
Regardless of where you end up going for souvenirs in Bishkek, there are plenty of small, affordable keepsakes. However, there isn't much for kids. I ended up giving my younger cousins leftover som, and most of my relatives received a magnet. But I still had fun going around the city and sifting through the stands that were chock full of colorful mementos.