Think there's no baseball in Russia? Think again.
America's favorite pastime is gaining popularity across Russia, although it remains a niche sport. Real baseball stadiums can be found in Moscow and its suburbs and Vladivostok, with notable participation in local leagues in St. Petersburg, Nizhny Novgorod, Samara, Kazan, Astrakhan, and more! In St. Petersburg there are not yet official baseball fields, but several parks and old football stadiums are being repurposed- reminiscent of the 1993 classic film The Sandlot. There is an official St. Petersburg Baseball League which runs the show in Leningrad region, but charges high dues for teams to join, encouraging the creation of non-league teams that play miniature 3-team "championship" seasons.
Players are largely Russians who have come into the sport through watching dubbed re-broadcasts of MLB games on television or through friends already involved in the sport. There is also a smattering of foreigners: three or four Americans, a few Finns, and the occasional Japanese or Korean will join teams.
The season goes almost year round, practicing indoors in available high school gyms during icy winters, thus there is a high turn around for players as most with a casual interest in the game only come out during the warmer months. During the summer teams generally garner high interest, many people coming to practices just once or twice to satisfy their curiosity. Summer teams generally claim 30-40 players, with 20-25 full-time members who continue to play through the winter. I was able to sit down and talk with Alexey Khrapchevsky, a player for the St. Petersburg Dockers, one of St. Petersburg's non-league teams, and have shared our interview here:
SRAS: What is your role in the Dockers organization?
AK: I play third base for the St Petersburg Dockers. I also created and moderate our web-site, I handle our press, and, finally, I'm the team preacher.
SRAS: How does the baseball system work in St Petersburg?
AK: We do have a federation of baseball here, but it doesn't actually cover Dockers in particular- it tried to, but we don't want them to dictate their rules, which mostly don't make sense. For now the federation of baseball in St Petersburg covers one "professional" baseball team, the St. Petersburg Rebels, and youngsters. If we're talking about amateur baseball, it's just all about the ego of its president (we're in Russia, so he's more tsar then president quite frankly) Denis Novokshonov. On the other side we see the "Rebels" who feel pretty comfortable under the command of the federation. So the system is still forming, I hope, into something understandable and rational. But we should be thankful anyway for the things such as our amateur (which is not really amateur, and it feels strange to say that) championship of St Petersburg we're now playing in.
Other things like "Leningrad's Annual Amateur Cup" is made and organized by our team itself. Our amateur friends in Moscow created a championship themselves, and they have been holding it for a few years already. So you may understand it's mostly all on the shoulders of middle age dudes, who want to play the game for some reasons.
SRAS: How did you get involved with baseball?
AK: As a youngster I was hitting a tennis ball with a plastic bottle, because it was cool to hit a ball with something looked like the bat I saw in cartoons or movies. Later I discovered the game watching the movie with De Niro about some pitcher [The Fan, 1996], so I was like "Hey! Are those pitchers actually so cool?", then I was bored watching TV, clicked the Viassat Sport channel and there was baseball. It was boring, but cool, because the players looked cool. A few months later my friend, who lives in another city asked me if I watch baseball, and I told him, "Just a little," (right, just one game!). He asked me what my team was and I just remembered "Sox" or something, so I spit out "Red Sox?" and he was so happy, because they are his favorite team. After that I started to watch the game, but I still didn't fully understand baseball. It flipped upside down when I went to Cape Cod [Massachusetts] in the summer of 2009. I was spending my day working for a golf course from 5am until 2pm, then I used to ride to the mall where in a shop named «Sport Stop» I was sitting until 8 pm talking with the dude I met there- 46 year old Irish guy who was in love with Red Sox. Later I was coming back to my motel for the rest of the Red Sox game. And so was every day. God bless NESN and Jenny Dell!
SRAS: It is easy or difficult to garner interest in the team?
AK: It could be really tough if we were trying to garner some, but we're just playing and new members come to the team all the time without solicitation or advertising. We just welcome them and we teach them how to play, that's it.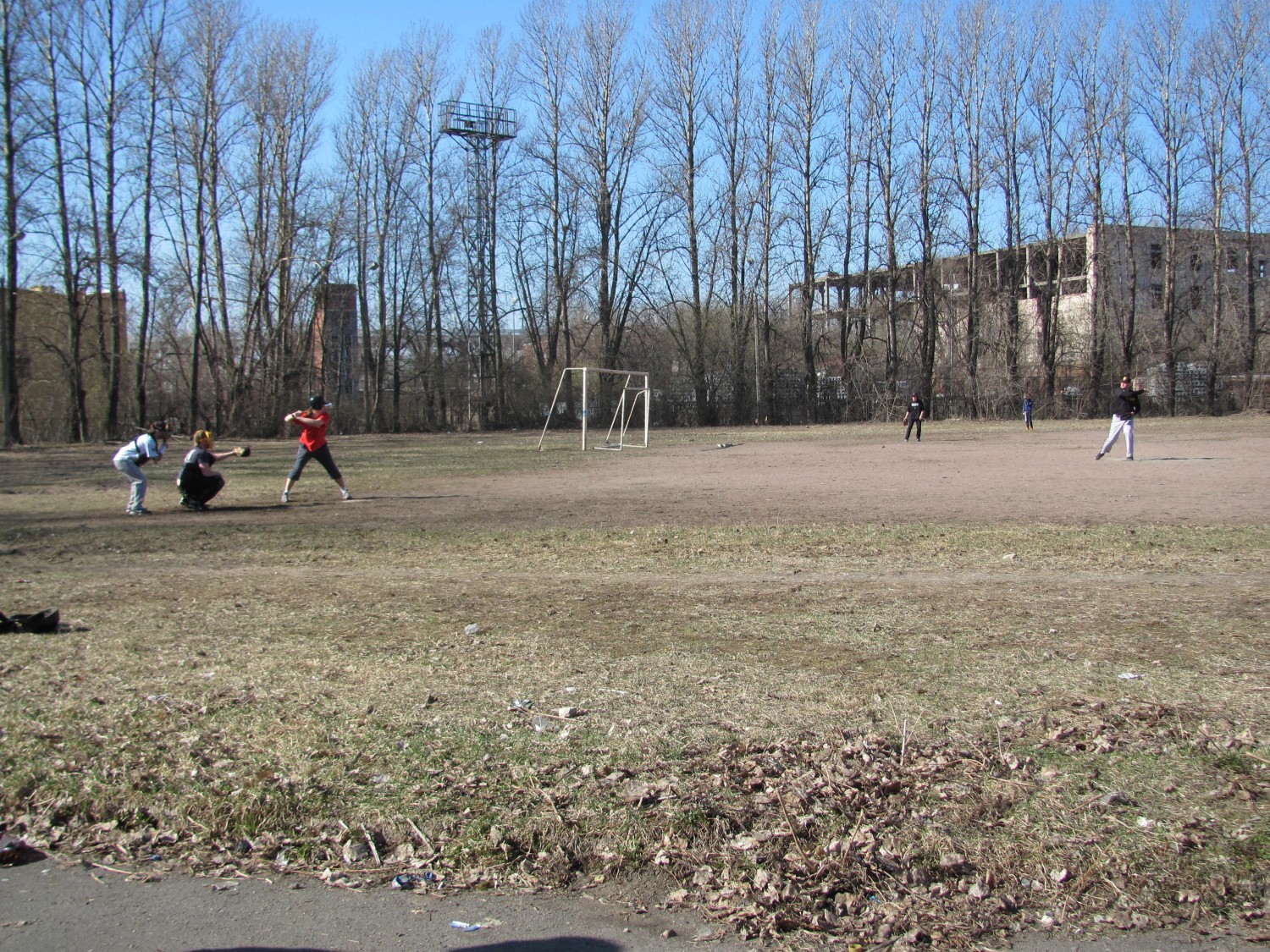 SRAS: Do you have an aim of increasing spectator/sponsor interest in the sport?
AK: Yes, we do. We've earned quite a public for our team, so now we're increasing their interest, telling them how we're doing, showing them pictures and videos- I do my best to write interesting things about our games and tournaments. One of our players is responsible for online broadcasting of our stats, also our captain is working on live video streaming of Dockers games, and we'll see what happens. Right now we have an Italian company which is thinking about dressing us up and supporting us with some gear we need. Also our annual cup this summer is about to happen as a part of a huge summer event where many people would be able to watch baseball from St Petersburg, Moscow, Kazan, Novgorod, etc. We'll have so much attention so it's kind of scary for me to be honest. Hope it'll work out for us with sponsors and stuff.
SRAS: Is it difficult to get equipment?
AK: Not really, if you know where to look. Buying gear in Russia is nearly impossible, so we order online. The main problem is the time you have to wait to get your stuff, also it's pretty expensive to order from States. But now we're going deep into the baseball industry and realizing there is baseball in Europe, and we might be able to get some there- like the Italian company I mentioned.
SRAS: Do you plan on building a stadium?
AK: We absolutely do! We need some support from people to be able to ask for money from strangers. As a team of amateurs and young people, we can't afford it ourselves, you know. But as a dream, as superheroes who fight for their happiness and for everyone who wants to play the game, I bet we can.
SRAS: Where do you see the league going?
AK:
More teams? – Yes! New teams like our B-team, the "Sea Cucumbers," which we are developing into an independent team, and other teams not playing yet, but exist, veterans from the USSR… it will grow, just because there is no way it could get smaller than it is now.
Infrastructure – We'll build our stadium, you just wait and see!
Sustainability – Well, it's a question of time and the will of our players. We're like building a new country, give it time and it'll get its steadiness.
International tournaments – Sure. It's not a question at all. We already have friends in a few other countries, now we just need to grow and grow our budget to be able to play with them.
SRAS: If people want to get involved, what do you recommend?
AK: Players/spectators/sponsors – at our web-site it says "Mail us! Call us! Just contact us any way you want!" We're not Putin, anyone can talk to me seconds after he clicks on "contact us" or friends our page on VKontakte! It is my phone number out there!
SRAS: Do they need experience to play?
AK: No. I mean, it's awesome if you have some sort of sports history, but it doesn't matter really. We'll teach you- if you like it, you play it. It's that simple! We're looking for friends of any kind, just talk to us and that's all.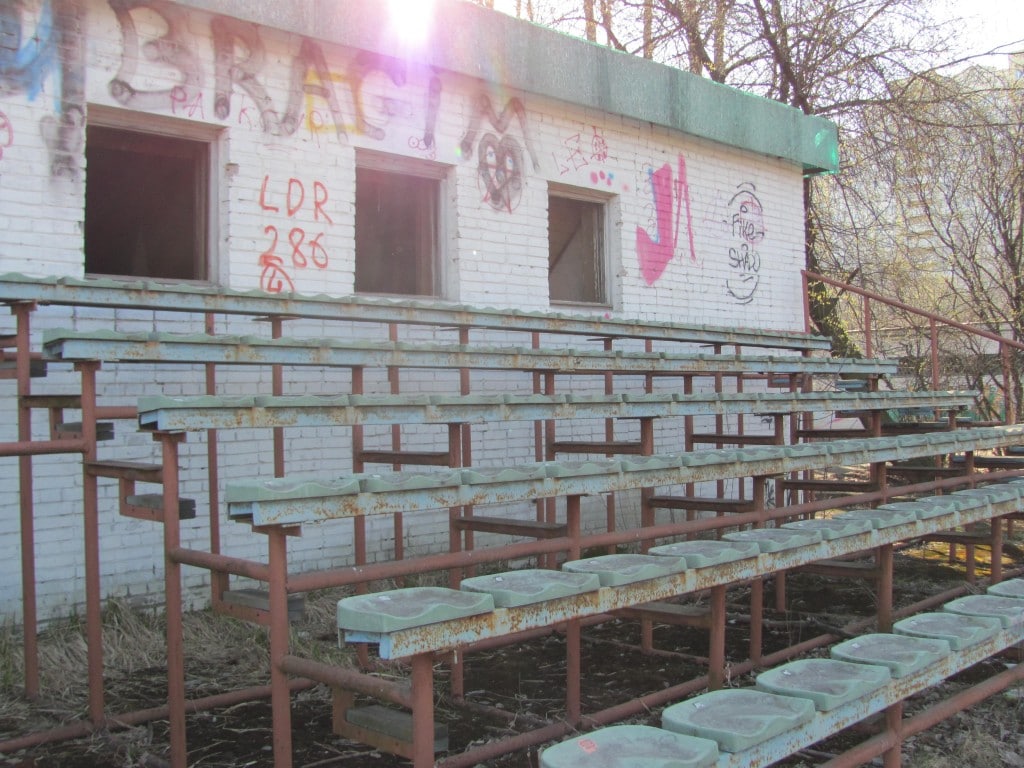 SRAS: How is the season going so far?
AK: It just started, we've lost twice, but it's fine. We're enjoying the fact we can finally play ball having an official tournament. That's what matters for Dockers, we're happy to play. This season is going to be really tough because it's the first one, it's weird, dirty, but we're learning now. We're trying to see the picture of the perfect championship, and it's going to change over and over again until it becomes at least semi-professional.
SRAS: Thanks so much for chatting with me, and best of luck on the rest of your season!
For more information on the St Petersburg Dockers, check out www.dockers.squarespace.com, or http://vk.com/spb_dockers.
For information on the St. Petersburg Sea Cucumbers, check out http://vk.com/seacux.