Radio has been used since the early 20th century for art, entertainment, social value, information sharing, political purposes, and more. Alexander Popov, a key player in the invention of radio, made his discoveries in Kronstadt, an island town in the St. Petersburg municipality. From rebellious Soviet young adults trying to pick up static-filled Voice of America and Radio Free Europe broadcasts during the Cold War, to the soothing sounds of a metronome broadcast during the Nazi blockade of St. Petersburg, radio has a strong and enduring legacy in Russia.
In 2009 New Zealand scientists published a study citing frequent exposure to a language's sound patterns, even without fully understanding what is being said, "will dramatically boost your ability to pick up the language and learn new words." A more recent Swiss study showed that listening to recently learned foreign words in your sleep helped participants memorize those words better. Of course, passive listening will never make you fluent, but supplementing regular studying with casual listening can be significantly useful. Additionally, radio is a way to practice listening without the help of body language and other contextual clues. While purely audio-oral communication has declined in recent decades, telephones are still widely used by most people, and you'll definitely need those non-visual listening skills when ordering delivery sushi!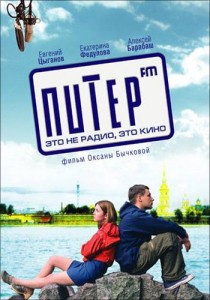 Radio can also be a great way to find out about events happening in your area- concerts, free shows, weekend parties, festivals, etc.
Ways to listen:
If you are in Russia, you are lucky, as not all local stations are available online. You can pick up a small AM-FM radio at Media Markt or M.Video (there's one in Galleria shopping mall, metro Площадь Восстания/Ploschad' Vosstaniya) for around 800 rubles. If you're living with a host family, they will likely have a radio.
If you are outside of the St. Petersburg area, you can listen to radio online. Of course, there is a huge variety of stations to listen to. Russian language broadcasts are found in most countries of the former USSR and it is especially interesting to compare radio broadcasts from Moscow or St. Petersburg to those from regions like Dagestan or Siberia! Some good websites are Tunein.com and Piter.fm.
Now to the good stuff: here is a list of the radio stations available in St. Petersburg with my personal descriptions and reviews. I encourage you to spin the dial and give these stations a shot!
St. Petersburg's Radio Stations
(for more on Russian Media, click here)
66.30

Talk and news

69.47

Talk and news

71.66

Classical

73.10

Religious

87.5

Classic Russian/Soviet pop music

88.0

Oldies

88.4

Older pop music and disco

88.9

Russian Pop Music, talk, and comedy

89.3

Local news and talk

89.7

Rock music and coverage of local sports (Zenit is the St. Petersburg soccer team)

90.1

Jazz / Blues

90.6

Older pop Music

91.1

Dance/club music

91.5

Talk, mostly political opposition, fairly anti-Kremlin

92.9

Russian News Network

Talk, official state news broadcast, high quality

95.0

Dance / Pop Music

95.9

American/international pop music, mostly 2000's and beyond

97.0

Russian pop music, 90s, 2000s, and today, popular in cafes

100.1

Older Russian pop music

100.5

Pop music from around Europe and the United States

100.9

Shanson (unique Russian genre)

101.4

Oldies (note the pun on Eldorado)

102.0

Classic rock

102.4

Pop Music / Dance / R&B

102.8

Rock, mostly 90's and beyond

103.4

Popular club/dance music, mostly English, some Russian and other foreign language pop and dance songs

103.7

For children; interestingly, they go quiet at night while the "children sleep"

104.0

Russian rock, alternative, a really good station overall

104.4

104.8

Russian Pop Music, but not necessarily top-40

105.3

Russian and English pop music, sponsor lots of concerts/events

105.9

DJs who take on English-sounding names, obscure dance music

106.3

Dance music, lots of remixes of American pop songs

107.0

Classic Soviet station, news and talk *note the tone they frequently play, many people strongly associate the jingle with Soviet times

107.4

Business and financial news and talk

107.8

Modern Russian pop music with lots of advertisements- many for local concerts, festivals, and other events; my beloved daily dose of cheesy pop music, energetic DJs, and the incredibly catchy "

Всё

Б

удет

Х

орошо

" jingle