So far, no other art form has contributed more significantly to my Russian language journey than music. Listening to Russian lyrics strengthens my listening comprehension; translating Russian songs deepens my vocabulary and broadens my understanding of Russian culture; and singing Russian songs helps me practice pronunciation and enunciation. It has also brought my language learning out of the classroom, personalizing my experience and making me even more excited to learn. Although I first fell in love with older Russian folksongs and rock, I soon began to hunger for more contemporary Russian music. My searches have led me to online music forums, YouTube and Spotify playlists, personal blogs, and a number of language learning communities. This article presents five Russian indie groups I enjoy, admittedly capturing only a small shard of the holistic diversity of the contemporary Russian indie scene. I hope you enjoy!
1. АлоэВера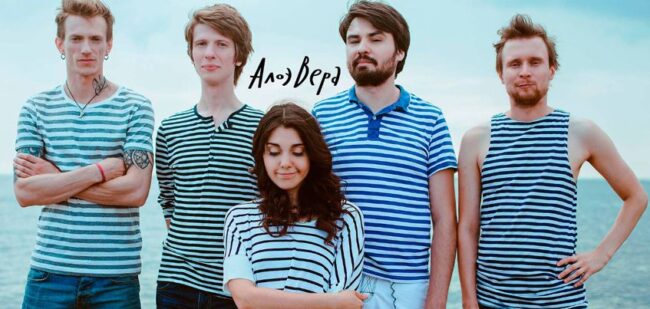 An uptempo pop-rock band bringing a unique sound and compelling lyrics, AloeVera tops my list of contemporary Russian indie bands and exemplifies the diversity of the indie music scene in Russia. Founded in Yekaterinburg, Russia in 2012, the group has undergone numerous changes in its line-up, eventually resulting in the following mix of talented, eclectic individuals: Vera Musaelyan (vocals, songwriting), Artyom Klimenko (bass, keyboard, recording, mixing, song arrangement), Stanislav Ladyrev (trumpet), Anton Shokhirev (drums), Yuri Verigin (keyboard), and Rostislav Kundik (sound engineer).
Breaking through with their provocative album "Стыд" (Shame), AloeVera has produced some of the most sonically interesting, funny, and bopping rhythms I've encountered within my dive into the Russian indie scene. Although the group's often fast-paced and cryptic lyrics may pose a challenge to Russian language learners, it is difficult not to be drawn in by their distinctive sound, which I am convinced is intentionally both deeply self-reflective and catchy. This music—at times funky, jazzy, solemn, angry, and jubilant—is something to be both danced to and inwardly felt.
Below, listen to my personal favorite AloeVera song, "Ты что такой?" You can find the lyrics for it here and, if you want more, you can check out their YouTube channel.
2. Дайте Танк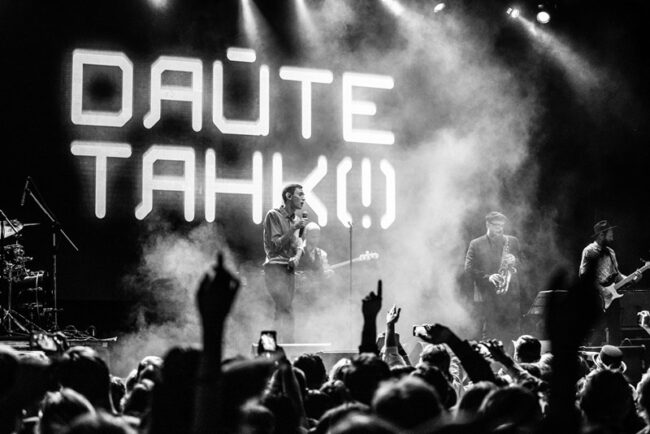 With punchy beats, creative lyrics, and sundry stylistic blends (techno, punk, indie, rock, and on), the group Daite Tank (!) has much to offer those who enjoy more experimental and high-energy music. Their name means "Give Me a Tank (!)" in English, takes their name from a cheat code in the video game GTA 3.
Informally starting as an underground project between former member Alexander Romankin and current frontman Dmitry Mozzhukin when both were around 18, the group has grown in size and popularity, currently performing solo concerts and at music festivals around the Moscow and St. Petersburg areas. The group makes it a point to write all songs in Russian (going against an early 2010's trend toward English lyrics), and describes their sound as "garage rock for dancer-introverts." Current members include: Dmitry Mozzhukin (vocals, guitar); Maxim Kulsha (guitar); Sergey Akimov (bass); Alexander Timofeev (saxophone); and Ilya Gerasimenko (drums).
Below, watch the acoustic version of "Волна," my favorite video of them. You can find the lyrics for it here. You can also see their YouTube channel for more.
3. ssshhhiiittt!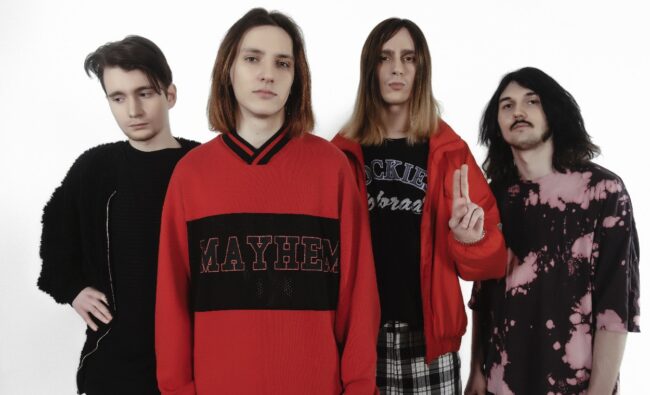 The fast-growing group "ssshhhiiittt!" is most likely to be the best known group on this list among Russian language learners; the band often springs up in conversations online between Russian students, and I've even once heard the group appear on the local radio here in Portland, OR! Their youthful grunge, alternative-rock style blends well with their often emotional and ambiguous lyrics, culminating into a sincere and energized sound. As their biography on the STEREOLETO music festival website puts it: "This is the perfect music for dancing on the verge of both euphoria and hopelessness."
Originating from the Yaroslavl Oblast in Russia, the group produced their debut album "Я Так Ненавижу Это" and picked up popularity with their song "Самый Грустный". Currently their song "Танцы" has nearly 4 million streams on Spotify and the group is a commercial success! Current members include: Nikita Kislov (vocals, guitar, lyrics & composition); Vitaly Isakov (guitar); Vanya Grachev (bass); and Alexander Kamod (drums).
Below, listen to one of my favorite ssshhhiiittt! songs, "домой." The lyrics for it are actually in the video. Like them? YouTube!
4. OQJAV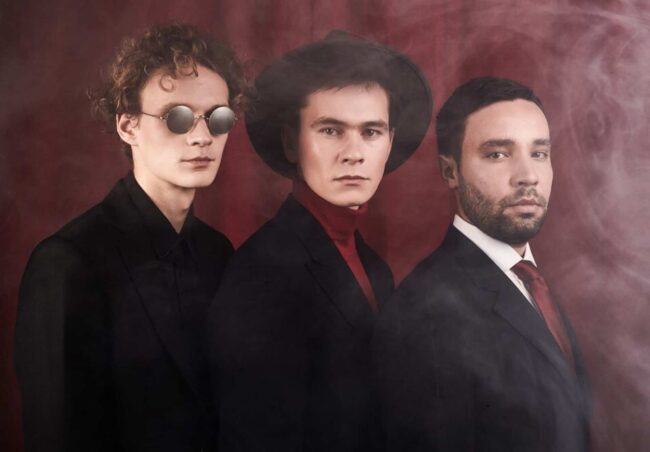 It's difficult to pinpoint OQJAV's musical style. Broadly, they're an indie pop group coming out of Moscow, whose lyrics, softly sung, are often brooding and enigmatic. Yet, the group rejects commonplace labels; it becomes evident with each listen that the group's artistic project relies upon interweaving mature lyrical themes into ruminative melodies. For instance, one song (in my interpretation) flips the tale of the "Boy who Cried Wolf" into a mature reflection on sexuality and the loss of innocence. Other songs reflect on longing, sadness, and modern love.
The soft, raspy voice of singer Vadik Korolev could strike some as too strange or cloying to tolerate. I'd recommend this band to those looking for intimate Russian indie-pop, or simply want to shake up their regular playlist! Current members include: Vadik Korolev (vocals, lyrics, composition); Yaroslav Timofeev (piano, composition); Dmitry Shugaykin (bass, keys, mixing).
Here's one of my favorite songs, "Капуста." You can find the lyrics here.  They have a YouTube channel as well.
5. Самое Большое Простое Число
The poetic lyrics and diversity of sound of the experimental Russian indie group Самое Большое Простое Число (Largest Prime Number) warrants its own list. They sometimes abbreviate thier name to СБПЧ and sometimes to the semi-English sbp4 (using the numberal 4 to stand in for the Russian ч).
Each album offers something new, eccentric, and thought-provoking. Fittingly for a group named after the largest prime number, their work eschews simple rhythmic patterns and compositions in favor of a collage of electric rhythms, background sounds, and fluid vocals.
Like their discography, the band itself—originally created in Saint Petersburg in 2006 between Kirill Ivanov, Alexander Zaitsev, and Ilya Baramia—has undergone much change. I, for one, cannot wait to follow the musical direction this group decides to go! Current members include: Kirill Ivanov; Stanislav Astakhov; Dmitry Kondrev; Oleg Zanin; and Evgeniya Borzykh.
Below check out thier song "Злой" and read the lyrics here. As always, you can find lots more on YouTube.