The brief list of online resources has been compiled for those interested in understanding late-Soviet music movements, particularly for rock and punk movements of Leningrad.
I. Resources in English
A. Lecture on Russian punk
In the above virtual lecture, Brandeis University PhD candidate and writer Alexander Herbert explores themes detailed in his book What About Tomorrow? A History of Russian Punk. Herbert provides a comprehensive history of punk movements Western Russian and Siberia. Starting with an overview of prominent figures of Leningrad rock circles of the late Soviet period, the lecture contextualizes the people, ideologies, and cultural identities that laid the foundation for further development of the local rock and punk scenes. With an underlying analytical framework that focuses on the style, music, spaces, and politics of different regional punk movements through a common lens. A final section on modern punk movements centers feminist and anti-facsist themes, common among Moscow's current underground bands.
B. Photojournalism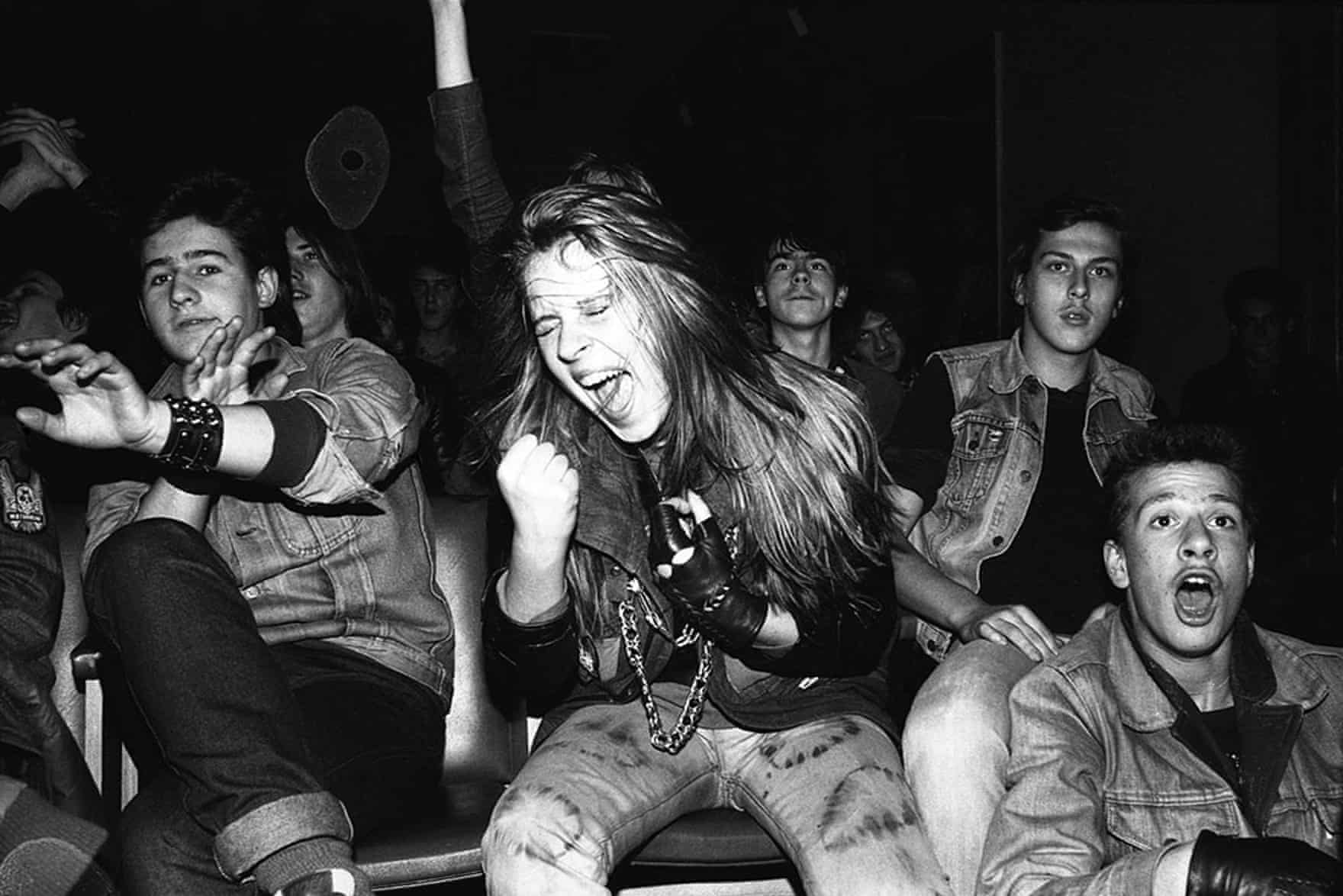 "Rock in the USSR: Leningrad's short-lived subculture – in pictures" by Sasha Raspopina was published in The Guardian in  2016. The photo essay, features the works of photographer Igor Mukhin, which capture the youthful energy behind the movement.
C. Essay
The Leningrad Rock Scene by James Von Geldern is part of the web project Seventeen Moments in Soviet History, published by Michigan State University. This is a short essay, offering a snapshot of the Leningrad rock scene and focusing on the shift from a more underground counterculture to much a more official and Party-backed movement.
II. Resources in Russian
A. Film
Kirill Serebrennikov's Лето (Summer) follows the lives of prominent Leningrad rockers like Maik Naumenko and Viktor Tsoi during the early 1980s. It can be viewed with a trial subscription on ivi.ru in the original Russian. Leningrad's rainy days and white nights provide a familiar backdrop for the cultural hubs of Leningrad rock (i.e. Leningrad Rock Club, apartment performances, etc.). The film's black-and-white cinematography, punctuated by dreamlike sequences with colorful, hand drawn chalk animation, evoke a nostalgic joy. Лето marks the film debut of Russian band Звери's (The Beasts) frontman, Roman Bilyk, as Maik Naumenko. The film received awards for its directing, soundtrack, and production at the Cannes Film Festival and the European Film Awards as well as other honors from the Russian Guilds of Film Critics and Cinematographers. Лето received further criticism from members of the Leningrad rock scene, Boris Grebenshchikov (member of Akvarium) and Aleksei Rybin (former member of Kino). Both claimed heavy dramatization, misrepresentation, and fictional accounts of the movement's early years in the film.
B. Interviews
"Чем Ленинградский рок-клуб был похож на бар «1703» и что грозило за любовь к року в 80-х" ["How Leningrad Rock Club Resembled Bar '1703' and What Were the Threats of for the Love of Rock in the 80s"], was published on the Russian site Bumaga in 2018. Bumaga writer Pavel Merzilkin interviews Olga Slobodskaya, a former staff member at the Leningrad Rock Club. Speaking shortly after the 2018 release of Serebrennikov's film, Лето, Slobodskaya provides a behind-the-scenes look into Leningrad rock scene from its start to its decline. Her reflections include personal accounts of Party-sponsored rock shows before the founding of Leningrad Rock Club, impressions of a young Viktor Tsoi and Boris Grebenshchikov, the inner workings of lyric screening for public performances, and a look into the end of the movement in the 1990s.
C. Online Radio
Radio Garden presents a number of Russian radio stations including Russian "classic rock."
D. Go Abroad!
There are many opportunities to study music scenes abroad. There are active museum centers such as Клуб-музей котельная «Камчатка» (Club-Museum Boiler Room "Kamchatka") located on Petrogradsky Ostrov in Saint-Petersburg, even on weeknights draws a large crowd of regulars for cover performances The live performances listed below highlight cover performances of the works of Leningrad rockers like Viktor Tsoi and Maik Naumenko.
Concerts and even monuments can be found across Russia as well and can be found with a little research ahead of time!