Estrada is a French word meaning "stage." In the USSR, it came to refer to big-name performing pop stars. Estrada artists rarely play an instrument and instead focus on pulling the audience into the performance through soaring vocals, intense emotions, direct interaction, humor, or other performative elements.
Estrada music across the USSR is always recognizable as a style. However, in the republics it was localized with traditional instrumentation and arrangements to better appeal to the local populations there. Many late soviet singers remained wildly popular after the fall and new singers have arisen singing in a similar folk-pop-electronic style. Below are a few such singers popular in Uzbekistan that exemplify the style.
SRAS thanks our partner Nodir at CentAsia Voyages for sharing many of these recommendations for this list.
Farrukh Zokirov and Yalla
Classic Soviet Uzbek Folk Fusion
By Seera Sohal

Farrukh Zokirov is an Uzbek singer and composer, and icon of Uzbek and post-Soviet music. He is known primarily for his energetic, charismatic performances that appeal to his local audience with humor and emotion.
He was born in Tashkent, the capital city of the then-Uzbek Soviet Socialist Republic, on April 16th, 1946. He hails from a musical family; his father, Karim Zokirov, was a celebrated baritone soloist for the Uzbek State Opera and Ballet Theatre and voted as the People's Artist of the Uzbek Soviet Socialist Republic in 1939. Zokirov's mother, Shohista Saidova, was also a singer, and performed as a soloist for a Tashkent musical theater. Zokirov's parents met during their studies at the prestigious Moscow Conservatory. As a result of their professions and connections, Zokirov household was frequented by popular Uzbek singers and artists, thus cultivating his musical passions at an early age.
Zokirov's music is best described as estrada, a popular Soviet genre from the 1930s onwards. Estrada songs are best likened to traditional Western pop, but contain hints of jazz, are predominantly written as ballads, and are often fused with an orchestral backing. Estrada lyrics typically relate to romance or patriotism. The genre was one of the dominant forms of Soviet song. Zokirov was signed to Melodiya, a famous Russian record label and major force in the Soviet music scene. It was responsible for releasing records of famous Russian composers like Tchaikovsky and Shostakovich, as well as for contemporary international performers, such as ABBA and Bon Jovi.
Zokirov was the lead singer of Yalla, an Uzbek folk rock band adored throughout the Soviet Union and Warsaw Pact countries. The band primarily sang in Uzbek and Russian, as well as Arabic, Tatar, Persian, Hindi, and German on occasion. Yalla's music is noted for its distinctive, eclectic fusion of traditional ethnic melodies and Central Asian poetry with contemporary dance-pop. Yalla was formed early in the 1970s, and dominated the Soviet musical scene for more than a decade. One of their most recognized songs is "Three Water Wells" ("У́чкудук, три коло́дца"), which encapsulates the band's signature melody and lyrical style. Yalla performed on Soviet national television, sang at the Voice of Asia Festival (a Kazakh musical event), and toured Europe, Africa, Asia, and Latin America.
Zokirov has been honored six times with the title of People's Artist, for both the Uzbek Socialist Republic and other then-Soviet states. This prestigious, honorary title was bestowed by Soviet governments to their state's most popular performing and visual artist. Oftentimes, this title was accompanied by commissions from the Soviet Union's Ministry of Culture. Additionally, Zokirov has also been honored with the State Prize of Uzbekistan, and served as the Deputy Minister of the Ministry of Culture and Sports from 2002 to 2004.
---
Yulduz Usmonova
An Uzbek Star Named for a Star
By Seera Sohal
Yulduz Usmonova (Юлдуз Усмонова) is an Uzbek singer, songwriter, and composer. Usmonova's music is a blend of Uzbek folk, Russian contemporary pop, and classical Arabic styles. She sings in Arabic, Chinese, Hindi, Kazakh, Russian, Turkish, Tatar, and Uyghur. Her music is best known in Central Asia but she also has a significant following outside of those areas as well.
Usmonova was born in Margilan, a city in the southeastern Fergana Region in the then-Uzbek Soviet Socialist Republic, on December 12th, 1963. She is the sixth of eight children born to Raimohun Usmanov and Rakhima Akbarova, both of whom were employed at the Margilan Silk Plant for more than four decades. Usmonova has four sisters and four brothers, one of whom, Ismail, is responsible for her name. According to Usmonova, her parents were unsure of what to name their daughter, until their son Ismail mentioned having earlier glimpsed a bright, beautiful star. As Yulduz means "star" in Uzbek, Ismail recommended this name for his sister.
Usmonova shares that, throughout her childhood, she was always drawn to art, describing it as a "magical world of sound and words." This fascination prompted her to study music as a child and later form an instrumental ensemble at the local House of Culture. She went on to study at the Pedagogical College for Music. During her graduation year, Usmonova performed at a Women's Day concert and was discovered by Gavkhar Rakhimova, the sister of Tamara Hanum–an Armenian dancer famous for performing Uzbek folk dances to ethnic tunes. Hanum and her sister were primarily based in the country's Tashkent region. After watching Usmonova perform, Rakhimova offered Yulduz a spot in her newly formed Margilan Handashi ensemble. Soon after, Rakhimova invited Yulduz to her home in Tashkent, where she connected the young artist to a prominent professor at the Saodat Kabulova Conservatory. Yulduz trained extensively under the professor's guidance, and afterwards gained admission to the Tashkent State Conservatory, where she focused on vocal performance and maqam—the traditional system of Arabic melodies.
After graduating from the Conservatory, Usmonova gained a local following through her performances and participation in song contests. She took second place in the international Voice of Asia competition, cementing her rising popularity. Reflective of her success, Usmonova's music began to garner sales in several countries, and she was invited to perform throughout Asia and Europe.
To date she has released more than 600 songs, sung in numerous languages. Usmonova has collaborated with other musicians, on occasion, to great critical acclaim. Some of her most famous duets are the ballads "Seni Severdim," (Turkish for "I Used to Love You") with Yashar–a Turkish pop folk singer–and "Hasrat" (Uzbek for "Desire") with Ruslan Sharipov, a lauded Uzbek singer and composer.
Usmonova has been awarded the title of Honored Artist in Kazakhstan, Turkmenistan, and Tajikistan, and has been bestowed the title of People's Artist of Uzbekistan. These accolades are prestigious, honorary titles that governments grant to their state's most popular performing and visual artists.
Yulduz Usmonova is one of Uzbekistan's most popular, beloved, and internationally recognized artists, and her numerous studio albums remain important contributions to contemporary Uzbek music.
---
Sevara Nazarkhan
Elegant Folk-infused Pop
By Lily Nemirovsky

Sevara Nazarkhan is a pop singer from Uzbekistan who is known for her seamless incorporation of Uzbek folk music elements into her contemporary hits. One of her most common instrument choices is the doutar, a string instrument with origins in Iran and Central Asia dating back to the 15th century. In many of Nazarkhan's songs, traditional sounds are woven into modern electronic melodies, harmonizing centuries of history with current musical production. She has released six albums to date and has won numerous music awards from around the globe.
Nazarkhan was born on December 23, 1976 in the city of Leninsk, Uzbekistan (then part of the Soviet Union). Her father was a classical vocalist and her mother worked at a music school teaching students how to play various instruments, so Nazarkhan was immersed in the music world throughout her childhood. After high school, she studied at the State Conservatory of Uzbekistan, one of the oldest higher musical education institutions in Central Asia. There, she joined an acapella group, but her career really took off when she started singing solo.
In 2000, at the World of Music, Arts and Dance (WOMAD) festival in London, she met Peter Gabriel, who offered to produce an album of hers on his record label Real World Records and invited her to join his tour Growing Up through Europe and North America.
She released her debut album, Yo'l Bo'lsin, in 2003, which became lauded by European critics as one of the best releases of the year. The following year she won the prestigious BBC World Music Award for Best Asian Artist. Her second album, Sen, – "a looping, shimmering, beats-laden gem underscored by traditional instrumentation"– built upon her previous Uzbek-language album and was received similarly well (Amazon Music).
She broke into new territory with her next album, Так легко, as it was her first collection of Russian language songs, and whose lyrics were based on poems by various poets such as Boris Grebeyshikov. This caught the ears of Russian listeners, especially the title song "Так легко", which became a hit in various countries. She began making appearances on Moscow's Channel One television programs such as Russia's version of The Voice. The most popular song on the album, a cover of Igor Nikolazev's musical rendition of Pavel Zhagun's poem "Там нет меня," used by Russian figure skating champions Nikita Katsalapov and Victoria Sinitsina in their performance at the 2022 Beijing Winter Olympic Games.
Nazarkhan has now created her own record label, Sevaramusic, under which she produced her fourth solo album, Tortadur, and her next few singles and albums. In her most recent song, "Asta Sekin," she experiments with rap in collaboration with Uzbek rapper Shoxrux.
---
Hosila Rahimova
Soulful Uzbek Folk Pop
By Seera Sohal

Hosila Rahimova (Хосила Рахимова) is a famous Uzbek singer popular throughout Central Asia. She is known for her soulful voice and for using Uzbek traditional instrumentation and arrangements in her music. Her music has often been described as a celebrated fusion of Uzbek history and folklore with modern pop and electronic music.
Rahimova was born on April 22nd, 1975 to a family of doctors in Uzbekistan near its borders with Afghanistan and Tajikistan.
Rahimova completed her schooling at the Yunus Rajabi School of Music, where she specialized in the rubob—a Central Asian lute-like instrument with Afghan origins. She studied there from 1986 to 1990, from the ages of 11 through 15. Upon graduation, Rahimova sang at the Denov District's culture department as a soloist, and performed in its folk ensemble from 1990-1996. Between 1998 and 2001, Rahimova studied folk music at the Tashkent State Institute of Culture in Uzbekistan's capital. Throughout her musical education, Rahimova participated in numerous musical events and competitions, and won several awards at local levels.
Rahimova then launched a pop music career in the early 2000s with the popular folk pop songs "Kelgin Yor," "Jon-Jon," "Biyigul," and "Ko'pkari." One of her more recent and popular songs is "Qorajon," which is inspired by the Central Asian epic poem Alpomish. Her first concert was in May 2003 at the People's Friendship Palace in Tashkent—the largest concert hall in the country. Fittingly enough, the venue's design is influenced by traditional artistic and architectural styles. Rahimova has toured internationally since then, primarily in Germany, Kazakhstan, Kyrgyzstan, Malaysia, Russia, Tajikistan, Turkey, and Turkmenistan. Throughout her career, Rahimova has released seven albums, 80+ songs, and more than 20 music videos.
In addition to her music career, she is also known for her philanthropic work and has been involved in various charitable initiatives aimed at improving the lives of underprivileged children in Uzbekistan.
Rahimova is a decorated artist with a multitude of awards to her name. In 1998, she earned a third diploma at a national song festival. She was awarded the Shukrat medal in 2003, and in 2004, received the Golden Harp award at a national folklore festival and the first-place prize at a folk contest held in Germany. 2008 was a particularly significant year for Rahimova's career, as she was awarded the Grand Prix at a Malay folklore competition and lauded as the year's Honored Artist of Uzbekistan. In the same year, she was also critically acclaimed for her ethno-pop performance at the biennial Uzbek folklore festival "Boysun Spring". Rahimova's art—which is celebrated for its blend of Uzbek culture with a contemporary pop style—is deeply respected and admired by her country.
---
Sultonali Rahmatov
Jazzy Folk-infused Pop
By Josh Wilson

"Until the fifth grade, I dreamed of being an astronaut. And in the fifth grade, my mother sent me to a boarding school, a military music boarding school in Tashkent, and everything started from there. My first instrument was a bassoon… It was interesting, I immediately liked the music. "
This is how Sultonali recalls the beginning of his musical education. The next big step, he says, came from discovering Uzbek pop music, and particularly that of Rustam Gaipov, following which, he says that he's spent 20 years listening and creating music 24 hours a day. This included listening to then-banned Western rock and pop under the USSR and learning from his favorite teacher at his boarding academy, Eduard Kalandarov, a famous jazz composer. He mixed all those influences to create his own unique sound.
Sultonali is first and foremost a stylist who accurately captures the musical style – be it geographical or aesthetic – and creates his own melodies in it, in this style. He tries to try on a new style every year, like trying on the shirt of a new style, but remaining entirely Uzbek himself and usually using Uzbek national instruments such as the tambor
Sultanoli has had serious health problems and is almost blind. His personal life has also had serious problems including a well-publicized divorce from singer Nilufar Saidova and a long estrangement from his daughters.
Despite this, however, he keeps making music and remains in the spotlight in Uzbekistan.
---
Bonus! Sherali Jo'rayev

A Classic Uzbek Bard
By Julie Hersh

Sherali Jo'rayev the least "estrada" of all the entries in this lineup. He is perhaps better classed as a "bard" – a singer/songwriter who performs his own music, usually playing an instrument, and relying mostly on the message of the song to carry the performance rather than spectacle.
However, Sherali Jo'rayev is an Uzbek singer, poet, composer, and actor who was highly influential in the 1980s and 1990s, though he has since joined the long list of Uzbek singers censured by the authorities. Nevertheless, he was and is beloved throughout Uzbekistan and is one of the preeminent figures in Uzbek music.
Jo'rayev was born in 1947 in Asaka, a city in the far east of what was then Soviet Uzbekistan. He attended Tashkent's state university of the arts and, soon after graduating in 1971, found work at the Shodlik Song and Dance Ensemble, where he stayed for almost a decade. After that time, he was a member of the Andijan Province Philharmonic before finally landing in the Uzbek State Philharmonic, where he performed from 1986 until 1996. In 1987 he was named a People's Artist of the Uzbek SSR.
At the same time that he was building this official music career, Jo'rayev was also writing and performing his own songs, which brought him wide acclaim and which are the reason for his continuing fame and influence. He has reportedly written more than 1,000 songs, among this number songs in which he set to music poems by Uzbek poets. Among his most famous songs is "My Uzbek People" ("O'zbegim"), whose lyrics are from a poem by Erkin Vohidov. His writing career also spans other genres—he has a novel and a screenplay to his name.
Jo'rayev's career and life have also had their share of political activities. He was actually a member of Uzbekistan's Parliament for five years in the 1990s, but in 2002 his luck changed. He was criticized by the government for comments he made about the country's economic situation; he is now banned from making public appearances, which includes on TV, radio, and stage. He continues to perform in other countries, though.
---
You'll Also Love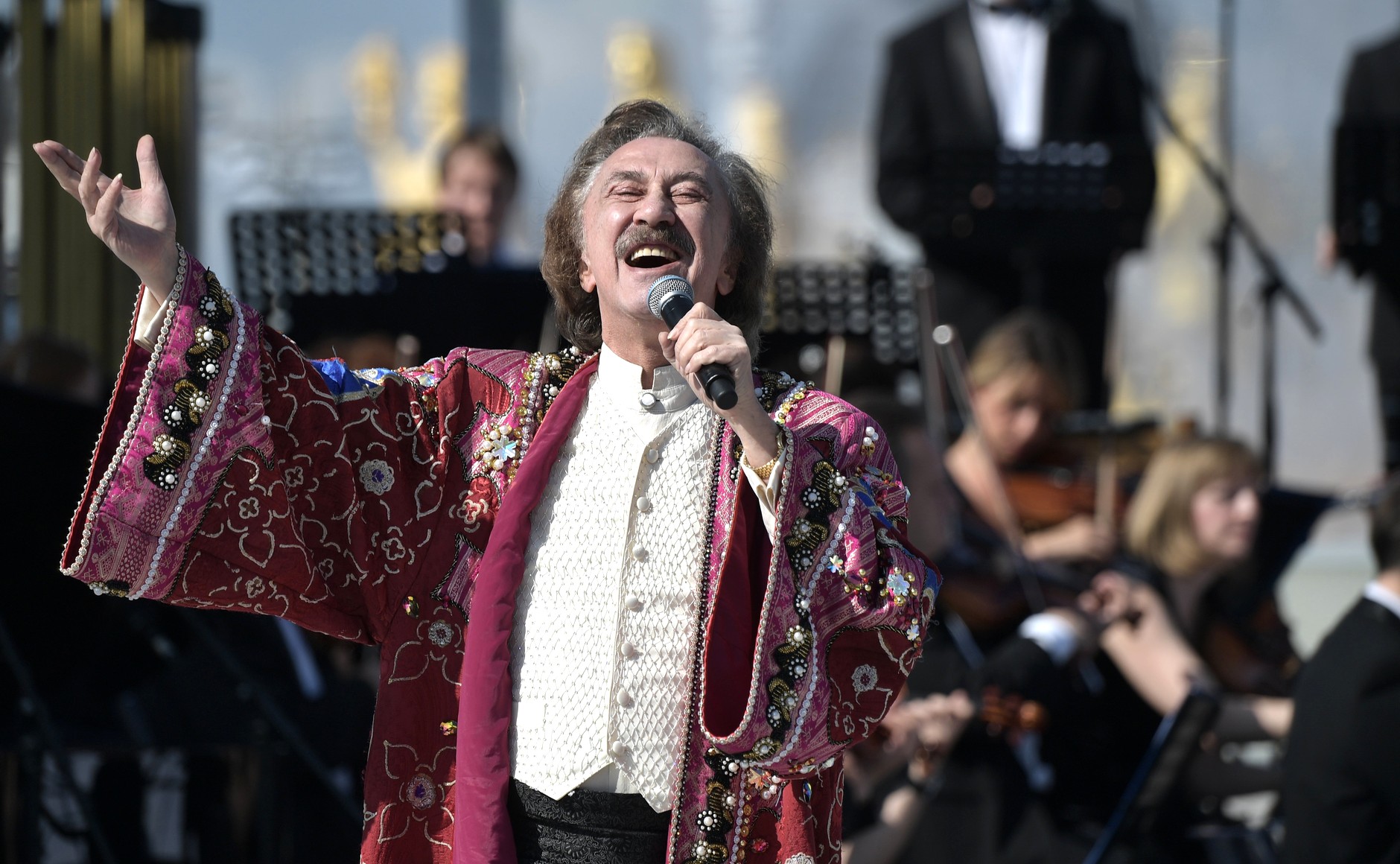 Estrada is a French word meaning "stage." In the USSR, it came to refer to big-name performing pop stars. Estrada artists rarely play an instrument and instead focus on pulling the audience into the performance through soaring vocals, intense emotions, direct interaction, humor, or other performative elements. Estrada music across the USSR is always recognizable […]
0 comments