Magnit is Russia's largest retailer by number of stores and geographic coverage. They are fixtures of most Russian cities and one of Russia's best recognized brands. Their 13,000 stores are mostly focused on low-prices and convenience to serve a greatest possible cross section of Russian society. Magnit stores can be found over most of Russia, but are concentrated heavily in the western portion.
Magnit's headquarters is located in Krasnodar, a city in southwestern Russia. This is where Sergei Galitsky opened his first Magnit grocery store in 1998. Earlier, he was an entrepreneur in perfume and beauty product wholesaling – and this still shows as some Magnit grocery stores also feature Magnit Kosmetika (Magnit Cosmetics) stores. These are usually attached or next door and carry their own branding similar to Magnit, but in bright pink rather than deep red.
Galitsky is both an admirer of Walmart and also sometimes compared to Walmart's founder, Sam Walton, for targeting segments of the population that are very budget-minded with slogans like "Always Low Prices." In fact, Magnit has used the direct translation of this slogan (всегда низкий цены) in its own marketing.
The chain defied market expectations when it first opened. At the time, nearly all large investors were focused on Moscow and St. Petersburg, believing that most regional cities would take much longer to develop. However, Galitsky found strong demand and rapidly expanded, eventually taking the company public in 2006. It is still traded under MGNT on both the London and Moscow stock exchanges.
Magnit has been notable for using technology to improve experiences for both customers and employees. For example, sensors were used to ensure managers knew if a store's checkouts were getting too cold.
Magnit is one of Russia's two biggest grocery store brands, the other being X5. However, there have been some concerning signs of late. Despite Magnit adding 2000 stores in 2016, giving it, according to one estimate, a market share of 13.3% that year, its projected market share is only 11.5% in 2021. Furthermore, sales growth for the company decreased during 2016, allowing X5 to gain an edge. In fact, this under-performance was cited as one of the reasons for feuding among Magnit's shareholders.
In February 2018, Galitsky stepped down as company CEO, having sold the majority of his shares for $2.4 billion to VTB, a giant state-controlled bank, citing disagreements with other shareholders. They wanted more rapid expansion, while he wanted to focus on profitability. The sale caused share prices to slump on both exchanges, amid concerns that a state run bank had taken over rather than a private investor. This slump came on top of a fall in value that followed the downturn in indicators and the beginnings of the feuding. The stock has yet to recover. Galitsky now plans to devote his time to youth football (soccer) and philanthropy.
Meanwhile, Magnit is looking to catch up with X5's revenues via various plans, including partnering with another state-owned company and opening mini-stores in post offices across the country.
Magnit has been a good option for consumers and will likely continue to be so. However, rising competition in conjunction with its sale to a bureaucratic investor may hurt the company in the long term.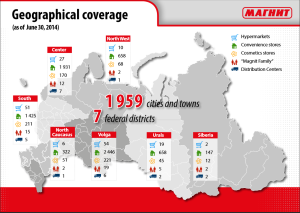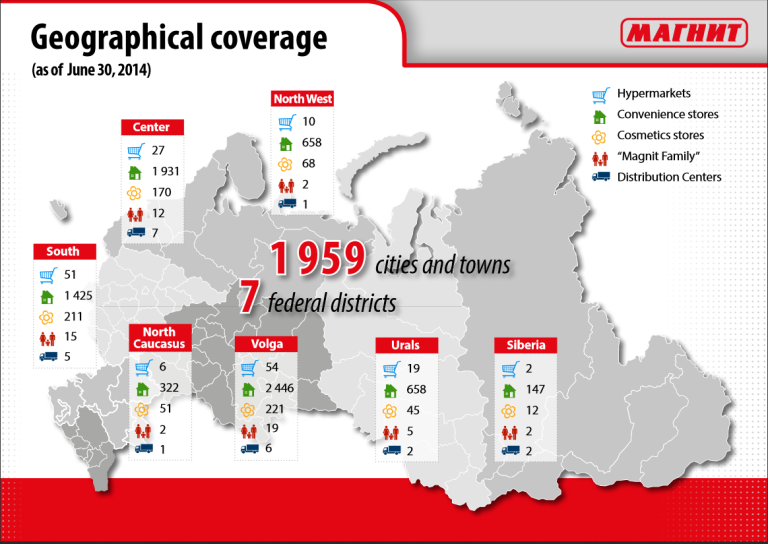 Profile in Russian of Sergei Galitsky, founder of Magnit, done for one of Russia's main news channels.