Heading abroad means meeting new people, discovering new ideas, and encountering a lot of new brands. What Russian brands are you likely to find in a Russian grocery store? For Americans studying abroad in Russia, this may be one of your only times to try these delicacies – as they are often only available at Russian or Slavic speciality stores in major US cities, if available at all.
Below is an introduction to some brands encountered by SRAS students in Russia, meant to encourage you to dive into these Russian brands while you can. Note that a few of these Russian brands have been successful enough to be purchased by Western companies looking to enter the Russian market. In all cases, however, the product has remained largely unchanged and the brand has remained specifically tuned to the Russian market. Thus, we have left these brands on this page.
Frozen and Prepared Foods Aisles
In Russian: Мираторг
Miratorg is Russia's leading meat producer and supplier and increasingly one of the most visible brands of prepared and frozen meals in Russia. It has banded stores and even restaurants, and increasingly wide distribution in Russian supermarkets. Its ambition is in its name, which translates loosely from the Russian to "world sales."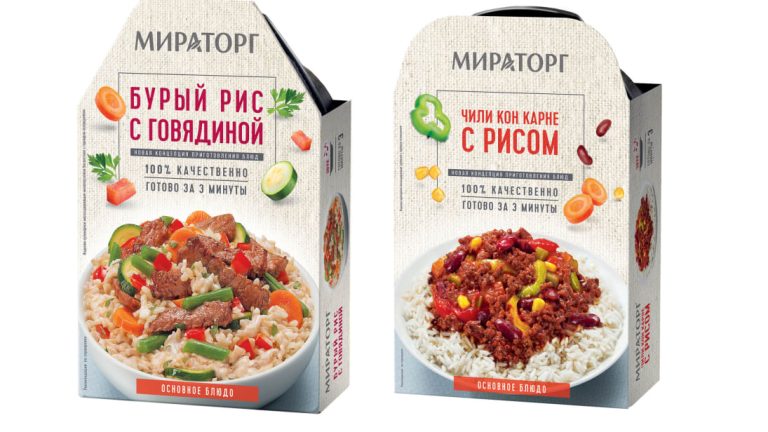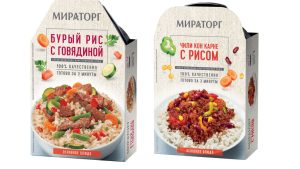 Though it was founded in 1995, a period when Russian agriculture suffered from the collapse of collectivized and state farming as well as multiple economic collapses, Miratorg grew utilizing technology, imported foreign know-how, state support, a vertically-structured business model that controls just about everything from feed to burger. In this way, Miratorg has rapidly grown into one of Russia's largest agricultural concerns and can claim to have founded Russia's first modern beef industry.
Today, Miratorg dominates the Russian pork market with 11.5% of market share and, with over 450,000 heads, also claims the largest herd of Black Angus cows in the world. It wasn't long ago that a good steak in Russia would have been imported from halfway across the world – the US, Australia, or Argentina. Miratorg is now nearly single-handedly changing that.
Most of Miratorg's agricultural activities are centered in the Bryansk and Belgorod regions where they administrate crops, beef, poultry, processing, frozen meal production, and distribution. In line with state guidelines, Miratorg produces all its meat without GMO's, growth hormones, or antibiotics. Their distribution also largely prefers fresh or refrigerated meat, rather than any freezing.
Russia's Food Security doctrine, which calls for self-sufficiency in basic food production by 2020, subsidized Miratorg's cattle venture. In 2010, the company imported the first generations of Black Angus from the United States and Australia, along with twelve cowboys to teach the Russian greenhorns how to safely manage their new herds. Today, 33 of Miratorg's 63 farms are dedicated to cattle, and they're expected to boast one million heads by 2020. The company has benefited from Russia's restrictions on US and European agricultural imports, which expanded the market for domestic food production – including meat.
Miratorg now has also launched a chain of restaurants known as Burger & Fries (Бургер & Фрайс) to complete their control of all aspects of beef production and sales. Rather than standalone restaurants, Burger & Fries operate inside Miratorg branded supermarkets and butcheries. Burgers there cost between 160 – 380 rubles ($2.75 – 6.50). There are currently eight locations in the Moscow metropolitan area, as well as one in the Bryansk production facility. In a hat-tip to their roots, their most popular burgers are named the "Tired Cowboy," "Rodeo," and "Large Bryanksy."
Kathryn Weaver
An ad for Miratorg's Black Angus products:
In Russian: Чистая Линия
Chistaya Liniya, who's Russian name traslates as "Pure Line" and is the same term used for "thoroughbred," is a Russian ice cream brand known for its quality and fresh ingredients – natural milk and cream without chemical additives, flavor enhancers, or GMOs. The factory, established by a family of Armenians in Moscow in 2001, originally produced a salty fermented dairy drink called Tan (Тан), which is popular in Central Asia and the Caucasus. Tan production produces excess cream. Seeking a way to use this excess for profit, after some trial and error, Chistaya Liniya Ice Cream was born! The factory now produces more than 100 items, including sour cream, cottage cheese, sorbet and, of course, ice cream.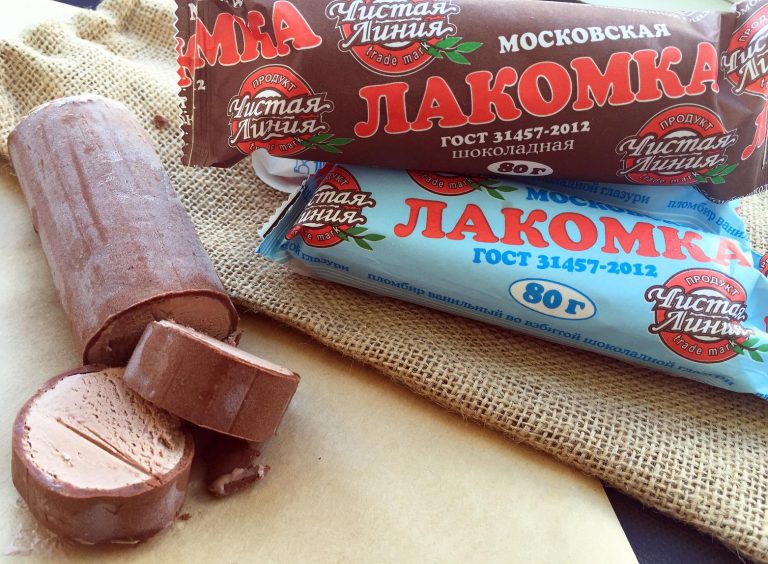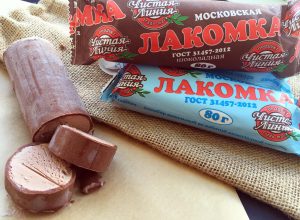 Chistaya Liniya purchases its milk from nearby suburban farms to help maintain freshness and keep an eye on quality. Their cows are antibiotic-free, lead active lifestyles, and are provided balanced diet. The milk arrives to the factory in milk tankers (equipped with a mini-laboratory for initial quality control) within a few hours of milking. Chistaya Liniya pasteurizes and processes the milk after confirming its quality, freezes the cream, and packs each unit by hand. After packing, the ice cream is sent to the cooling chamber, and the ice cream is shipped within 40 minutes of freezing. In all, processing takes approximately three days before the product is on its way to store shelves.
The first ice cream produced at Chistaya Liniya was the Eskimo (Эскимо), a chocolate-dipped vanilla ice cream popsicle that has been extremely popular since Soviet times.
The factory is located just 5 kilometers from Moscow on the Dmitrov Highway and offers private tours (with lots of samples!) for groups of 15 to 49 people.
Katheryn Weaver
A Chistaya Liniya ad featuring Винни Пух (Soviet analogue of Winnie-the-Pooh):
Dairy Aisles
In Russian: Домик в Деревне
Domik v Derevnye commands the Russian dairy market with 34% market share. The brand, whose name literally translates to "little house in the country," began in 1997 to serve Russia's large and culturally important dairy market. Today, Domik v Derevnye produces kefir, cottage cheese, milk, butter, yogurt, and, of course, sour cream. It is also highly visible, advertising on TV, magazines, at events, and more.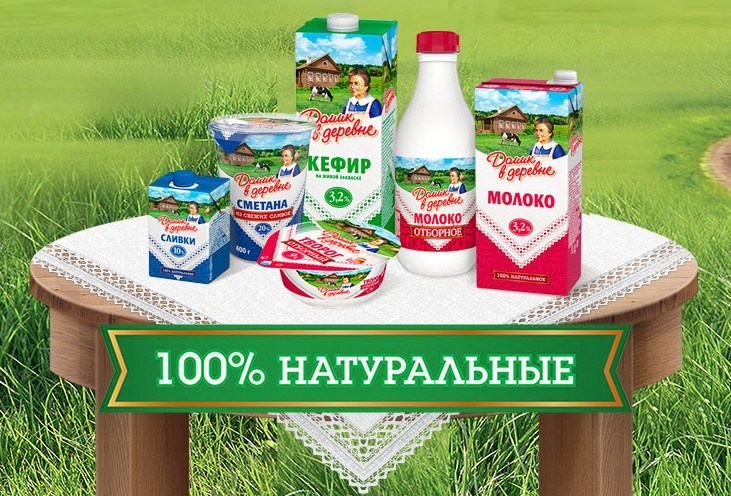 Russians take fermented milk very seriously. Sour cream (сметана) is one of Russia's favorite condiments. Served with pancakes, soup, potatoes, dumplings, salad, bread, cake, and even alongside cottage cheese, sour cream is a universal ingredient in the Russian kitchen. Domik v Derevnye sells it retail with up to 25% milk fat, providing a rich, thick, and super creamy product that's as "tasty as grandma's," according to the company catchphrase. Much of the marketing for the product centers around it being a traditional Russian product, close to tradition and to the earth. Thus, everything is preservative-free, GMO-free, and very high-fat. When Russians go abroad, one of the first things they often report missing are Russia's vast array of high-fat content dairy products on which Russians are raised.
The brand Domik v Derevnye was launched under the auspices of parent company Wimm Bill Dann, which began operations in 1992 after a small group of entrepreneurs leased a production line at the Lianozovo Dairy plant in Moscow to bottle juice. The group chose "Wimm Bill Dann," vaguely reminiscent of "Wimbledon," specifically to associate the brand with Western investment which, after the dissolution of the Soviet Union, many Russians considered novel and more trustworthy. By 1997, however, the infatuation with Western goods waned in favor of products proudly produced in Russia and the company began downplaying the corporate parent name in favor of more traditionally named and marketed daughter companies.
In 2010, American company PepsiCo acquired Wimm Bill Dann in a deal that valued the company at $5.4 billion. Wimm Bill Dann also continues to produce juices (such as J7), discount dairy products (Веселый Молочник, or "Happy Milkman"), as well as baby food under the brand name Агуша (Agusha, a cute name sometimes used to refer to babies that is derived the sound "goo-goo").
Not only was the landmark purchase Pepsi's second-largest ever, it was also one of the largest foreign investments in Russia outside of the oil and gas sector. Although Domik v Derevnye now belongs to an American company, it still uses advertising that draws a direct connection between the brand and a romanticized version of wholesome, traditional, Russian country living.
Enjoyed in the countryside:
In Russian: Дружба
Druzhba, which translates to "friendship," is a line of cheese spread produced by the Karat manufacturing plant in Moscow.
Druzhba was originally produced in 1965 to provide astronauts with high-nutrient food while in space. However, the cheese proved so popular that the plant soon shifted to mass production to serve the wider public. Druzhba was widely available during Soviet times, and is still loved by many. Spotting the cheese among the imported brands is easy due to its iconic packaging, which hasn't ever changed.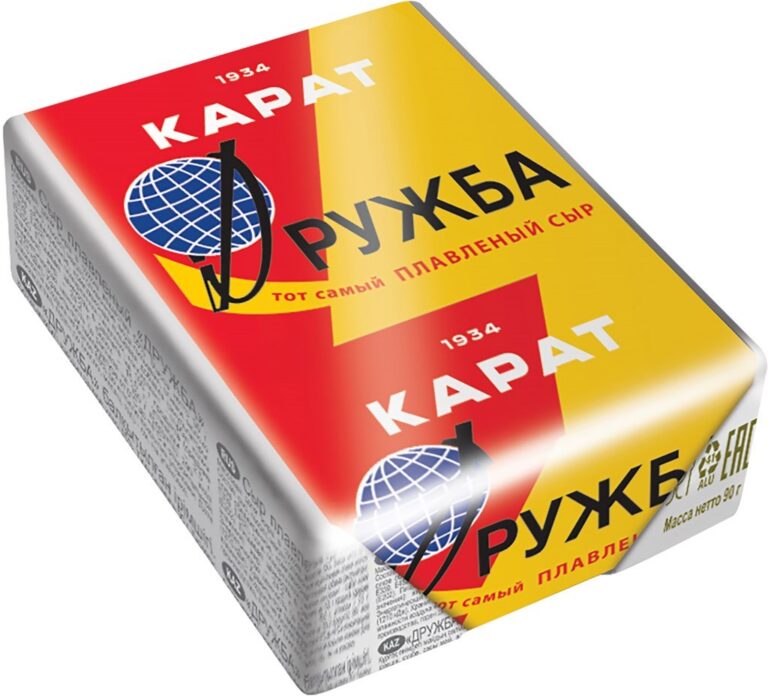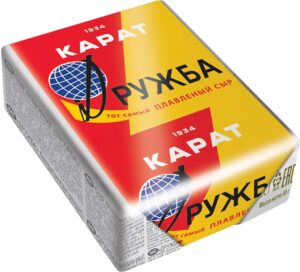 Druzhba has a thicker consistency than most cheese spreads, and is easily sliced or cut into creamy pieces. It's a white cheese with a fat content between 50-70 percent and without preservatives or artificial coloring. One of the most popular appetizers of Soviet-era dining was a soup with potatoes, vermicelli, and not-quite-so-melted Druzhba cheese soaked in broth. It is also used many other soups in Russia and beyond.
In 2005, during the Second Moscow Cheese Festival, Karat installed an unusual monument to Druzhba in front of its Moscow headquarters. Two bitter enemies from a fable by the famous 19th century Russian poet Ivan Krylov – a fox and a crow – hold a package of Druzhba (weighing 460 lbs!) with the utmost love and affection. Over the years, an urban myth has developed: if newlyweds take their picture with the fox and the crow, pet the crow's beak and grab the fox's tail, they're sure to live in happiness and harmony for many years to come.
To this day, Karat regularly ships its products – including Druzhba – to the International Space Station. It also supplies the Russian Army, the FSB, EMERCOM, and the Ministry of Internal Affairs. In addition, it exports its product throughout Eurasia and even to Russian-food specialty stores in the US, so that even Russian emigrants can get their favorite cheese.
Katheryn Weaver
Druzhba cheese: the greatest thing since sliced bread?
Рогачёвского Cгущенка
Rogachev is not a Russian brand – it was founded under the USSR in 1936 in the city of Rogachev, in what is today Eastern Belarus. That's where it is still made today. The factory makes many dairy products, but its most iconic is sgushenka (сгущенка), a Soviet-developed type of sweetened condensed milk. Valued for its long shelf life, portability, and nutritional content, condensed milk's popularity soared as food supplies ran short during wartime and remained a common treat through Soviet times.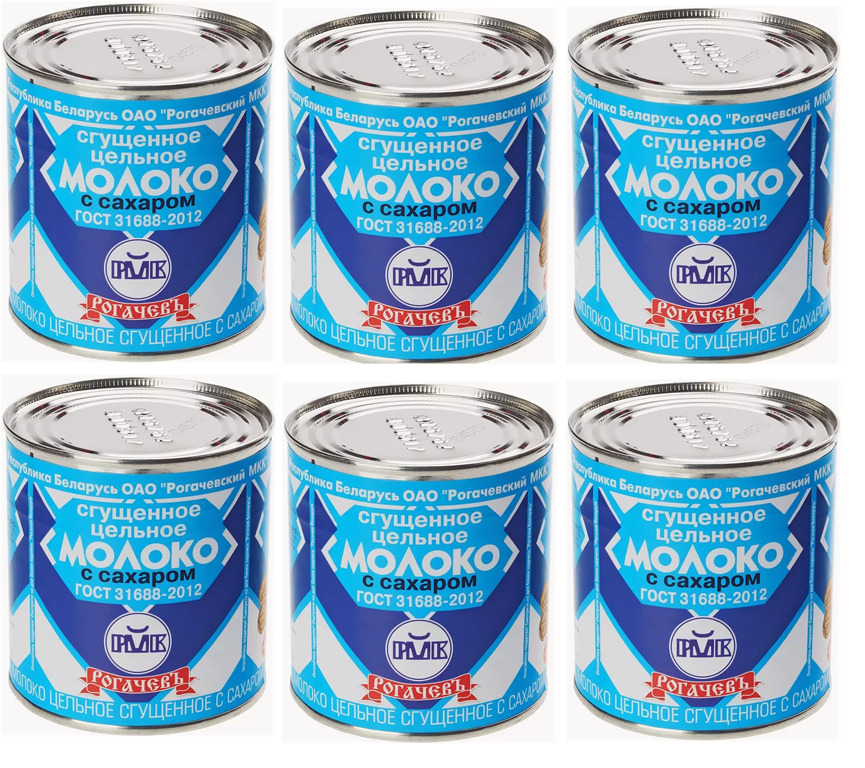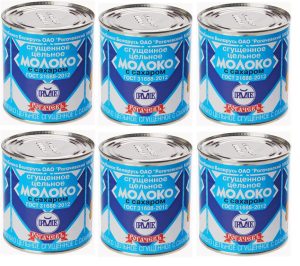 In Russia, Ukraine, and Belarus, sgushenka is a beloved stalwart of the national cuisine. The sticky-sweet concoction is used in a variety of ways: poured over blini, as fillings for sweets, dolloped in coffee or tea, drizzled over fresh fruit or buttered toast, caramelized, used as icing or simply eaten with a spoon. Of any country, Russia consumes the most of the Rogachev factory's production of sugushenka – even more than Belarus itself.
Rogachev's iconic cans have changed little since Soviet days and most new entries to the sugushenka market often try to copy its packaging, hoping to piggyback on its brand recognition. It has been said that, if Andy Warhol had been painting Russian pop culture instead of American, he likely would have chosen Rogachev Sugushenka cans in place of Campbell's Soup. For those looking for the product today, know that in addition to the cans, the company also produces more convenient squeeze packs that are easier to use and store after opening. The packs, of course, have the same basic graphic design.
Production at the Rogachev factory has grown from 11 million standard cans per year to 120 million, with the ability to fill 600 cans per minute. Despite expanding their product range to include butter, baby food, mayonnaise, cheese, and whole milk; condensed milk still accounts for half of total factory production.
Katheryn Weaver
Rogachev has no commercials (apparently they don't need them), but here is a video of a guy comparing a couple dozen sgushenka brands. While he decides that Rogachev is not the best, note that all the brands have styled their cans to look like Rogachev's:

Beverage Aisles
In Russian: Квас «Очаковский»
Ochakovskii Kvass is Russia's most popular commercially-produced kvass. According to the independent Nielsen polling agency, Ochakovo controls 18% of the highly competitive kvass market in Russia.
Kvass is a fermented beverage popularly enjoyed during the summer and is considered something of a national drink in Russia. It's hearty and tastes distinctly of sour bread. In Russia, there's an old saying along the lines of "bad kvass is better than good water" and, due to the fermentation process, this can be considered at least somewhat true. In 1913, Russian biologists demonstrated the drink's healing qualities when they used kvass to kill typhus bacteria. Today, it's also known to improve digestion, reduce fatigue, quench thirst, and provide plenty of vitamin B.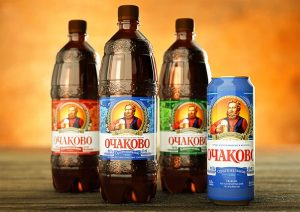 The company Ochakovo began as a state enterprise in 1978 to provide beer and soft drinks for the 1980 Summer Olympics. It now distributes to 60 regions inside Russia and more than 30 foreign countries, including Greece, Germany, Spain, Canada, China, and the United States. Since the 2000's, Ochakovo has exclusively sourced their ingredients from 100% organic, GMO-free farms. These ingredients, according to their website, are closely monitored from field to bottle and are produced without additives or preservatives.
Ochakovo uses traditional brewing technique called "double fermentation" that has largely fallen out of practice in favor of artificial flavorings. Although flavorings are cheaper, the kvass produced with them lack the real heartiness and flavor of traditional kvass.
Kvass has long been produced in the Russian home. The drink is traditionally made by pouring boiling water into a bowl filled with baked (or stale) rye bread. The mixture is left to set, and is then strained and combined with a yeast-and-sugar concoction. The natural fermentation process does give kvass a small alcohol content – but no more than would be found in natural root beer, kombucha, or even much more than can be found in many yogurt drinks, which are also fermented. You can read more about it here.
Today, it's far more common to buy kvass commercially than to produce it at home. Kvass now now be found in stores in a variety of styles and flavors. The Ochakovskii Kvass line includes a classic dark brew (Очаковский), a special children's brew (Квасёнок), a traditional flavor (Русский квас), and white kvass, known as their "family secret" (Семейный секрет).
Katheryn Weaver
A cute commercial with a play on words:
In Russian: Жокей
Zhokei is Russia's leading locally-produced Russian brand of coffee, headquartered and manufactured in Saint Petersburg. It sells a wide variety of ground coffee, instant coffee, and coffee beans, including both medium and dark roasts.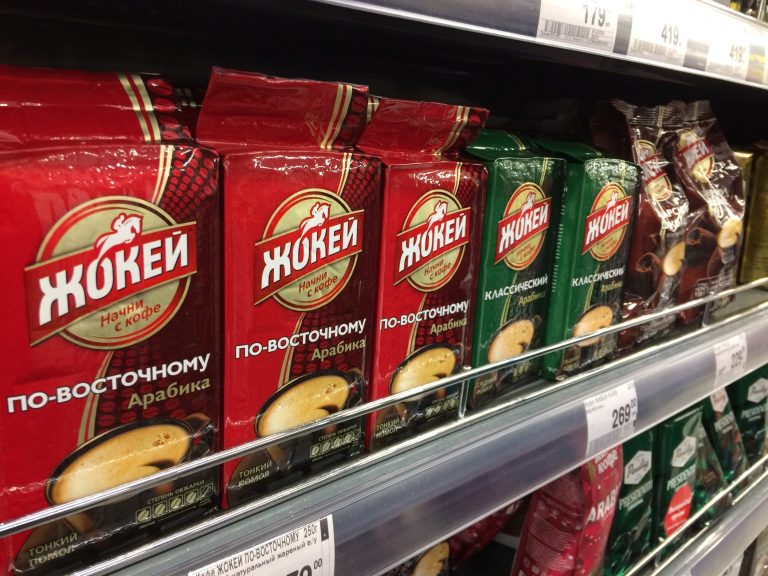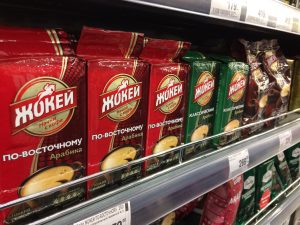 Introduced in 1999 by the Orimi Trade Company, the brand has become a notable one in Russia. Over the years, Zhokei has made a habit of adopting best practices such as vacuum packaging and aromafin valves to improve quality and market competitiveness. It's also well-known on the Russian market for its grind being fine enough to use in Turkish coffee pots, which are quite common in Russia.
The company, with local production, also prices its products lower than many of its competitors and has managed to acquire a market share of 30% for packaged retail coffees in Russia. Zhokei has won many awards as well. These include one gold medal and three silver medals of the Fifth World Tea and Coffee Contest held in Moscow in 2007 and Russia's National Trade Association Product of the Year in 2008. These are just some of the numerous recognitions the brand has earned. Despite this, they are better known for their prices and grind than they are for the taste and quality of the coffee.
Zhokei sources its coffee beans from all around the world, from regions as far-flung as South America, Africa, and Oceania. All of its production is fully automated as well, with workers merely changing settings and controls. This, the company says, helps eliminate human error and ensure a high-quality product.
Greg Tracey
Above: An advertisement for Zhokei Coffee
In Russian: Черноголовка
Chernogolovka (Черноголовка) is a prominent brand of popular Soviet-era inspired sodas produced by Aqualife. Although production began in 1998, their recipes are quite traditional, deriving their tastes mostly from herbal and fruit extracts, just like the soda flavors were during Soviet times. In 2015, Aqualife was the 4th largest producer of soft drinks in Russia (behind, of course, Coke and Pepsi). Their products can be found in nearly any Russian grocery and are the most widely-available type of traditional non-fermented Russian sodas.
The factory, located 45 miles northeast of Moscow in  Chernogolovka, a suburb built by the Soviets specifically for scientists and technological research, was built on top of the spring that supplies their mineral water.
Various producers all make the major flavors of the major Soviet sodas, but Chernogolovka is one of the best and most common that you will find. Many of the flavors are fairly specific but most are quite enjoyable.
The flavor Baikal (Байкал), for instance, was developed in 1976 as a Soviet analogue to Coca-Cola. Made with St. John's wort, cardamom, licorice, eucalyptus, laurel, and citric acid, it's the closest approximation to a genuine Soviet "cola" on the market. The soda is a dark-brown cola color, but is named for Siberia's crystal clear Lake Baikal, the largest freshwater deposit on the planet. The soda tastes of evergreen needles.
Tarkhun (Тархун) is another common favorite. The radiant green soda is made with tarragon and tastes of licorice. It's often compared to absynthe in both taste and color. Like many other sodas, the flavor was originally developed by a 19th century pharmacist to help with digestive symptoms. It tends to be not as sugary as many other sodas and thus can be almost surprisingly refreshing on a hot summer day.
Buratino (Буратино) soda is named after the Russian version of Pinocchio. Pinocchio was originally written in Italy, but when Russia's beloved Aleksey Tolstoy couldn't find his copy of the book, he reimagined the story for his children as Buratino (Буратино). Unlike the Western version, Buratino's nose doesn't grow when he lies and neither will yours when you try Chernogolovka's Buratino soda. It's caramel colored with a taste that's hard to pin down. It's usually described as apple, but definitely has caramel flavors as well.
Dushes (Дюшес) is named for the type of pear (Duchess) that is flavored with.
There are many other flavors as well!
Katheryn Weaver
One of Chernogolovka's contemporary ads – filled with Nostalgia!
In Russian: Балтика
Russia's legal drinking age is 18. Baltika Breweries (Балтика) began producing beer as a state enterprise in 1990. It was formed by originally merging Soviet-built brewing facilities under the LenPivo (Leningrad Region Beer) name. When that company was privatized in 1992, the assets were purchased by a consortium of Scandinavian brewing companies from Norway, Sweden, and Finland. The name "Baltika" was taken from the Baltic Sea, with which the Leningrad Region and much of Scandinavia share boarders.
Despite being foreign owned, Baltika has long been marketed as Russia's national brand. Even internationally, Balitika is associated with Russia much as Budweiser is with the US. The two brands also share criticisms and strengths as well – they are relatively cheap, mass produced, and nearly ubiquitously available throughout their respective countries, and are not generally credited as the highest quality beer available. Despite criticisms, however, Baltika is today Russia's second largest brewer and holds more than a third of the Russian beer market. It is also Russia's largest beer exporter. Its international recognition was recently bolstered when it became the official beer supplier of the 2014 Sochi Winter Olympics.
Baltika has been, since 2012, wholly owned by Carlsburg, a Danish brewing company, which perhaps still within its general tradition as Denmark is also part of Scandinavia. It continues as well to be Russia's national brand.
Baltika major beers are known by numbers rather than by name. It is a common myth that the numbers refer to the alcohol content of beer. While these numbers sometimes roughly align, the myth is not actually true. Baltika's major branded beers are Baltika 0, 2, 3, 4, 6, 7, 8, and 9.
Baltika №0 Non-alcoholic (Безалкогольноe): ABV: Less than 0.5%
Production of Baltika 0 began in 2001 and holds about 60% of the non-alcoholic beer market in Russia. It is produced with a traditional recipe and tastes like a light beer. In March 2017, Baltika announced an expansion of their non-alcoholic beer line. The press release attributes the growing popularity of non-alcoholic beer to a federal initiative aimed at promoting responsible beer consumption.
Baltika №2 Pale (Светлое; Pale Lager): ABV: 4.7%
This pale lager starts sweet and has a soft bitter finish.
Baltika №3 Classic (Классическое; Pale Lager): ABV: 4.8%
For ten years running Baltika 3 has been awarded the Russian Commodity of the Year prize in the beer category of mass consumption products. Number 3 is Baltika's most popular beer and has a slightly sweet malty flavor.
Baltika №4 Original (Оригинальное; Dark Lager): ABV: 5.6%
Baltika 4 is an amber pour produced with rye malt, giving it a sweet bready flavor and light bitterness. It is one of the oldest brands in the Baltika family of beers and is produced only at the St. Petersburg brewery.
Baltika №6 Porter (Портер; Porter): ABV: 7%
Baltika's porter beer is brewed from an English recipe. This full-bodied beer tastes of nuts and molasses. In 2000, British beer connoisseur Michael Jackson (not the American pop star) included the brew as the only Russian beer in the "Great Beer Guide: 500 Classic Brews."
Baltika №7 Export (Экспортное; Lager): ABV: 5.4%
True to its name, №7 is exported to more than 75 countries worldwide, including Finland, South Korea, the U.S., Iran, England, and Germany. It also sells well inside Russia. The straw-colored pour leads with pale malts and a clean finish.
Baltika №8 Wheat (Пшеничное; Wheat) ABV: 5%
This dense brew produces a hazy, golden color and contains the classic sweetness of a Hefeweizen with hints of banana, clove, and yeast. The beer is unfiltered, and, according to Baltika's website, contains "biologically active substances useful for health."
Baltika №9 Strong (Крепкое; Strong lager): ABV: 8%
Baltika 9 pours a clear yellow gold and has a syrupy sweet yet bold body. Best enjoyed on a cold night, the alcohol content in this beer is sure to keep you warm.
These numbered beers remain Baltika's best known products, but Baltika has also been experimenting with other flavors and types, particularly in the face of the current explosion of local craft beers now produced in Russia.
Katheryn Weaver
This is an advertisement for one of Baltika's short-lived additions to its lineup, Baltika Tap Beer.
Sweets and Snacks Aisles
Lubyatovo Cereals and Cookies
In Russian: Любятово
Lubyatovo is a Russian brand fo crackers, biscuits, and cereals founded in Pskov (Псков), a city in Russia about 50 miles northeast of the Estonian and Latvian border in 2002.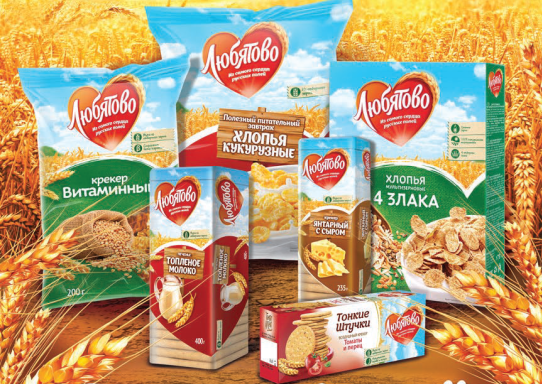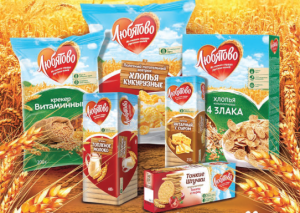 Before Lubyatovo, cold breakfast cereal was not manufactured in Russia and was not widely popular. Most Russians still consider traditional hot breakfasts such as kasha (boiled rice, buckwheat, or oats in milk or water), to be far healthier, in part because most imported brands (mostly made by Nestle) are high in added sugar and preservatives.
Lubyatovo carved a niche for itself by introducing preservative-free cereals to the market that are only lightly sweetened, in part, with the same local honey that many Russians use in their kasha. Most of these cereals are also made with the same traditional local grains with which Russians make kasha.
One major exception to this are Lubyatovo's cornflakes – cornmeal is not a widely-used foodstuff in Russia and never has been. However, the cornflakes are basic enough to also sell well on the Russian market. They also now sell whole grain flakes and "pillows" – a relatively popular breakfast cereal type in Russia that has a creamy center encased in a pillow-shaped crunchy shell.
Lubyatovo also makes crackers and cookies, many of which are reminiscent of Soviet products, and, again, tend to be all-natural and only lightly salted or sweetened. However, the brand is particularly unique because of its breakfast cereals.
In fact, when Kellogg's sought to expand into Russia, they chose to simply purchase Lubyatovo. The deal was completed in 2008. Kellogg's apparently considered the Lubyatovo's business plan so effective that they have not changed the company's products or marketing message. They have really only increased advertising. Kellogg's has been very slow to bring any of its "western" brands directly to the Russian market, only making a few, usually short-lived trials of high-end granolas or kids-marketed cereals in recent years. Otherwise, the company relies entirely on Lubyatovo products for its presence there.
Today, Kellogg's/Lubyatovo is Nestle's biggest competitor in the breakfast cereal category with 15.5 percent market share in 2010. TNS Marketing Index also reports that Lubyatovo is preferred by 14.2 percent of Russians in the category of biscuits, cookies, and crackers, which is patroned by 65.5 percent of Russians.
Katheryn Weaver
A 2012 ad connecting cornflakes directly to the fields:
Alyonka Chocolate Bars
In Russian: Алёнкa
Alyonka (Алёнкa) is the market leader of domestically produced chocolate in the Russian Federation. The Red October factory began producing it as a 100g chocolate bar in 1966 by virtue of a government livestock subsidy. With a steady supply of high-quality, cheap milk, Red October produced delicious, creamy, melt-in-your-mouth chocolate at an affordable price (even today the same bar is available for just $2.50).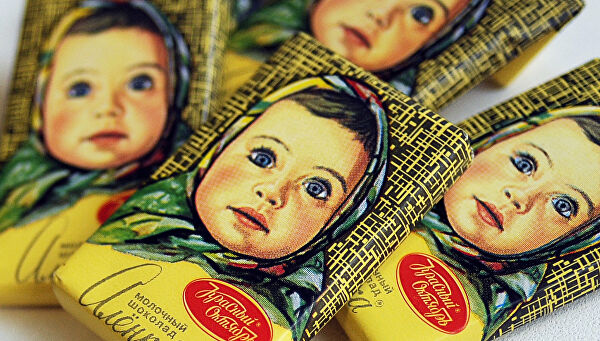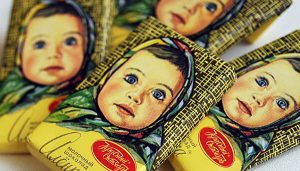 The Alyonka brand is centered around the heartwarming image of a chubby-cheeked, blue-eyed infant on the iconic wrapping, but it's unclear exactly who the child is. Factory management couldn't agree on the final design, so they held a competition through the Evening Moscow newspaper for the "face of Alenka." Although rumors circulated that a photo of Stalin's daughter won the competition, it is probable that the picture is actually of artist Alexander Gerinas' daughter. In 2000, his daughter, Yelena, filed a lawsuit against the factory which demanded compensation for the use of her likeness. She lost the case.
The name "Alyonka" also has a history. It was named after the daughter of the first woman in space, Valentina Tereshkova. Her daughter was something of a celebrity herself, as she was the first child born to two parents who had both traveled to space. Thus, Alyonka chocolate symbolizes a time of great international strength for the USSR, a time when the USSR was firmly focused on the future, and a time of relative domestic prosperity. Nostalgia factors aside, Alyonka has also been a part of the childhoods of multiple generations of Russians and its place in Russian culture is firmly set.
In fact, the brand continues to grow today, both in sales and in product diversification. Alyonka bars now come in various flavors (with nuts or dried fruits), and in various sizes (from tiny personal sizes often sold at grocery store check stands to giant family-sized bars).
In honor of the chocolate's 40th birthday, artist Ivan Zemtsov organized the Alyonka Mail Art Project. Fans from around the globe mailed original Alenka-inspired postcards to the artist's P.O. Box in Yoshkar-Ola. The Yoshkar-Ola Museum of Fine Arts displayed the first round of postcards in October 2006. Although Zemtsov still receives postcards, Alenka has undergone the ultimate 21st century pop culture transformation and become a popular internet meme.
Much like her human contemporaries, the Alenka bar came of age in the Soviet Union, survived the turmoil of collapse, and emerged from the chaos without compromising her integrity. Today, the unassuming little chocolate is much more than a commodity: she's a cultural icon.
Katheryn Weaver
Buy Alyonka Chocolate on Amazon.com
Below are several TV advertisements for Alyonka, with Russian subtitles.
(Красный Октябрь)
Red October (Красный Октябрь) is an internationally renowned Russian confectionary that predated and outlasted the Soviet Union. The factory began in 1850, when German national Theodore Ferdinand von Einem immigrated to Moscow. Just one year later, he open a small confectionery on the Arbat. Then called Einem, it produced chocolate and glazed fruits, which soon proved incredibly popular. By 1913, Einem and a partner, Julius Heiss, expanded into 23-building waterfront factory that was honored with the privilege to serve sweets to the Tsar and his court.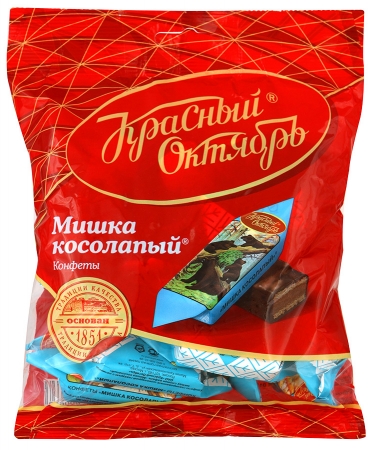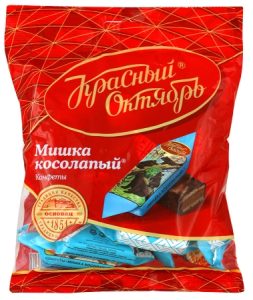 Business boomed at the Einem factory through World War I. In addition to traditional confections, the partners also produced, under government contract, cookies and high-caffeinated chocolate for airmen and submariners. The facility was one of the first nationalized after the Communists took power in 1917. Production was temporarily halted, but resumed two years later under the name "State Confectionery Factory Number 1, Formerly Einem." In 1922, its name was changed to "Red October," the name it retains today.
Production at Red October soon surpassed that of Einem's. Mishka Kosolapy (Мишка косолапый, chocolate covered waffles with praline filling), Gold Label (Золотой ярлык, considered the "champagne of chocolate"), and Guards (Гвардейский, caffeinated chocolate not to be sold to children) were incredibly popular. During World War II, the factory produced war-time rations and, again, caffeinated chocolate. The State Defense Committee awarded the factory with an honorary flag for their war efforts.
Today, Red October still produces a range of over 500 sweets. They have also moved to new facilities outside of Moscow. The original factory, now a sprawling collection of brick buildings just over the river from Christ the Savior cathedral in central Moscow, is now an urban revitalization project, housing cafes, clubs, art galleries, hostels, second hand stores, media offices, and even a architecture school.
Katheryn Weaver
Red October: the best moment of your life.
Related Posts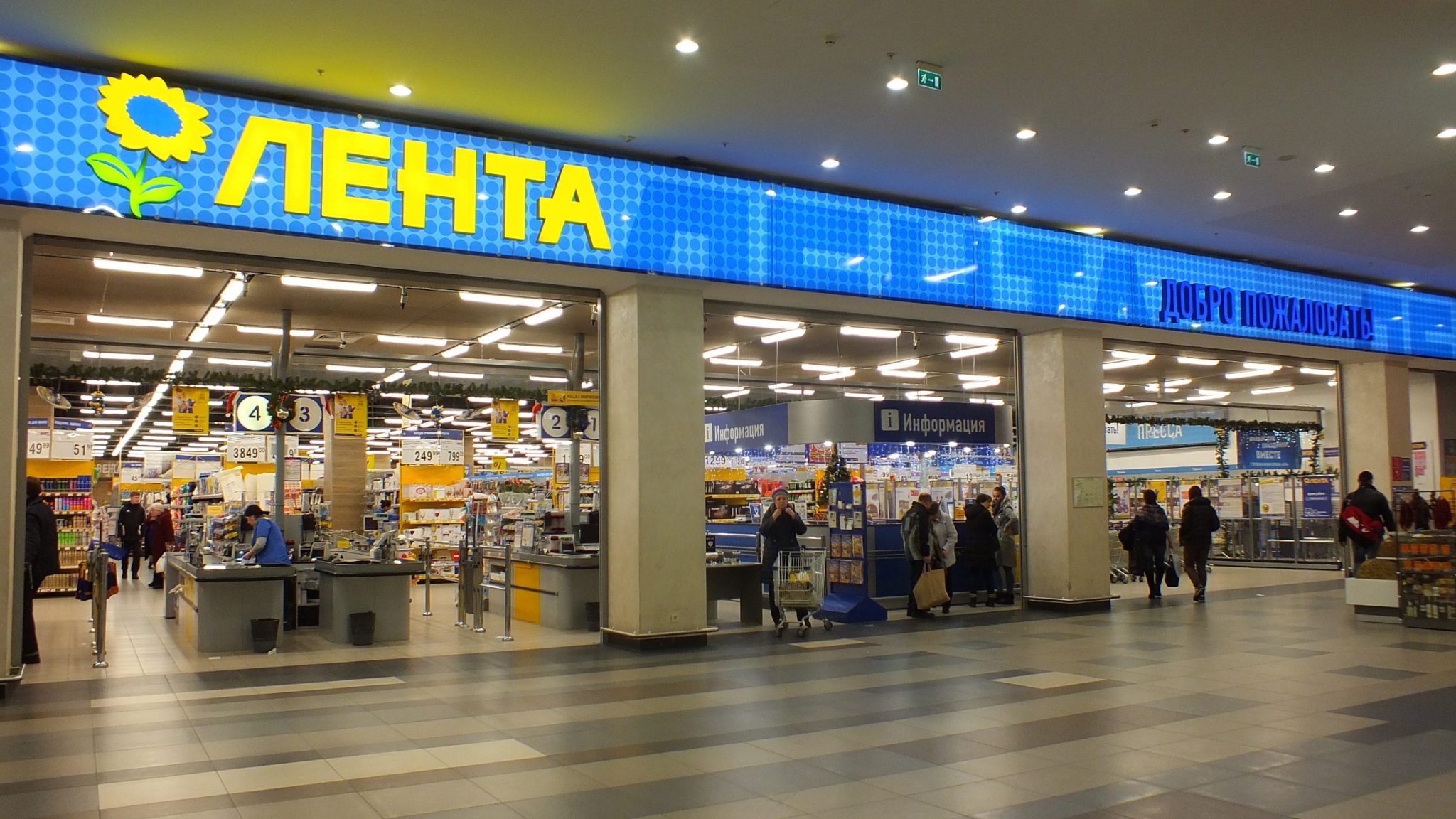 Russian supermarkets have been a great success story of the post-Soviet economy. Several large chains and holding companies have been built and, most importantly, Russian supermarkets have built up the supply chains to provide Russians with an ever-increasing diversity of produce and other groceries. The following short introductions to some of the largest chains of […]
4 comments