In the past decade, no other musician has been able to so rapidly capture and hold the attention of Russian youths like Morgenshtern.
Similar to controversial American rappers such as 6ix9ine, Lil Pump, and XXXtentacion, Morgenshtern got face tattoos early in his career and made his appearance outlandish, was overly hedonistic, and purposely sought out negative attention on social media to build his initial following. He was an Internet spectacle and dismissed by many as just a fad. That proved to be far from true.
Morgensthern was often also dismissed initially as derivative of western rappers. However, while most building a rebel persona deliver their bars in laidback monotone, Morgensthern is more punk. His delivery is probably one of the most animated of any rapper in the world. He shouts, whistles, whispers, laughs, and coughs – coming across as more of a character on a beat rather than a rapper in character. His rebellion seems not morose or detached, but carefree and often manic.
Today, his YouTube videos garnish views in the tens of millions. He has been ranked Spotify's most-listened-to Russian artist, he shattered VKontakte's record for most album listens in 24 hours, and is among the top ten ad revenue earning Russian YouTubers. He earned a spot in Forbes' Russian 30 under 30, was appointed Alpha Bank's youth representative, and, perhaps his most proud achievement, was named Russia's Woman of the Year for 2020 by the glamor magazine Moda Topical.
Early Life of Morgenshtern
Alisher Tagirovich Valeyeev, later to be known as Morgenshtern, was born in Ufa, in southwestern Russia, on 17 February 1998. His early musical interests were primarily limited to rock, particularly punk, which later shaped his persona when entering the rap game.
At age 11 he started rapping but shifted to playing guitar and singing as he matured into his mid teens. Alisher often performed on the street and took an interest in skate culture that later proved influential to many of Russia's Internet rappers of the mid 2010s.
His mother ran a successful local flower business which provided him with a comfortable upbringing. Alisher has always spoken highly of his mother and she has made several appearances and statements in support of his career.
His father, Tagir Valeev was also a successful businessman but died in 2009 from liver disease caused by alcohol abuse. Despite having seldom met, Alisher talks about his father admiringly, calling him "respected," "a genius," and "wealthy." He also speaks admiringly of his father's reputation as a womanizer as Tagir Valeev had several kids from several women. All these traits are qualities Alisher boasts were passed to him through genetics.
Above: An example of Morgenshtern's early project EasyRap, which helped launch his own rap career.
However, paternal admiration was not enough for Alisher to want to keep the surname "Valeev." In his teens he changed it to "Morgenshtern," a Russian word taken from German, which refers to a particularly fear-inducing medieval weapon similar to a mace.
Morgenshtern translates from German as "morning star," used in the Bible to refer to Jesus and as the original name of the Devil, before his fall from heaven. Religious imagery would fit into his later persona creation as well. For instance, it is thus interesting that Alisher's first band was named MAMAVIRGIN. A rock band performing corny parody songs, it found little success, but Alisher was experimenting with his music and how to attract an audience.
In 2015 came the first wave of DIY Internet Russian rappers, pioneered by Pharaoh. Much like in the USA, the Russian rap scene became a competition of who could look, sound, and act the most outrageous. Alisher quickly learned to excel at this on YouTube, performing antics in an attempt to get famous by any means. Initially, these stunts earned him an expulsion from his studies at Bashkir State Pedagogical University.
Naturally, with his path to a traditional career derailed, Alisher tattooed 666 on his forehead, driving the nail into the coffin for any normal lifestyle.
Morgenshtern's Entry to Rap World
Alisher started to drive viewership to his YouTube channel by railing insults against famous rappers, like FACE and Eldzhey, claiming that their music was stupid and talentless, and that anyone could make it. Accused of being bitter and jealous of others' success, Alisher sought to prove his point by starting a YouTube series titled "EasyRaps." Starting in 2017, Alisher created songs in copying the styles of the popular Russian rappers he insulted. The channel took off.
To prove how easy it was, he filmed his full creative process for EasyRaps. He filmed himself coming up with the beats and recording the vocals and videos. He broke the third wall and invited his audience to become part of his process rather than trying to build an aura of glamor and perfection that could not be copied. Using his skill at creating parodies, he borrowed heavily and sometimes blatantly stole to create his material, with no concern for showing how the sausage was made. His punk vocal approach, perhaps surprisingly, fit quite well into rap trends at the time. During this early period, Alisher developed one of the features that has made Morgenshtern so difficult to ignore – his transparency.
Above: Morgenshtern's first "original" hit "Вот так" ("Like This")
By 2017, Alisher was going by just his adopted last name, "Morgenshtern" and began to release his own music. He was now branding himself as an artist rather than just an influencer.
One of his early original viral hits was the song "Вот так" ("Like This"), released in late 2018 in which Morgenshtern brags about money and women in the same fashion as a typical rap track. However, he retained a parody element – using a vocal delivery that is noticably more spastic than expected and accompanied by overblown, distorted bass. The format of the track is also not exactly the go to formula for a hit rap record. However, the track proved extremely popular and now has 62 million views on Youtube.
Rise to Fame
Morgenshtern's following grew exponentially throughout the next year with hits such as "Новый Мерин" ("New Merin") and "Yung Hefner" (with references to Hugh Hefner) which racked up tens of millions of views and became massive party hits. During this time he also added more face tattoos, one of which being a star to compliment his name and went through a variety of attention grabbing looks that only grew more ridiculous as he earned more money. One of his most controversial acts at the time was when he burned 100,000 rubles (~$1300) on camera. This sparked an obvious outrage but the rapper instead doubled down on the stunt, arguing that it was a promotional tool no different than spending the equivalent value on Internet ads.
The track "Yung Hefner," released in 2019, was the first collaboration between Morgensthern and future superstar Slava Marlow. Marlow was studying at the St. Petersburg State University of Film and Television at the time and did not have a noteworthy following but nonetheless caught the attention of Morgenshtern with his bouncy, plucky beats which later became synonymous with Morgenshtern's work as well.
Slava Marlow became essential in the continuation of Morgenstern's success. The two live-streamed the full creation of the album Легендарная пыль (Legendary Dust) over a one week period in 2020. The album went on to become the most streamed album on the Russian social media site VKontekte, bringing in 24 million listeners in just two days.
Morgensthern used the revenue and fame generated to launch his first business, Kaif Provenance, a high-end restaurant in the center of Moscow, in 2020. He has since spun that off into Kaif Burger, also in central Moscow, opened in 2021. "Kaif" is the Russian word for "ecstasy" or the state of being high.
Morgenshtern's popularity continued to climb in 2020 following the release of the single "Cadillac." A collaboration with rapper Eldzhey and produced by Slava Marlow, the song is a tribute to Morgenshtern's favorite newly purchased car. His most popular release to date, it currently stands at 140 million YouTube views and has become a TikTok sensation.
Above: Morgenshtern's biggest hit to date

Morgenshtern reached out to Lil Pump, an American rapper he considered one of his major influences. Morgenshtern sought collaboration and, although at the time Morgenshtern was by far the higher earner overall and Lil Pump had arguably faded into rap obscurity, Morgenshtern had to pay him for the feature on the song "Watafuk." The necessity for a Russian at the top of the market to have to beg to work with a middle tier American rapper indicates the high prestige that American rap has in the eyes of Russian fans. The song has had, by Morgenshtern standards, middling success at 24 million views.
Morgenshtern has also continued to vlog on YouTube, retaining his accessibility and transparency. It has allowed him to make himself appear the star of his own TV series, with the character Morgenshtern as the personification of everything parents teach their children not to be. Morgenshtern the character does not feel good when he gives to charity (although Alisher has, at least once, given). Morgenshtern disrespects women, and loves drugs and alcohol, and above all else, money. The parents decrying him as the face of moral decay in youth culture seem to have only helped his rise. He also specifically seeks to place his character in myriad positions in his videos where he has been a cowboy, an aristocrat, a Mexican drug lord, and more.
The Real Alisher Morgenshtern
By 2020, just three years after EasyRaps, Morgenshtern had become an A-list celebrity in Russia and was sought after for headlining interviews.
He started off the year by making a guest appearance on the late-night talk show Evening Urgant, which introduced him to older generations that would have otherwise not come across him. He also posted a Cribs-like video showing his new lifestyle, giving a full tour of his new mansion filled with a swimming pool, gym, rare sneakers, and sports cars in the garage. He is estimated to have made around 540,000,000 rubles (~$7 million) that year and was ranked as one of Russia's top earning entertainers.
Russia's top interviewers sought out to find what separated Alisher from his character, Morgenshtern. The first of these interviews was released by fellow Russian YouTube sensation, Yuri Dud. In this interview, many paradoxes were exposed – such as Morgenshtern's continued publicly reckless lifestyle contrasted with Alisher's attempts to turn away from that and focus on his health through exercise and diet. Alisher's political beliefs were also discussed. He had ridiculed many rappers in his EasyRap days for their political promotions yet has himself since bragged of connections and chanted "Putin is cool" as a vocal warmup for his shows. Alisher showed himself to be quite libertarian, emphasizing that protestors should be focused on bettering their own conditions rather than blaming the state. Asked about low salaries for state-employed teachers and doctors, he responded that they should seek employment at private establishments. Dud implied that Morgenshtern's success seemed to have blinded Alisher to the realities of the average Russian.
Above: Morgenshtern's interview with Yuri Dud.

In November of 2021 Morgenshter faced the biggest setback of his career following a highly publicized sit down with one of Russia's best-respected interviewers, the liberal socialite Kseniya Sobchak. In what was otherwise intended to be a fairly fun piece, Morgenshtern wondered out loud at one point why Russia continues to celebrate its role in World War II rather than focusing on new victories. In Russia, both government supporters and critics consider WWII a sacred topic. The rapper was met with quick and fierce backlash from all sides with even the Kremlin's spokesperson briefly commenting on the issue. Alisher issued an extremely rare apology for his remark.
In what some have said is likely an incident related to his WWII gaffe, he also soon faced his most serious lawsuit to date – charges by Russia's conservative Investigative Committee that he was promoting and dealing drugs.
The rapper canceled his scheduled domestic concert tour and fled Russia in late November, 2021 with his wife and bodyguards, supposedly for Belarus. However, on December 9, he released the music video for his single "Домой" (Homeward) revealing that he was having a good time in Dubai. By 14 January 2022, the incident had apparently blown over and Morgenshtern announced his return to Russia with a video for "Почему?" showing him back at his mansion and mocking the entire affair.
Thus, it would seem that Alisher had managed to offend Russia's entire political spectrum and nearly got arrested on what may have been politically motivated charges. It's also not certain that his interviews really revealed much about him personally. However, this seems not to have harmed his viewership much. Morgenshtern's appeal has never been his consistency or morality but instead his controversiality and train-wreck online antics. All the events of late 2020-2021 put him more in the public eye than ever.
Alisher's personal life also continued to evolve with his marriage in the summer of 2021. He had met his future wife Dilara Zinatullina, also from Ufa, at a party in 2017. Zinatullina appeared in the music videos for "Yung Hefner" and "Cristal & МОЁТ" and amassed millions of social media followers herself. The wedding, perhaps unsurprisingly, featured trained horses, gypsy dancers, and a variety of other strange entertainment. Zinatullina opened a beauty salon under the Kaif brand, called "Dilara Nails & Beauty by KAIF" in central Moscow in 2021 and continues to play prominent roles in Morgenshtern videos, usually as a love or lust interest.
Morgenshtern: Conclusion
Morgensthern's level of success says a lot about what separates the US from the Russian hip hop world. As of 2022 in the US, hip hop is dominated by Drake and other smooth, tempered personas. Morgensthern, now a top influencer on the Russian hip hop scene, has achieved a level of fame through an outrageous mania that no American rapper, using the same style, has been able to achieve.
This can be interpreted one of two ways. Either the Russian audience is more easily amused and falls for the same tricks again and again (and Morgenshtern himself praises Russian rap fans for being "stupid"). Or Morgensthern truly is the genius he claims, able to hold the limelight merley through shock and schlock for longer than anyone could have thought possible.
You Might Also Like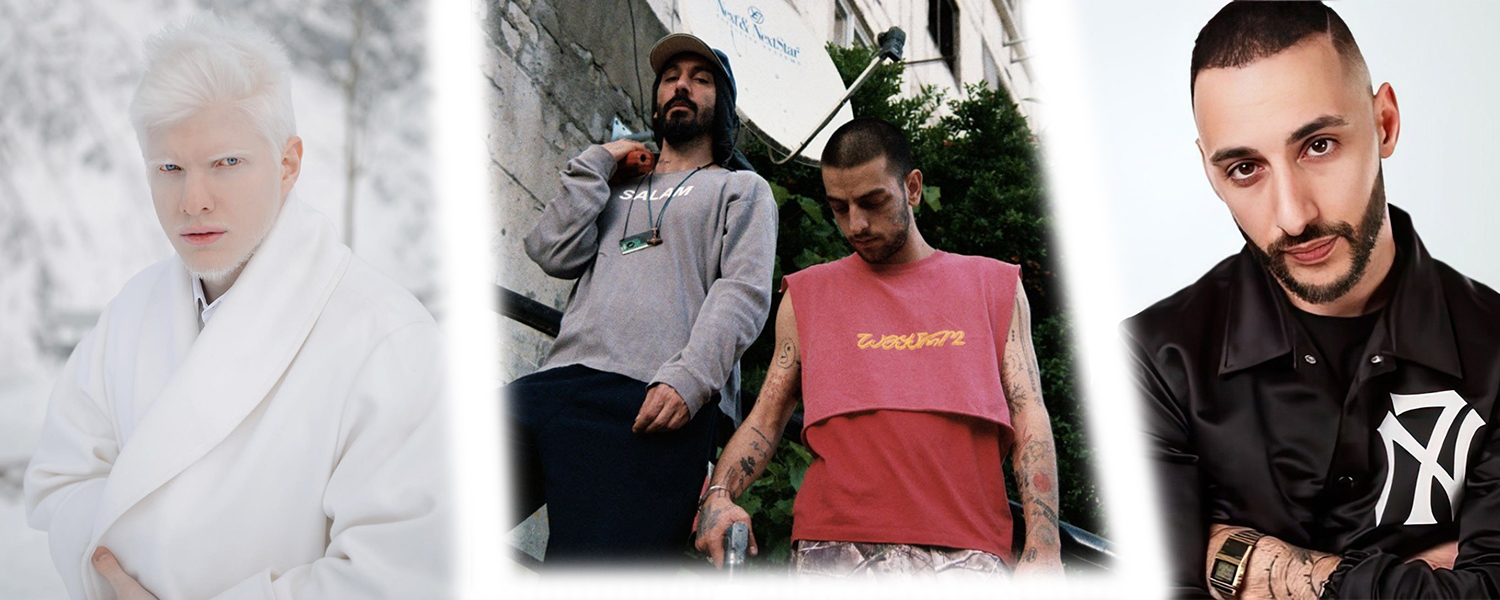 Hip-hop was introduced to Georgia in the 1980s as perestroika loosened the blockade on western influences within the USSR. Local rappers appeared at that time as well, but it was not until the 2010s when the Georgian hip hop scene really began to have appeal not just at home but also abroad. The artists below […]
0 comments